Welcome to the ultimate guide for rejuvenation and relaxation in Phoenix, the vibrant city nestled in the heart of Arizona. In this enchanting oasis, you will discover a myriad of exquisite Spa Hotels that will transport you to a world of tranquility and serenity. Whether you seek solace from the scorching desert sun or simply desire to unwind amidst breathtaking natural beauty, Phoenix has it all.
Indulge yourself in opulence as you embark on a blissful journey at these heavenly retreats. Surrender your senses to the soothing touch of expert therapists who will pamper you with luxurious treatments designed to rejuvenate both body and mind. Immerse yourself in warm mineral-rich pools, releasing all tension that may have built up over time. Allow the fragrant aromas and calming ambiance of these sanctuaries to transport you far away from the hustle and bustle of daily life.
Experience true bliss as nature embraces modern luxury at these remarkable Spa Hotels in Phoenix. From invigorating massages that melt away stress to tranquil yoga sessions amidst breathtaking landscapes, each moment spent here is an invitation to reconnect with your inner self. Explore lavish amenities like steam rooms, saunas, and hydrotherapy pools that offer unparalleled relaxation opportunities for guests seeking a truly immersive spa experience.
So pack your bags and let us guide you through an unforgettable journey where wellness meets luxury in Phoenix's finest Spa Hotels. Get ready to surrender yourself completely as we unveil hidden gems awaiting your arrival!
Best Phoenix Spa Hotels
Sheraton Grand at Wild Horse Pass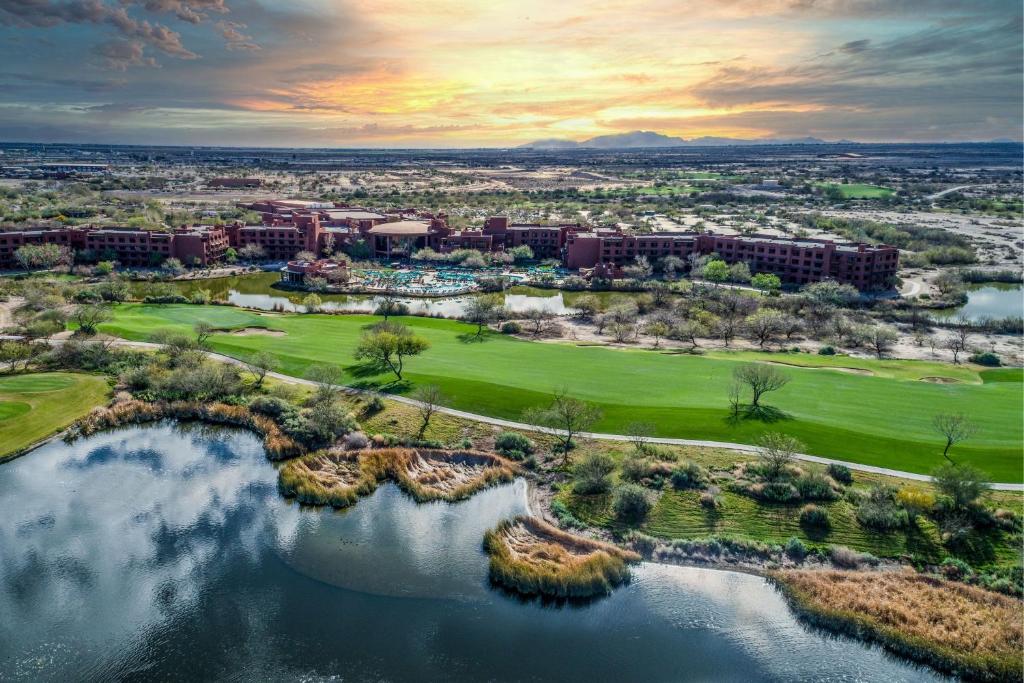 Discover an unrivaled oasis in Arizona's Sonoran Desert at the Sheraton Grand at Wild Horse Pass. This luxurious resort and spa elegantly blends Native American culture with today's modern world, offering guests a truly unique experience. Located only a short distance from downtown Phoenix, the hotel provides easy access to both city amenities and breathtaking natural landscapes.
The Sheraton Wild Horse Pass offers an endless variety of activities and adventures to enjoy during your stay. With two on-site golf courses, avid golfers can perfect their swing while enjoying stunning desert views. For those looking for a different kind of outdoor adventure, the equestrian center offers lessons and trail rides through the rugged terrain.
The resort boasts four spacious swimming pools, ensuring there is always a spot to relax and unwind under the warm Arizona sun. After a day of exploration, guests can indulge in authentic Native American healing treatments at the first-class spa – a perfect way to rejuvenate both body and mind.
For those feeling lucky, nearby Wild Horse Pass Casino offers an exciting evening of gaming and entertainment. Afterward, guests can satisfy their appetites with gourmet meals at one of the hotel's on-site restaurants or simply take in the panoramic views as they watch the sun set over the mountains or Gila River from their private balconies or patios.
Whether it's enjoying outdoor trails or experiencing native healing treatments, Sheraton Grand at Wild Horse Pass guarantees an unforgettable stay filled with relaxation, adventure, and cultural immersion.
– Luxurious resort blending Native American culture with modern amenities
– Two on-site golf courses offering stunning desert views
– Equestrian center providing lessons and trail rides
– First-class spa featuring authentic Native American healing treatments
– Close proximity to Wild Horse Pass Casino for gaming excitement
Arizona Biltmore A Waldorf Astoria Resort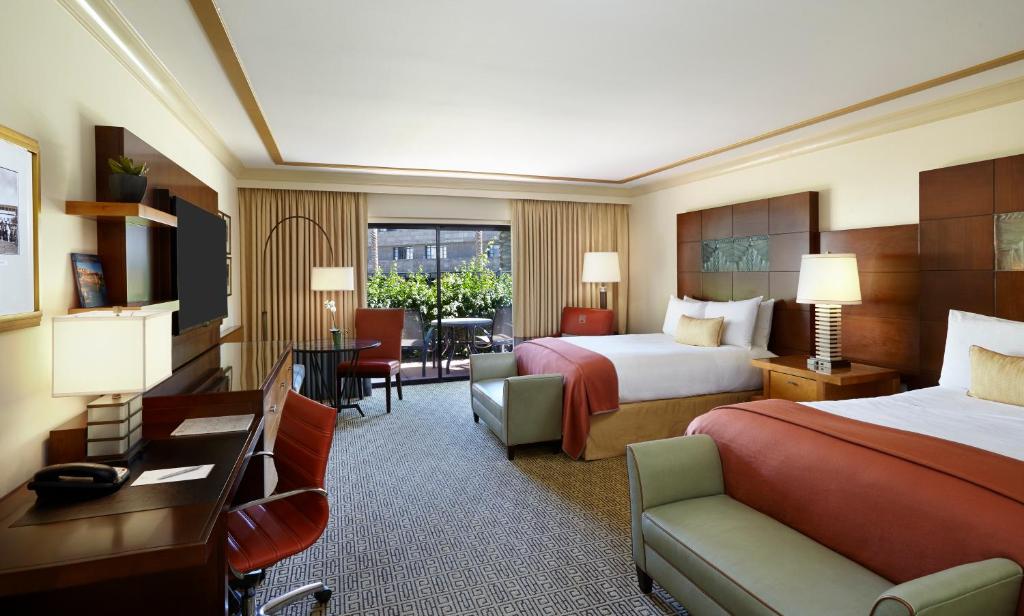 Nestled within 39 acres of lush gardens, Arizona Biltmore A Waldorf Astoria Resort is an idyllic retreat that offers a serene atmosphere and outstanding amenities. With 8 pools, 5 dining options, and a state-of-the-art fitness center, this resort has everything guests need for a luxurious getaway. The spacious rooms feature modern comforts like flat-screen cable TVs and private bathrooms. Some rooms even have patios or balconies, as well as full kitchens for added convenience. The on-site spa provides indulgent treatments, while the resort also boasts 2 championship golf courses and 7 tennis courts. Additionally, there are salon services available on-site. Located just a short distance from popular attractions such as the Heard Museum and Phoenix Art Museum, Arizona Biltmore offers the perfect blend of relaxation and exploration for all visitors.
Pros:
– Beautifully landscaped grounds with extensive gardens
– Variety of on-site facilities including pools, fitness center, spa
– Multiple dining options to suit different tastes
– Convenient location near popular museums and attractions
– Range of room options with additional features like patios or kitchens
The Phoenician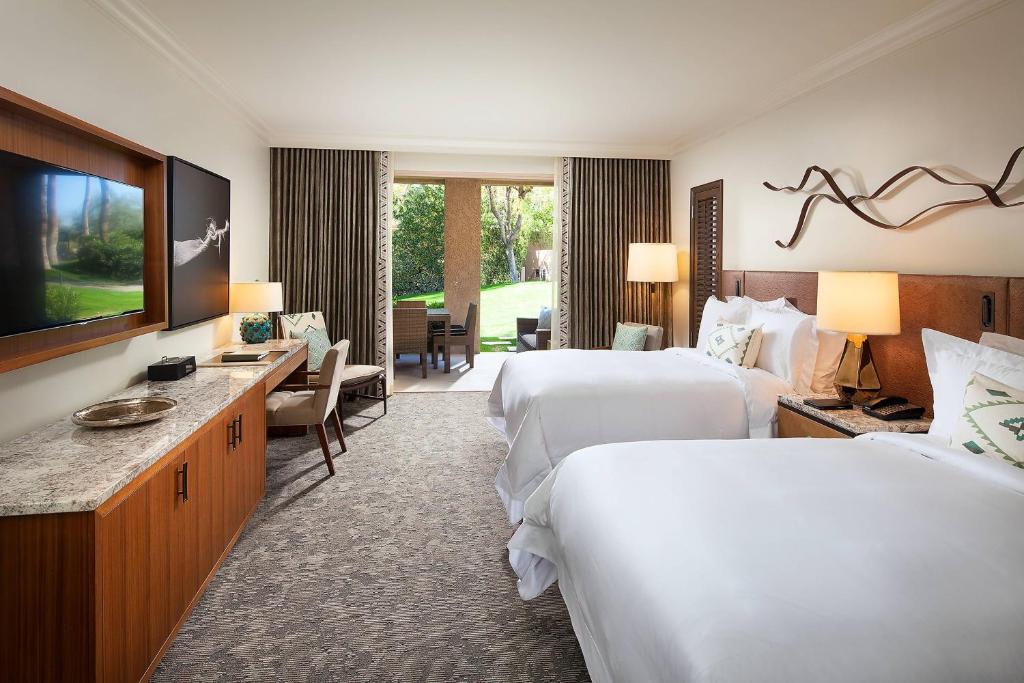 Situated on a sprawling 250-acre property at the base of Camelback Mountain, The Phoenician is a luxurious resort in Phoenix that offers an array of amenities and activities for guests to enjoy. With nine swimming pools, including a children's pool complete with a 165-foot water slide and a stunning custom mother-of-pearl tiled pool, relaxation is guaranteed. Golf enthusiasts will be delighted by the 18-hole championship golf course, fully-stocked pro golf shop, driving range, chipping and putting green located on site. For those seeking rejuvenation and wellness, the expansive 22,000 square foot Centre for Well-Being Spa provides massage therapy services, body treatments, salon services and access to a state-of-the-art fitness center. Indulge in upscale Italian cuisine at Il Terrazo or savor modern interpretations of American comfort food at Relish Burger Bistro among the resort's eight dining options. Guest rooms are spacious and feature premium amenities such as Italian linens, Southwestern artwork and private patios or balconies. The Phoenician Resort also offers convenient access to Old Town Scottsdale for shopping and dining experiences while being just 8 miles away from Phoenix Sky Harbor International Airport.
Pros:
– Expansive property with nine swimming pools
– Luxurious spa offering various treatments
– Multiple dining options available
– Championship golf course on site
– Convenient location near Old Town Scottsdale
Other places to stay in Phoenix
Romantic Hotels with Spa in Phoenix
Phoenix is a city renowned for its romantic atmosphere and serene beauty, making it the ideal destination for couples searching for a tranquil getaway. With its array of luxurious spa hotels, visitors can indulge in ultimate relaxation and rejuvenation. These romantic retreats offer an oasis of serenity, with their soothing ambiance, exquisite spa treatments, and stunning views. From couples massages to private jacuzzis, these hotels provide the perfect setting to unwind together and create unforgettable memories. Whether enjoying a candlelit dinner or strolling hand in hand through lush gardens, Phoenix's romantic spa hotels offer an enchanting escape for couples seeking romance and tranquility.
JW Marriott Scottsdale Camelback Inn Resort & Spa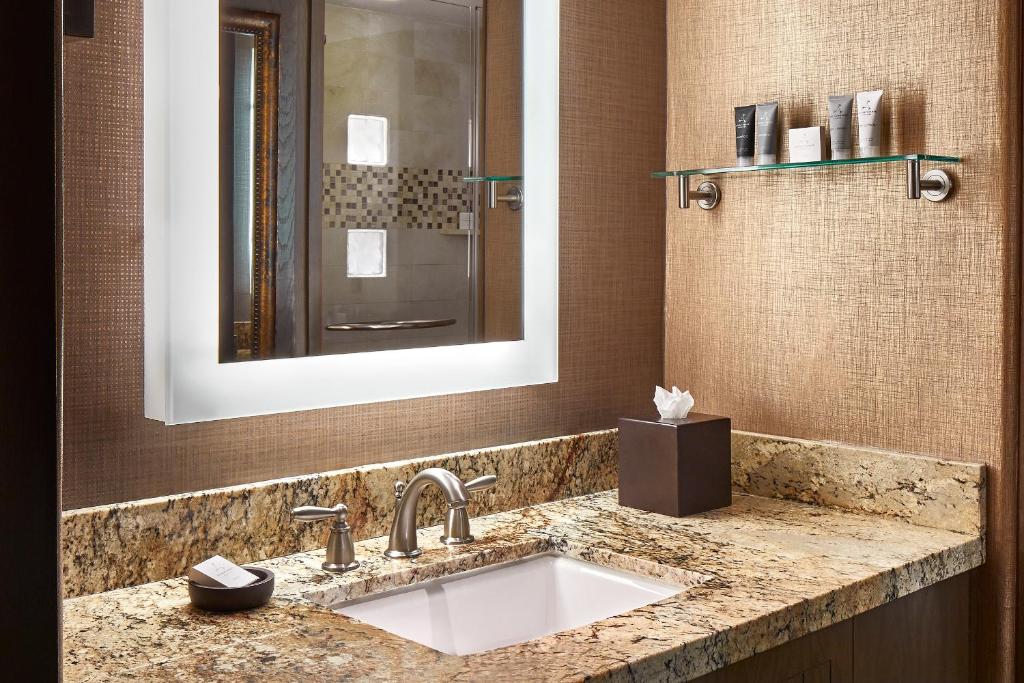 Located in Scottsdale, JW Marriott Scottsdale Camelback Inn Resort & Spa offers a range of amenities such as free bikes, an outdoor swimming pool, and a garden. The resort features a restaurant, room service, and a 24-hour front desk along with free WiFi. Guests can enjoy hiking and cycling in the popular surrounding area or take advantage of car hire services provided by the resort. The accommodation offers evening entertainment and an ATM for convenience. Each air-conditioned room includes a terrace for guests to relax on. A buffet breakfast is available every morning at the resort's on-site bar, where guests can also make use of the business area. With Copper Square and Phoenix Convention Center both approximately 19 km away, this 5-star resort is conveniently located near local attractions. The nearest airport is Phoenix Sky Harbor International Airport, just 12 km from JW Marriott Scottsdale Camelback Inn Resort & Spa.
Pros:
– Free bikes available for guests to explore the area
– Outdoor swimming pool provides a refreshing way to relax
– Buffet breakfast offered every morning
– Terrace in certain units allows guests to enjoy outdoor space
– Evening entertainment adds an enjoyable touch to the stay
Arizona Grand Resort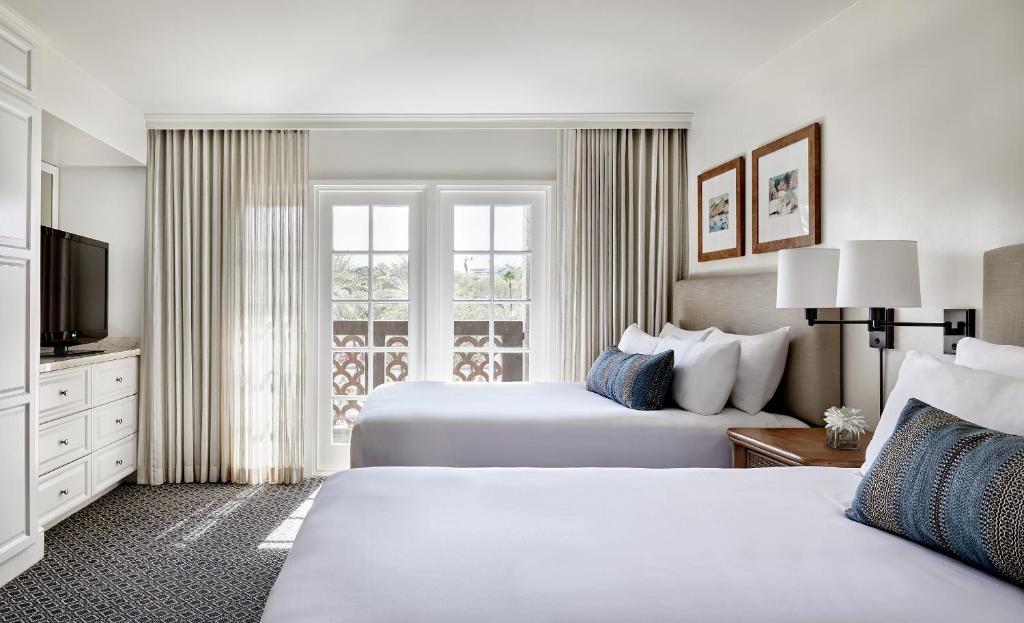 The Arizona Grand Resort is a luxury resort located in Phoenix, just 7 miles from the Phoenix Sky Harbor International Airport. This resort offers a range of amenities for guests of all ages, including a water park with an 8-story tower featuring 3 water slides, a large wave pool, and lazy river. The resort also boasts a full-service spa where guests can unwind and relax. Each spacious guest suite includes free Wi-Fi and is equipped with cable TV for indoor entertainment. Guests can enjoy dining options such as traditional Mexican fare at Aunt Chilada's restaurant or American cuisine cooked on a wood-fire grill at The Lobby Grill. Additionally, the resort is conveniently located near popular attractions like the Heard Museum which showcases Native American history and the Phoenix Zoo.
The Camby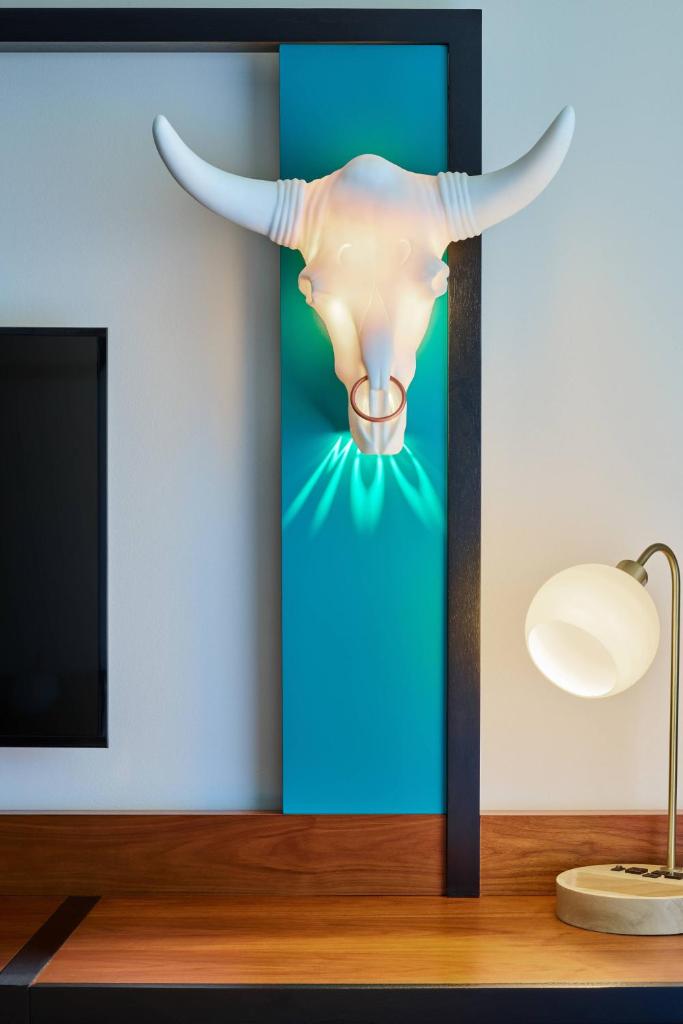 Located in the beautiful Camelback Corridor, The Camby, Autograph Collection is a stunning resort that offers guests a luxurious experience. The hotel boasts an outdoor patio and pool deck where guests can relax and soak up the Arizona sun while enjoying breathtaking views of the surrounding mountains or city skyline. The Artizen restaurant at The Camby serves a delicious variety of international cuisine, both indoors and on the terrace, providing a memorable dining experience. Each guest room features a marble bathroom with amenities, as well as feather beds made up with Egyptian cotton linens for ultimate comfort. Fitness enthusiasts will appreciate the extensive gym facilities to stay active during their stay. Additionally, guests can enjoy the sun deck which is cooled by hydro-misting system to ensure they remain comfortable even on hot days. With two bars offering spacious seating areas, there are plenty of options for guests to unwind and socialize. Conveniently located near popular attractions such as the Arizona Biltmore Golf Course, Tovrea Castle, and Echo Canyon Park, The Camby is an ideal choice for travelers seeking both relaxation and adventure.
– Stunning views of mountains or city
– Delicious international cuisine at Artizen restaurant
– Luxurious marble bathrooms with amenities
– Extensive gym facilities for fitness enthusiasts
– Comfortable seating areas in two bars
Other places to stay in Phoenix
Spa Hotels in Phoenix with Cool Views
Phoenix, a vibrant city nestled in the picturesque desert landscape of Arizona, offers an array of Spa Hotels with breathtaking views. With its sun-drenched skies and stunning natural beauty, guests can indulge in rejuvenating spa treatments while enjoying cool panoramic vistas. Whether it's overlooking majestic mountains, serene desert landscapes, or lush green golf courses, these Spa Hotels in Phoenix provide the perfect setting to escape the hustle and bustle of everyday life and immerse oneself in tranquility. From luxurious rooftop pools offering sweeping city views to serene outdoor relaxation areas surrounded by nature's wonders, these Spa Hotels cater to those seeking both inner peace and awe-inspiring sights.
CIVANA Wellness Resort & Spa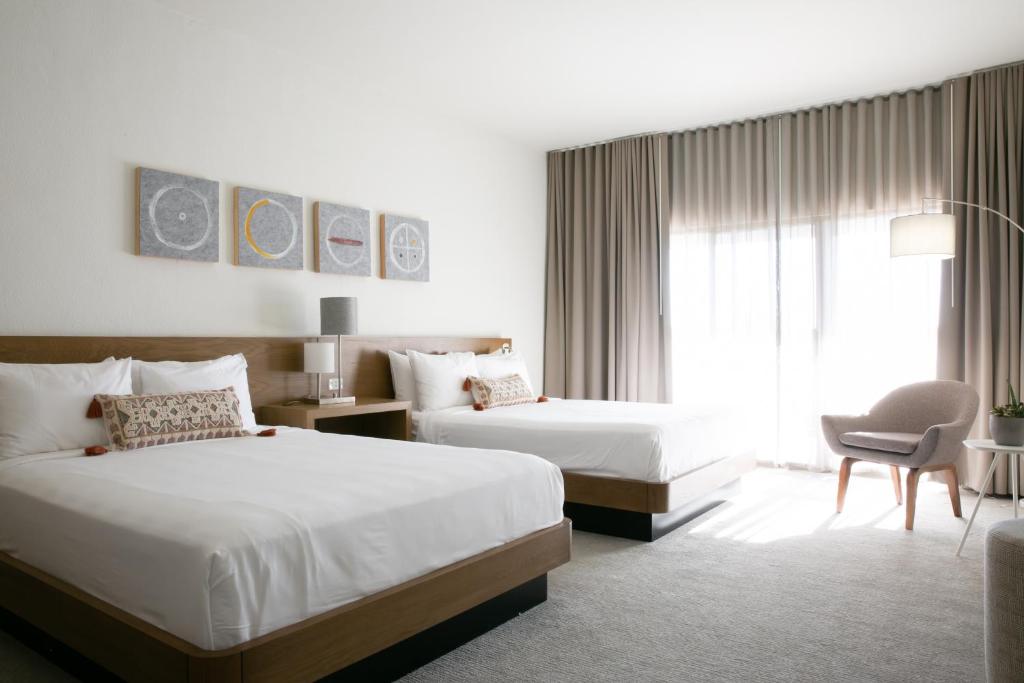 Nestled in the scenic foothills of the Sonoran Desert, CIVANA Wellness Resort & Spa is a tranquil oasis offering a 22,000 square foot spa and an exquisite restaurant. Guests can bask in the sun by the outdoor pool while sipping on a refreshing signature Prickly Pear Margarita. The hotel boasts comfortable rooms with modern amenities including free WiFi and flat-screen TVs. Indulge in delicious meals at Terras Restaurant and Café METO. Located just minutes away from El Pedregal Marketplace and Harold's Cave Creek Corral, this resort provides convenient access to nearby attractions. For those traveling from afar, Phoenix Sky Harbor International Airport is approximately 58 km away.
– Serene location nestled amidst the stunning Sonoran Desert
– Extensive spa facilities for ultimate relaxation
– Outdoor pool perfect for lounging and enjoying signature cocktails
– Modern rooms equipped with free WiFi and flat-screen TVs
– Convenient proximity to local attractions and airport
Hilton Phoenix Tapatio Cliffs Resort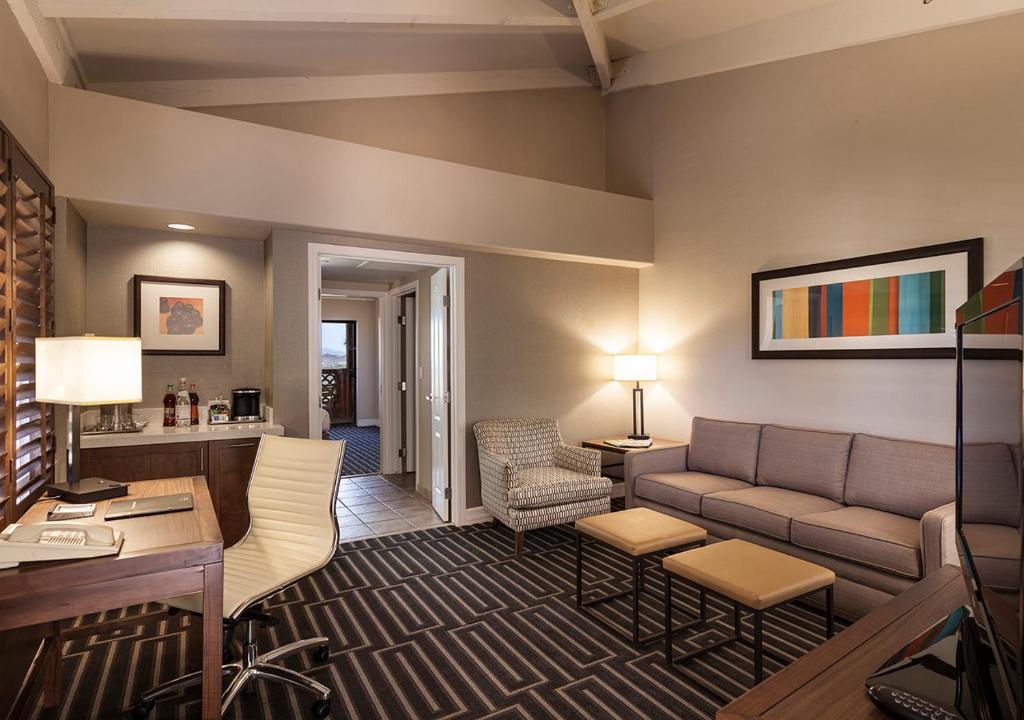 Located in the stunning desert landscape of Phoenix's North Mountain, Hilton Phoenix Tapatio Cliffs Resort offers an unforgettable holiday experience with its luxurious amenities, enjoyable activities, and delicious dining options. The resort features the Falls Water Village, a perfect spot for family fun, with 3 acres of swimming pools accompanied by waterfalls and a thrilling 42-meter waterslide. After a refreshing swim or a game of golf at the Lookout Mountain Golf Club, guests can unwind at the full-service Tocaloma Spa & Salon with a soothing massage. For those seeking further relaxation, private cabanas are available where they can sip refreshing drinks from Cascades Cafe. Additionally, guests can indulge in delectable American cuisine with Mediterranean influences at Different Pointe of View restaurant or enjoy traditionally grilled American dishes at Pointe In Tyme. The Lobby Bar offers coffee and pastries to start your day right. With lighted tennis courts and a state-of-the-art fitness center also available on-site, Hilton Phoenix Tapatio Cliffs Resort ensures that every guest enjoys their stay to the fullest.
– Luxurious amenities
– Extensive swimming pools with waterfalls and waterslide
– Full-service spa offering massages
– Multiple dining choices serving exquisite cuisines
– On-site golf course for avid golfers
JW Marriott Phoenix Desert Ridge Resort & Spa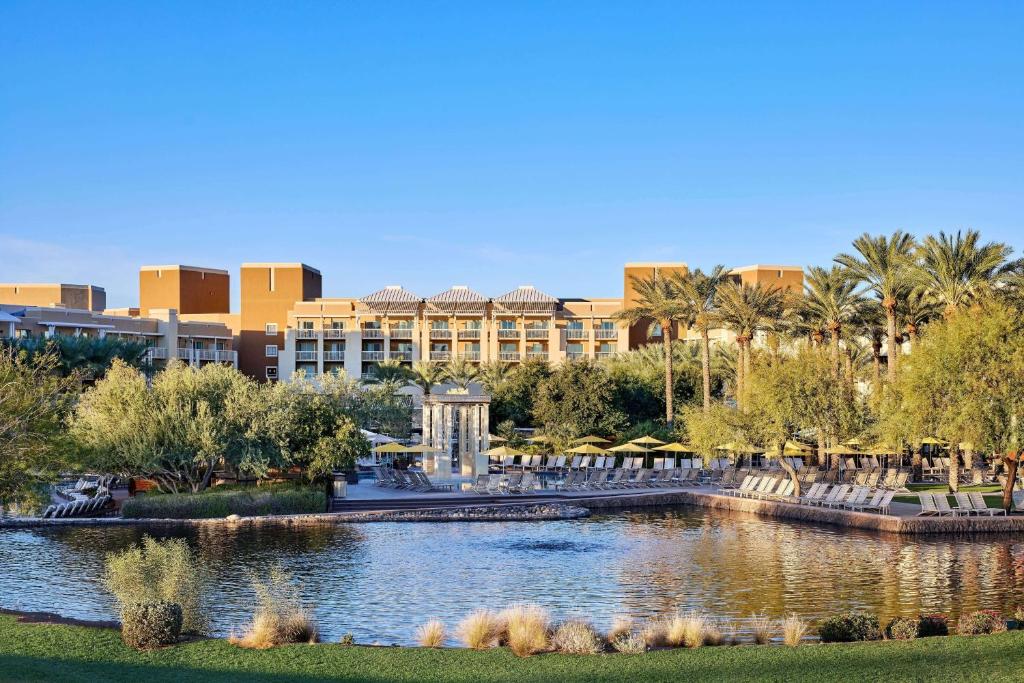 Located in the heart of the Sonoran Desert, just a short distance from downtown Scottsdale, JW Marriott Phoenix Desert Ridge Resort & Spa offers a truly luxurious experience. With two stunning golf courses and air-conditioned rooms that provide breathtaking views, this resort is perfect for both relaxation and recreation. The on-site spa features a lap pool and fitness center, ensuring guests can rejuvenate their bodies and minds. The spacious rooms are equipped with modern amenities such as cable TV, coffee makers, and minibars. Some even come with balconies for an added touch of indulgence. The resort boasts five restaurants serving a variety of delectable American and international cuisine, as well as an on-site Starbucks for coffee enthusiasts. Free WiFi is available in public areas to keep guests connected throughout their stay. Five swimming pools and exhilarating waterslides offer endless fun for all ages. For those seeking adventure outside the resort, there are plenty of leisure activities nearby including biking, miniature golf, and hiking trails. Whether you're looking to unwind or explore the beauty of nature surrounding the property, JW Marriott Phoenix Desert Ridge Resort & Spa has everything you need to make your stay unforgettable.
Pros:
– Scenic views from air-conditioned rooms
– Two golf courses
– On-site spa with lap pool
– Five restaurants offering diverse cuisine options
– Multiple swimming pools and waterslides
Information about Spa Hotels in Phoenix
| | |
| --- | --- |
| 🏢 Number of Spa Hotels in Phoenix | 9 |
| 🥇 Average Review Score | 8.6/10 |
| 💰 High season average price | 406 |
| 💸 Low season average price | 101.5 |
FAQ
Are there any Spa Hotels in Phoenix?
Yes, there are several Spa Hotels in Phoenix. This vibrant city offers a range of accommodations that include luxurious spa facilities. Visitors can indulge in relaxing massages, rejuvenating facials, and soothing body treatments while enjoying the desert scenery and warm temperatures.
What amenities can I expect at a Spa Hotel in Phoenix?
Spa Hotels in Phoenix offer an array of amenities to ensure a truly pampering experience. Guests can enjoy access to hot tubs, saunas, steam rooms, and swimming pools. Additionally, many hotels provide fitness centers, yoga classes, and healthy dining options for those seeking a holistic wellness retreat.
Which Spa Hotels in Phoenix have the best views?
There are several Spa Hotels in Phoenix that boast breathtaking views. For stunning panoramic vistas of the surrounding mountains and cityscape, consider staying at hotels located near Camelback Mountain or South Mountain Park. These locations provide guests with scenic beauty during their spa getaway.
Can I book spa treatments without staying at a Spa Hotel?
Absolutely! Many Spa Hotels in Phoenix offer day spa services where you can book treatments even if you're not staying overnight. This allows both locals and tourists to enjoy the benefits of professional spa therapies without needing to be hotel guests.
What is the average cost of booking a room at a Spa Hotel in Phoenix?
The average cost of booking a room at a Spa Hotel in Phoenix varies depending on factors such as location, level of luxury, and time of year. On average, prices range from $150 to $400 per night. However, keep an eye out for special promotions or packages that may offer discounted rates for your desired stay dates
Popular Wellness Hotels destinations