Welcome to Guadalajara, Mexico, a captivating destination renowned for its rejuvenating Spa Resorts. Nestled amidst the vibrant cityscape and surrounded by breathtaking natural beauty, Guadalajara offers a haven of tranquility for spa enthusiasts seeking relaxation and revitalization. Embrace the opportunity to indulge in luxurious treatments, immerse yourself in ancient healing traditions, and experience true pampering at the various Spa Hotels scattered throughout this enchanting city.
Guadalajara boasts an array of exquisite wellness retreats that cater to every need and desire. Whether you yearn for a serene countryside escape or prefer the convenience of a centrally located urban oasis, Guadalajara has it all. Unwind amidst lush gardens as skilled therapists soothe your senses with therapeutic massages using natural aromatic oils, or invigorate your body with revitalizing hydrotherapy sessions that will leave you feeling completely refreshed.
Immerse yourself in Mexican culture as you explore traditional temazcal ceremonies that harness the power of steam and herbs to cleanse both mind and body. Indulge in holistic spa rituals inspired by ancient Aztec traditions or discover unique treatments infused with local ingredients such as cactus extracts and volcanic mud from nearby mountains. With its rich history and commitment to wellness, Guadalajara promises an unforgettable spa journey like no other. So pack your bags and embark on an extraordinary adventure filled with relaxation and well-being in this charming Mexican city!
Best Guadalajara Spa Hotels
Hotel Malibu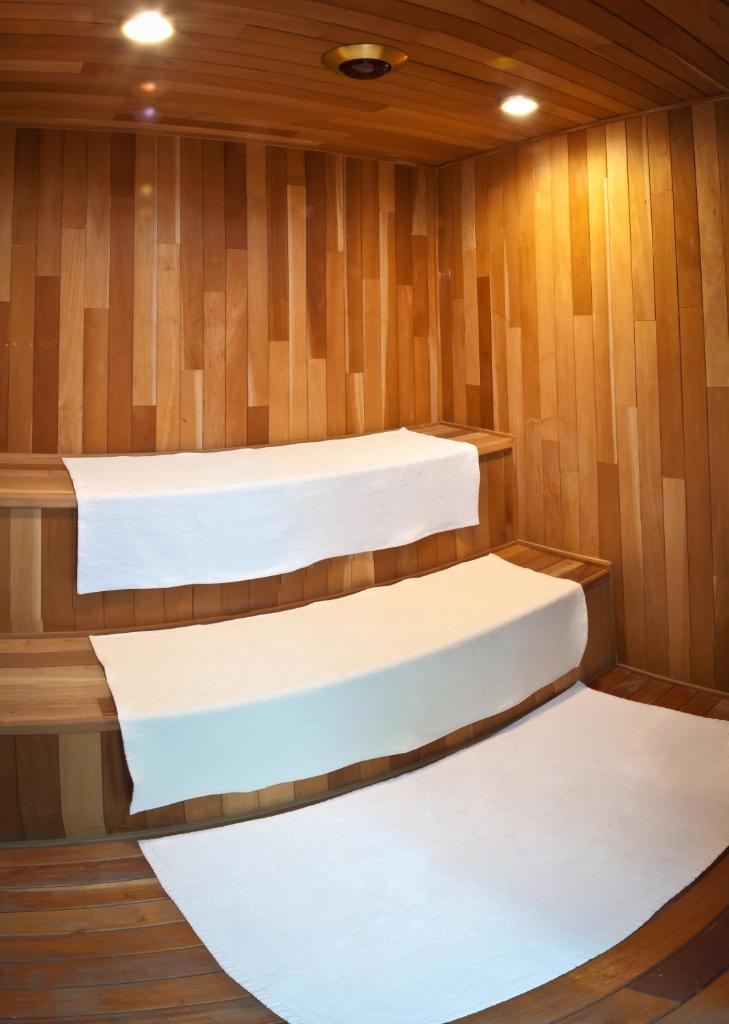 Hotel Malibu is a conveniently located hotel next to Gran Plaza Shopping Centre, offering guests a range of amenities for a comfortable stay. The hotel features a spa, sauna, gym, and an outdoor pool surrounded by beautiful gardens. The rooms at Hotel Malibu are tastefully decorated in bright colours and include modern amenities such as flat-screen cable TV, minibar, coffee maker, and safe. The private bathrooms are well-equipped with a hairdryer and toiletries. Guests can enjoy delicious Mexican dishes and international cuisine at the on-site restaurant, La Fuente. For relaxation, there is also a lobby bar and terrace where guests can unwind with their favorite drinks. Free WiFi is available throughout the hotel for guests' convenience. Additionally, free private parking is provided to ensure hassle-free parking for those traveling by car. The popular attractions of Guadalajara Cathedral and Plaza Universidad Square are just around 6 km away from the hotel while Guadalajara Airport can be reached within a 20-minute drive.
– Convenient location next to Gran Plaza Shopping Centre
– Spa facilities including sauna
– Outdoor pool surrounded by gardens
– Delicious Mexican dishes served at on-site restaurant
– Complimentary WiFi available throughout the hotel
Camino Real Guadalajara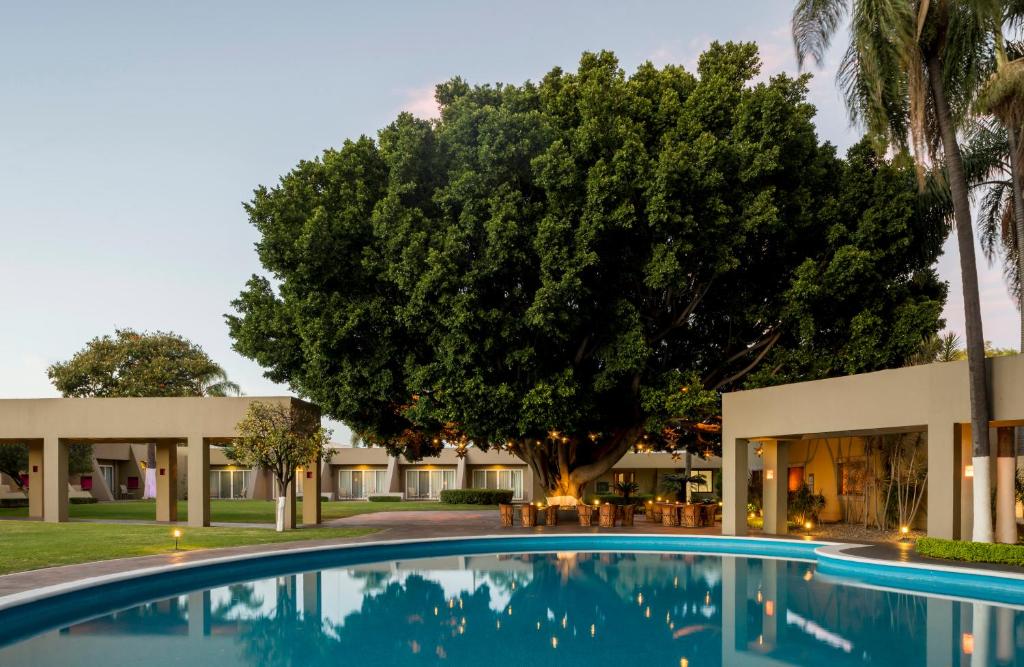 Located next to the Camara de Comercio and just 1 km from Guadalajara's La Gran Plaza Shopping Centre, Hotel Camino Real Guadalajara is a modern hotel with an attractive garden and pool. The air-conditioned rooms are elegantly decorated and each one has a terrace, satellite TV, minibar, and a private bathroom with a hairdryer. Guests can enjoy traditional Mexican food at the hotel's La Huerta Restaurant which offers great views of the garden. On Sundays, an international brunch is served. The hotel's convenient location provides easy access to Expo-Guadalajara Convention Centre as it is situated between two of Guadalajara's main roads. The airport is also just a 25-minute drive away.
– Modern hotel located near shopping center
– Elegant rooms with terraces
– Attractive garden with pool
– Traditional Mexican food at La Huerta Restaurant
– Easy access to convention center and airport
Hotel Morales Historical & Colonial Downtown Core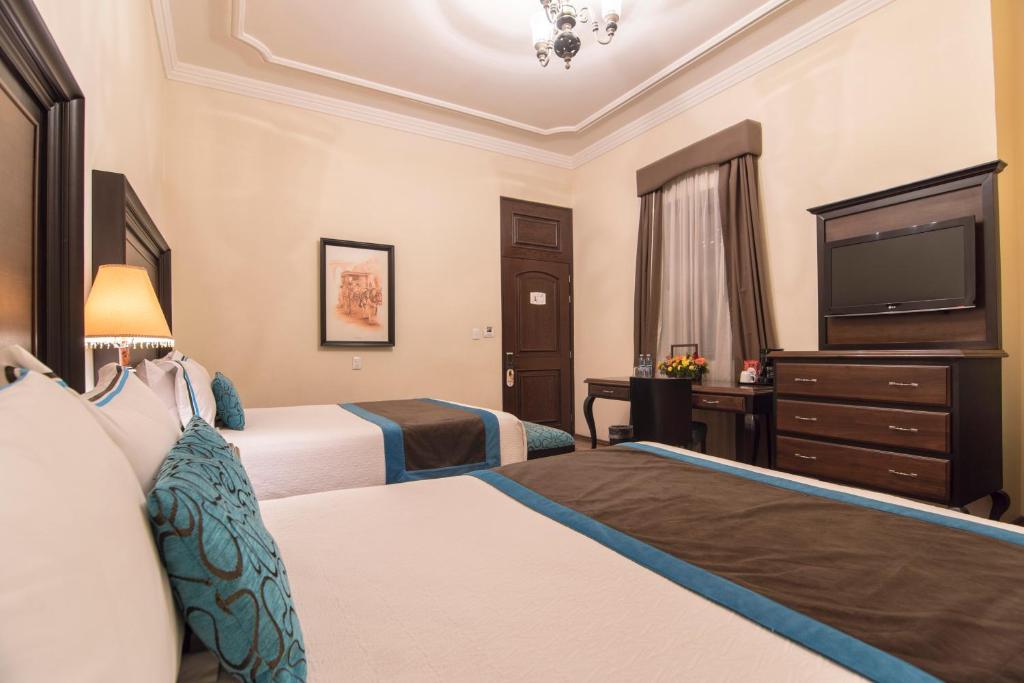 Located in the heart of downtown Guadalajara, Hotel Morales Historical & Colonial Downtown Core offers elegant accommodations and top-notch amenities. Situated just a short distance from various attractions, guests can easily explore the city's popular points of interest. After a day of sightseeing, patrons can unwind at the on-site lounge while enjoying live music and savoring their favorite beverage or make use of the hotel's modern business center with complimentary Wi-Fi. With an array of historical sites and cathedrals nearby, guests will never be short on cultural experiences.
Pros:
– Convenient central location in downtown Guadalajara
– Elegant accommodations with first-class amenities
– On-site lounge with live music for relaxation
– State-of-the-art business center with free Wi-Fi access
– Close proximity to historical sites and cathedrals
Other places to stay in Guadalajara
Romantic Hotels with Spa in Guadalajara
Guadalajara, known for its vibrant culture and rich history, offers an array of romantic hotels with luxurious spas to ensure a truly enchanting getaway. Nestled in the heart of this captivating city, these spa hotels provide an oasis of relaxation and rejuvenation for couples seeking a perfect escape. Immerse yourselves in tranquil surroundings while indulging in pampering treatments, invigorating massages, and exclusive wellness experiences. Whether it's soaking in thermal baths or unwinding together with couples' rituals, these romantic hotels with spas are designed to create lasting memories of blissful tranquility for all lovebirds visiting Guadalajara.
Demetria Hotel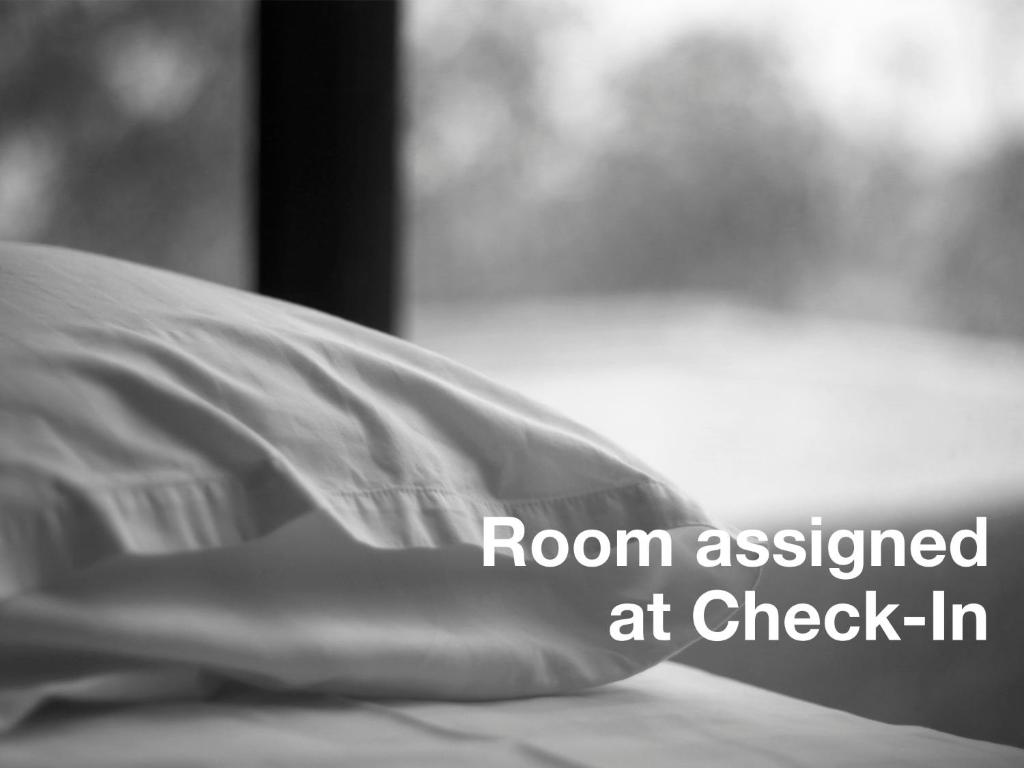 Located in the Lafayette neighborhood of Guadalajara, Demetria Hotel is a boutique hotel housed in a historic building. With its rooftop terrace offering stunning city views and an outdoor pool, guests can relax and unwind while taking in the scenery. The stylish rooms provide modern amenities such as free Wi-Fi and flat-screen TVs, while the suites also include elegant hardwood furniture. Guests can enjoy a daily breakfast buffet at the hotel's à la carte restaurant or explore the surrounding streets and Chapultepec Avenue for more dining options. Additionally, Demetria Hotel offers free parking and is conveniently situated just a 15-minute drive from Guadalajara's town center, making it an ideal choice for both business and leisure travelers.
– Rooftop terrace with outdoor pool
– Historic building with stylish rooms
– Free Wi-Fi and flat-screen TVs in suites
– Bar and à la carte restaurant serving breakfast buffet
– Convenient location near Guadalajara University and cathedral (less than 3 km away)
Hotel Casona Independencia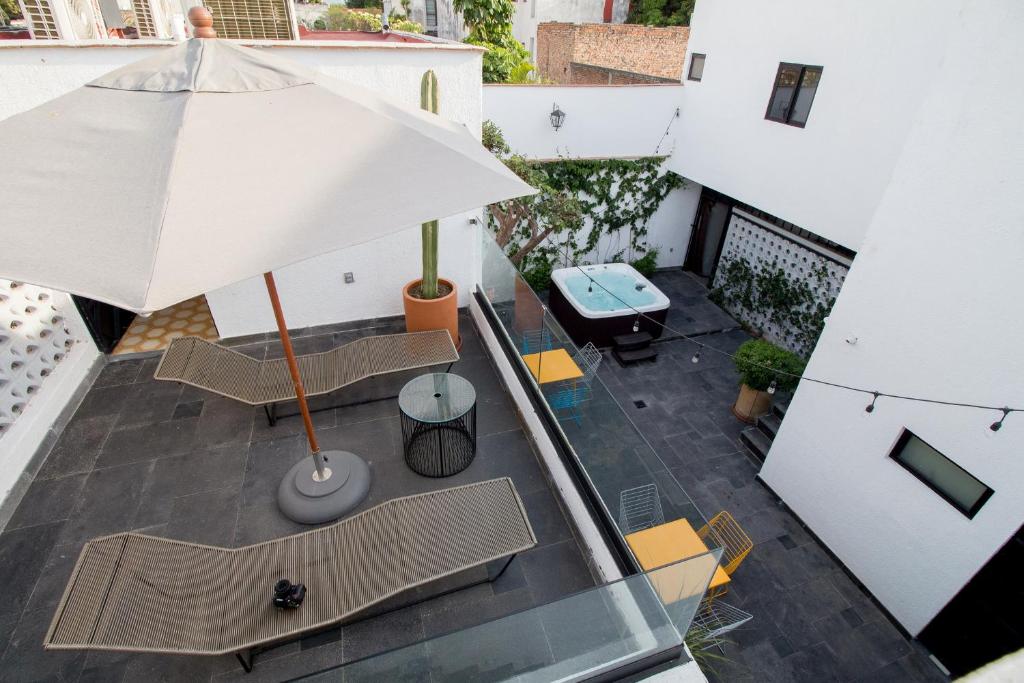 Hotel Casona Independencia is a conveniently located 4-star hotel in the heart of Guadalajara. It offers guests a range of amenities including a terrace, free WiFi, and a bar. The hotel also has a tour desk and luggage storage facilities. The air-conditioned rooms at Hotel Casona Independencia are well-appointed with features such as a desk, coffee machine, fridge, minibar, safety deposit box, flat-screen TV, and private bathroom with shower. Guests can enjoy their stay with added comforts like bed linen and towels provided by the hotel. For relaxation, the hotel offers a hot tub for guests to unwind after a long day of exploring the city. Other services provided by Hotel Casona Independencia include laundry service and business facilities like faxing and photocopying. The hotel's prime location allows guests to easily visit attractions such as Expiatorio Temple, Guadalajara Cathedral, and Revolution Park. Guadalajara Airport is just 19 km away from the hotel.
Pros:
– Convenient central location
– Free WiFi
– Terrace area for relaxation
– Hot tub facility available
– Tour desk for assistance with sightseeing planning
Grand Fiesta Americana Guadalajara Country Club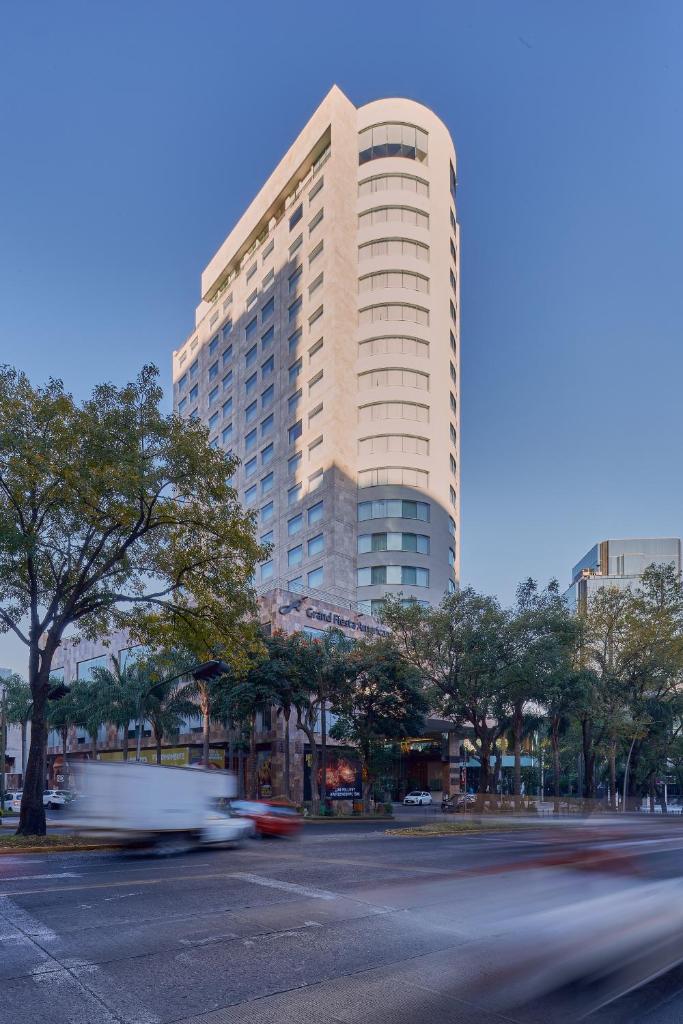 Located in the bustling corporate and financial district, Grand Fiesta Americana Guadalajara Country Club offers a contemporary setting with modern amenities. This hotel features an on-site restaurant, 4 Estaciones, serving International cuisine for breakfast, lunch, and dinner. Guests can keep up with their fitness routine at the fitness center or take care of business affairs in the well-equipped business center. After a delicious meal, guests can unwind with a specialty cocktail or enjoy a glass of fine wine at Bargüero bar.
– Convenient location in the corporate and financial district
– Contemporary facilities and amenities
– On-site restaurant offering International cuisine
– Fitness center available for guests to exercise
– Well-equipped business center for business needs
Spa Hotels in Guadalajara with Cool Views
Guadalajara, a vibrant city in Mexico, offers an array of luxurious Spa Hotels with cool views that are sure to rejuvenate and relax any traveler. Nestled amidst the stunning landscapes, these establishments provide guests with breathtaking vistas of mountains, gardens, or the city skyline. Whether it's enjoying a soothing massage while gazing at picturesque sunsets or unwinding in thermal pools surrounded by lush greenery, these Spa Hotels in Guadalajara offer an unforgettable experience for those seeking tranquility and beauty in their stay.
Fiesta Americana Guadalajara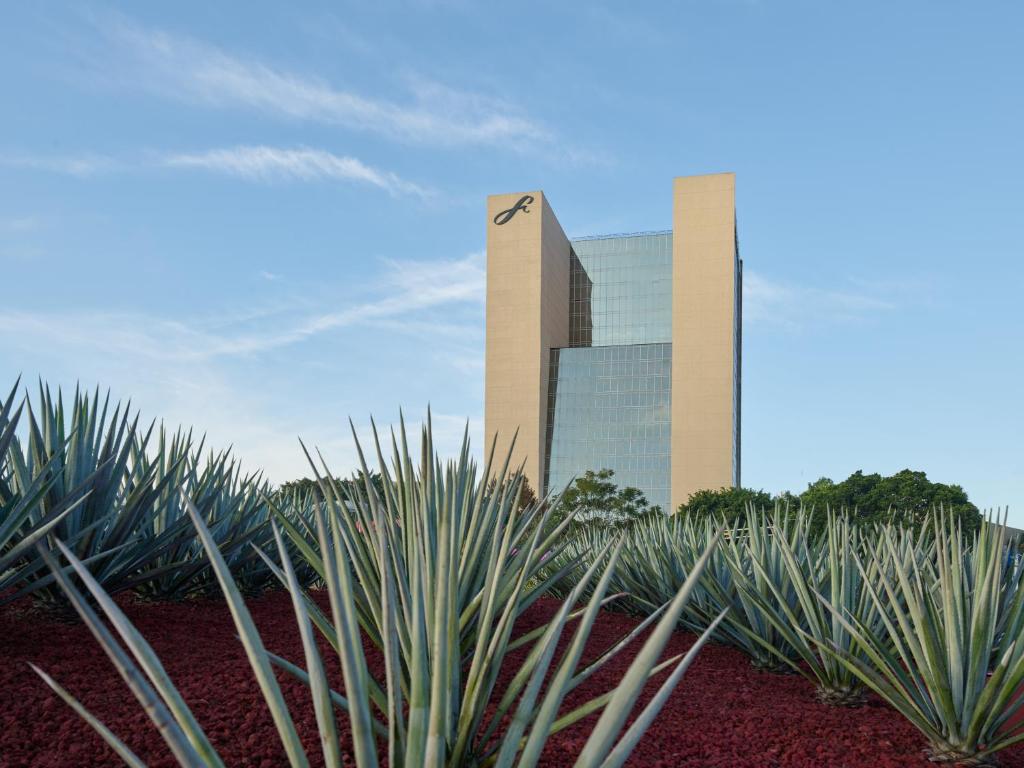 Located across from the Glorieta de La Minerva monument in Guadalajara, Fiesta Americana Guadalajara is a centrally located hotel that offers convenience for both business and leisure travelers. The hotel features the second largest convention center in the city, making it an ideal choice for corporate events and meetings. Additionally, guests can take advantage of the well-equipped 24-hour business center to stay productive during their stay. For those looking to unwind, there is a gym available for workouts and a spa where guests can indulge in pampering treatments. The hotel also boasts several dining options that cater to different tastes and preferences. For families traveling with children, the Fiesta Kids Club provides entertainment and activities to keep little ones occupied. With its strategic location near the World Trade Center Mexico and numerous restaurants and shops in the area, Fiesta Americana Guadalajara offers convenience and comfort for all guests.
Pros:
– Convenient location near Glorieta de La Minerva monument
– Second largest convention center in Guadalajara
– Well-equipped 24-hour business center
– On-site gym and spa facilities
– Family-friendly amenities like Fiesta Kids Club
Hard Rock Hotel Guadalajara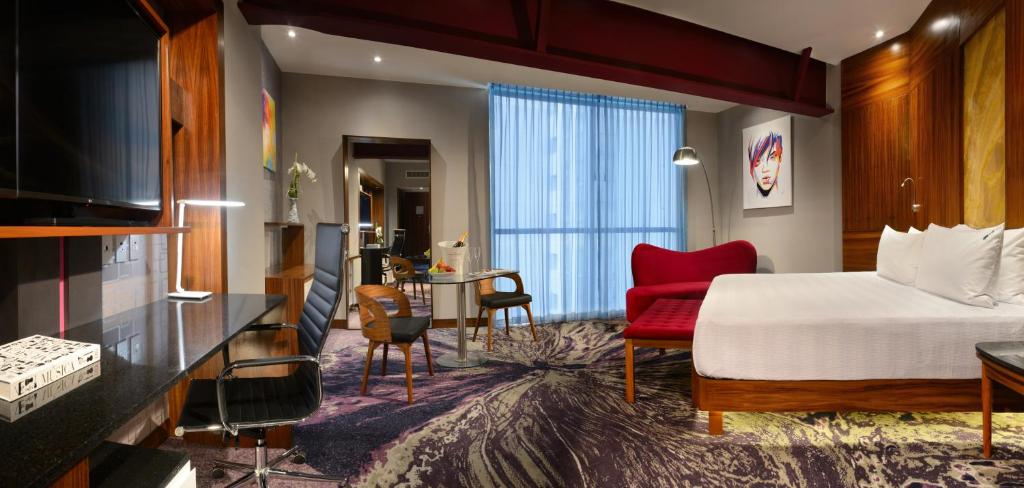 Hard Rock Hotel Guadalajara is located in Guadalajara, just 7 km from Guadalajara Cathedral. This stylish hotel offers an outdoor swimming pool and free WiFi. It is also conveniently situated near attractions such as Jalisco Stadium and Expo Guadalajara. The hotel boasts a fitness centre, garden, evening entertainment, and a 24-hour front desk. The rooms are modern and equipped with a desk, flat-screen TV, private bathroom with free toiletries and hair dryer, wardrobe, and coffee machine. Guests can enjoy breakfast options ranging from continental to buffet or à la carte at the on-site restaurant that serves international dishes. The hotel also features a sauna for ultimate relaxation during your stay. Additionally, guests have access to the business centre and ATM machine on-site. La Gran Plaza Fashion Mall is just 1.1 km away while the Passport Office is only 2 km away from the property making it highly convenient for travelers. With its excellent amenities and prime location, Hard Rock Hotel Guadalajara offers an unforgettable experience for guests.
– Outdoor swimming pool
– Free WiFi
– Fitness centre
– Variety of breakfast options
– Sauna
FULTON Business Luxury HOTEL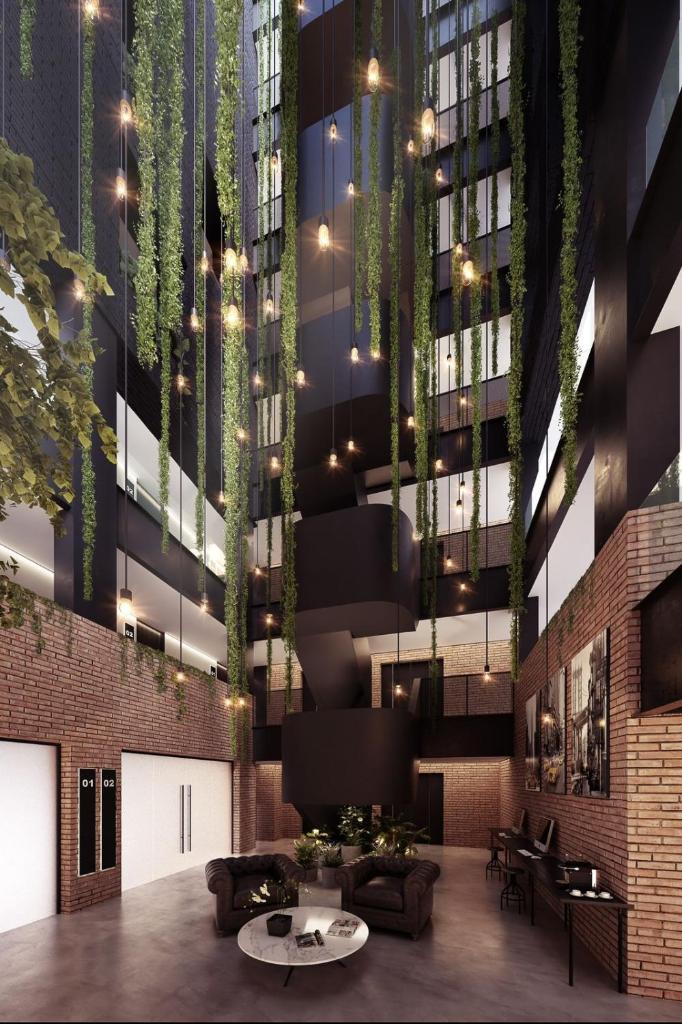 Located in Guadalajara, the FULTON Business Luxury Hotel opened its doors in June 2021. Situated just 5.3 km from the Expiatorio Temple, this 4-star hotel offers a luxurious and comfortable stay for guests. With amenities such as a terrace, free private parking, a restaurant, and a bar, visitors can enjoy convenience and relaxation during their stay. The hotel also provides free WiFi access and has a 24-hour front desk for any assistance needed. Guests can start their day with an American breakfast served daily at the hotel. The nearest airport is Guadalajara Airport, which is only 23 km away. Additionally, rooms are equipped with air conditioning and flat-screen TVs for entertainment purposes. Some rooms even offer balconies to provide beautiful views of the surrounding area. Within close proximity to Cabanas Cultural Institute (7 km) and Jalisco Stadium (7.2 km), guests have easy access to explore popular attractions in Guadalajara.
– Convenient location near popular attractions
– Luxurious amenities including terrace and restaurant
– Free private parking
– Complimentary WiFi access
– Balcony available in select rooms
Information about Spa Hotels in Guadalajara
| | |
| --- | --- |
| 🏢 Number of Spa Hotels in Guadalajara | 9 |
| 🥇 Average Review Score | 8.5/10 |
| 💰 High season average price | 1272 |
| 💸 Low season average price | 318 |
FAQ
Are there any Spa Hotels in Guadalajara, Mexico?
Yes, there are several Spa Hotels in Guadalajara, Mexico. The city offers a range of luxurious accommodations that feature top-notch spa facilities and services. Whether you're looking for a relaxing massage or a rejuvenating facial treatment, these hotels have it all. Some popular options include Hotel Riu Plaza Guadalajara, Hotel Villa Ganz Boutique, and NH Collection Guadalajara Centro Histórico.
What amenities can I expect at Spa Hotels in Guadalajara?
Spa Hotels in Guadalajara boast an array of amenities to ensure a comfortable and pampering stay. Besides the spa facilities themselves, you can expect features like swimming pools, fitness centers, on-site restaurants serving healthy cuisine, and beautifully designed rooms with plush bedding. Additionally, many hotels offer complimentary Wi-Fi access and concierge services to enhance your overall experience.
How do I book a Spa Hotel in Guadalajara?
Booking a Spa Hotel in Guadalajara is easy! You can visit various travel websites or the hotel's official website to check availability and make reservations online. Alternatively, you can call the hotel directly or contact your preferred travel agent for assistance. It's always recommended to book well in advance to secure your desired dates and take advantage of any special promotions or packages available.
Can I enjoy spa treatments even if I'm not staying at a Spa Hotel?
Yes! Many Spa Hotels in Guadalajara offer day spa packages where non-guests can enjoy their services as well. These packages typically include access to the spa facilities for a certain duration along with specific treatments such as massages or facials. It's best to inquire directly with the hotel about their day spa options and policies for outside guests.
Are there any budget-friendly options for Spa Hotels in Guadalajara?
While some Spa Hotels in Guadalajara may be on the higher end of the price scale, there are also budget-friendly options available. These hotels offer spa services at more affordable rates without compromising on quality. Some examples include Hotel Portobelo, Hotel Morales Historical & Colonial Downtown Core, and Fiesta Inn Guadalajara Expo. It's always a good idea to compare prices and read reviews to find the best value for your money.
Popular Spa Hotels destinations
Spa Hotels in Guadalajara