Welcome to our comprehensive guide on Wellness Retreats in Willingen, Germany. Nestled in the heart of the picturesque highlands, this charming town is a hidden gem for those seeking tranquility and rejuvenation. Willingen boasts an array of exquisite spa hotels that will pamper your mind, body, and soul.
Indulge yourself in opulent sanctuaries where relaxation is elevated to an art form. Immerse yourself in lavish surroundings adorned with elegant decor and plush furnishings. Whether you prefer modern elegance or rustic charm, there is a spa hotel in Willingen to suit your discerning tastes.
Embark on a journey of pure bliss as you immerse yourself in the plethora of wellness amenities these oases offer. From state-of-the-art fitness centers and invigorating saunas to luxurious indoor pools and serene outdoor terraces, every facility has been meticulously designed to cater to your well-being needs.
Escape from the stresses of daily life as expert therapists guide you through soothing treatments inspired by ancient traditions from around the world. Feel tensions melt away under skilled hands during relaxing massages or indulge in revitalizing beauty rituals using organic skincare products.
Willingen's Spa Hotels promise an unparalleled experience that will leave you feeling refreshed, reenergized, and ready to take on the world again. So why wait? Treat yourself to a memorable escape at one of these exceptional retreats nestled amidst nature's bounty.
Best Willingen Spa Hotels
Hotel Hochheide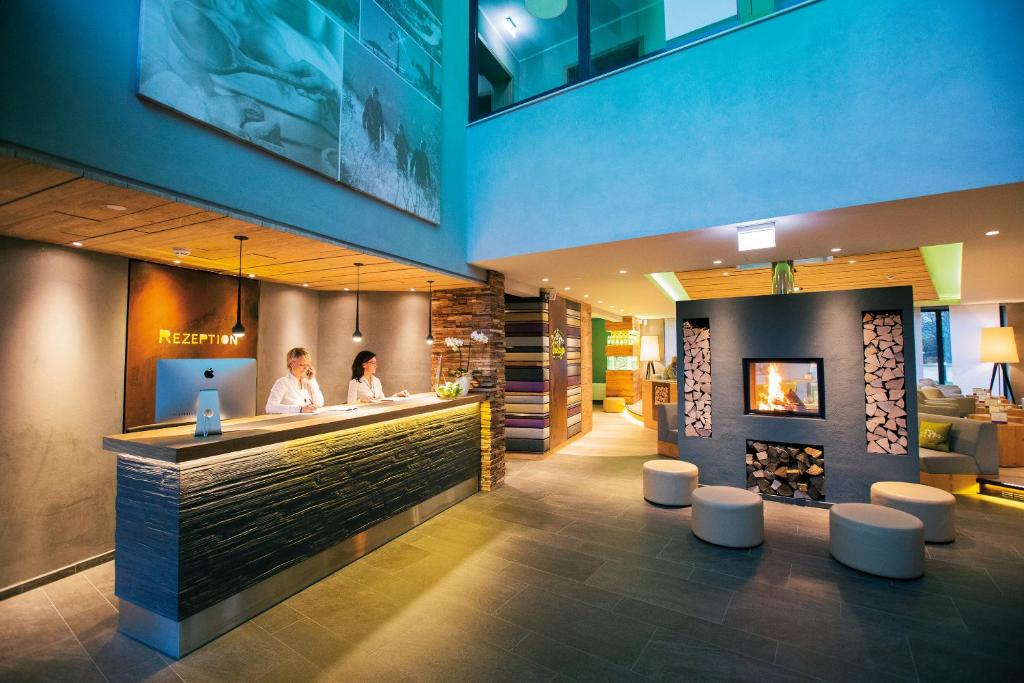 Hotel Hochheide is a charming, family-run hotel located on the sunny slope of Mount Ettelsberg, just a short walk from Willingen town centre. The hotel offers elegant accommodation with balconies and picturesque mountain views. Situated next to an ice skating rink, a cinema, and a lagoon adventure park with a large spa area, guests can enjoy both relaxation and entertainment during their stay. The spacious rooms and apartments are furnished with modern décor and feature amenities such as satellite TV and comfortable seating areas. The hotel also boasts Bar Valluga where guests can unwind after a day of exploring. In the morning, guests can indulge in a freshly prepared breakfast buffet made with locally sourced ingredients. For those who wish to bask in the sunshine, there is a terrace with a large sunbathing lawn available for relaxation. Hikers will be delighted by the 300 km of signposted hiking trails in the surrounding area, including the renowned Rothaarsteig Hiking Route.
– Ideal location close to town centre
– Stunning mountain views from balconies
– Access to ice skating rink and adventure park
– Relaxing spa facilities
– Delicious breakfast made with local produce
Best Western Plus Hotel Willingen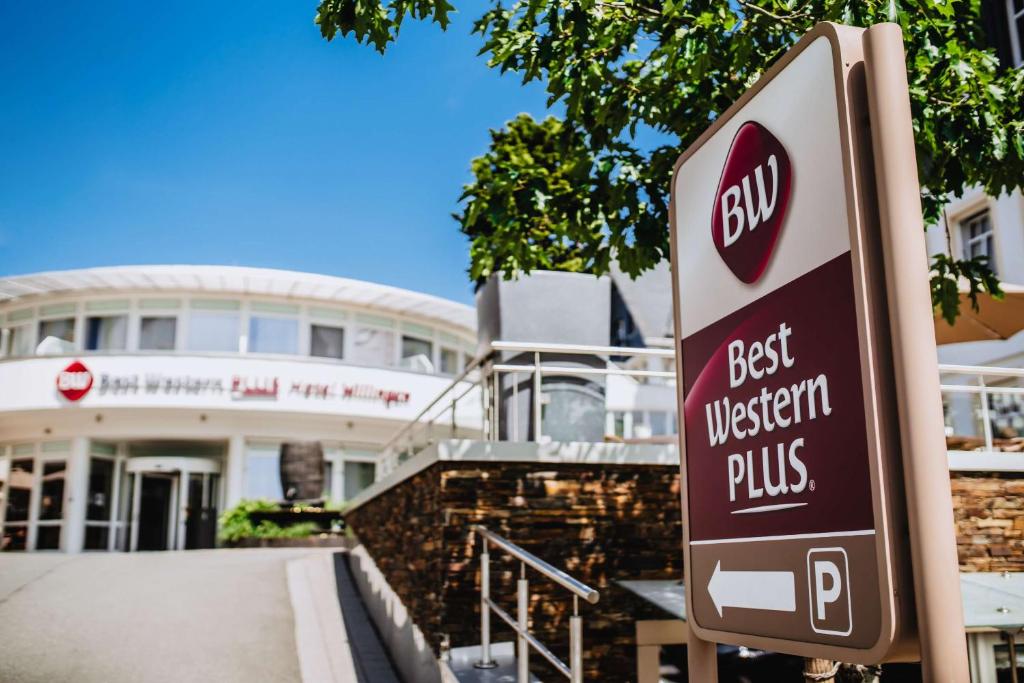 Located in the heart of Willingen, the Best Western Plus Hotel offers a range of amenities for a comfortable stay. Guests can enjoy free internet access and nearby parking at the Willinger Brauhaus. The hotel also features health facilities and serves a complimentary breakfast. The rooms are bright and equipped with satellite TV, with some offering balconies or terraces. Lift access is available to all floors. Dining options include the Sudhaus restaurant, LEOs Bierkeller, and a cozy café. On weekends, guests can enjoy DJs and dancing at LEOs Bierkeller or at the adjacent Willinger Brauhaus brewery. In the summer, the terrace provides an outdoor space to relax. For those looking to explore further, rental bikes are available for guests to venture into the surrounding countryside.
Pros:
– Free internet access
– Complimentary breakfast
– Health facilities on-site
– Various dining options available
– Rental bikes for exploring
Göbels Landhotel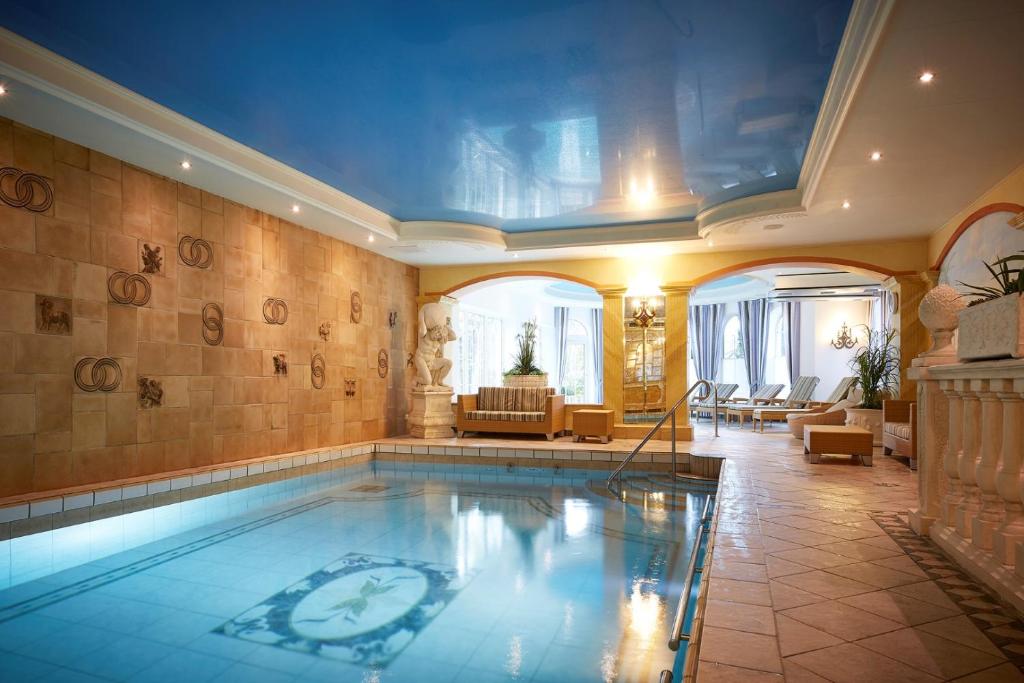 Located beside the Kurpark spa gardens in Willingen, Göbels Landhotel is a charming hotel that offers a relaxing retreat. The spacious rooms are designed in a bright and country-style, featuring flat-screen TVs and most rooms have balconies. Guests can enjoy free access to the hotel's Mountain Spa, which includes 5 saunas, a saltwater bath, and a modern fitness center. Beauty treatments and massages are available upon request for an additional fee. The Willinger Stuben restaurant serves delicious regional and international cuisine, while the C'est La Vie bar offers a variety of drinks and hosts dance evenings. For those looking to explore the Diemelsee Nature Park, the hotel provides rental bikes. Free outdoor parking is available or guests can opt for the hotel's garage for an additional fee.
– Large spa with 2 pools
– Spacious rooms with flat-screen TVs
– Free use of Mountain Spa including saunas and saltwater bath
– Regional and international meals served at Willinger Stuben restaurant
– Rental bikes provided for exploring Diemelsee Nature Park
Romantic Hotels with Spa in Willingen
Willingen, a charming destination nestled amidst the picturesque landscapes of Germany, offers an array of romantic hotels with soothing spas. These idyllic retreats provide couples with the perfect opportunity to unwind and indulge in luxurious spa treatments, creating cherished memories together. With serene surroundings and rejuvenating spa facilities, these romantic hotels in Willingen offer a haven for couples seeking relaxation and intimacy. Whether it's unwinding with a couple's massage or luxuriating in a private sauna session, these establishments provide the ideal setting for lovebirds to reconnect and find tranquility in each other's company.
Sporthotel Zum Hohen Eimberg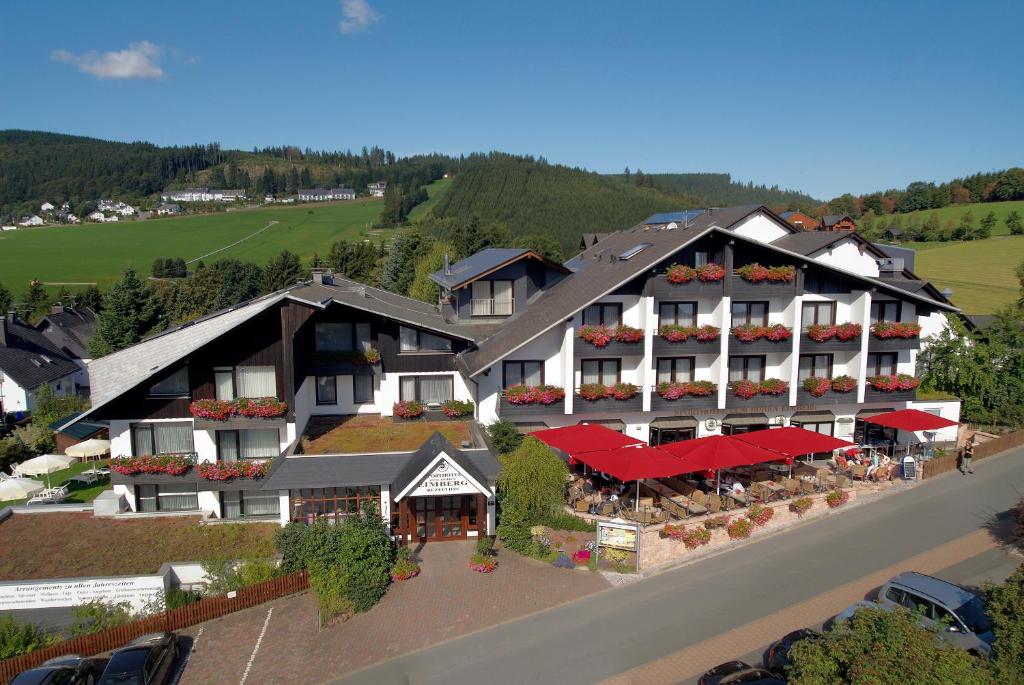 Located in the heart of Willingen town centre within the stunning Diemelsee Nature Park, Sporthotel Zum Hohen Eimberg is a charming family-run hotel that offers spacious rooms, complimentary Wi-Fi, and an impressive spa area complete with both indoor and outdoor pools. The hotel's expansive wellness facilities include a Finnish sauna, steam room, and a large hot tub. Each of the comfortable rooms at Sporthotel Zum Hohen Eimberg features a private bathroom and satellite TV, with many offering the additional luxury of a private balcony. Guests are also invited to indulge in the therapeutic benefits of the SeaClimate salt cave. In terms of dining options, the hotel's restaurant serves up delicious German cuisine as well as generous buffet spreads. The Zick Zack Bar provides a lively atmosphere for guests to enjoy exotic cocktails and cold beers. Furthermore, convenient parking spaces for cars and motorcycles are provided free of charge for guests at Sporthotel Zum Hohen Eimberg.
Pros:
– Large spa area with indoor and outdoor pools
– Wide range of wellness facilities including Finnish sauna, steam room, and hot tub
– Comfortable rooms with private bathrooms and satellite TV
– Option to upgrade to rooms with private balconies
– SeaClimate salt cave available for guest use
Rüters Parkhotel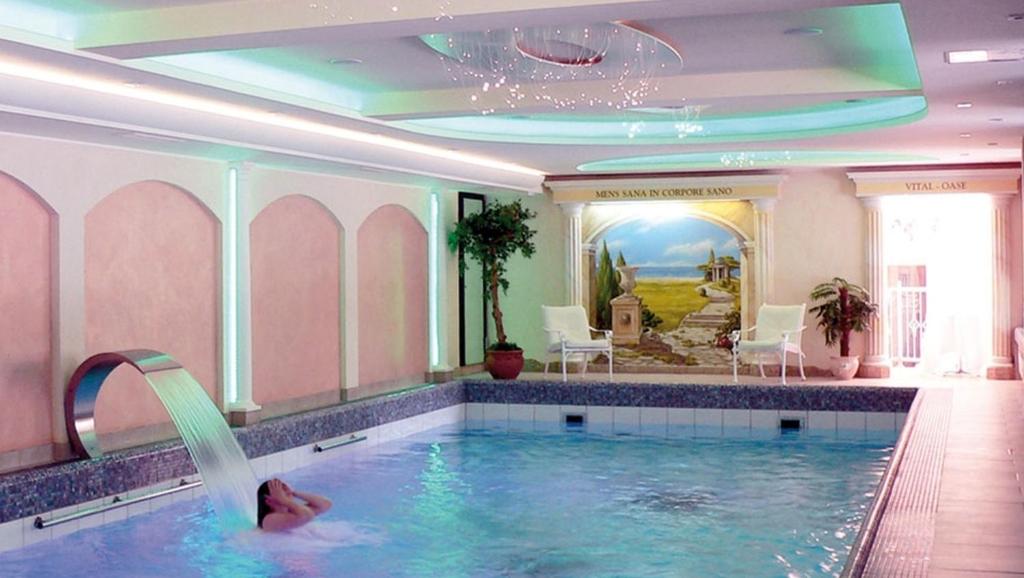 Located in the picturesque Diemelsee nature reserve in Willingen, the Rüters Parkhotel is a 4-star accommodation offering stylish rooms, an elegant à la carte restaurant, and a heated indoor swimming pool. The rooms are beautifully decorated with pastel colour schemes and equipped with modern amenities and high-quality furniture. Guests can indulge in relaxation at the hotel's spa area which includes an inviting indoor pool, Finnish sauna, adventure showers, and a beauty farm. Start your day with a complimentary breakfast buffet before venturing out to explore the scenic Hochsauerland region. In the evenings, enjoy delicious regional cuisine and international dishes at the hotel restaurant followed by unwinding with drinks at the cosy bar.
Pros:
– Beautiful location in the Diemelsee nature reserve
– Stylishly decorated rooms with modern amenities
– Spa facilities including indoor pool and sauna
– Complimentary breakfast buffet
– Elegant restaurant serving regional and international cuisine
Sauerland Stern Hotel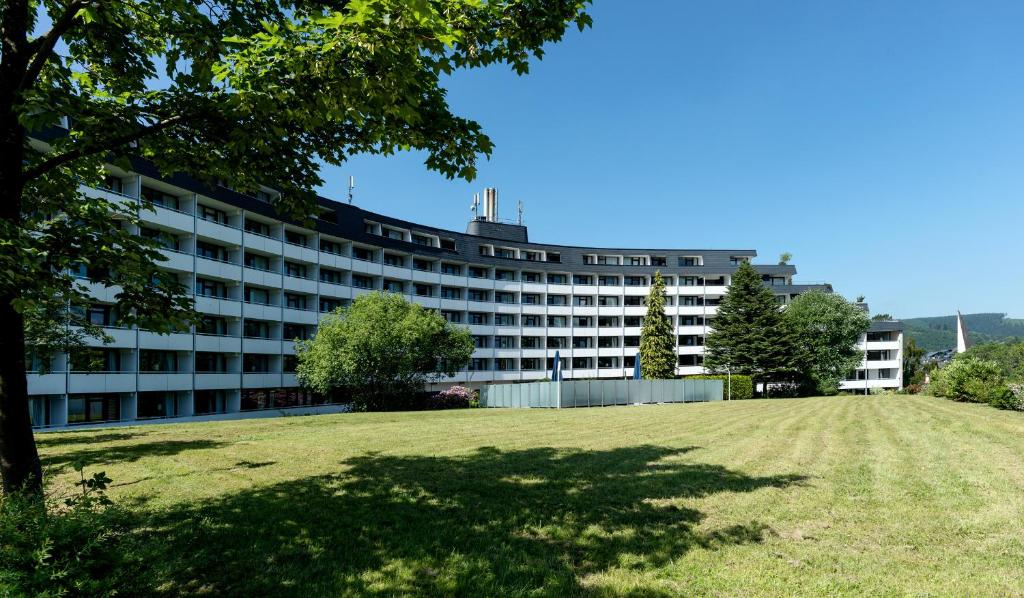 The Sauerland Stern Hotel is a 4-star hotel located in the picturesque ski resort town of Willingen, at the foot of Ettelsberg Mountain. This hotel offers a range of amenities including an indoor swimming pool, sun terrace, and spa area with a sauna and hot tub. The rooms are spacious and feature large windows, satellite TV, a seating area, and a private bathroom. Free WiFi is available in the lobby. Guests can enjoy a buffet breakfast at the hotel's multiple restaurants. The Trattoria La Stella restaurant serves delicious Tuscan cuisine while the Wirtshaus tavern specializes in regional Sauerland dishes. Ski enthusiasts will appreciate the convenient location of this hotel as it offers ski equipment rentals and storage facilities. For those who prefer outdoor activities beyond skiing, hiking and cycling are popular options in the surrounding countryside. Bicycle rentals are also available at the hotel for guests to explore further. Additionally, free private parking is provided on site for guests' convenience, and Willingen Train Station is just 500 meters away.
– Indoor swimming pool
– Spa area with sauna and hot tub
– Multiple on-site restaurants offering various cuisines
– Convenient location for skiing with equipment rentals available
– Hiking and cycling opportunities nearby
Information about Spa Hotels in Willingen
| | |
| --- | --- |
| 🏢 Number of Spa Hotels in Willingen | 6 |
| 🥇 Average Review Score | 8/10 |
| 💰 High season average price | 1026 |
| 💸 Low season average price | 256.5 |
FAQ
1
What are the spa facilities offered at Spa Hotels in Willingen?
Spa Hotels in Willingen offer a range of luxurious spa facilities. Guests can indulge in rejuvenating treatments such as massages, facials, and body wraps. Additionally, many hotels feature saunas, steam rooms, and relaxation areas where visitors can unwind and escape from daily stress. The tranquil ambiance combined with professional therapists ensure that guests experience ultimate relaxation during their stay.
2
Are there any outdoor activities available near Spa Hotels in Willingen?
Yes, there are various outdoor activities available near Spa Hotels in Willingen. The town is surrounded by stunning natural landscapes including forests and mountains which provide ample opportunities for hiking, biking, and exploring nature trails. During winter months, visitors can also enjoy skiing and snowboarding on the nearby slopes. These activities complement the wellness experience at the spa hotels by offering guests a chance to connect with nature while promoting physical well-being.
3
What dining options are available at Spa Hotels in Willingen?
Spa Hotels in Willingen boast exceptional dining options that cater to various culinary preferences. Visitors can savor delectable international cuisines as well as regional specialties made from fresh locally sourced ingredients. Many hotels offer both buffet-style meals and à la carte menus ensuring guests have a wide variety of choices to satisfy their taste buds. Moreover, some establishments provide dietary-friendly options to accommodate special requests or dietary restrictions.
4
Do Spa Hotels in Willingen offer fitness facilities?
Yes, most Spa Hotels in Willingen offer fitness facilities for those looking to maintain their exercise routine during their stay or simply wanting to keep active while enjoying their wellness retreats. These fitness centers typically include modern gym equipment such as treadmills, elliptical machines, weights, and more to cater to different workout preferences of guests.
5
Are there any additional amenities provided at Spa Hotels in Willingen?
Besides spa treatments and fitness facilities, Spa Hotels in Willingen offer a wide range of additional amenities to ensure a comfortable and memorable stay for guests. These may include indoor swimming pools, jacuzzis, beauty salons, and tennis courts among others. Furthermore, some establishments organize recreational activities or have partnerships with nearby attractions to provide guests with a comprehensive experience during their visit to Willingen.
Popular Spa Hotels destinations