Welcome to the stunning Western Cape, a province in South Africa that is known for its breathtaking landscapes, vibrant cities, and luxurious accommodations. Today, we dive into the world of hotels with private hot tubs in room. If you're looking to indulge in relaxation and luxury during your stay, then these establishments are the perfect choice for you.
Imagine stepping into your own personal oasis after a long day of exploring all that the Western Cape has to offer. These hotels offer an intimate and pampering experience like no other. Whether you prefer to soak in warm bubbles while enjoying panoramic views of the city skyline or unwind with a glass of local wine surrounded by lush greenery, there is a hotel here that will cater to your every need.
Escape from the hustle and bustle of everyday life as you immerse yourself in ultimate tranquility. The Jacuzzi suites in these hotels provide an opulent haven where you can let go of all your worries and simply unwind. Soothing jets melt away any tension while providing a sense of pure bliss. Indulge in some alone time or create lasting memories with a loved one as you relax under starry skies or next to cozy fireplaces.
In this blog post, we will delve into some of the top hotels with Jacuzzis in room located throughout Western Cape – ensuring that your stay not only captures the beauty of this region but also provides an unforgettable spa-like experience right at your fingertips.
Best Western Cape Hotels With Hot Tub
Ocean View House: Panorama Apartment with Sea View and Hot Tub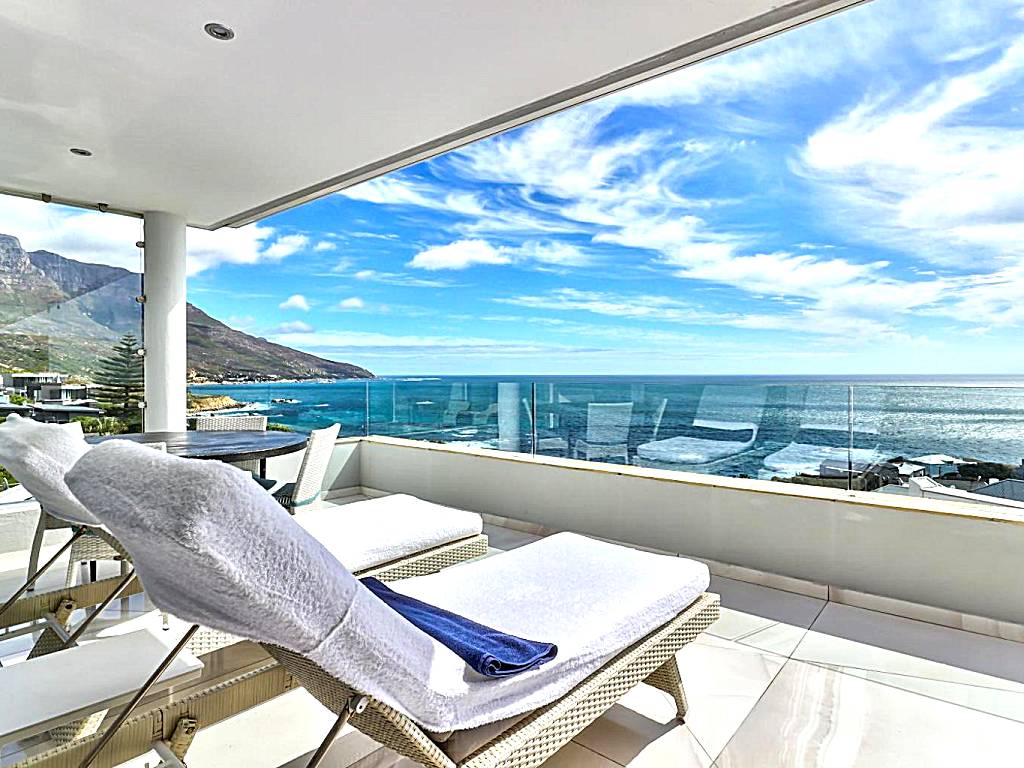 The Panorama Apartment at Ocean View House is a luxurious top-floor apartment that offers breathtaking sea and mountain views. The apartment features a contemporary design with all the amenities you need for a comfortable stay. The large balcony is the highlight of this apartment, equipped with a 4-seater Jacuzzi, two sun loungers, a table and chairs, an awning, and even a Weber gas barbecue. Inside the apartment, you'll find extra-length king size beds, night blind shutters and blackout curtains for ultimate relaxation. There's also a dining table, desk, and flat-screen TV for your entertainment. The fully equipped kitchenette includes a stovetop, refrigerator with freezer, microwave, and toaster. The bathroom boasts separate shower and bathtub facilities as well as double vanity sinks. You have the option to request either a king or twin bed setup when booking this apartment. Ocean View House is known for its outstanding service in an affluent setting overlooking the Atlantic Ocean. You can enjoy free WiFi throughout the property while taking in scenic sea, garden, and mountain views from most rooms. Each room is beautifully designed with modern finishes while many bathrooms feature double basins. If you prefer self-catering accommodations, the apartments are equipped with kitchen facilities to make your stay convenient. Start your day by enjoying breakfast overlooking the pool and ocean from the dining area before exploring Cape Town's City Bowl just a short drive away from this family-run establishment.
Pros:
– Spectacular sea and mountain views
– Large balcony with Jacuzzi
– Fully equipped kitchenette
– Separate shower and bathtub in bathroom
– Outstanding service in an affluent setting
Vida Nova Retreat: Deluxe King Room – single occupancy (Cape Town)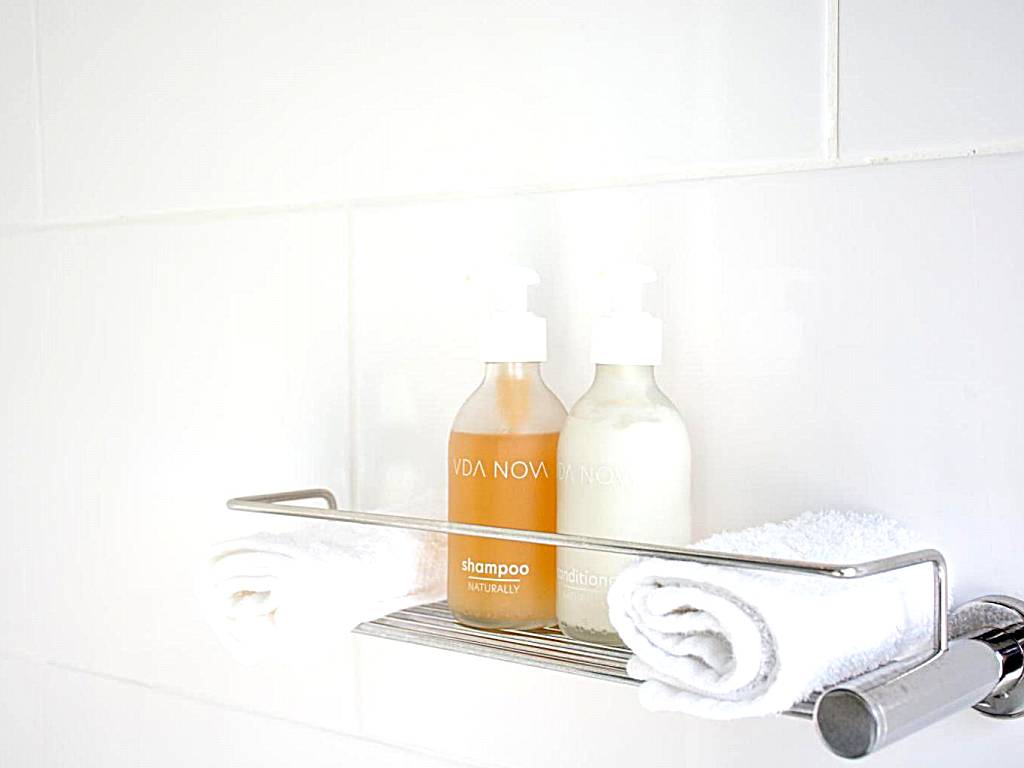 Vida Nova Retreat is a newly opened hotel in Cape Town, offering a Deluxe King Room that is perfect for single occupancy. One of the standout features of this double room is the spa bath, providing guests with a luxurious and relaxing experience. The room also includes a private bathroom with a shower, complete with free toiletries, bathrobes, and slippers. The spaciousness of the room allows for comfort and convenience, featuring amenities such as a flat-screen TV with satellite channels, a tea and coffee maker, a seating area, and a safe deposit box. With one bed available in the unit, guests can enjoy their stay in utmost comfort.
– Outdoor swimming pool and garden
– Shared lounge and terrace
– Hot tub available for relaxation
– 24-hour front desk service for added convenience
– Free WiFi throughout the property
Vida Nova Retreat goes above and beyond to ensure guests have an enjoyable stay. Alongside their excellent amenities, they also offer airport transfers and room service to cater to individual needs. Guests can start their day off right with an à la carte breakfast served at the accommodation. For dining options later on, there is a restaurant onsite serving delicious Mediterranean cuisine. Additionally, vegetarian, dairy-free, and vegan options are available upon request.
Situated within close proximity to attractions such as Kirstenbosch National Botanical Garden (87 km) and Chapman's Peak (12 km), Vida Nova Retreat offers an ideal location for exploring what Cape Town has to offer. With its convenient access to Cape Town International Airport (28 km), guests will find it easy to travel to or from the accommodation.
Overall,Vida Nova Retreat provides comfortable rooms with top-notch amenities including spa baths in every Deluxe King Room – perfect for those seeking relaxation during their stay in Cape Town
Fernwood Manor Boutique Guest House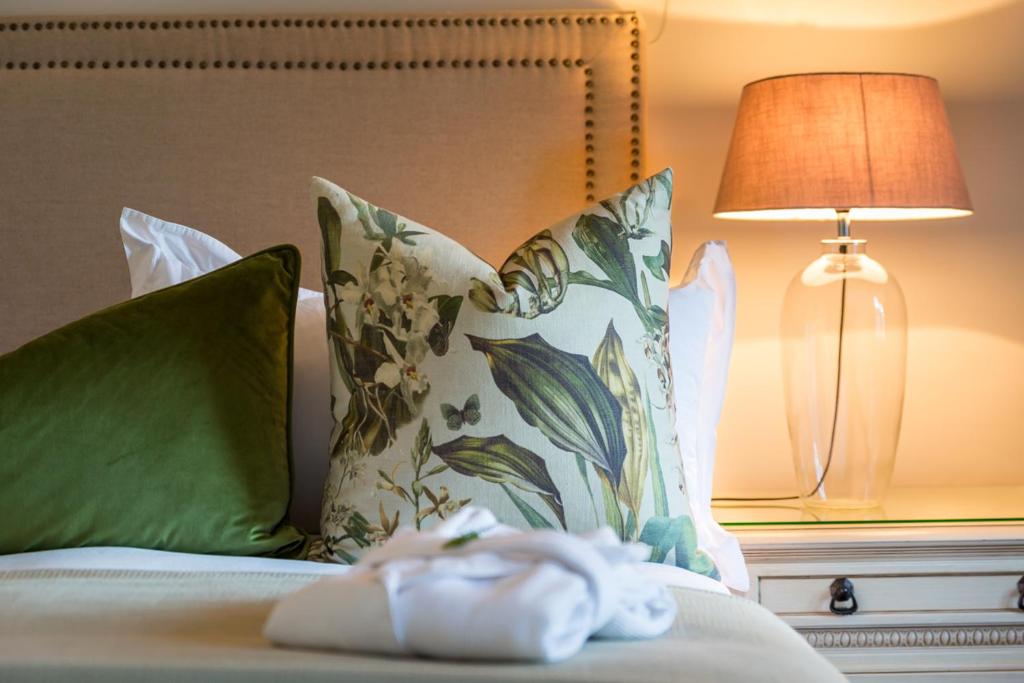 Located in Cape Town's upscale Newlands district, Fernwood Manor Boutique Guest House is an elegant colonial retreat nestled against the slopes of Table Mountain. Surrounded by beautifully landscaped gardens, this boutique guest house boasts a refreshing outdoor pool for guests to enjoy. The deluxe rooms and suites are tastefully decorated with a mix of local style and European flair. Some rooms open onto covered patios, while others offer panoramic balconies or private gardens. Guests can relax in their rooms, savor breakfast in the charming French dining hall, or take advantage of the stately board room. High teas can be enjoyed on the outdoor deck, and the quiet library showcases typical African décor. Within a 5-minute drive, guests can visit world-renowned Kirstenbosch Botanical Garden and Newlands Stadium. The vibrant Cape Town city center is just 10 minutes away by car. Additionally, off-street parking with surveillance cameras is provided for added convenience.
Pros:
– Beautifully landscaped gardens
– Refreshing outdoor pool
– Elegant colonial-style decor
– Convenient location near popular attractions
– Secure off-street parking
Other places to stay in Western Cape
Luxury Hotels in Western Cape with Jacuzzi
Luxury Hotels in Western Cape, South Africa offer the perfect retreat for travelers looking to indulge in a luxurious and rejuvenating experience. These hotels boast opulent accommodations with private Jacuzzis in every room, allowing guests to unwind and soak their cares away while enjoying magnificent views of the surrounding natural beauty. The combination of exquisite design, impeccable service, and state-of-the-art amenities ensures that guests will have an unforgettable stay in these Western Cape luxury hotels with Jacuzzis.
South Beach Camps Bay Boutique Hotel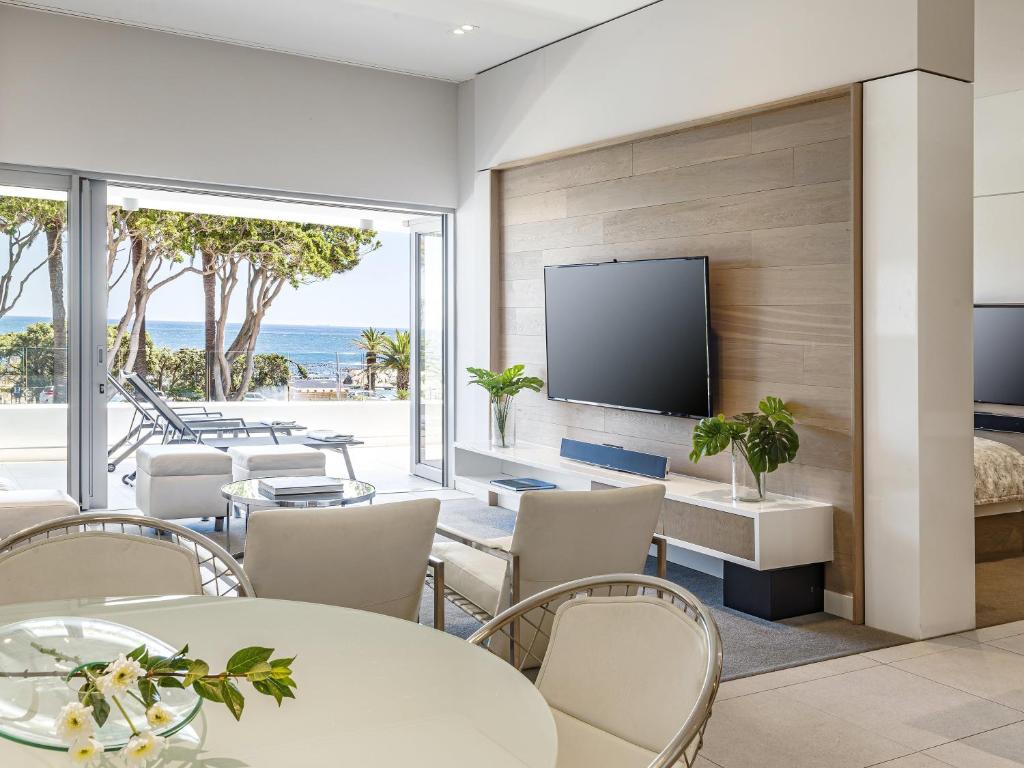 Located just 50 meters from the beach and the vibrant Promenade, South Beach Camps Bay Boutique Hotel offers a luxurious and contemporary self-catering accommodation option in Camps Bay. The hotel boasts stylish sea-facing suites with modern decor, equipped with kitchens and bathrooms. Guests can choose between two pools, one of which is heated, along with sundecks and a bar. The hotel also features a fully equipped fitness center, free high-speed WiFi in all rooms and common areas, and its own borehole water supply. With Table Mountain just 5 km away and the V&A Waterfront within 9 km, this hotel is ideally situated for exploring Cape Town's attractions.
– Rooftop pool
– Stylish suites with sea views
– Fully equipped fitness center
– Free high-speed WiFi
– Convenient location near popular attractions
Romney Park Luxury Apartments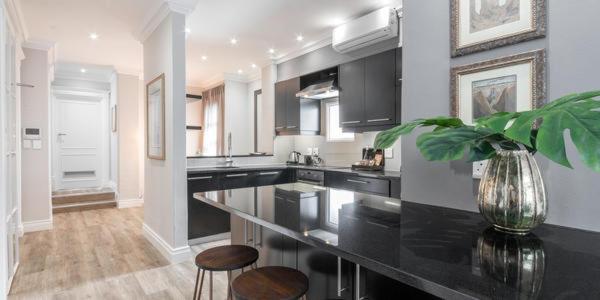 Located in Green Point, just a stone's throw away from Cape Town's renowned V&A Waterfront, Romney Park Luxury Apartments is a prestigious 5-star aparthotel that combines homely comfort with impeccable service. The apartments are modern and sophisticated, featuring fully equipped kitchens, spacious living rooms, full en-suite bathrooms, and outdoor balconies offering panoramic views. Guests can enjoy the convenience of wireless internet access throughout the property. In addition to the luxurious accommodations, Romney Park offers a club room where guests can indulge in a delicious breakfast spread. The hotel also boasts a stunning outdoor pool where guests can take a relaxing swim or lounge on deck chairs while sipping on refreshing drinks. For those looking to explore beyond the hotel's premises, there is an adjacent golf course and an array of outstanding restaurants nearby. Alternatively, guests can immerse themselves in Green Point's vibrant nightlife scene with its pubs, clubs, and cabaret restaurants. With 24/7 assistance available for added convenience, Romney Park Luxury Apartments ensures that every guest receives exceptional service throughout their stay.
– Convenient location near V&A Waterfront
– Modern and sophisticated apartments
– Stunning outdoor pool with sun loungers
– Adjacent golf course for leisure activities
– Vibrant nightlife options in Green Point
Leeu Estates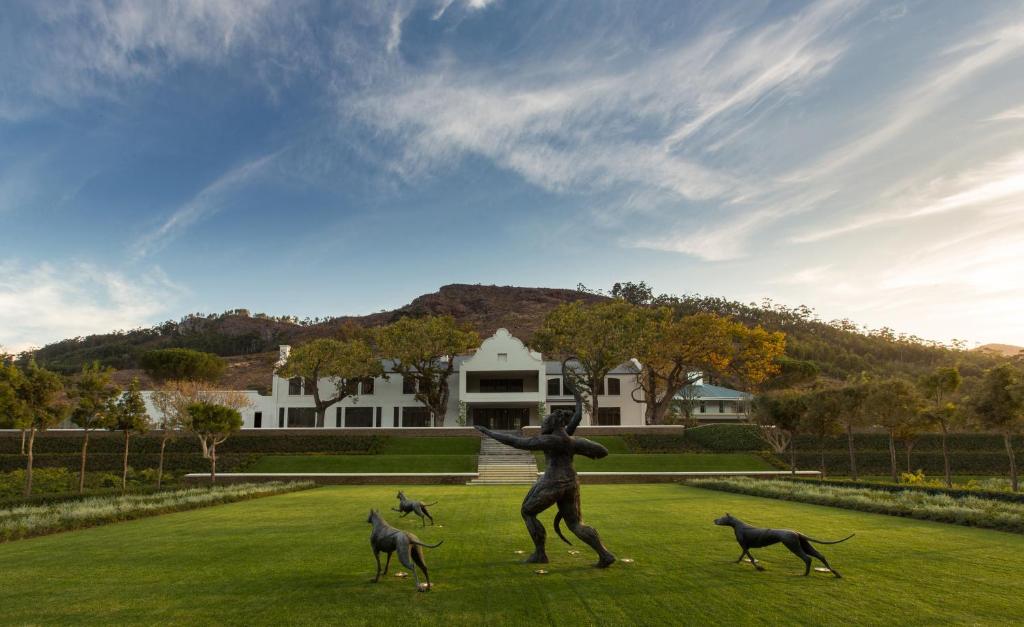 Nestled in the picturesque Franschhoek valley, Leeu Estates offers a luxurious retreat surrounded by mountains, a river, vineyards, and landscaped gardens. The estate features elegant rooms and suites located in the 19th-century Manor House or scattered around the property amidst gardens, oak trees, and vineyards. Guests can enjoy amenities such as air conditioning, flat-screen TVs, and tea-and-coffee making facilities. The hotel also boasts an outdoor pool and a spa for ultimate relaxation. In addition to free use of bicycles, guests can partake in activities like cycling and hiking in the area. With its serene setting and convenient location near Cape Town International Airport (47 km away), Leeu Estates is an ideal choice for those seeking luxury and tranquility.
Pros:
– Serene location nestled between mountains and a river
– Luxurious accommodation options in the Manor House or across the estate
– Excellent amenities including an outdoor pool
– On-site spa for pampering sessions
– Convenient access to activities like cycling and hiking
Hotels in Western Cape with Private Jacuzzi
Hotels in Western Cape, South Africa offer a luxurious escape with their private jacuzzi facilities. These hidden gems provide guests with the ultimate relaxation and rejuvenation experience. Whether you prefer to unwind after a day of exploring the beautiful landscapes or simply indulge in some alone time, these hotels offer a serene ambiance where you can soak away your stress while immersing yourself in breathtaking views. The private jacuzzis provide an intimate and romantic setting for couples seeking a memorable getaway, allowing them to enjoy moments of tranquility together. With their attention to detail and dedication to guest satisfaction, the hotels in Western Cape with private jacuzzis promise an unforgettable stay for those seeking both comfort and luxury.
Vergenoegd Löw Boutique Hotel & Spa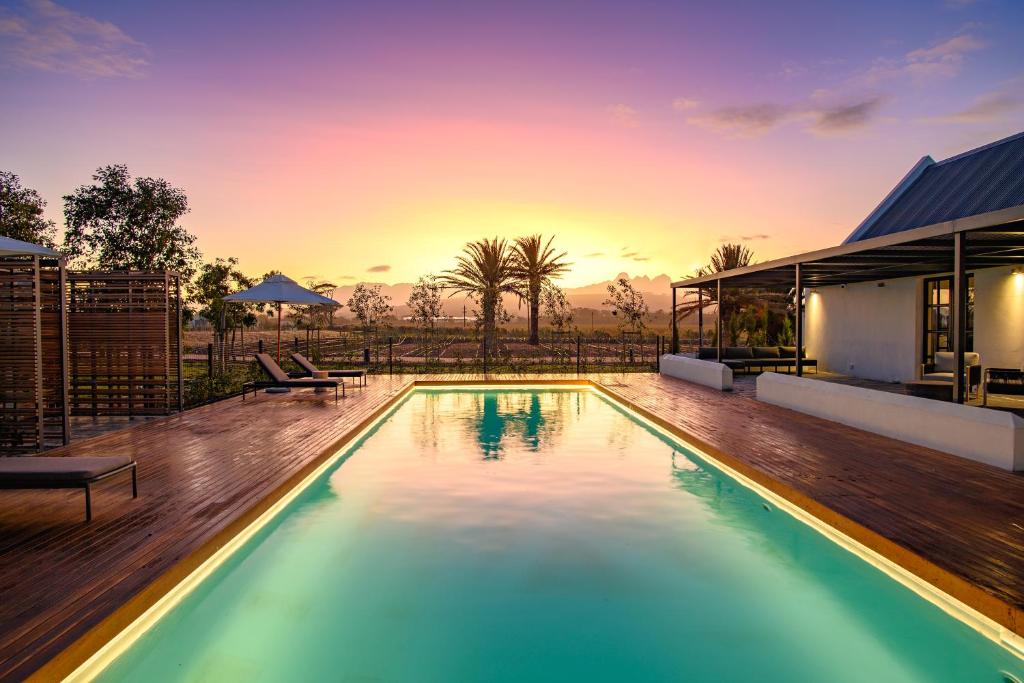 The newly opened Vergenoegd Löw Boutique Hotel & Spa is located in Cape Town, just 10 km from Heidelberg Golf Club. This luxurious 5-star hotel offers a range of amenities including a fitness center, free private parking, a garden, and a restaurant. Guests can enjoy free WiFi and unwind at the bar. The hotel provides airport transfers and bicycle rental services for convenience. Each air-conditioned room is well-equipped with a desk, coffee machine, minibar, safety deposit box, flat-screen TV, terrace, and private bathroom with a shower. Some rooms offer breathtaking mountain views and have a patio. Bed linen and towels are provided in all rooms. Guests can start their day with a delicious buffet or à la carte breakfast options available each morning. The friendly staff at the 24-hour front desk are fluent in Afrikaans, German, English, and Italian to assist guests as needed. Popular attractions such as Stellenbosch University (18 km) and Jonkershoek Nature Reserve (26 km) are within easy reach of the hotel. The nearest airport is Cape Town International Airport which is only 20 km away.
Pros:
– Newly opened boutique hotel
– Luxurious 5-star experience
– Convenient amenities like fitness center and free parking
– Stunning mountain views from some rooms
– Multilingual staff available around the clock
Information about Hotels With Jacuzzi in Western Cape
| | |
| --- | --- |
| 🏢 Number of Hotels With Jacuzzi in Western Cape | 7 |
| 🥇 Average Review Score | 9.2/10 |
| 💰 High season average price | 636 |
| 💸 Low season average price | 159 |
FAQ
Can you recommend hotels with jacuzzi in room in Western Cape?
Absolutely! Western Cape offers a range of hotels with jacuzzi in room to choose from. Some popular options include XYZ Hotel, which boasts luxurious rooms with private jacuzzis overlooking the beautiful city skyline, and ABC Resort, known for its spacious suites featuring large jacuzzi tubs perfect for a relaxing soak after a long day of exploring.
Are there any budget-friendly options for hotels with jacuzzi in room in Western Cape?
Yes, if you're on a budget but still want to enjoy the luxury of a jacuzzi in your hotel room, there are several affordable options available in Western Cape. DEF Inn is one such option that offers cozy rooms with private jacuzzis at reasonable rates. Additionally, GHI Guesthouse also provides comfortable accommodations with ensuite whirlpool baths without breaking the bank.
Do all hotels provide complimentary use of the jacuzzi?
While many hotels do offer complimentary use of the jacuzzi for their guests, it's always wise to check with the specific hotel before booking. Some hotels may charge an additional fee for using the facility or require prior reservation due to limited availability. It's essential to inquire about any potential charges or restrictions beforehand to ensure you have a seamless experience during your stay.
What are some other amenities I can expect at these hotels besides a Jacuzzi?
Apart from having a Jacuzzi right inside your hotel room, most Hotels With Jacuzzi In Room also provide various other amenities to enhance your stay. These may include facilities like swimming pools, fitness centers, spa services, on-site restaurants offering delicious cuisine, free Wi-Fi access throughout the property keeping you connected and entertained during your visit.
Is it necessary to book these special rooms well in advance?
To secure a hotel room with a Jacuzzi in Western Cape during peak travel seasons or holidays when demand is high, it is recommended that you book in advance. By doing so, you can guarantee that you will have access to the room with a Jacuzzi and avoid any disappointment during your trip. However, if you plan on visiting during off-peak seasons, last-minute bookings may also be available.
Popular Hotels With Jacuzzi In Room destinations
Hotels With Jacuzzi In Room in Western Cape