Welcome to the enchanting world of wellness and relaxation in Valais, Switzerland. Nestled amongst the majestic Alps, Valais is a haven for those seeking solace and rejuvenation amid breathtaking natural beauty. In this guide, we will take you on a journey through the serene spa hotels that dot this picturesque region.
Valais offers an array of luxurious accommodations designed to pamper your body, mind, and soul. These idyllic retreats provide an oasis of tranquility where you can escape from the stresses of everyday life. Immerse yourself in soothing hot springs or indulge in invigorating massages as skilled therapists work their magic to melt away your tensions.
With its rich history and stunning landscapes, Valais offers more than just spa treatments. Explore charming villages nestled amidst rolling hills or embark on exhilarating hikes along rugged trails with panoramic views. Indulge in gourmet cuisine made from locally sourced ingredients or savor a glass of exquisite wine from one of the region's vineyards.
Experience pure bliss as you unwind in Valais' sublime spa hotels – an unforgettable journey awaits you in this ethereal corner of Switzerland.
Best Valais Spa Hotels
Relais & Chateaux Schönegg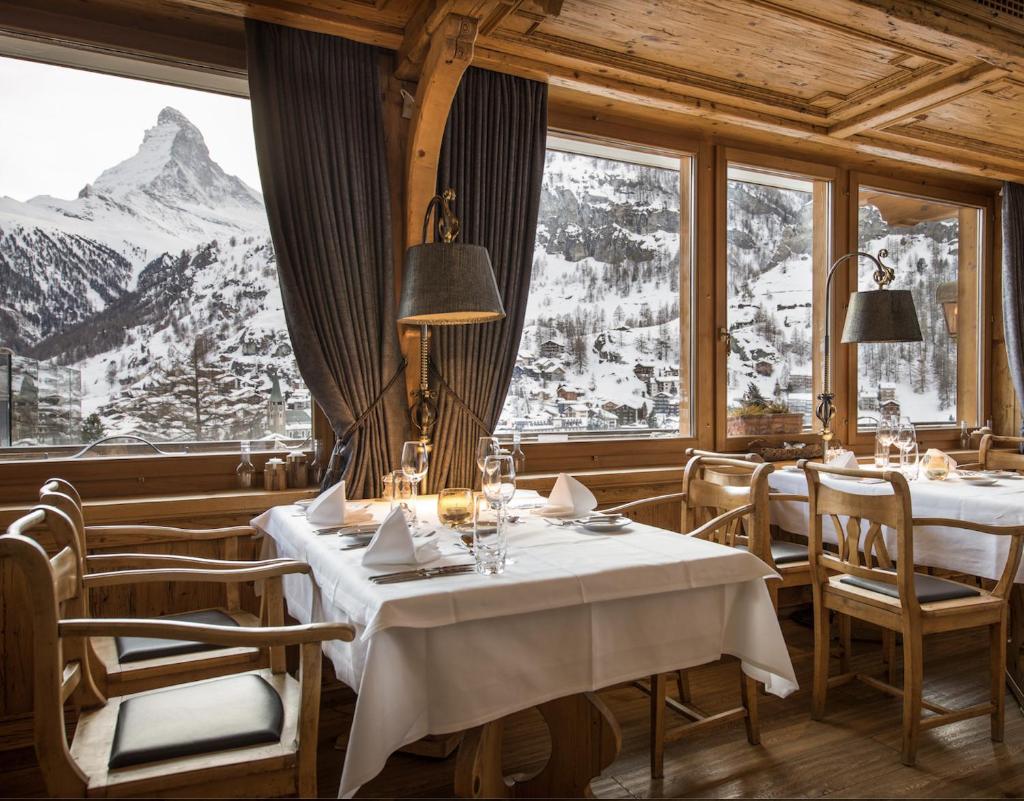 The Relais & Chateaux – Schönegg is a charming family-run hotel situated on a hill above Zermatt, offering breathtaking panoramic views of the famous Matterhorn. With its convenient connection to the center via a mountain elevator, guests can easily explore the town and enjoy the stunning surroundings. The hotel features a 24-hour reception and free WiFi for guests' convenience. The on-site restaurant serves delectable gastronomic cuisine, allowing visitors to indulge in fine dining while enjoying an unparalleled view of the mountains from the sun terrace. The rooms at Schönegg are well-appointed and include private bathrooms with showers, cable TV, minibars, and balconies in most units. Additionally, the suites offer spacious seating areas for added comfort. Guests can start their day with a delightful breakfast buffet consisting of local products and homemade jams and breads before embarking on their adventures. For relaxation and rejuvenation, the hotel boasts a spa area complete with sauna, steam bathtub, whirlpools, and a dedicated relaxation area. Massage services are also available upon request for ultimate pampering. Conveniently located near popular ski areas such as Sunegga Ski Area (80 meters from tunnel exit) and Gornergrat Railway (200 meters away), Schönegg offers easy access to thrilling outdoor activities throughout all seasons.
– Stunning panoramic views of the Matterhorn
– Convenient location connected to Zermatt center by mountain elevator
– On-site restaurant with exceptional gastronomic cuisine
– Spa area featuring sauna, steam bathtub, whirlpools, and relaxation area
– Close proximity to popular ski areas Sunegga Ski Area and Gornergrat Railway
Hôtel Bella Tola & SPA, SAINT-LUC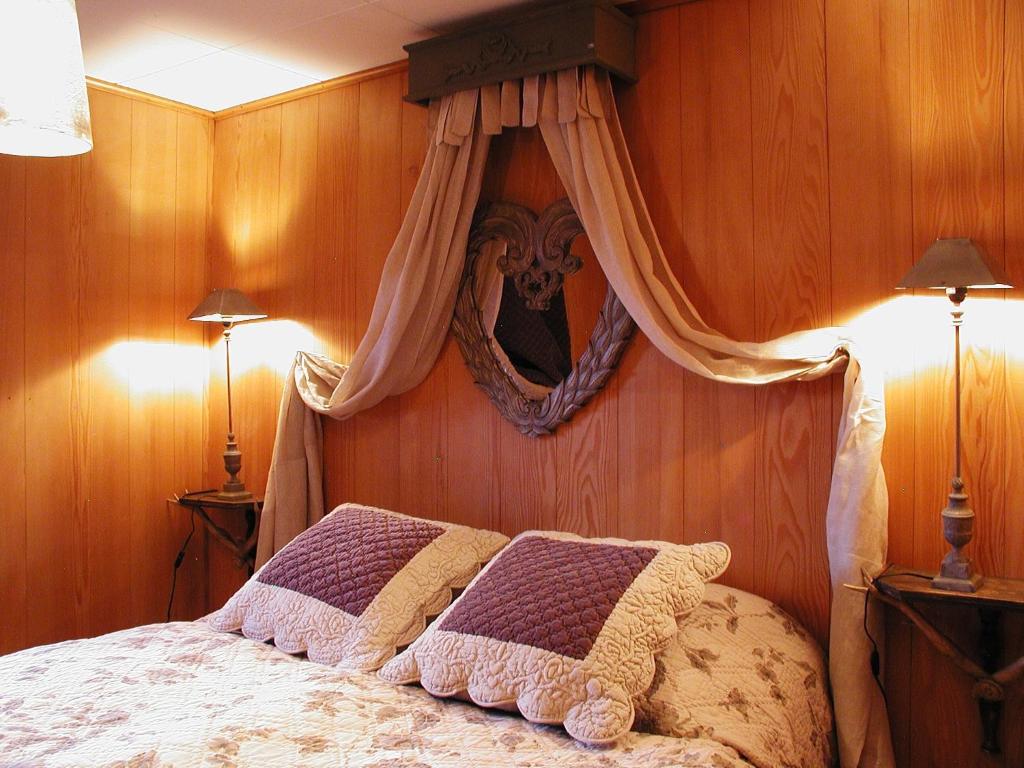 The Hôtel Bella Tola & St-Luc, situated in the picturesque Val d'Anniviers valley, is a charming hotel that dates back to the late 19th century. Offering breathtaking panoramic views, this hotel provides guests with a range of amenities including an indoor pool, free Wi-Fi, and complimentary parking. For those seeking relaxation and rejuvenation, there are spa facilities available such as a sauna, steam bath, and massage rooms. Additionally, guests can unwind in the sunny garden that overlooks the stunning Alpine peaks. The rooms and salons of the Hôtel Bella Tola & St-Luc have preserved their original decor which includes historic paintings. Each room is equipped with a tea and coffee maker along with bathrobes and slippers for added comfort. Dining options at this hotel are exquisite with fine Swiss and international cuisine served in the restaurant or on the terrace. During winter months, guests can take advantage of 75 km of ski slopes along with 14 lifts and a complimentary shuttle bus to the funicular. In summer, outdoor enthusiasts can enjoy hiking or biking on 150 km of well-marked paths and mountain bike trails.
– Stunning panoramic views
– Indoor pool for relaxation
– Spa facilities including sauna and steam bath
– Charming historic decor featuring original paintings
– Fine dining Swiss cuisine served in restaurant or on terrace
Hotel ZERMAMA Zermatt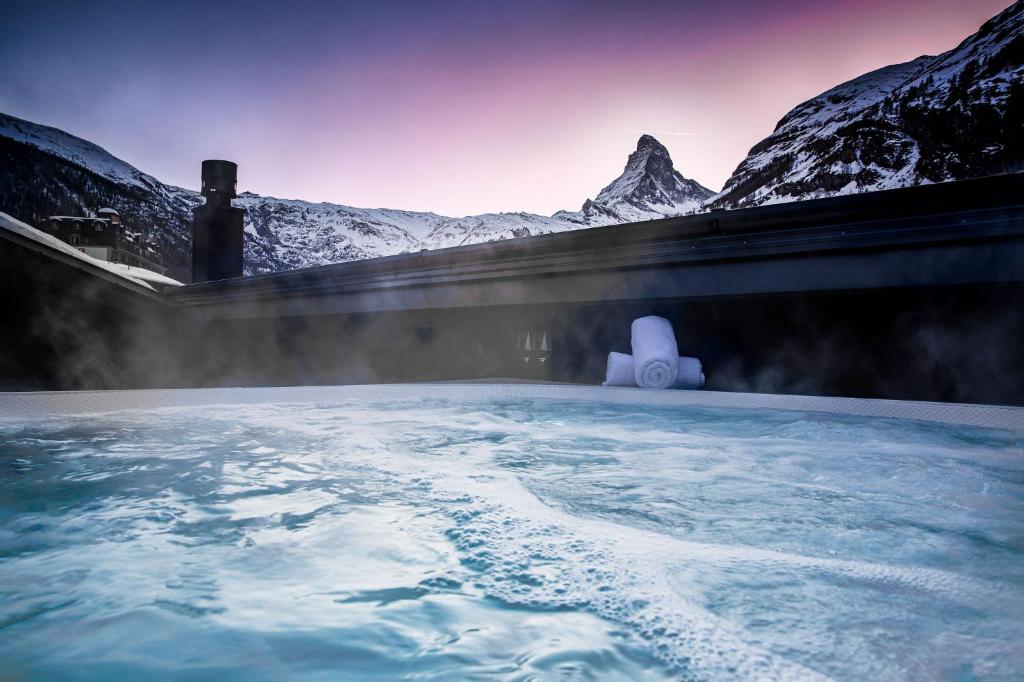 Hotel ZERMAMA Zermatt is a recently renovated hotel located in the heart of Zermatt, just a short 5-minute walk from Zermatt Train Station and across the road from the Sunnegga Express valley station. The hotel offers free WiFi throughout the property. Each room at Hotel Mama is equipped with an LCD TV and a private bathroom. Guests will find it convenient to explore popular attractions such as the Matterhorn Express Cable Car and Gornergrat Monte Rosa train as these can be easily accessed by taking the electric bus, with a stop conveniently located right in front of Hotel Mama.
– Convenient location in the center of Zermatt
– Free WiFi available throughout the hotel
– LCD TVs in all rooms for entertainment
– Private bathrooms for added comfort and convenience
– Easy access to popular attractions via electric bus stop directly outside hotel
Other places to stay in Valais
Romantic Hotels with Spa in Valais
Valais, nestled in the heart of the Swiss Alps, offers a truly enchanting escape for couples seeking a romantic getaway. With its stunning mountain landscapes and serene natural surroundings, Valais is the perfect destination for those looking to relax and indulge in some quality time together. The region boasts an array of luxurious spa hotels, where couples can unwind and rejuvenate in style. From soothing massages to invigorating wellness treatments, these romantic retreats provide a haven of tranquility and intimacy. Whether it's soaking in a private hot tub overlooking breathtaking views or enjoying a candlelit dinner by a crackling fireplace, Valais's romantic hotels with spas promise an unforgettable experience that will leave couples feeling blissfully connected and pampered.
Le Mirabeau Hotel & Spa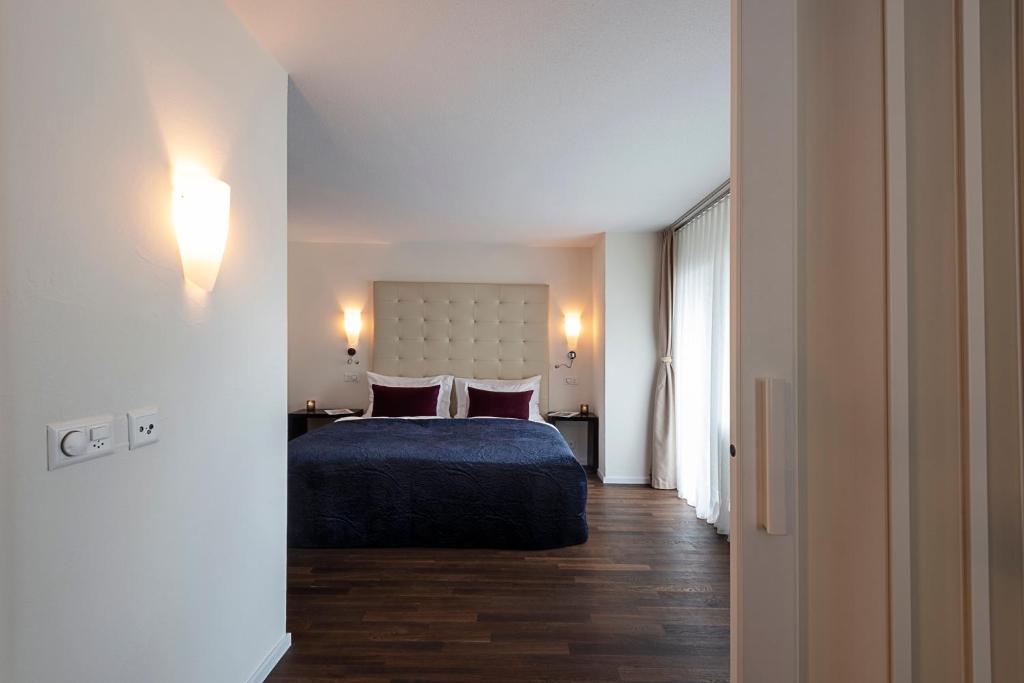 Located just 200 meters from the Zermatt railway station, Le Mirabeau Hotel & Spa offers a tranquil retreat with stunning views of the Matterhorn. The hotel is conveniently situated within a 3-minute walk to the center of Zermatt and the Gornergrat and Sunnegga-Rothorn train and funicular stations. Recently renovated in October 2017, the rooms feature oak wood parquet flooring and soundproof windows for a comfortable stay. Indulge in the hotel's wellness facilities including a mountain-flower steam bath, sauna, hot-stone herbal bath, as well as rejuvenating massages and beauty treatments (advance booking recommended). Guests can enjoy delicious meals throughout the day at Marie's Deli which also offers a take-away option and features an extensive wine selection. The restaurants at Le Mirabeau serve light, market-fresh cuisine while starting your day with a rich breakfast buffet is highly recommended. With complimentary wireless internet available throughout the property, guests can stay connected easily during their stay.
– Tranquil location near Zermatt railway station
– Beautiful views of Matterhorn
– Newly renovated rooms with modern amenities
– Extensive wellness facilities including sauna and steam bath
– Delicious dining options at Marie's Deli
the rex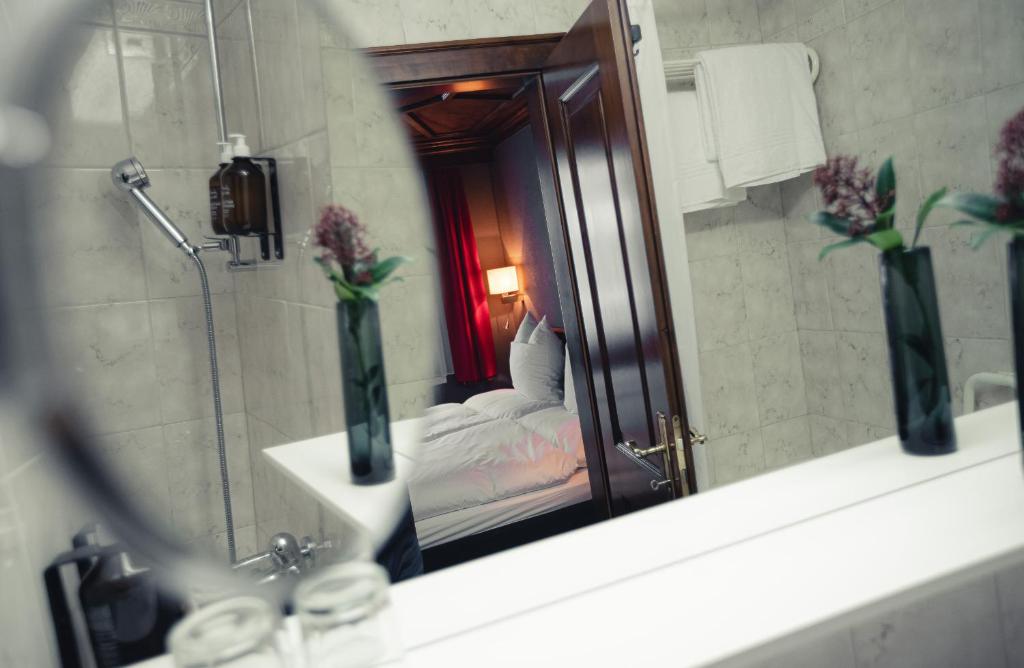 Located just a 10-minute walk from the cable cars in Zermatt, Hotel Rex is a charming family-run establishment that offers an exclusive spa area for its guests. This luxurious retreat includes an indoor pool, a hot tub, two saunas, a steam bath, and even a solarium. With all shops and restaurants within easy walking distance, convenience is key at this hotel. The rooms and spacious suites are well-appointed with cable TV, comfortable bathrobes, and slippers. For those seeking stunning views of the Matterhorn Mountain, some rooms offer exactly that. Guests can enjoy complimentary WiFi throughout the property and relax by the cozy open fireplace in the hotel bar after an adventurous day on the slopes. Each morning, a delightful breakfast buffet is served between 7:30 and 11:00 to start the day right. To make travel stress-free for its guests, Hotel Rex provides free pick-up services from both Zermatt Train Station and the village entrance upon arrival and departure.
– Exclusive spa area with indoor pool, hot tubs, saunas & steam bath
– Convenient location within walking distance to shops & restaurants
– Rooms & suites equipped with cable TV & picturesque mountain views available
– Cozy hotel bar with open fireplace for post-skiing relaxation
– Complimentary breakfast buffet served daily
Matthiol Boutique Hotel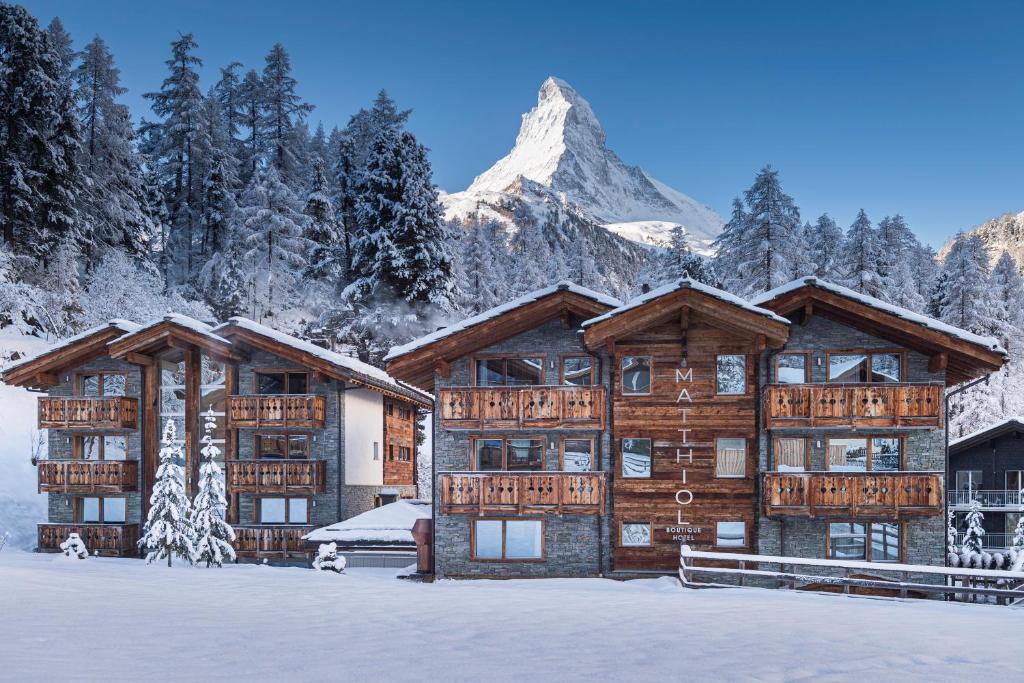 The Matthiol Boutique Hotel is a charming boutique hotel located on the outskirts of Zermatt. Recently renovated in summer 2021, this chalet-style 4-star superior hotel offers a tranquil escape with exclusive wellness facilities. Guests can enjoy a 10% discount on ski rental and complimentary transfers from Zermatt Train Station. The wellness area includes a herbal sauna, steam bath, and Finnish sauna, all available free of charge. Additionally, guests have access to a fitness room at no extra cost. The hotel features comfortable rooms with amenities such as free WiFi, life TV streaming, and coffee machines. Many rooms also offer balconies with breathtaking views of the Matterhorn or Gornergrat. The trendy restaurant serves both Swiss and international cuisine made from locally sourced ingredients, giving guests an authentic culinary experience. For those visiting during winter months, cheese fondue is served in cozy outside huts. Breakfast consists of a buffet spread along with made-to-order hot items. Conveniently located near the nearest bus stop, guests can use local buses free of charge with their ski pass. In favorable snow conditions, the hotel is accessible by skiing from Furi and offers ski-out options depending on snow cover and conditions.
– Fully renovated boutique hotel
– Exclusive wellness facilities
– Complimentary transfers from Zermatt Train Station
– Spectacular views of Matterhorn or Gornergrat from most rooms
– Trendy restaurant offering Swiss and international cuisine
Spa Hotels in Valais with Cool Views
Valais, Switzerland, is known for its stunning natural beauty and majestic landscapes. Nestled in this picturesque region are a number of Spa Hotels that offer guests not only luxurious retreats but also breathtaking views. Imagine indulging in a relaxing spa treatment while gazing out at snow-capped mountains or sipping a cocktail by an outdoor pool overlooking lush valleys. These Spa Hotels in Valais provide the perfect blend of relaxation and awe-inspiring scenery, allowing guests to unwind and rejuvenate while being surrounded by nature's beauty. Whether you're seeking tranquility or adventure, these hotels offer a truly unforgettable experience with their cool views.
The Omnia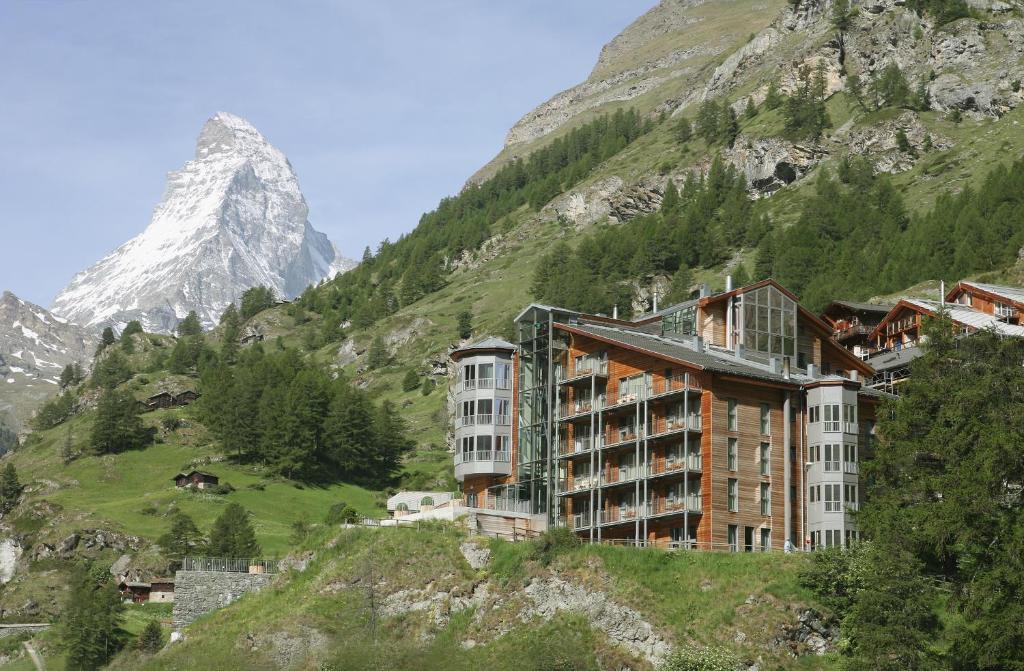 The Omnia is a luxurious spa hotel located on a rock, 45 meters above the bustling streets of central Zermatt. Guests access the hotel through a tunnel that leads to an elevator taking them directly to the lobby. The property boasts elegant modern design and all units feature private balconies with stunning views. Guests can indulge in refined international cuisine made from seasonal ingredients at the restaurant or enjoy their meal on the terrace. After dinner, they can relax by the fireplace with a cup of espresso or grappa. The spa area offers various treatments to unwind after exploring the fresh mountain air. Free wireless internet is available throughout the hotel, and guests can take advantage of The Omnia's taxi service for convenient transportation to and from Zermatt railway station, car park, or heliport. Additionally, arrangements can be made for shuttle or helicopter services to nearby airports. Zermatt's winter sports area is easily accessible within a 15-minute walk or by electrically-powered buses and taxis. Please be aware that there may be construction work happening nearby between April 1st, 2021 and August 1st, 2024 which could result in noise disruptions in some rooms.
– Stunning location perched above central Zermatt
– Elegant modern design with private balconies
– Refined international cuisine and terrace dining options
– Relaxing spa treatments available
– Convenient taxi service and transportation arrangements
Hotel Bellerive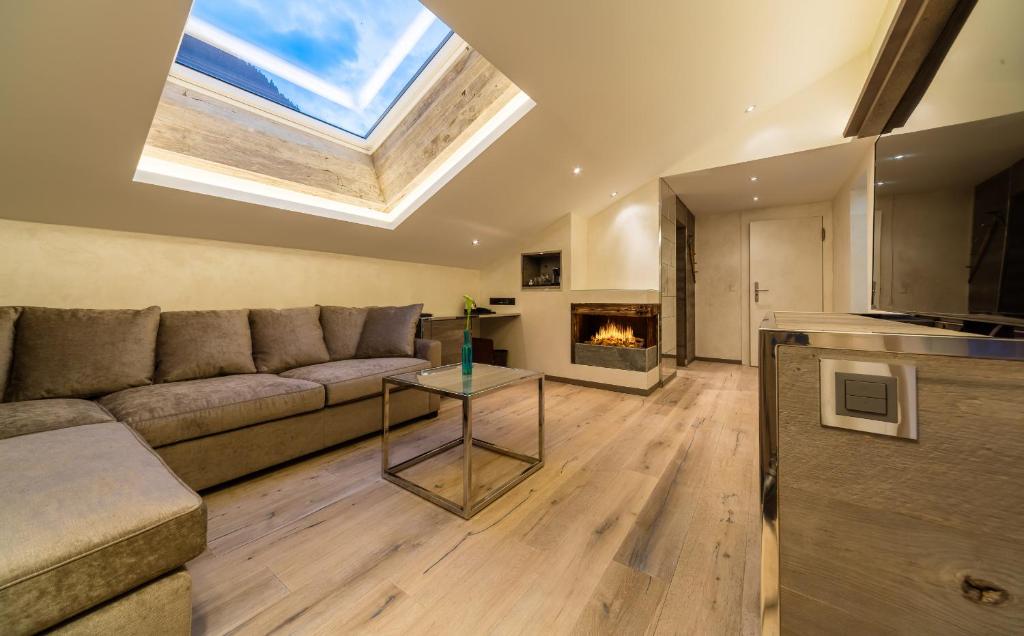 Hotel Bellerive is a centrally located hotel in Zermatt, offering guests easy access to popular attractions such as the Gornergrat, Sunnegga Express, and Glacier Paradise Cable Cars, all within a 10-minute walk. The hotel boasts a free spa area complete with a hot tub, sauna, and steam bath, perfect for unwinding after a day of exploring. Free WiFi is available throughout the property. The upper floor rooms feature balconies with stunning views of the Matterhorn mountain. Each room is equipped with modern amenities including a minibar, seating area, and a 42-inch flat-screen TV with a stereo CD and DVD system. DVDs are also provided free of charge for guests' entertainment. Begin your day at Hotel Bellerive with a delicious breakfast featuring regional products and freshly made orange juice. In the evenings, relax in the cozy lounge bar by an open fireplace. Additional amenities include ski storage facilities with heated ski boot dryers and the convenience to purchase ski passes on-site.
– Convenient central location
– Free spa area with hot tub, sauna, and steam bath
– Rooms offer breathtaking views of the Matterhorn mountain
– Complimentary DVD rentals for guest entertainment
– Cozy lounge bar with an open fireplace
The Capra Saas-Fee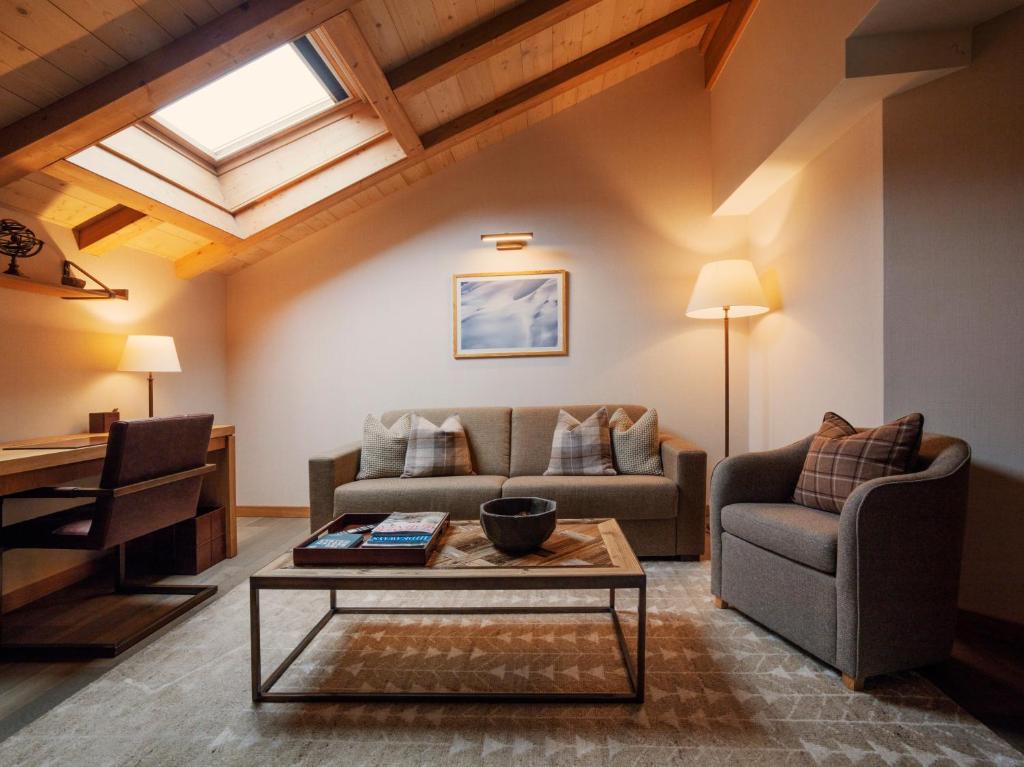 Featuring an indoor pool and a spa and wellness centre, The Capra Saas-Fee is an elegant, Alpine-style hotel located in the heart of Saas-Fee. Just a short walk from multiple ski lifts, this hotel offers guests both convenience and luxury. The suites are beautifully furnished with a balcony providing breathtaking mountain views. Each suite also includes a separate living area, flat-screen satellite TV, and modern bathroom with a shower and bathtub. Guests can stay connected with the provided WiFi throughout the hotel. For those looking to stay active, there is a fitness centre available for use daily. In good weather, guests can relax on the terrace or enjoy nearby activities such as cycling and hiking. Additionally, there is a heated storage room for ski equipment conveniently located near the Spielboden/Plattjen Cable Car. One of the standout features of this hotel is the complimentary access to public transport and cable cars in the Saas Valley from June to October (excluding Metro Alpin), allowing guests to explore their surroundings easily. From October to April, public transport is free as well as discounted rates for various activities are offered.
– Indoor pool and spa
– Elegant Alpine-style hotel
– Convenient location near ski lifts
– Stunning panoramic mountain views from balconies
– Complimentary access to public transport in Saas Valley (June – October)
Spa hotels in Valais with a Pool
Valais, known for its stunning landscapes and picturesque mountains, offers a range of luxurious spa hotels with pool facilities. Whether you're seeking relaxation or rejuvenation, these spa hotels in Valais provide the perfect oasis to unwind and indulge in tranquility. With their serene atmospheres and breathtaking views, guests can take a dip in the pool while immersing themselves in the natural beauty that surrounds them. From indoor pools for year-round enjoyment to outdoor pools that offer a refreshing escape under the clear blue skies, Valais' spa hotels provide an idyllic setting to immerse yourself in ultimate relaxation while enjoying the therapeutic benefits of water.
Firefly Luxury Suites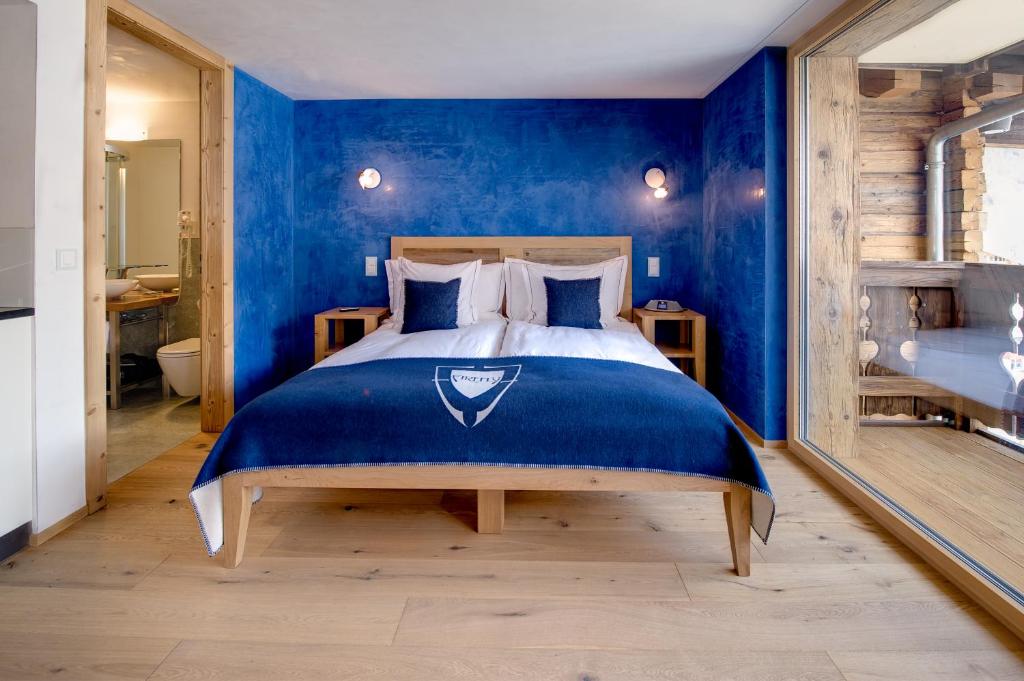 The Firefly Luxury Suites is a boutique hotel located at the base of the majestic Matterhorn in Zermatt. This 4-star hotel offers modern and spacious suites that are just a 3-minute walk from the Klein Matterhorn cable car and a short stroll from the village center. Guests can enjoy the luxury of an indoor pool and spa area, perfect for relaxation after a day of exploring. The hotel also offers an à la carte breakfast served directly to your suite at your desired time. Many suites boast balconies with stunning views, while larger suites even feature an open fireplace for added warmth and coziness. For convenience, the hotel provides transfers from Zermatt's train station or parking areas (cost may apply).
– Convenient location near cable car and village center
– Modern and spacious suites
– Indoor pool and spa area
– Personalized à la carte breakfast in-suite service
– Balconies with beautiful views (in most suites)
Hotel Helvetia Intergolf
Hotel Helvetia Intergolf is located in a peaceful yet convenient spot, just 150 meters from the Crans Montana Casino. The hotel boasts a spa area, an indoor pool, and spacious rooms that offer breathtaking panoramic views of the Valais Alps. Guests can enjoy free WiFi and garage parking during their stay. The spa facilities include a hot tub, steam bath, and sauna, perfect for relaxation after a long day of exploring. Each room at Hotel Helvetia Intergolf features a balcony, satellite TV, minibar, and a well-equipped bathroom complete with bathrobes and a hairdryer. Indulge in delicious Swiss delicacies such as fondue and raclette at the traditional restaurant Carnotzet or sip on fine wines and cocktails at the cozy chalet-style bar. Families traveling with children will appreciate the play area as well as the lovely garden with its sun terrace. For skiing enthusiasts, the Grand Signal Ski Lift is only 700 meters away and there's even a complimentary shuttle service available for easy access. Conveniently situated 700 meters from Montana Gare train station and 17 km from Sierre train station, Hotel Helvetia Intergolf offers both comfort and convenience to its guests.
– Central location near casino
– Spa facilities including hot tub
– Panoramic views of Valais Alps
– Free WiFi and garage parking
– Close proximity to ski lift
Information about Spa Hotels in Valais
| | |
| --- | --- |
| 🏢 Number of Spa Hotels in Valais | 11 |
| 🥇 Average Review Score | 9.2/10 |
| 💰 High season average price | 644 |
| 💸 Low season average price | 161 |
FAQ
1
What are the top Spa Hotels in Valais, Switzerland?
Valais, Switzerland offers a wide range of luxurious Spa Hotels that cater to different preferences. Some of the highly recommended options include The Chedi Andermatt, which features an extensive spa facility with various treatments and wellness programs
Hôtel Nendaz 4 Vallées & Spa, known for its stunning alpine views and state-of-the-art spa facilities
2
Do Valais Spa Hotels have indoor pools?
Yes! Many Spa Hotels in Valais provide indoor pools as part of their wellness facilities. These pools are designed for relaxation and recreation purposes where guests can enjoy swimming or simply unwind by the poolside. The indoor pools in Valais often offer breathtaking views of the surrounding mountains, creating a truly rejuvenating experience.
3
Are there any budget-friendly Spa Hotels in Valais?
While Valais is known for its luxury accommodations, there are also some budget-friendly options available for travelers seeking affordable yet relaxing stays. Hotel Elite Zermatt is one such example offering comfortable rooms and a modest spa facility perfect for unwinding after a day exploring the area. Additionally, Hotel Bella Tola & St-Luc offers an authentic Swiss mountain experience along with a small but charming spa area at reasonable prices.
4
What kind of spa treatments can be found in Valais' hotels?
Valais' hotels boast an array of indulgent spa treatments designed to help guests relax and rejuvenate. Expect to find popular treatments like massages (Swedish, deep tissue, hot stone), facials (hydrating, anti-aging), body wraps (detoxifying, nourishing), hydrotherapy sessions (Jacuzzi baths), sauna rituals (Finnish sauna or steam room experiences) as well as specialized therapies such as aromatherapy, reflexology, and Ayurvedic treatments.
5
Do Spa Hotels in Valais offer wellness programs or fitness facilities?
Yes, many Spa Hotels in Valais provide comprehensive wellness programs and fitness facilities to cater to health-conscious guests. These programs often include activities such as yoga and pilates classes, guided hikes or bike tours through the scenic landscapes of Valais, and access to fully-equipped fitness centers. Some hotels also feature dedicated spaces for meditation or offer personalized training sessions with professional instructors for a holistic wellness experience.
Popular Wellness Hotels destinations