Welcome to a serene paradise nestled in the heart of Piedmont, Italy. Prepare to embark on a journey of tranquility and rejuvenation as we explore the exquisite world of wellness retreats and spa resorts in this captivating region. Piedmont, renowned for its picturesque landscapes and delectable cuisine, also offers an array of luxurious sanctuaries dedicated to pampering your mind, body, and soul.
Indulge in opulent surroundings and immerse yourself in supreme relaxation at these idyllic hideaways. From charming countryside retreats to lavish urban oases, there is a spa hotel perfectly tailored to meet your every desire. Surrender yourself to the healing touch of skilled therapists who utilize ancient techniques combined with cutting-edge innovations, ensuring an unforgettable experience like no other.
Discover an oasis where you can escape the stresses of everyday life and focus solely on your well-being. Whether it's unwinding in soothing hot springs or indulging in revitalizing treatments inspired by local traditions, Piedmont's spa hotels offer a haven where time stands still. Soothe your senses with aromatic herbal rituals or immerse yourself in bubbling jacuzzis overlooking breathtaking vistas – each moment spent here will transport you to a state of pure bliss.
Get ready for an enchanting journey as we delve into the world of Spa Hotels in Piedmont that promise not only unparalleled luxury but also holistic rejuvenation.
Best Piedmont Spa Hotels
Relais Bella Rosina Pool & Spa (Fiano)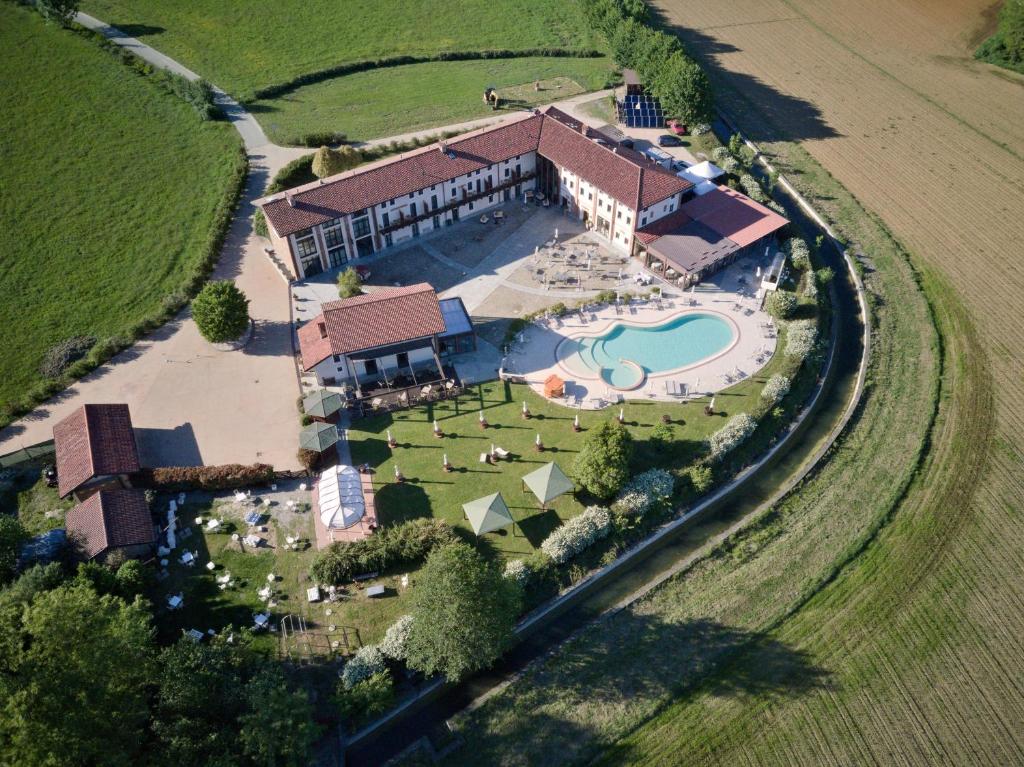 Relais Bella Rosina Pool & Spa, located in the enchanting La Mandria Regional Park, just north of Turin, offers a delightful retreat for travelers seeking relaxation and recreation. The hotel features bright and spacious rooms equipped with complimentary internet connection. Guests can enjoy stunning views of the large heated swimming pool and the surrounding park from their rooms and suites. Golf enthusiasts will appreciate the special rates available at nearby golf clubs such as Circolo Golf Torino and Royal Park Golf I Roveri, both conveniently located just one kilometer away. For those looking to try something new, riding lessons can be arranged at a local center. With its serene atmosphere and array of recreational activities, Relais Bella Rosina Pool & Spa is an ideal choice for a rejuvenating getaway.
– Spacious rooms with free internet connection
– Breathtaking views of the heated swimming pool and park
– Special rates for golf lovers at nearby golf clubs
– Opportunities for horseback riding lessons at a local center
Arborina Relais (La Morra)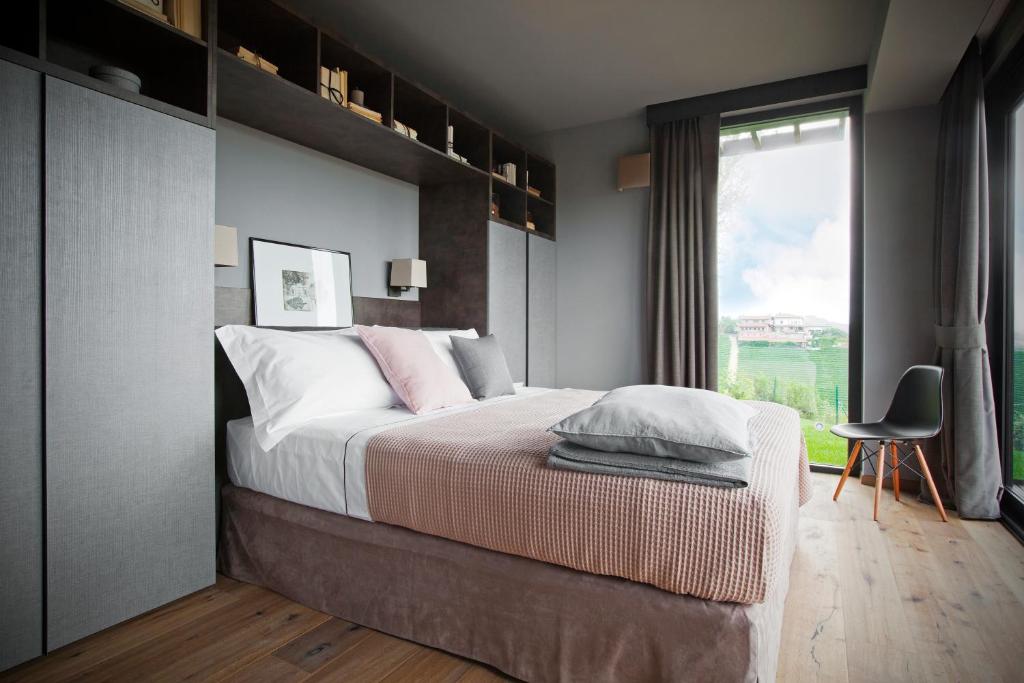 Arborina Relais in La Morra is a charming hotel that offers guests a luxurious spa experience and breathtaking views of the Barolo vineyards. The hotel features an outdoor pool, restaurant, garden, and furnished terrace for guests to enjoy. All rooms and suites are modern in style and include air conditioning, flat-screen TVs, and well-appointed bathrooms with shower facilities and complimentary toiletries. Some units even have a patio or garden-view balcony. Guests can take advantage of additional amenities such as a tennis court, bicycle rental, and horse riding facilities (available at a surcharge). The hotel also provides meeting and banquet facilities for those on business trips or hosting special events. Located just a 15-minute drive from the Barolo Golf Club and 13 km from Alba, Arborina Relais is the perfect destination for relaxation amidst the beauty of northern Italy.
– Free spa access
– Outdoor pool with stunning views
– Beautifully landscaped gardens
– Modern rooms with luxurious amenities
– Convenient location near local attractions
Hotel La Palma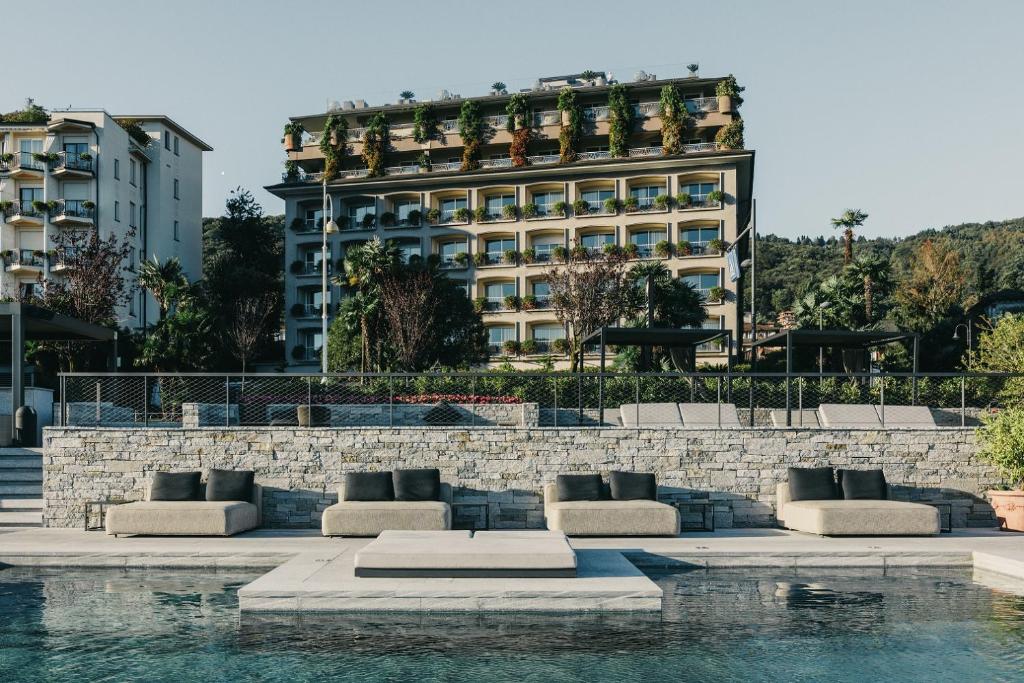 Hotel La Palma is a stunning spa hotel located in the heart of Stresa city center, offering breathtaking views over Lake Maggiore. The hotel features a rooftop pool and a panoramic terrace with a Sky bar and hot tub, allowing guests to relax while enjoying the picturesque surroundings. The rooms are elegantly decorated with classic décor and wooden floors, providing free WiFi, an LCD TV with satellite channels, and a balcony. Some rooms even offer multi-functional showers and stunning views of the lake and Borromean Islands. On the 6th floor, guests can find a fitness area as well as a free wellness center that includes amenities such as sauna, Turkish bath, salt cave, sensory showers, and relaxation areas. Hotel La Palma is conveniently located within walking distance of Stresa Train Station and only 300 meters away from the embarcadero. Golf Club Des Iles Borromées is also just 4 km away.
Pros:
– Rooftop pool with stunning views over Lake Maggiore
– Panoramic terrace with Sky bar and hot tub
– Free wellness center including sauna, Turkish bath, salt cave
– Convenient location close to train station and embarcadero
– Many rooms feature multi-functional showers and overlook the lake
Other places to stay in Piedmont
Romantic Hotels with Spa in Piedmont
Piedmont, with its breathtaking landscapes and rich cultural heritage, offers an ideal destination for couples seeking a romantic getaway. The region boasts numerous enchanting hotels that combine luxury with wellness, providing the perfect intimate retreat. With their serene spa facilities, inviting couples' treatments, and pampering experiences, these romantic hotels in Piedmont create an ambiance of relaxation and rejuvenation that allows couples to reconnect amidst the beauty of their surroundings. Whether it's indulging in soothing massages or unwinding in tranquil thermal pools, these spa hotels provide an unforgettable romantic escape for couples looking to immerse themselves in pure bliss.
DUPARC Contemporary Suites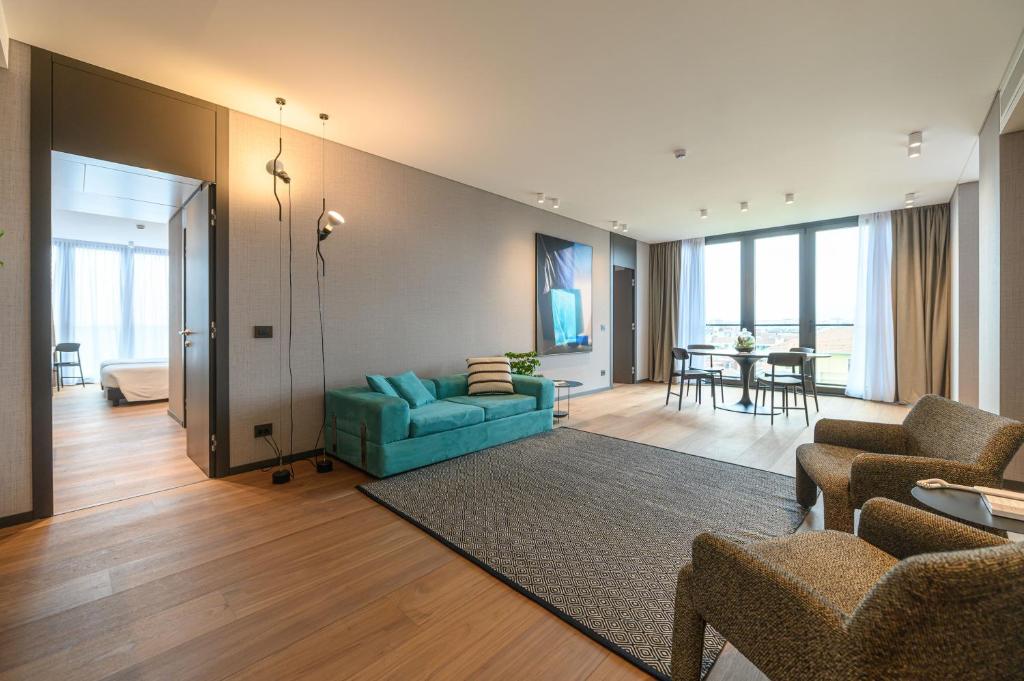 Located in the central part of Turin, DUPARC Contemporary Suites offer elegant interiors and a range of amenities that cater to both relaxation and convenience. The hotel features spacious apartments with stylish furnishings, equipped with a TV, fridge, and oven. Guests can enjoy a delicious breakfast buffet at the on-site restaurant, which includes homemade cakes, cheese, and cold meats. For lunch and dinner, the restaurant serves local and national dishes. The highlight of the hotel is its spa facilities, including a hot tub and fitness room, where guests can indulge in ultimate relaxation. In addition to that, DUPARC Contemporary Suites also showcase contemporary artworks by renowned Italian artists such as Pistoletto or Schifano throughout the property. Free WiFi is available in all areas for guests' convenience. Situated just 100 meters away from Parco Del Valentino, guests have easy access to public transportation options nearby. Moreover, Porta Nuova Train Station is conveniently located only 2 km away from the hotel.
– Elegant interiors and stylish furnishings
– Spa facilities including hot tub and fitness room
– Delicious breakfast buffet with homemade cakes
– Showcasing contemporary artworks by Italian artists
– Convenient location near parks and public transportation
Grand Hotel Des Iles Borromees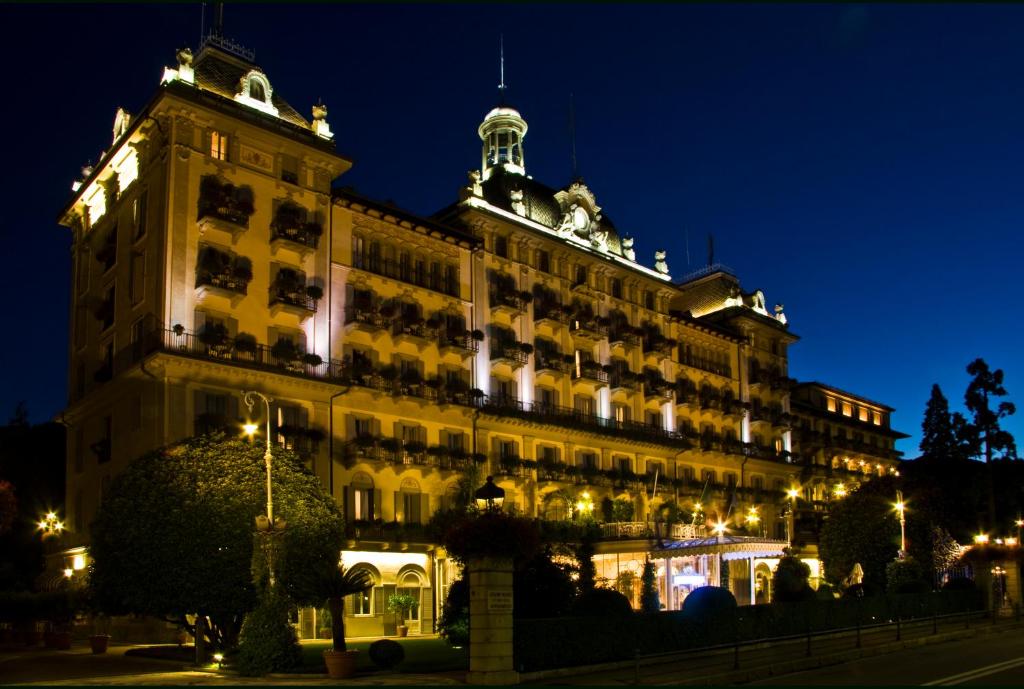 Grand Hotel Des Iles Borromees is a magnificent property that showcases the stunning Art Nouveau style. Situated on the picturesque shores of Lake Maggiore in Stresa, just opposite the Borromean Islands, this hotel offers a truly luxurious experience. The elegant rooms are adorned with LCD TVs and feature marble bathrooms with spa baths. Some rooms provide delightful views of the garden and Alps, while others offer captivating vistas of the lake and islands. With an array of amenities, guests can relax and rejuvenate in the hotel's wellness centre which includes indoor swimming pools, hot tubs, saunas, beauty treatments, and massages. The on-site restaurant serves delectable regional cuisine that can be enjoyed on the terrace during summer months. Additionally, there is a stylish piano bar where guests can unwind. Start each day with a generous buffet breakfast before exploring Corso Umberto I promenade conveniently located right outside the hotel's doorstep. Benefit from free parking available on site.
Pros:
– Majestic Art Nouveau style property
– Indoor and outdoor swimming pools
– Luxurious spa facilities including hot tubs and saunas
– Stunning views of either the garden & Alps or lake & islands from select rooms
– Delectable regional cuisine served at the restaurant with terrace dining options
Best Western Plus Hotel Genova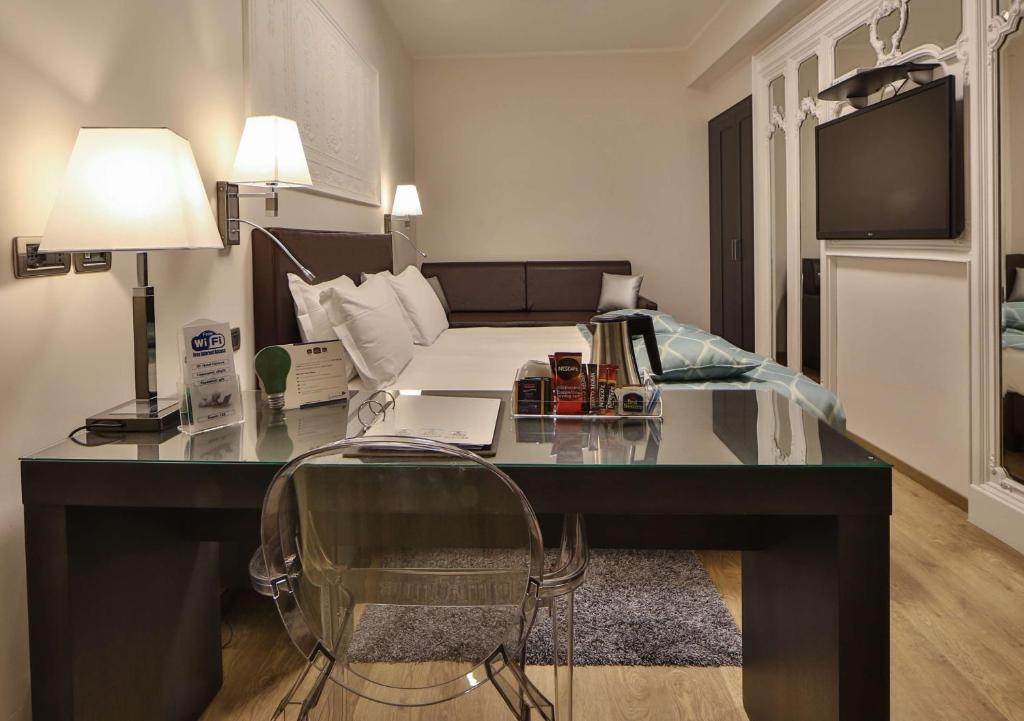 Best Western Plus Hotel Genova, located in a historic building near Via Roma and just a few minutes' walk from Turin's Porta Nova Train Station, offers guests a Special Protection Program to ensure their safety and well-being. The hotel features air-conditioned rooms with modern amenities such as flat-screen TVs, free Wi-Fi, and complimentary daily mineral water. Guests can enjoy a buffet-style breakfast with a variety of delicious options including croissants, cold meats, and cheeses. For light refreshments throughout the day, the 24-hour coffee bar is at your service. Additionally, the hotel provides access to its spa facilities including a sauna, hot tub, and massage room.
Pros:
– Convenient location near Via Roma and Porta Nova Train Station
– Free gym for guests to use
– Complimentary bottle of mineral water provided daily in each room
– Access to spa facilities including sauna, hot tub, and massage room
Spa Hotels in Piedmont with Cool Views
Piedmont, nestled in the picturesque landscapes of northern Italy, offers a serene escape for those seeking relaxation and rejuvenation. With its collection of Spa Hotels boasting cool views, visitors can immerse themselves in a haven of tranquility while indulging in luxurious spa treatments. Surrounded by rolling hills, lush vineyards, and breathtaking mountain ranges, these hotels provide guests with panoramic vistas that inspire awe and promote a sense of serenity. Whether it's enjoying an invigorating massage on a terrace overlooking the mesmerizing countryside or unwinding in thermal pools with stunning sunset backdrops, Spa Hotels in Piedmont offer an unforgettable experience that seamlessly blends natural beauty with wellness retreat.
Relais Villa D'Amelia (Benevello)
Relais Villa D'Amelia in Benevello is a boutique hotel that offers a luxurious spa experience. This completely restored farmhouse features stylish rooms with high-class furniture and a large garden with an outdoor heated pool overlooking the beautiful Piedmont countryside. The property's wellness centre includes amenities such as a small fitness centre, sauna, whirlpool bath, emotional shower, and Turkish bath. Guests can indulge in Italian favorites and Piedmont dishes at the gourmet restaurant, which also offers a selection of local Barolo wines to complement the meals. The rooms at Villa Amelia are equipped with wood floors, flat-screen TVs, and free Wi-Fi. The elegant ambiance is created by light colors and fine modern furniture. Located in Benevello within the Langhe area, between the Alps and Barolo hills, Villa D'Amelia provides easy access to Alba and the A33 motorway.
– Beautifully restored farmhouse
– Outdoor heated pool with stunning views
– Complete wellness center with various facilities
– Gourmet restaurant specializing in Italian cuisine
– Convenient location for exploring Langhe area
Grand Hotel Majestic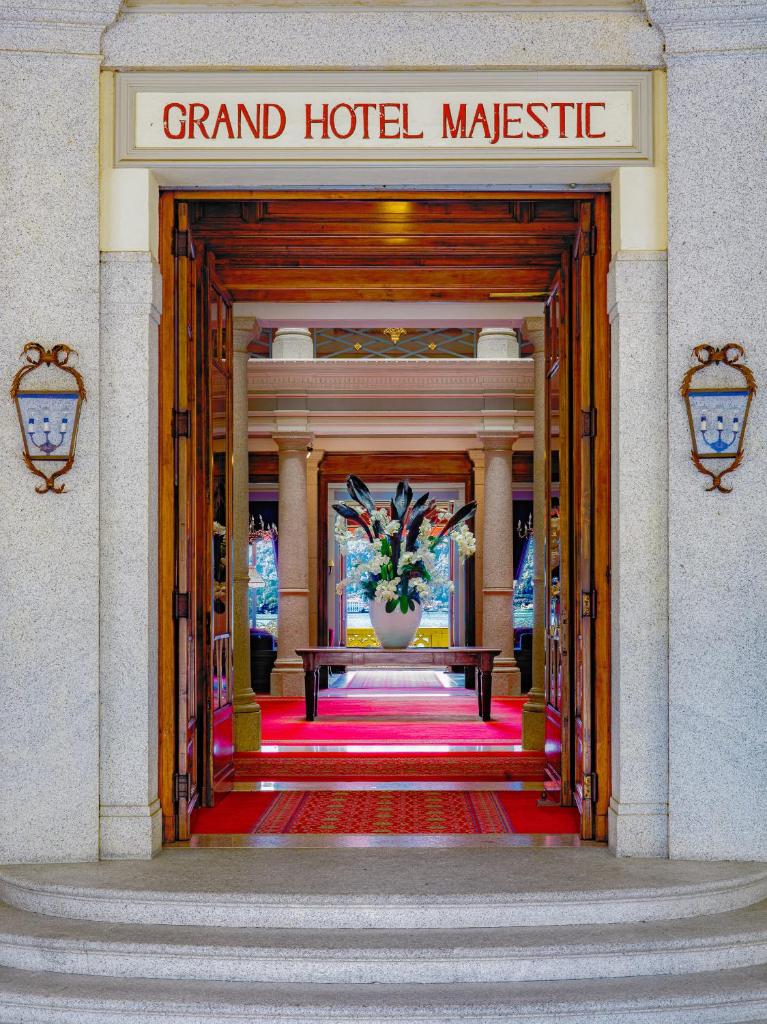 Located directly on the shores of Lake Maggiore, the Grand Hotel Majestic is housed in a beautiful 19th-century building with its own private access to the lake. The hotel offers a range of amenities and services to ensure a luxurious stay for guests. In the garden, there are sun loungers and towels available for all hotel guests, as well as a tennis court and stand-up paddle (SUP) boards that can be reserved for an additional fee. The hotel also boasts a free wellness center with a gym and an indoor heated pool.
The rooms at Grand Hotel Majestic are located over five floors, each air-conditioned and equipped with satellite TV. Most of the rooms offer stunning views of the lake, adding to the overall ambiance of this grand hotel. Guests can enjoy gourmet cuisine at La Beola Restaurant, which serves traditional Italian dishes with international influences. For those looking to relax and take in the surrounding scenery, the terrace bar provides breathtaking views of the nearby mountains and Borromean Islands.
Pros:
1. Private access to Lake Maggiore.
2. Free wellness center including gym and indoor heated pool.
3. Sun loungers and towels available in garden area.
4. Gourmet cuisine at La Beola Restaurant.
5. Terrace bar with panoramic views of mountains and islands.
Relais San Maurizio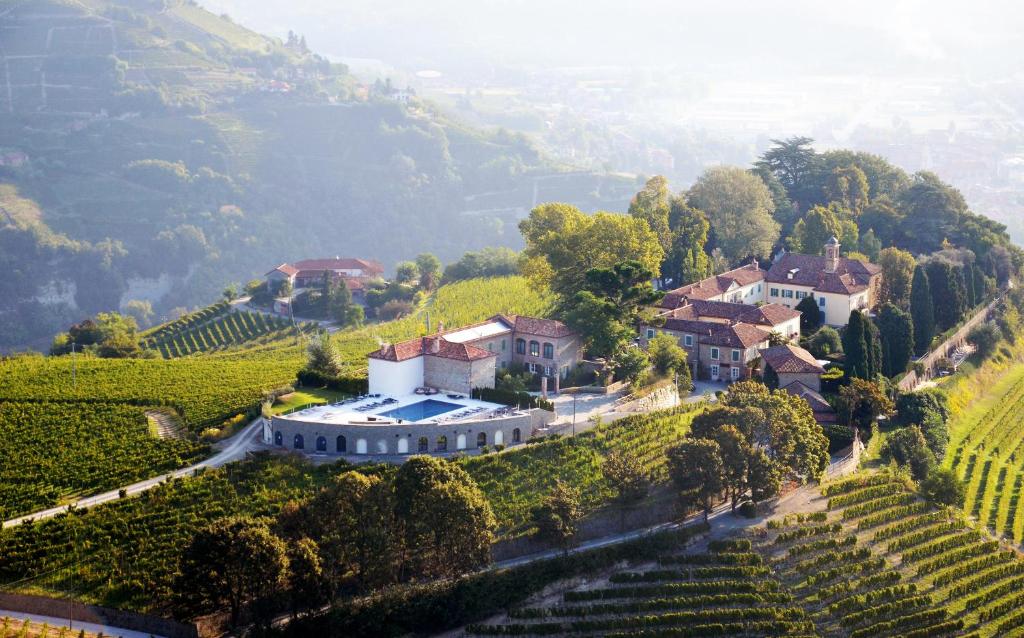 Set in the breathtaking Langhe UNESCO Heritage Site, Relais San Maurizio is a former 17th-century monastery that has been transformed into an oasis of serenity. This luxurious spa hotel offers a range of amenities including indoor and outdoor pools, a medical spa specializing in yoga recovery, and sports facilities like a gym, hot tub, and Turkish bath. The property provides free parking and is located just 3 km outside the charming town of Santo Stefano Belbo, making it an ideal base for exploring the local wineries and castles. Inside, the Relais exudes elegance with its antique furniture, wood floors, and arched ceilings. Each room features a tasteful design and is equipped with modern comforts such as air conditioning, free WiFi, and an LCD TV. The en-suite bathrooms are indulgent with bathrobes and slippers provided. Guests can start their day with a delicious buffet breakfast before enjoying culinary delights at Guido da Costigliole's Michelin Star restaurant or Origini Bistrot for lunch or dinner. Whether you seek relaxation or adventure, Relais San Maurizio offers everything you need to unwind in style amidst the picturesque landscapes of Piedmont.
– Gorgeous location within the Langhe UNESCO Heritage Site
– Extensive wellness facilities including indoor/outdoor pools
– Medical spa specializing in yoga recovery
– Ideal for exploring local wineries and castles
– Gastronomic delights at Guido da Costigliole's Michelin Star restaurant
Spa hotels in Piedmont with a Pool
Piedmont, located in the northwest of Italy, offers a tranquil escape for travelers seeking rejuvenation and relaxation. Spa hotels in this region boast luxurious amenities, including an inviting pool that adds an element of serenity to your stay. Situated against a picturesque backdrop of rolling hills and lush vineyards, these spa hotels provide the ideal setting for guests to unwind and indulge in wellness treatments. Whether you prefer swimming laps or simply lounging by the poolside, Piedmont's spa hotels with pools offer a refreshing oasis where you can leave behind the stresses of daily life and immerse yourself in ultimate tranquility.
La Villa Hotel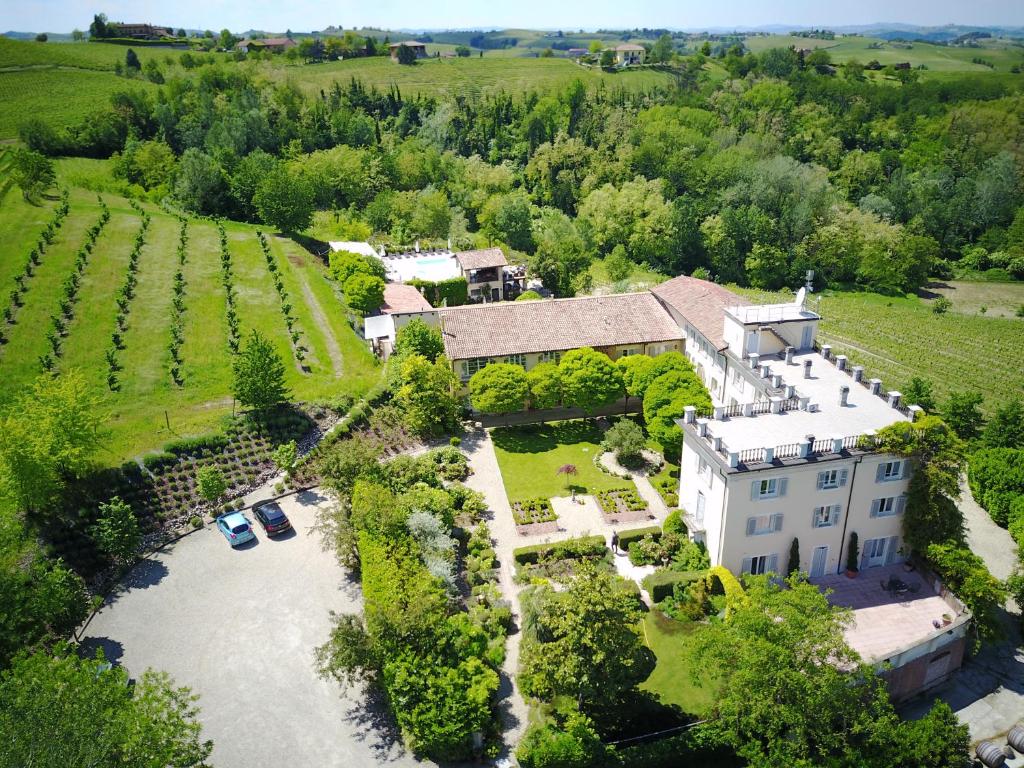 La Villa Hotel is a beautifully restored 17th-century palazzo located in Mombaruzzo. This charming hotel offers a range of amenities including a restaurant, spa, garden, and outdoor pool. Guests can enjoy free Wi-Fi, private parking, and bike rental during their stay. The air-conditioned rooms are tastefully decorated and feature modern comforts such as a telephone, minibar, and kettle. The private bathrooms come with complimentary toiletries and a hairdryer, while some rooms also boast balconies. For ultimate relaxation, guests can indulge in a soothing massage at the hotel's spa. With its convenient location just 32 km from Asti and approximately 95 km from Genoa Cristiforo Colombo Airport, La Villa Hotel is an ideal choice for those seeking tranquility amidst the beautiful Italian countryside.
– Renovated 17th-century palazzo in scenic Mombaruzzo
– Free Wi-Fi and private parking available
– Spa facilities for ultimate relaxation
– Beautiful garden and outdoor pool area
– Complimentary bike rental to explore the surroundings
Hotel Bel Sit (Meina)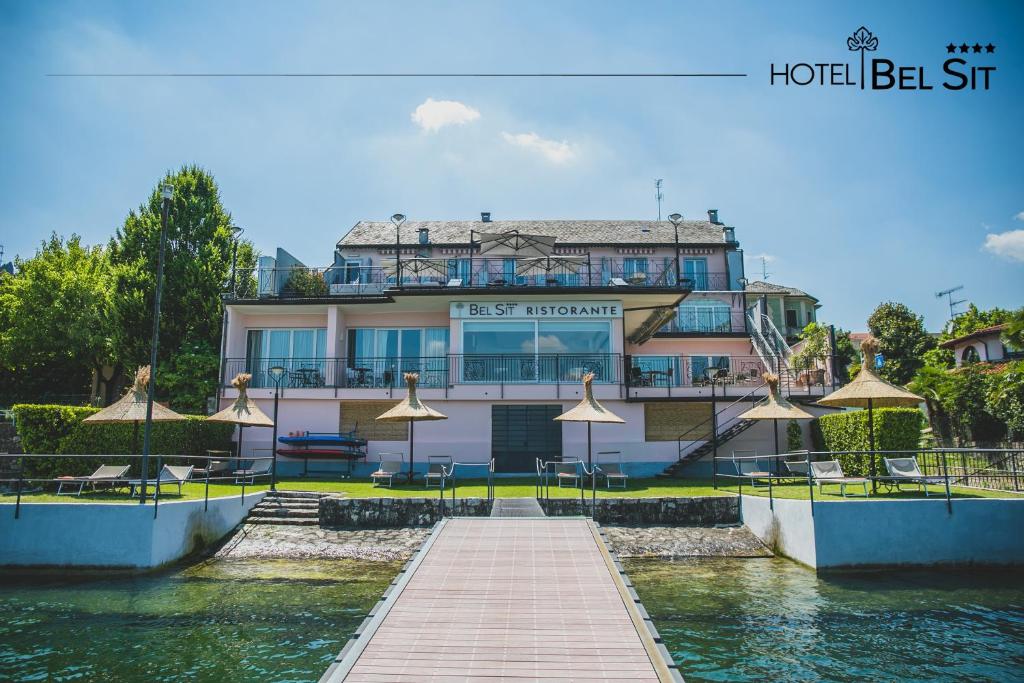 Hotel Bel Sit in Meina is located right on the lakeside, offering guests a stunning view of Lake Maggiore. The hotel features a private beach and a breakfast room with a terrace, perfect for enjoying panoramic views while starting the day. Guests can also take advantage of the small heated pool for added relaxation. With Milan Malpensa Airport just 21 km away, the hotel provides convenient access for travelers. Parking is complimentary for guests' convenience. Each room at Hotel Bel Sit is equipped with air conditioning and a satellite TV, ensuring comfort and entertainment during your stay. Some rooms even have balconies with beautiful lake views. The hotel's prime location allows easy access to nearby towns along the lake such as Arona, which is only a 5-minute drive away, as well as Stresa and other charming destinations just 15 minutes away by car. Additionally, the private beach offers more than just sunbathing opportunities; it also includes a dock for small boats.
– Spectacular lakeside location
– Private beach and dock for small boats
– Breakfast room with terrace boasting panoramic views
– Small heated pool available for guests
– Conveniently close to various charming towns along Lake Maggiore
Best Western Plus Executive Hotel and Suites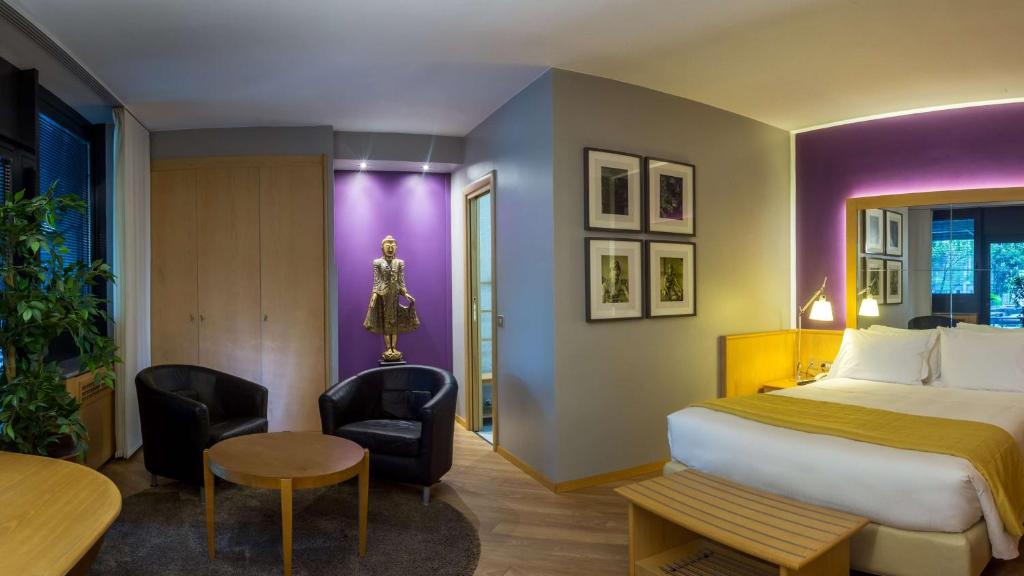 Best Western Plus Executive Hotel and Suites is a conveniently located property in Turin, offering guests a comfortable and enjoyable stay. Situated just 200 meters from Marconi Metro and an 8-minute walk from Turin's Porta Nuova Central Station, the hotel is perfectly positioned between the bustling business district and the historic center of the city.
Guests can take advantage of various amenities provided by the hotel, including a small fitness area for those looking to stay active during their stay, as well as bicycle rentals for exploring the city at their own pace. The rooms are modern and well-equipped with free WiFi, minibars, tea and coffee-making facilities, air conditioning, and flat-screen TVs with international channels.
One of the highlights of Best Western Plus Executive Hotel and Suites is its delicious buffet breakfast served each morning. Guests can enjoy freshly made croissants, cakes, as well as a selection of savory food options to start their day off right. The Design Lounge Bar is also open until late evening for guests who wish to unwind with a refreshing drink or two.
During the summer months (from June to September), guests have access to a rooftop garden with panoramic views and a plunge pool where they can relax and soak up the sun while enjoying breathtaking views of Turin.
The hotel's prime location makes it easy for guests to explore Turin's famous museums such as the Egyptian Museum or visit popular attractions like Piazza delle Medaglie and Giuseppe Verdi Conservatory – all within a 2 km radius. Additionally, for business travelers attending conferences or events at Lingotto Conference Centre, it is conveniently just 7 minutes away by car.
Pros:
– Special Protection Program ensuring safety measures for both guests and staff
– Convenient location between business district and historic center
– Small fitness area available
– Rooftop garden with panoramic views during summer months
– Buffet breakfast serving freshly made pastries
Overall, Best Western Plus Executive Hotel and Suites offers a comfortable and well-equipped stay in Turin, with its convenient location, various amenities, and thoughtful services.
Information about Spa Hotels in Piedmont
| | |
| --- | --- |
| 🏢 Number of Spa Hotels in Piedmont | 12 |
| 🥇 Average Review Score | 8.8/10 |
| 💰 High season average price | 436 |
| 💸 Low season average price | 109 |
FAQ
What are some popular Spa Hotels in Piedmont, Italy?
Piedmont offers a range of luxurious and renowned Spa Hotels. Among the most popular choices are Villa Crespi, a stunning Moorish-style hotel with a spa offering various treatments and therapies
What amenities can I expect at Spa Hotels in Piedmont?
Spa Hotels in Piedmont offer a wide range of amenities to ensure guests have a relaxing and rejuvenating experience. These typically include spacious rooms or suites with comfortable beds, modern bathrooms, and breathtaking views. Guests can also enjoy access to swimming pools, saunas, steam rooms, hot tubs, fitness centers, as well as various spa treatments such as massages, facials, body wraps, and hydrotherapy.
Are there any Spa Hotels in Piedmont that cater to couples or honeymooners?
Absolutely! Piedmont is home to several Spa Hotels that are perfect for couples or honeymooners seeking romance and tranquility. One notable option is Il Boscareto Resort & Spa which offers exclusive suites with private balconies overlooking the vineyards and hills of Langhe region. Another romantic choice is Palazzo Righini Hotel & SPA where you can indulge in couple's massages or relax together in their intimate thermal bath.
Do Spa Hotels in Piedmont offer dining options?
Yes! Many Spa Hotels in Piedmont boast excellent dining options on-site. As this region is famous for its gastronomy and wine production, these hotels often have acclaimed restaurants where guests can savor delicious local cuisine paired with fine wines from nearby vineyards. In addition to gourmet meals prepared by skilled chefs using fresh local ingredients, some hotels may also offer cooking classes or wine tastings for guests to enhance their culinary experience.
What are some nearby attractions and activities near Spa Hotels in Piedmont?
Piedmont offers a wealth of attractions and activities near its Spa Hotels. Guests can explore the picturesque towns of Alba, Barolo, or Asti known for their rich history, charming architecture, and vibrant markets offering local products. Wine enthusiasts can visit numerous vineyards and wineries for tastings and tours in the renowned wine regions of Langhe or Monferrato. Those seeking outdoor adventures can enjoy hiking or cycling through the stunning countryside or even book hot air balloon rides for a unique perspective of the region's beauty.
Popular Wellness Hotels destinations