Welcome to Oxfordshire, a delightful county in the heart of the United Kingdom renowned for its serene Spa Hotels. Nestled amidst picturesque landscapes and charming villages, these havens of relaxation offer a rejuvenating escape from the hustle and bustle of everyday life. Indulge in pampering treatments, unwind in luxurious facilities, and immerse yourself in a world of tranquility.
From opulent manor houses to contemporary retreats, Oxfordshire boasts an array of Spa Hotels that cater to every preference. Whether you seek a traditional spa experience or desire innovative wellness therapies, there is something for everyone here. Immerse yourself in blissful massages, invigorating scrubs, and therapeutic body wraps designed to soothe both mind and body. With professional therapists at your service and scenic views as your backdrop, prepare to embark on a journey towards inner harmony.
The Spa Hotels in Oxfordshire offer much more than just relaxation; they provide an opportunity to reconnect with nature and embrace holistic well-being. Surrounded by rolling hills and lush greenery, guests can engage in outdoor activities such as yoga sessions or take peaceful strolls through manicured gardens. Unwind in heated pools or steam rooms before treating yourself to delectable cuisine made from locally sourced ingredients at the hotel's exquisite restaurants.
Whether you are seeking a romantic getaway or simply need some time for self-care, Oxfordshire's Spa Hotels will exceed your expectations. So pack your bags and let this enchanting county be your haven of serenity during your next vacation!
Best Oxfordshire Spa Hotels
Leonardo Royal Hotel Oxford – Formerly Jurys Inn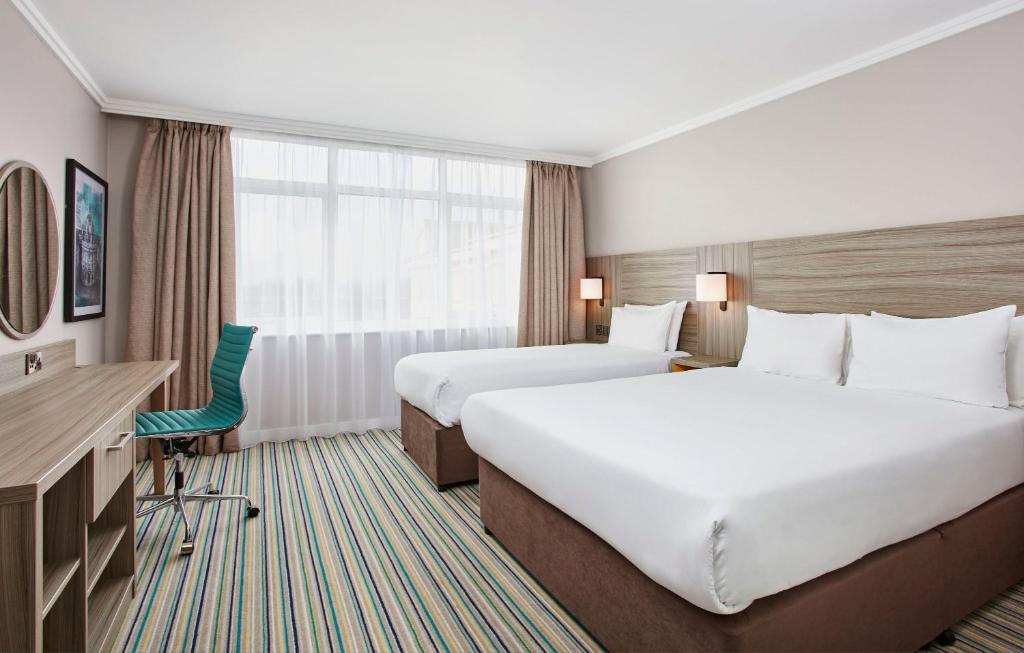 Located just a short 5-minute drive from the historic center of Oxford and conveniently situated 0.5 miles from the A34, Leonardo Royal Hotel Oxford – Formerly Jurys Inn is a luxurious 4-star hotel. The spacious bedrooms are equipped with comfortable Dream beds, TVs, tea/coffee making facilities, work areas, and private bathrooms. Guests can enjoy room service as well as a delicious breakfast buffet served in the restaurant. Leo's Bar and Lobby is open all day, offering a delightful menu of freshly prepared meals and drinks for colleagues, friends or family to unwind and relax. For an exquisite dining experience, Marco Pierre White Steakhouse is open Monday to Saturday evenings (reservations recommended). With parking available on site and both Oxford Train Station and the M40 just a 10-minute car journey away, this hotel offers convenience for travelers exploring the beautiful city of Oxford.
– Convenient location close to Oxford's historic center
– Spacious bedrooms with Dream beds
– Delicious breakfast buffet served in the restaurant
– Relaxing ambiance at Leo's Bar and Lobby
– Exquisite dining experience at Marco Pierre White Steakhouse
DoubleTree by Hilton Oxford Belfry (Thame)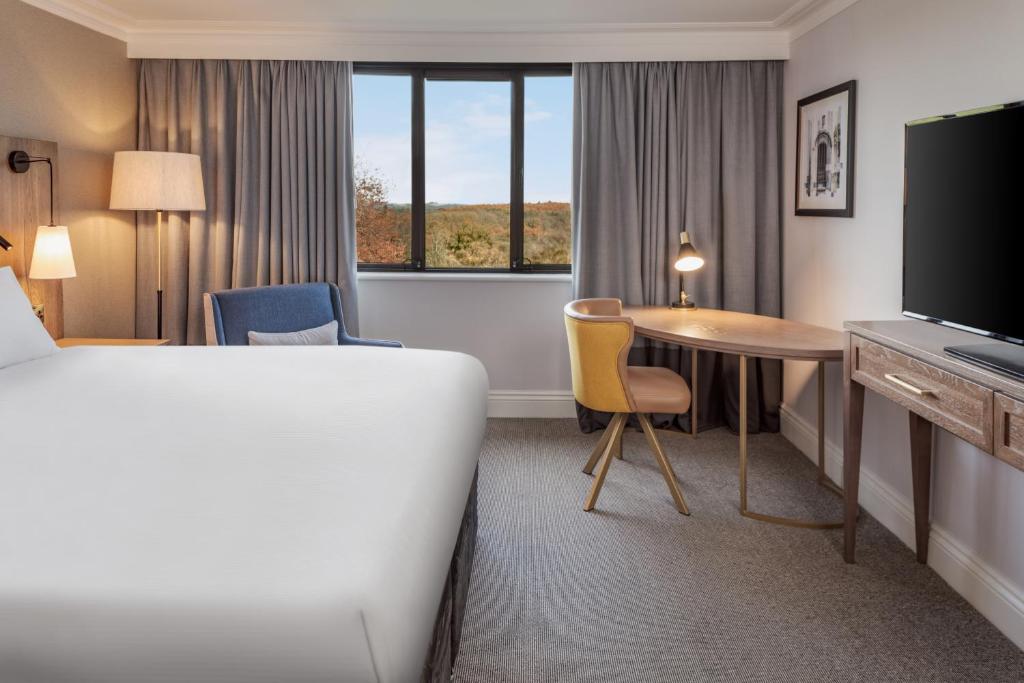 Located within 17 acres of beautiful countryside, DoubleTree by Hilton Oxford Belfry is a charming hotel situated just 8 miles from the historic centre of Oxford. Conveniently located off the M40, this hotel offers guests access to a luxurious spa and swimming pool. The spa features an indoor heated pool, sauna, and a variety of indulgent treatments for ultimate relaxation. The hotel's rooms are set around two picturesque courtyards adorned with flower borders and a sparkling fountain. They boast modern amenities such as free WiFi, bath and shower facilities, and 24-hour room service. Guests can also enjoy playing tennis on the hotel's courts or working out in the well-equipped gym. The Rycote Restaurant showcases delicious dishes made with local ingredients including braised blade of beef and Oxfordshire venison. For a more casual dining experience, guests can visit the Terrace Bar which offers drinks and light snacks throughout the day in a cozy bistro-style atmosphere. With attractions like Blenheim Palace just a short drive away and popular golf courses nearby, DoubleTree by Hilton Oxford Belfry is an ideal choice for both leisure and business travelers alike. Additionally, free parking on site makes it easy for guests to explore the surrounding areas while convenient access to the M40 provides convenient transportation options to London.
– Set within 17 acres of stunning countryside
– Luxurious spa facilities including an indoor heated pool
– Rooms surrounded by picturesque courtyards with flower borders
– Tennis courts available for recreation
– Delicious dining options at Rycote Restaurant using local ingredients
Crazy Bear Stadhampton (Stadhampton)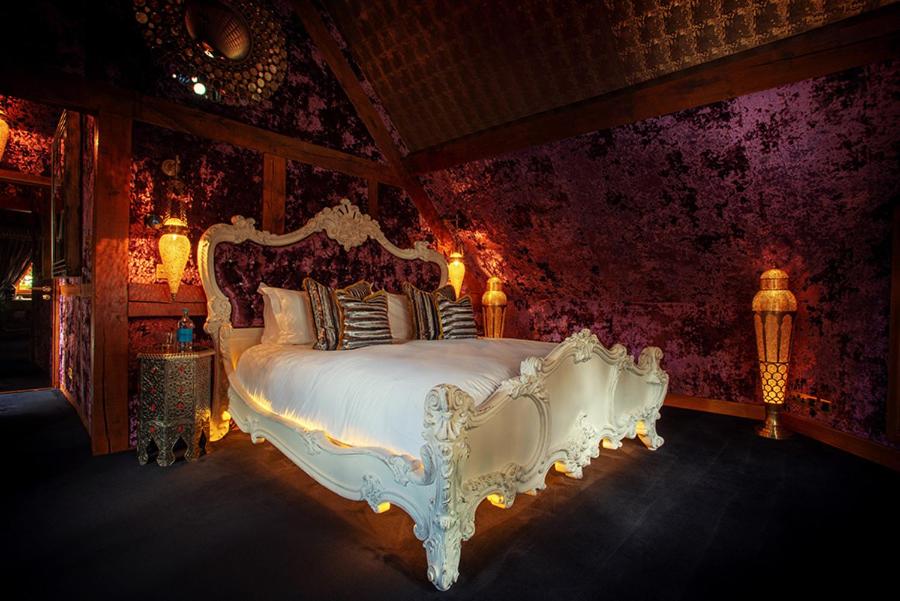 Situated just a short drive away from Oxford's historic city centre, Crazy Bear Stadhampton is a charming boutique hotel that offers guests a tranquil countryside experience. As you arrive, you will be greeted by the unique sight of a double decker bus serving as the hotel's reception. The property boasts two fantastic on-site restaurants that offer both English and Thai cuisine, allowing guests to indulge in a variety of culinary delights. Additionally, there is also a Thai massage service available for those seeking ultimate relaxation. With 80 acres of picturesque farmland and woodland surrounding the hotel, guests can take part in various outdoor activities such as clay shooting, fly fishing and archery. Each room at Crazy Bear Stadhampton provides modern comforts including free WiFi, flat-screen TV and an en suite bathroom with bathrobes for added luxury. Furthermore, 24-hour room service ensures that all your needs are met throughout your stay. To top it off, the hotel uses rare-breed meats sourced from its own farm for its delicious restaurant fare and farm shop offerings. Take advantage of the inclusive continental breakfast or treat yourself to an all day Sunday lunch or afternoon tea while staying here. Afternoons can be spent sipping on expertly crafted cocktails infused with fresh purées and garnishes at the stylish bar. With its gorgeous countryside setting combined with impeccable services and amenities, Crazy Bear Stadhampton promises an unforgettable stay.
Pros:
– Unique reception area housed in a double decker bus
– Two outstanding restaurants offering English and Thai cuisine
– Relaxing Thai massage available onsite
– Exciting outdoor activities like clay shooting and fly fishing
– Use of rare-breed meats from their own farm
Other places to stay in Oxfordshire
Romantic Hotels with Spa in Oxfordshire
Oxfordshire in England offers a delightful selection of romantic hotels with spa facilities, perfect for couples seeking a rejuvenating and intimate getaway. Nestled amidst picturesque countryside, these hotels provide a serene and tranquil ambiance, ideal for relaxation and romance. Indulge in pampering spa treatments designed to enhance your well-being, unwind in luxurious accommodation boasting elegant decor, and savor delectable cuisine prepared with local ingredients. With breathtaking views and personalized service, these romantic hotels with spa in Oxfordshire ensure an unforgettable retreat filled with love, tranquility, and rejuvenation.
Bicester Hotel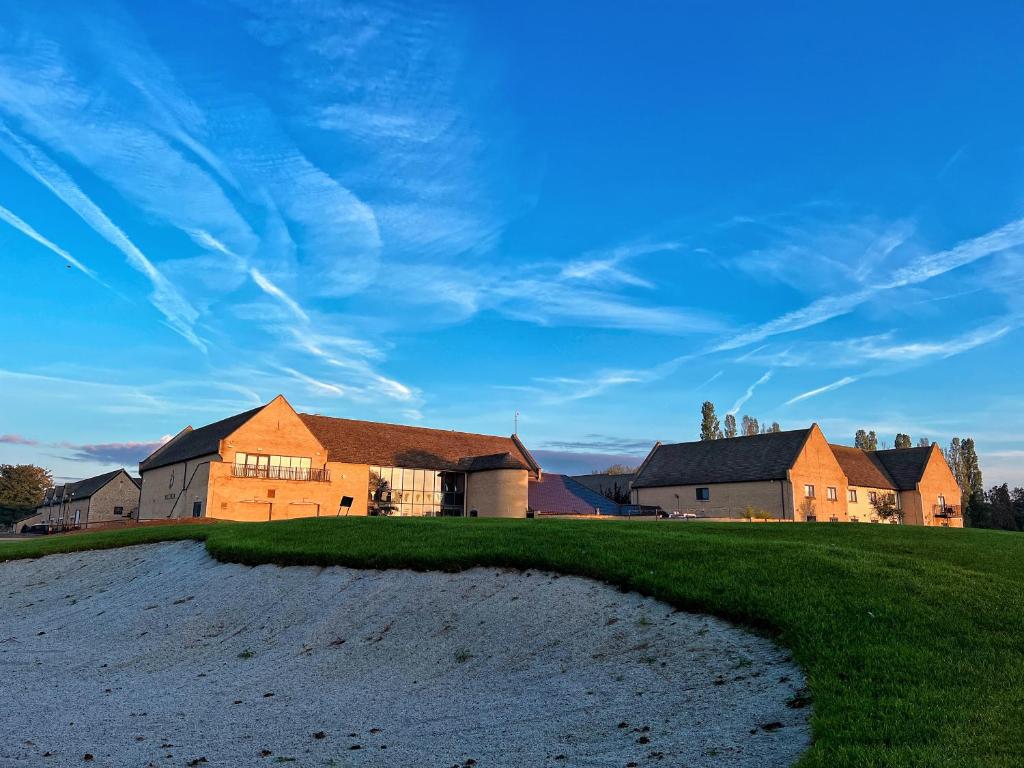 Nestled in 130 acres of picturesque Oxfordshire countryside, Bicester Hotel is a luxurious 4-star retreat surrounded by 11 serene lakes. Conveniently close to the M40, this hotel is just 2.5 miles away from Bicester Village and offers complimentary on-site parking. With some ground-floor rooms featuring small patio areas and others boasting breathtaking views of the golf course or designer courtyard garden, guests can enjoy their stay in comfort and style. The Forest of Wellbeing Beauty Spa adds a touch of indulgence with its luxurious hot tub garden, while the hotel's health club offers a range of recreational amenities including a gym, tennis courts, and an indoor swimming pool. For ultimate relaxation, guests can avail themselves of the hydro spa, spa bath, steam rooms, sauna, and solarium located by the poolside. Each tastefully designed room features an ensuite bathroom along with modern amenities such as widescreen Freeview plasma TVs and complimentary Wi-Fi access. Golf enthusiasts will delight in Bicester Hotel's very own Chesterton Golf Course set amidst stunning countryside surroundings. To satisfy their dining needs, guests can choose between Grays Restaurant for an elegant fine dining experience or the more laid-back ambiance of Portrait Bar. During summer months, guests are invited to unwind on the hotel's delightful outdoor terraces while sipping on refreshing cocktails.
– Stunning location amidst 130 acres of Oxfordshire countryside
– Accessible via M40 with free parking available
– Luxurious hot tub garden at Forest of Wellbeing Beauty Spa
– Range of recreational facilities including gym and indoor swimming pool
– Elegant dining options at Grays Restaurant and relaxed atmosphere at Portrait Bar
The Double Red Duke (Clanfield)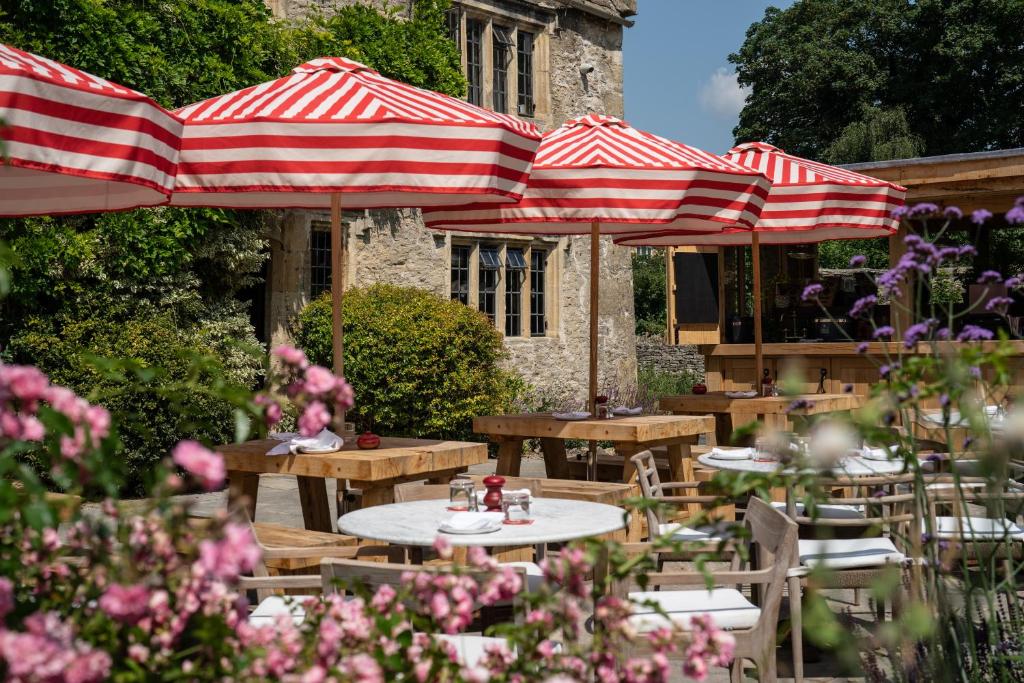 The Double Red Duke is a charming 16th-century hotel nestled in the idyllic village of Clanfield, in the heart of the Cotswolds. With its cosy log fires, delightful garden terrace, and delicious cuisine made from locally sourced ingredients, this hotel offers a perfect blend of comfort and elegance. Its prime location allows guests to easily explore the iconic towns of the Cotswolds and enjoy the breathtaking views of the surrounding countryside. The hotel boasts 19 spacious and tastefully decorated en suite bedrooms equipped with free WiFi for your convenience. Additionally, popular attractions such as Kelmscott Manor, Bampton (the setting for Downton Abbey), and Oxford are within easy reach.
– Cosy log fires create a warm and inviting atmosphere
– Delicious cuisine made from local produce
– Charming garden terrace ideal for al fresco dining
– Perfect location to explore iconic Cotswold towns
– Comfortable en suite bedrooms with free WiFi access
The Oxfordshire Golf & Spa Hotel (Thame)
The Oxfordshire Golf & Spa Hotel in Thame offers a luxurious and modern retreat just 20 minutes' drive from Oxford center. The hotel features a beautiful golf course, a luxury spa, and stylish rooms designed with elegance and comfort in mind. Each room is furnished with luxury fabrics and comes with an en suite bathroom that includes designer toiletries. Guests can also enjoy amenities such as free parking, free Wi-Fi, flat-screen TVs, private balconies, and air conditioning. The Tempus Health and Fitness Centre provides a range of facilities including a swimming pool, sauna, hot tub, treatment rooms, and a modern gym. The championship golf course offers 18 holes designed in the American parkland style. Dining options at the hotel include the Signature Restaurant which serves a varied menu overlooking the golf course as well as a lounge bar offering beverages and snacks. Additionally, there is a Clubhouse Bar with an ample terrace for guests to relax outdoors. The convenient location allows easy access to both Thame which is only 10 minutes away by car and historical Aylesbury reachable within 20 minutes.
– Beautifully designed modern rooms
– Luxury spa treatments available
– Championship golf course on-site
– Varied dining options with stunning views of the golf course
– Convenient location for exploring Oxfordshire
Spa Hotels in Oxfordshire with Cool Views
When it comes to Spa Hotels in Oxfordshire with cool views, visitors are in for a treat. This picturesque county offers a scenic backdrop that perfectly complements the serene and indulgent experience of a spa getaway. From rolling green hills and peaceful countryside vistas to stunning lakeside panoramas, guests can unwind and rejuvenate while taking in the breathtaking surroundings. Whether enjoying a massage or soaking in a hot tub, the combination of luxurious spa treatments and stunning views creates an idyllic escape from the hustle and bustle of everyday life.
Minster Mill Hotel & Spa (Minster Lovell)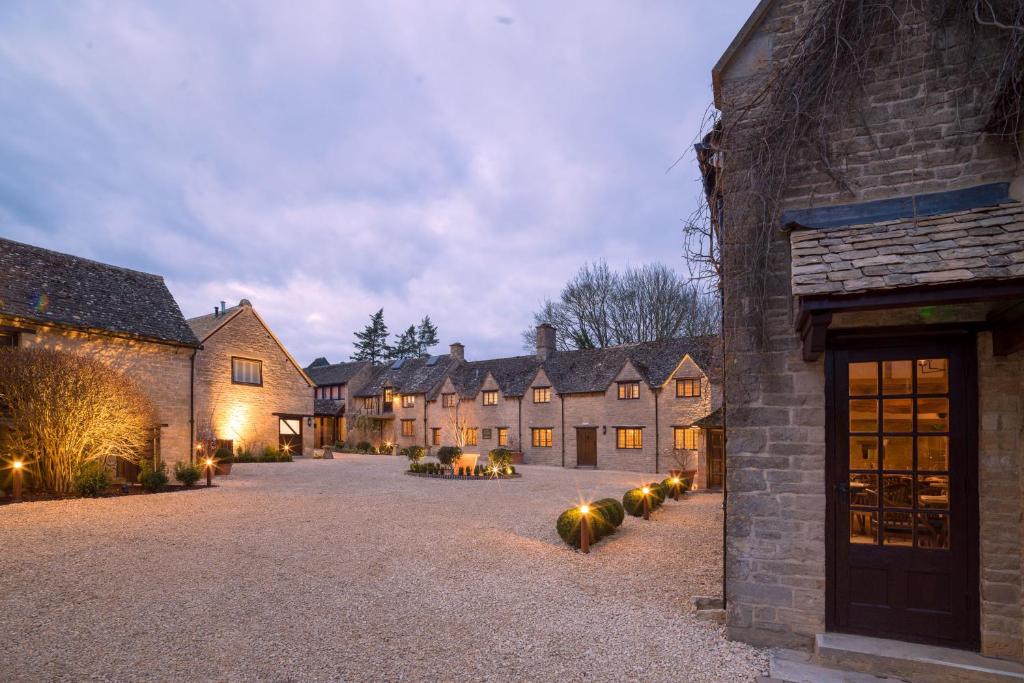 Nestled in the picturesque Oxfordshire village of Minster Lovell, Minster Mill Hotel & Spa is a haven of tranquility set on 65 acres of gardens, meadows, and woodlands along the banks of the River Windrush. With its recent refurbishment, this charming hotel offers comfortable accommodations with modern amenities such as free WiFi and flat-screen TVs. The en-suite bathrooms are stocked with luxurious L'Occitane products. On-site, guests can indulge in a range of spa treatments at The Garden Spa for an additional fee or take a dip in the indoor heated plunge pool. Other leisure facilities include a rock sauna, aroma steam room, ice fountain, and tropical rainforest showers. For outdoor enthusiasts, there are opportunities for fishing along the mile-long private fishing banks or exploring the surrounding area on bicycles available for hire. Sports lovers will find croquet, boules, badminton, and tennis facilities to keep them entertained. After a day of relaxation or activities, guests can savor seasonal British cuisine at the restaurant or enjoy fine wines and cocktails at the stylish bar overlooking the stunning views. Conveniently located nearby are attractions like Oxford (28 km away) and Blenheim Palace (17 km away). Gloucestershire Airport is also within reach at just 50 km from the property.
– Plunge pool
– Beautiful countryside location
– Extensive grounds for outdoor activities
– Luxurious spa facilities
– Seasonal British cuisine
The Randolph Hotel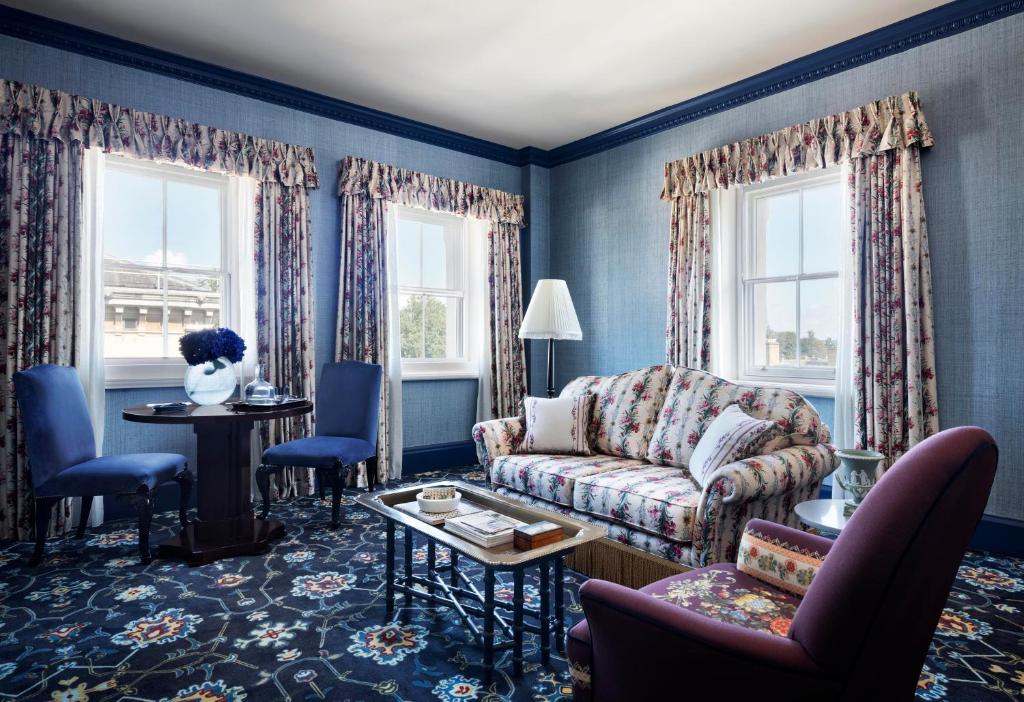 Located in the heart of Oxford, directly opposite the Ashmolean Museum, The Randolph Hotel, by Graduate Hotels, offers a luxurious stay with its sumptuous bedrooms and impressive wellness centre. Guests can enjoy free WiFi throughout the property while indulging in the hotel's elegant and comfortable rooms featuring high ceilings and period features. Each room is equipped with modern amenities including an en suite bathroom, satellite TV, mini-fridge, and tea/coffee facilities. At The Restaurant at the Randolph, guests can savor a delightful range of dishes inspired by European cuisine. With its prime location just a few steps away from The University of Oxford Colleges, guests can easily explore the picturesque riverside and boathouses within a 15-minute stroll. Additionally, Oxford Railway Station is conveniently located only half a mile away.
Pros:
– Convenient central location
– Luxurious and spacious rooms
– Impressive wellness centre
– Free WiFi throughout the property
– Close proximity to popular attractions such as The University of Oxford Colleges
Holiday Inn Oxford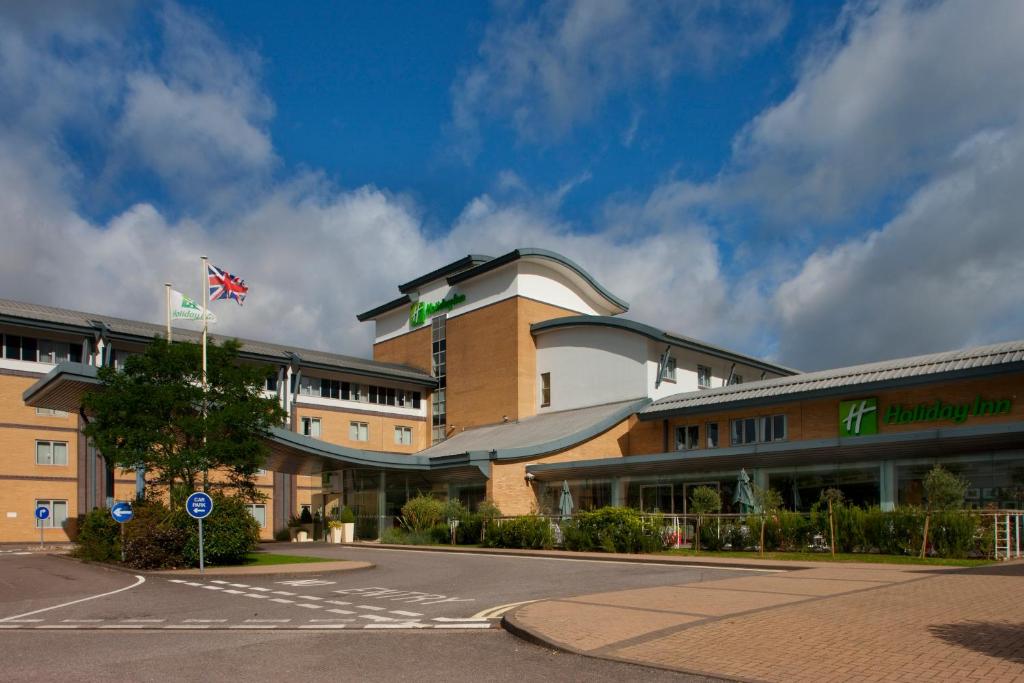 Conveniently located next to the Park and Ride service into Oxford's City Centre, Holiday Inn Oxford offers modern rooms with mini fridges and satellite TV. Each room includes a private bathroom and in-room movies, as well as amenities such as a stereo and tea/coffee facilities. The hotel also features the stylish Junction Restaurant, serving full English breakfasts and a varied menu throughout the day, along with an outdoor terrace for dining. Guests can relax with drinks in the cocktail lounge or keep up their fitness routine in the mini-gym. Parking is available at £6.00 per 24 hours. Blenheim Palace is just a 10-minute drive away, while the famous Ashmolean Museum and Oxford's ancient colleges are less than 10 minutes' drive away.
– Convenient location next to Park and Ride service
– Modern rooms with mini fridges
– Stylish restaurant offering full English breakfasts
– Outdoor terrace for dining
– Mini-gym for fitness enthusiasts
Spa hotels in Oxfordshire with a Pool
Oxfordshire, a county in England known for its rich history and stunning landscapes, offers a range of Spa Hotels with pools that provide the perfect retreat for relaxation and rejuvenation. Whether you are seeking a weekend getaway or a longer stay, these Spa Hotels offer serene environments where you can unwind and indulge in luxurious treatments while enjoying the therapeutic benefits of swimming in their tranquil pools. From heated indoor pools to outdoor options surrounded by lush gardens, these spa hotels in Oxfordshire provide an oasis of calm where guests can escape the stresses of everyday life and immerse themselves in pure bliss.
voco – Oxford Spires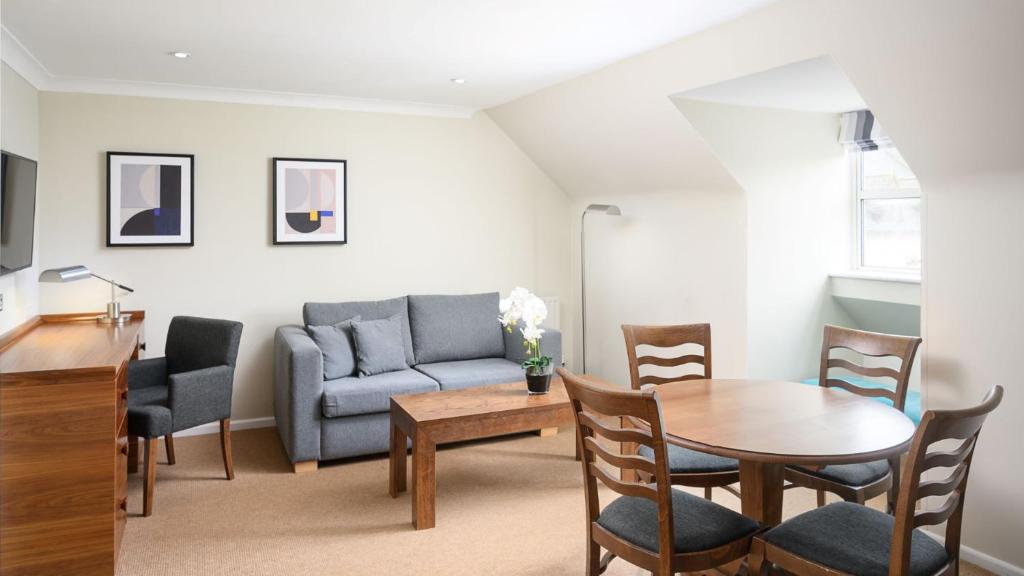 Located in a picturesque setting of 40 acres of parkland, voco – Oxford Spires is a 4-star spa hotel offering guests a luxurious stay. With free Wi-Fi access, this hotel features an inviting pool, a well-equipped gym, and an indulgent spa. The historic city centre is just a short 15-minute walk away. The hotel boasts elegant en-suite bedrooms, while Willows Health Club and Spa provides guests with the ultimate relaxation experience with its sauna, steam room, and range of beauty treatments. Deacon's Restaurant offers superb cuisine in sophisticated surroundings, while Deacon's Bar is perfect for afternoon tea or casual snacks.
– Stunning parkland setting
– Luxurious en-suite bedrooms
– Well-equipped gym and relaxing spa facilities
– Excellent cuisine at Deacon's Restaurant
– Casual dining options at Deacon's Bar
Information about Spa Hotels in Oxfordshire
| | |
| --- | --- |
| 🏢 Number of Spa Hotels in Oxfordshire | 10 |
| 🥇 Average Review Score | 8/10 |
| 💰 High season average price | 1074 |
| 💸 Low season average price | 268.5 |
FAQ
Are there any Spa Hotels in Oxfordshire?
Yes, there are several Spa Hotels in the beautiful city of Oxfordshire. These hotels offer a wide range of spa facilities and treatments, providing guests with a rejuvenating and relaxing experience during their stay.
What amenities can I expect at a Spa Hotel in Oxfordshire?
Spa Hotels in Oxfordshire typically offer luxurious amenities such as swimming pools, hot tubs, saunas, steam rooms, fitness centers, and treatment rooms. The hotels also have highly trained staff who provide a variety of spa treatments including massages, facials, body wraps, and more.
Can I book spa treatments if I'm not staying at the hotel?
Yes, many Spa Hotels in Oxfordshire allow non-residents to book spa treatments. This is a great option for locals or tourists who want to indulge in some pampering without having to stay overnight at the hotel. Advanced booking is usually recommended.
Do Spa Hotels in Oxfordshire cater to specific dietary requirements?
Most Spa Hotels in Oxfordshire are quite flexible when it comes to catering to specific dietary requirements. They often offer menus that include vegetarian options and can accommodate other dietary restrictions such as gluten-free or vegan diets upon request. It's always best to inform the hotel about your dietary needs when making your reservation.
Are children allowed at Spa Hotels in Oxfordshire?
While each hotel has its own policy regarding children on their premises, many Spa Hotels in Oxfordshire have age restrictions for access to certain spa facilities such as pools or sauna areas. However, some hotels may have special packages or designated family-friendly areas where children can enjoy age-appropriate activities while adults relax and enjoy their spa experience
Popular Wellness Hotels destinations
Spa Hotels in Oxfordshire