Welcome to the enchanting world of Wellness Retreats in Oslo, Norway. Nestled amongst breathtaking landscapes and surrounded by pure tranquility, Oslo's Spa Hotels offer an idyllic escape from the hectic pace of everyday life. Immerse yourself in a haven of relaxation and rejuvenation as you indulge in luxurious treatments, soak in soothing mineral baths, and experience the ultimate pampering experience.
Discover a harmonious blend of Scandinavian design and ancient healing traditions at these serene havens. Be lulled into deep relaxation by the gentle flickering flames of crackling fireplaces, while soft ambient music creates an atmosphere of serenity. Unwind with a glass of aromatic herbal tea or savor healthy organic cuisine that nourishes not only your body but also your soul.
With their state-of-the-art facilities and an array of indulgent therapies, these spa hotels provide a holistic approach to wellness. Surrender to the skilled hands of expert therapists who will guide you on a journey towards inner balance and total well-being. Whether you choose hot stone massages, invigorating body scrubs or tranquil meditation sessions, these Spa Hotels promise to elevate your senses and leave you feeling profoundly refreshed.
Escape to Oslo's Spa Hotels for an unforgettable retreat that combines natural beauty with unparalleled luxury. Embark on a transformative journey where time stands still and every moment is dedicated to enhancing your well-being.
Best Oslo Spa Hotels
Radisson Blu Plaza Hotel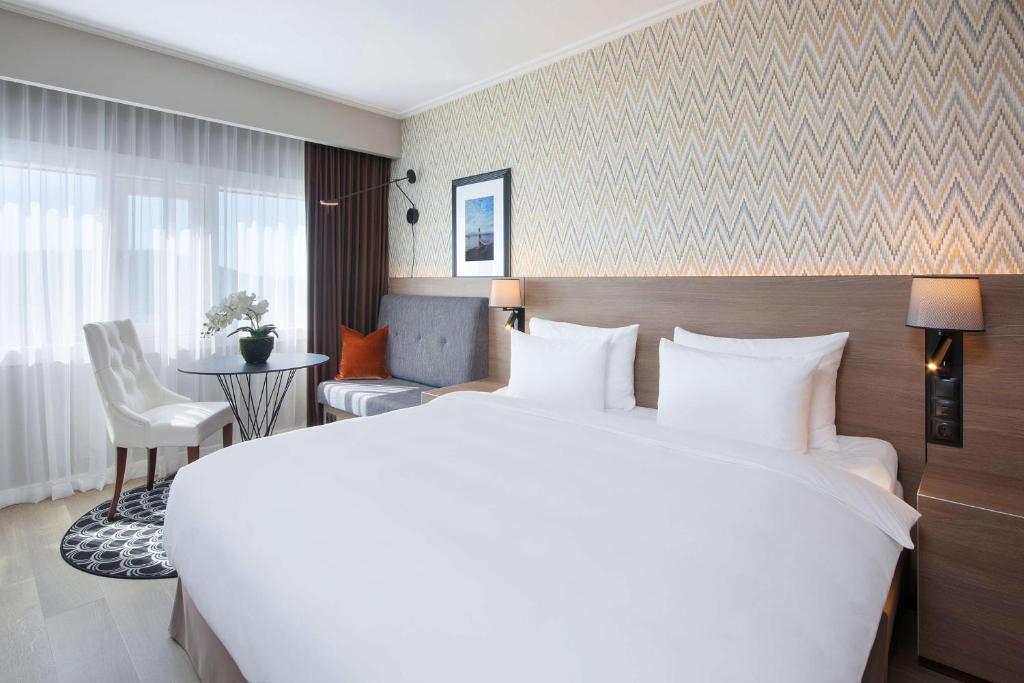 The Radisson Blu Plaza Hotel in Oslo is a magnificent 37-storey hotel located in the bustling city centre. It boasts modern and stylish rooms with free Wi-Fi, satellite TV, and a tea/coffee maker. Guests can enjoy breathtaking views of the city centre and Oslo Fjord from many of the rooms. The hotel also features a state-of-the-art gym, an indoor pool, and a sauna for guests to relax and unwind. Additionally, it offers an exquisite rooftop restaurant and bar that serves delicious à la carte dishes along with an extensive wine list. With its prime location just 100 metres away from Oslo Central Station, this hotel is the perfect choice for both leisure and business travelers.
– Indoor pool for relaxation
– State-of-the-art gym facilities
– Rooftop restaurant with stunning views
– Free Wi-Fi in all rooms
– Convenient location near Oslo Central Station
Scandic Solli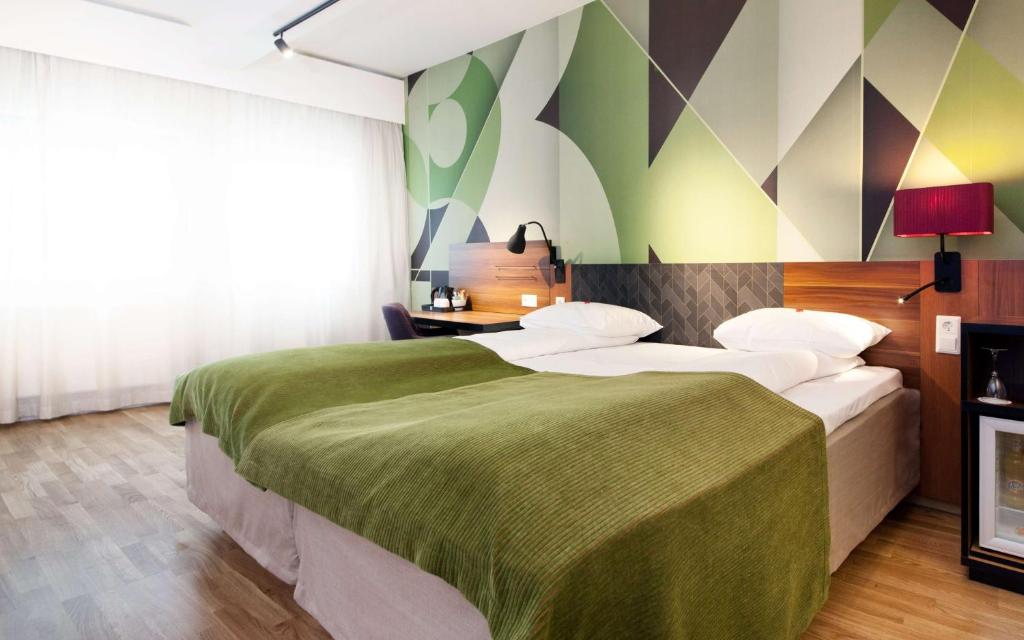 Located just a 5-minute walk from Oslo's Royal Palace, Scandic Solli is a fantastic hotel option for those looking to explore the city. The hotel offers free WiFi, an organic breakfast, and a 24-hour shop for guests' convenience. Guests can also enjoy complimentary access to the gym and sauna facilities. The popular Aker Brygge district is only 500 meters away from the hotel, providing plenty of opportunities for entertainment and dining options. The rooms at Scandic Solli are beautifully decorated with bright décor, wooden floors, and flat-screen TVs with cable channels. Some rooms even offer stunning views of the city or sea. For dining options, guests can visit the in-house restaurant V Solli Bar which serves delicious international cuisine. Additionally, there is a special kiddie breakfast available on weekends and during summer children can enjoy a dedicated play corner equipped with toys, TV, and films to keep them entertained. Snacks, drinks, and toiletries are conveniently available in the lobby shop. Guests will also appreciate that Karl Johans Gate shopping street is only a short 12-minute walk away while Akershus Fortress sits just 1 km from the hotel.
– Conveniently located near Oslo's Royal Palace
– Free WiFi throughout the hotel
– Complimentary access to gym and sauna facilities
– Beautifully decorated rooms with flat-screen TVs
– In-house restaurant serving international cuisine
Scandic St. Olavs Plass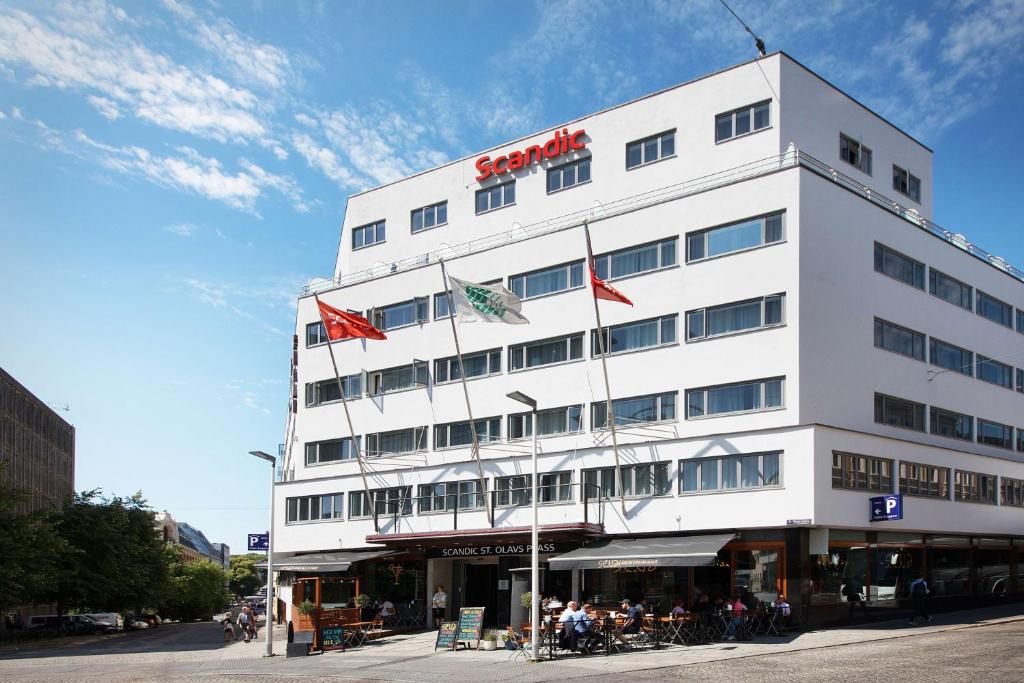 Located within a 5-minute walk of Oslo's popular Karl Johans Gate shopping street, Scandic St Olavs Plass offers convenient access to the city's attractions. The hotel is also just a short 7-minute walk from Nationalteatret metro and airport shuttle stop. All rooms at Scandic St Olavs Plass feature free WiFi, a flat-screen TV with satellite channels, a work desk, and wooden floors. Each room has a private bathroom with shower. Guests can enjoy leisure facilities such as a fitness room and sauna, as well as a playroom for children during the summer season. The in-house restaurant se.ua serves breakfast, lunch, and dinner with international dishes on offer. The lounge bar provides drinks including Norwegian beers and there is also a 24-hour shop available. Within close proximity to the hotel are attractions such as the National Gallery (just a 3-minute walk away) and the Royal Palace grounds (a 5-minute walk away). For shopping and dining options, guests can take a pleasant 15-minute stroll to Aker Brygge and Tjuvholmen.
Pros:
– Convenient location near popular shopping street
– Close proximity to metro station and airport shuttle stop
– Free WiFi in all rooms
– Leisure facilities including fitness room and sauna
– Playroom for children during the summer season
Other places to stay in Oslo
Romantic Hotels with Spa in Oslo
Oslo, the capital city of Norway, is a charming destination that offers couples the perfect setting for a romantic getaway. With its breathtaking landscapes and vibrant atmosphere, Oslo boasts a selection of romantic hotels with exceptional spa facilities. These hidden gems provide couples with an idyllic retreat where they can indulge in relaxation and rejuvenation. From tranquil massages to luxurious treatments, these spa hotels offer a haven for couples seeking intimacy and serenity amidst their busy lives. Immerse yourself in the soothing ambiance and create lasting memories at one of Oslo's romantic hotels with spa facilities.
Thon Hotel Europa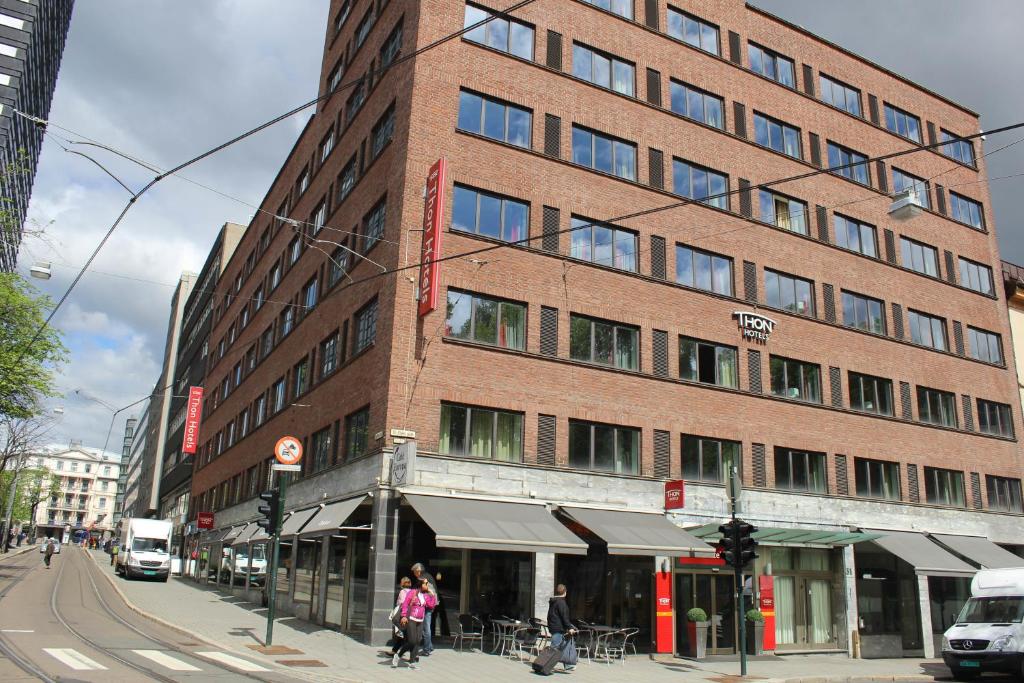 Thon Hotel Europa is a centrally located hotel in Oslo, just 300 meters from Nationaltheatret Metro Station and Karl Johans Gate shopping street. The hotel offers comfortable rooms equipped with free Wi-Fi access, flat-screen TVs, and tea/coffee facilities. Guests can easily explore the city as Oslo Central Station and Akershus Fortress are just a 15-minute walk away, while the Royal Palace is only a 5-minute walk from the hotel. Indulge in Thon Hotel Europa's popular breakfast buffet that includes both hot and cold options, or dine at Café Europa which serves delicious Norwegian and international cuisine. During the summer season, guests can enjoy their meals in the courtyard. The hotel also provides convenient amenities such as two free internet computers in the lobby and easy access to city trams and airport buses. The nearby National Gallery is also worth a visit.
– Central location near metro station and shopping street
– Free Wi-Fi access in all rooms
– Popular breakfast buffet with hot and cold options
– In-house restaurant serving Norwegian and international food
– Courtyard dining available during summer months
Hotel Oslo Guldsmeden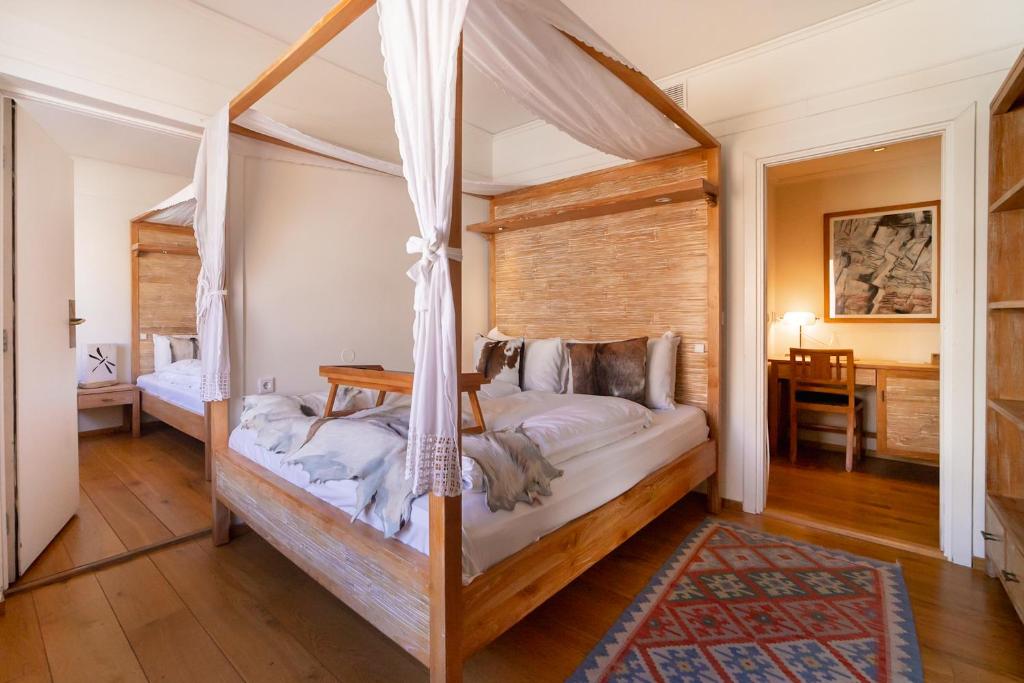 Hotel Oslo Guldsmeden is an eco-friendly boutique hotel located a short 12-minute walk from Karl Johan Gate. This charming hotel offers organic breakfast and beautifully designed rooms. Guests can enjoy self-service saunas on-site, and the hotel restaurant serves delicious dishes made with local, organic produce. Additionally, Tjuvholmen and the lively Aker Brygge harbour area are nearby, providing plenty of entertainment options such as bars, restaurants, and clubs. The hotel's rooms are elegantly styled with high-quality furnishings and each features a unique combination of luxury Balinese-style décor and Sami-inspired pelts. Amenities include TVs, digital radios, organic bathroom products, free WiFi throughout the entire hotel, and a 24-hour front desk. Nationaltheatret Train Station is conveniently just a 3-minute walk away.
– Eco-friendly boutique hotel with an organic breakfast
– Self-service saunas available on-site
– Seasonal dishes made from local produce at the hotel restaurant
– Convenient location near Tjuvholmen and Aker Brygge for entertainment options like bars and restaurants
Sommerro
Sommerro is a newly opened 5-star hotel in Oslo, offering luxurious accommodation and a range of impressive facilities. Guests can enjoy the convenience of a fitness center, terrace, restaurant, and bar on-site. The hotel also boasts a sauna and spa center for relaxation and rejuvenation. With its prime location, Sommerro is perfectly situated near popular attractions such as Oslo Central Station, Akershus Fortress, and The Royal Palace. Hovedøya Island Beach is just 3 km away and Sognsvann Lake is 8.9 km from the hotel. Each room at Sommerro is beautifully appointed with modern amenities including a wardrobe and private bathroom with shower and free toiletries. Some rooms even offer splendid city views for an enhanced stay experience. Every guest can expect comfort as bed linen and towels are provided in each room. Start your day off right with a delicious buffet breakfast served daily at Sommerro's dining area. For those arriving by air, Oslo Airport is located approximately 52 km from the accommodation.
Pros:
– Newly opened 5-star hotel
– Impressive facilities including fitness center, sauna, and spa center
– Prime location near popular attractions
– Well-appointed rooms with modern amenities
– Delicious buffet breakfast available daily
Spa Hotels in Oslo with Cool Views
Oslo, the capital city of Norway, offers an enchanting combination of stunning natural beauty and modern urban living. For those seeking relaxation and rejuvenation amidst breathtaking surroundings, Spa Hotels in Oslo with cool views are the perfect choice. Nestled amidst picturesque landscapes or overlooking the city's iconic landmarks, these hotels provide guests with an idyllic retreat. Whether it's soaking in a hot tub while gazing at majestic mountains or enjoying a soothing massage while admiring panoramic cityscape vistas, these Spa Hotels in Oslo offer a memorable experience for those looking to unwind and indulge in ultimate tranquility.
Radisson Blu Scandinavia Hotel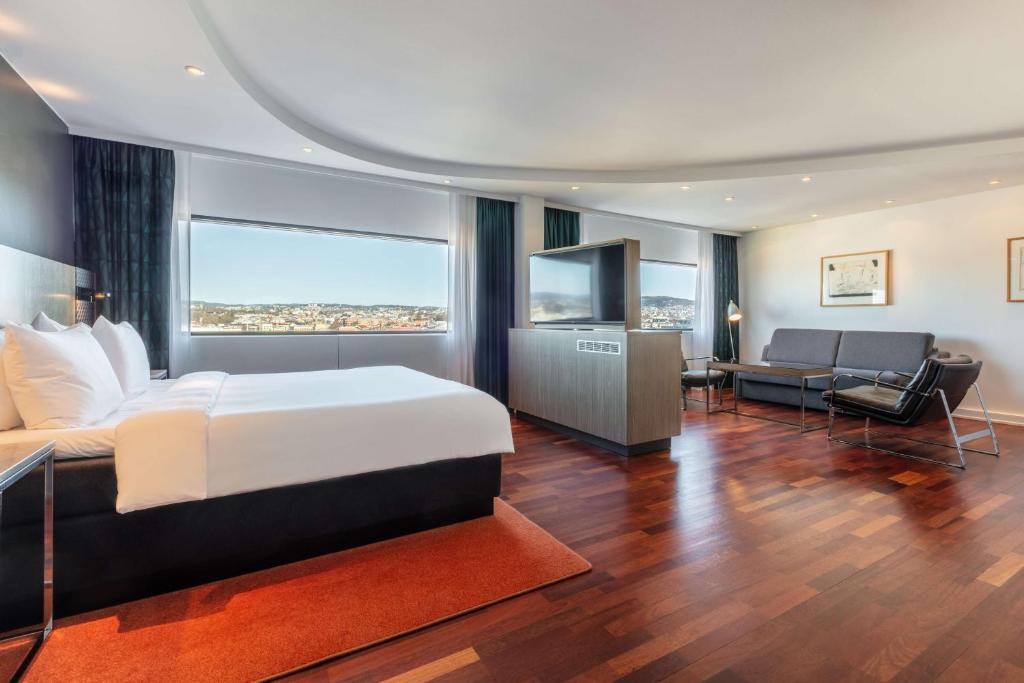 The Radisson Blu Scandinavia Hotel in Oslo is a centrally located hotel, just a 5-minute walk from the Royal Palace and National Gallery. This hotel offers free WiFi and boasts a wellness center with an indoor swimming pool, fitness area, and saunas. The Summit Bar on the 21st floor treats guests to breathtaking views of the city and Oslo Fjord. Each room at the Radisson Blu Scandinavia Hotel features modern furnishings, a flat-screen TV, fridge, desk, and safe. Rooms on higher floors offer stunning views of the city and fjord. Guests can enjoy delicious meals inspired by Norway's fjords, farms, and forests at the on-site 26 North Restaurant Social Club. Conveniently located tram stops and an airport shuttle bus are right outside the hotel's doors. The main shopping street of Karl Johans Gate and the Nationaltheatret train station are both within walking distance.
– Central location near major attractions
– Free WiFi available throughout the hotel
– Impressive views from Summit Bar
– Wellness center with swimming pool and saunas
– On-site restaurant offering local-inspired cuisine
Information about Spa Hotels in Oslo
| | |
| --- | --- |
| 🏢 Number of Spa Hotels in Oslo | 7 |
| 🥇 Average Review Score | 8/10 |
| 💰 High season average price | 1492 |
| 💸 Low season average price | 373 |
FAQ
What are the best Spa Hotels in Oslo?
Oslo offers a wide range of luxurious Spa Hotels to choose from. Some of the top-rated options include The Thief Spa, which features a rooftop terrace with stunning views and a variety of relaxing treatments. The Grand Hotel Oslo is also highly recommended, with its elegant spa facilities and personalized services. Additionally, you can consider The Well, located just outside of Oslo, known for its extensive wellness offerings and serene surroundings.
Are Spa facilities included in the room rate at Oslo's Spa Hotels?
The inclusion of spa facilities in the room rate varies from hotel to hotel in Oslo. While some hotels may include access to their spa facilities as part of their room package, others may charge an additional fee or require guests to book specific spa packages for access. It is advisable to check with your chosen hotel beforehand to clarify what amenities are included in your reservation.
What types of treatments are offered at Oslo's Spa Hotels?
Spa hotels in Oslo offer a diverse array of rejuvenating treatments designed to pamper their guests. You can indulge in traditional massages such as Swedish or deep tissue massages, facials using organic products, body scrubs and wraps infused with local ingredients like seaweed or Arctic berries, as well as manicures/pedicures and beauty services. Many spas also offer specialized therapies like hot stone massage or aromatherapy sessions for a truly blissful experience.
Can non-hotel guests use the Spa facilities at these hotels?
Some Spa Hotels in Oslo do allow non-hotel guests access to their spa facilities on a day-pass basis or by booking specific treatments/services. However, it is important to note that availability may be limited during peak seasons and advanced reservations are usually required. To avoid disappointment, it is recommended that non-hotel guests contact the desired hotel directly well in advance for information regarding access policies and availability.
Do any of the Spa Hotels have outdoor Spa facilities in Oslo?
Yes, a few Spa Hotels in Oslo offer outdoor spa facilities for guests to enjoy the pristine Norwegian nature. The Lysebu Hotel, nestled amidst the beautiful Nordmarka forest, boasts an outdoor jacuzzi with breathtaking views of Oslo's skyline and surrounding landscapes. The Vulkana Spa Boat is another unique option, where you can relax in hot tubs while floating on the fjord waters. These outdoor facilities provide guests with an unforgettable spa experience combined with Norway's natural beauty.
Popular Spa Hotels destinations