Welcome to the picturesque region of North Yorkshire in the United Kingdom, where tranquility meets luxury at its finest. In this article, we will embark on a journey exploring the exquisite world of spa hotels nestled amidst the captivating landscapes and rolling hills of this magnificent destination. Prepare to indulge your senses as we uncover an array of sumptuous retreats, meticulously designed to rejuvenate both body and mind.
North Yorkshire offers an idyllic escape for those seeking respite from the hustle and bustle of everyday life. Here, you can immerse yourself in a sanctuary where opulent treatments and serene surroundings harmonize seamlessly. Discover a wealth of extraordinary spa hotels that epitomize sophistication and offer an oasis of relaxation amidst breathtaking natural beauty. Pamper yourself with an indulgent massage, soak in a blissful hot tub overlooking lush gardens or revitalize your senses with invigorating wellness activities – all within the tranquil walls of these exclusive establishments.
Unwind in style as you surrender yourself to luxury accommodations boasting elegant interiors adorned with modern amenities. Let go of stress and tension as highly skilled therapists pamper you using curated organic products for ultimate rejuvenation. Moreover, explore the charm of charming towns nearby or embark on nature trails that embrace you with their raw beauty. Join us as we delve into a realm where serenity intertwines effortlessly with opulence – North Yorkshire's haven for spa enthusiasts awaits!
Best North Yorkshire Spa Hotels
No 1 by GuestHouse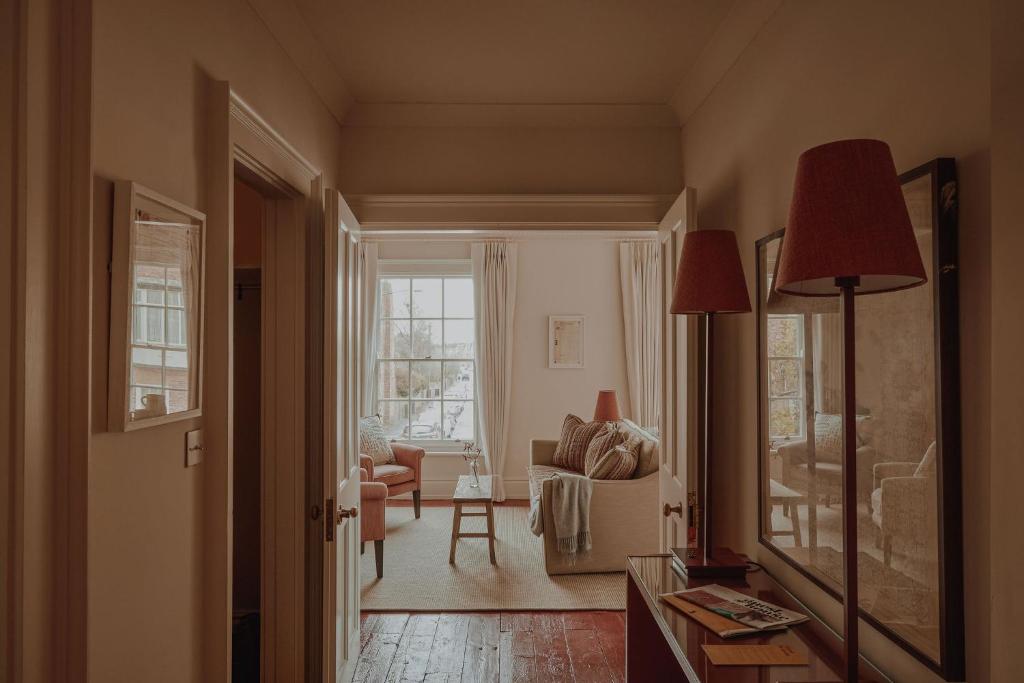 Located in the heart of York, just a short walk from York Minster, is Hotel No. 1 by GuestHouse. Housed in a Grade II Listed Regency townhouse, this boutique hotel showcases beautiful heritage detailing such as sash windows, high ceilings, and a sweeping central staircase. The hotel offers 38 bedrooms, including three suites with unique quirks. Each room is equipped with modern amenities such as a flat-screen Smart TV, tea/coffee making facilities, and an iron and hairdryer in the wardrobe.
One of the highlights of Hotel No. 1 is its spa located in the arches of the cellar. The spa provides a cocooning world of bespoke wellbeing experiences with five treatment rooms available, including one designed for couples. After indulging in rejuvenating treatments, guests can unwind in the soothing post-treatment relaxation area.
For dining options at No. 1 Clifton, Pearly Cow restaurant showcases dishes made from locally-sourced ingredients that celebrate the flavors of the area. The Marmalade Lounge serves up perfect afternoon teas combining traditional savory and sweet treats with playful twists for a contemporary twist on this timeless treat.
The hotel also offers paid private parking on-site for convenience and easy access to explore York's attractions further. With York Railway Station just a 15-minute walk away, Hotel No. 1 by GuestHouse is an ideal choice for those looking to explore all that this historic city has to offer.
Pros:
– Convenient location within walking distance to York Minster
– Beautifully restored Grade II listed Regency townhouse
– Well-appointed bedrooms with modern amenities
– Spa offering bespoke treatments and relaxation space
– Delicious dining options celebrating local flavors
Rudding Park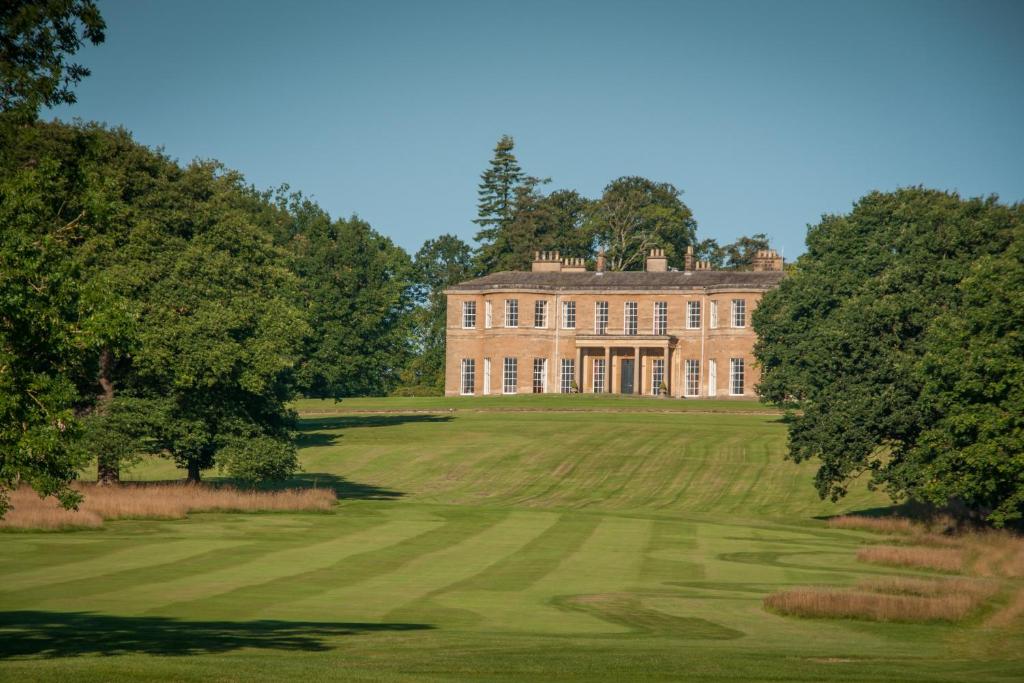 Located less than 3 miles from Harrogate, Rudding Park is an elegant hotel that boasts an award-winning restaurant and a luxurious spa. The hotel is situated in a 19th-century parkland and features an excellent 18-hole golf course. The Spa at Rudding Park offers guests access to amenities such as an indoor swimming pool, juniper log sauna, and bucket shower. For those looking for more relaxation, there is also the option to upgrade to the Roof Top Spa and Garden, which provides stunning views over the mature gardens and offers a wide range of thermotherapy and hydrotherapy experiences. In terms of dining options, guests can enjoy local, seasonal dishes at the award-winning Horto Restaurant or choose from various menus at the Clocktower Restaurant. The hotel also features modern rooms with flat-screen TVs, sleek tiled bathrooms (some with balconies or private terraces), a gym, private cinema, floodlit driving range, short course for golf enthusiasts, as well as chipping and putting greens. With professional coaches available on-site, guests can further enhance their golf skills during their stay.
– Award-winning restaurant
– Luxury spa with indoor swimming pool
– Stunning views from the Roof Top Spa
– Excellent golf facilities with professional coaches available
– Modern rooms with flat-screen TVs and stylish bathrooms
DoubleTree by Hilton Harrogate Majestic Hotel & Spa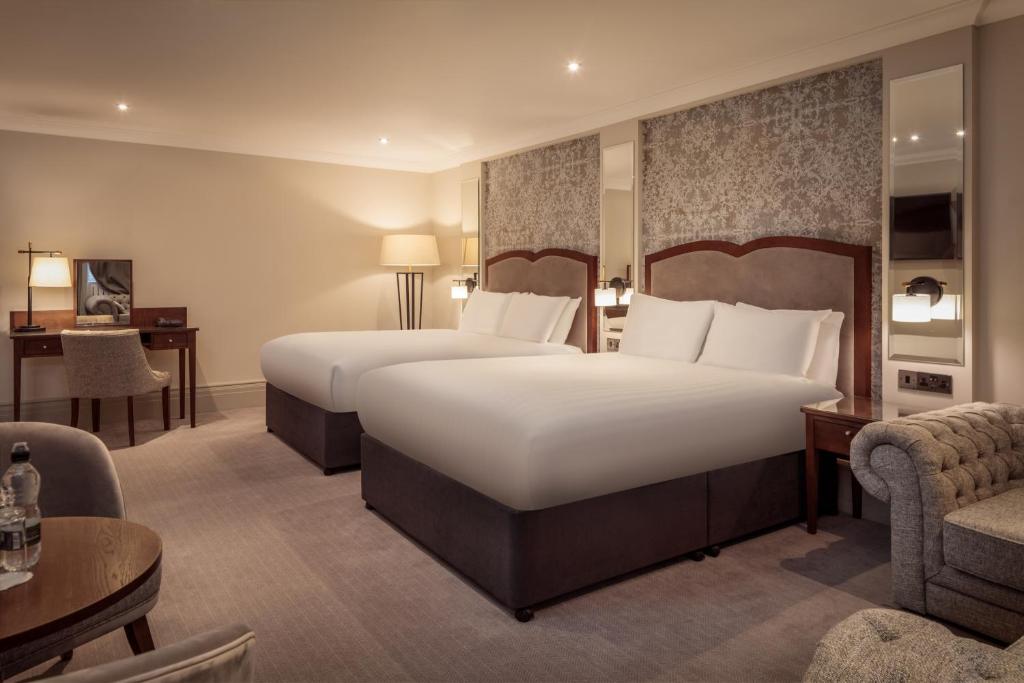 Located in the picturesque town of Harrogate, the DoubleTree by Hilton Harrogate Majestic Hotel & Spa is a stunning 19th-century hotel surrounded by expansive gardens. Situated next to the Harrogate International Centre and just a short stroll from Betty's Tea Rooms, this hotel offers convenience and charm. The center of the spa town is also just a two-minute walk away. The spacious rooms at Harrogate Majestic Hotel provide beautiful views of the town and landscaped gardens. Each room is equipped with Wi-Fi access, a TV, and tea and coffee-making facilities. Guests can enjoy fine cuisine and an extensive selection of wines at the on-site restaurant, as well as a delightful breakfast with both cooked and continental options in the morning. With its convenient location, Harrogate Rail Station can be reached on foot in just 10 minutes. Additionally, attractions like Yorkshire Event Centre and Yorkshire Showground are only 3 miles away.
– Convenient location near Harrogate International Centre
– Beautiful views of town and landscaped gardens from rooms
– On-site restaurant offering fine cuisine
– Extensive breakfast options including cooked dishes
– Close proximity to Harrogate Rail Station for easy transportation options
Other places to stay in North Yorkshire
Romantic Hotels with Spa in North Yorkshire
Located in the picturesque region of North Yorkshire, romantic hotels with spa facilities offer couples a blissful getaway amidst stunning natural landscapes. Immerse yourself in a world of pampering and relaxation as you unwind together in luxurious spas that provide an array of rejuvenating treatments. Indulge in tranquil settings, from serene gardens to breathtaking countryside views, while enjoying intimate moments together. Whether it's enjoying a soothing couple's massage or unwinding in private jacuzzis, these romantic hotels with spa facilities in North Yorkshire are perfect for rekindling romance and creating lasting memories.
Feversham Arms Hotel & Verbena Spa (Helmsley)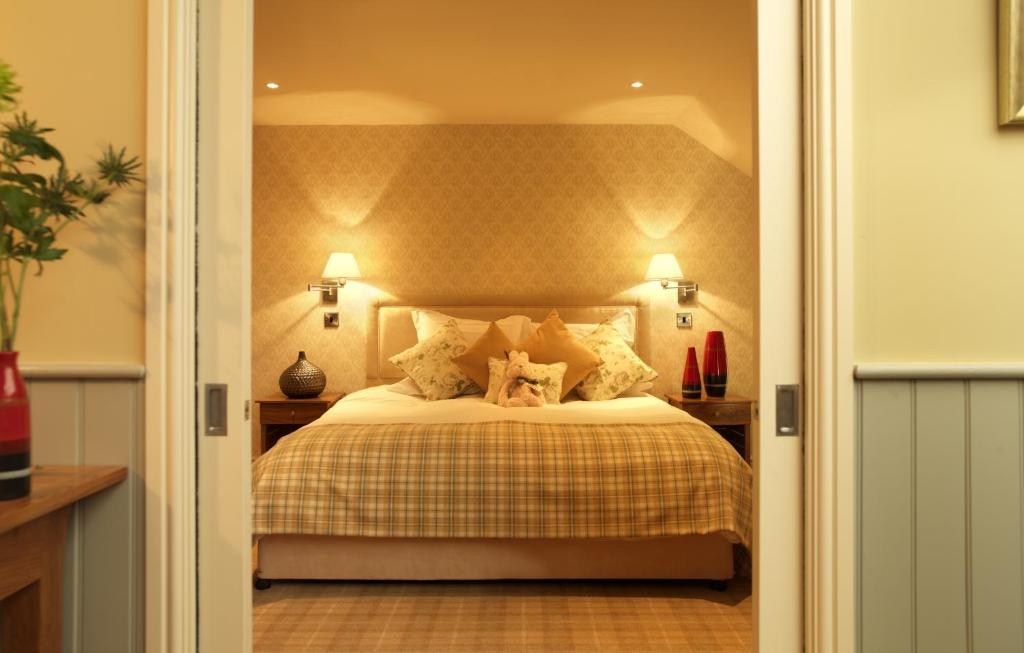 Located in the charming market town of Helmsley, on the edge of the picturesque North Yorkshire Moors, Feversham Arms Hotel & Verbena Spa is an elegant retreat offering a range of luxurious amenities. With 33 individually designed en-suite bedrooms, spacious lounges, and a cozy restaurant awarded with 2 AA Rosettes, guests are sure to feel pampered and well taken care of. The award-winning Verbena Spa is a highlight of the hotel, offering rejuvenating treatments and indulgent facilities including a heat experience and an outdoor heated swimming pool that can be enjoyed all year round. Combining Victorian charm with boutique design, Feversham Arms Hotel & Verbena Spa provides the perfect blend of traditional comfort and contemporary luxury. The hotel's location is also convenient for exploring nearby attractions such as Castle Howard, Whitby, Scarborough, and Nunnington.
– Superb dining options
– Full spa facilities
– Free Wi-Fi
– Individually designed en-suite bedrooms
– Convenient location for exploring nearby attractions
Middletons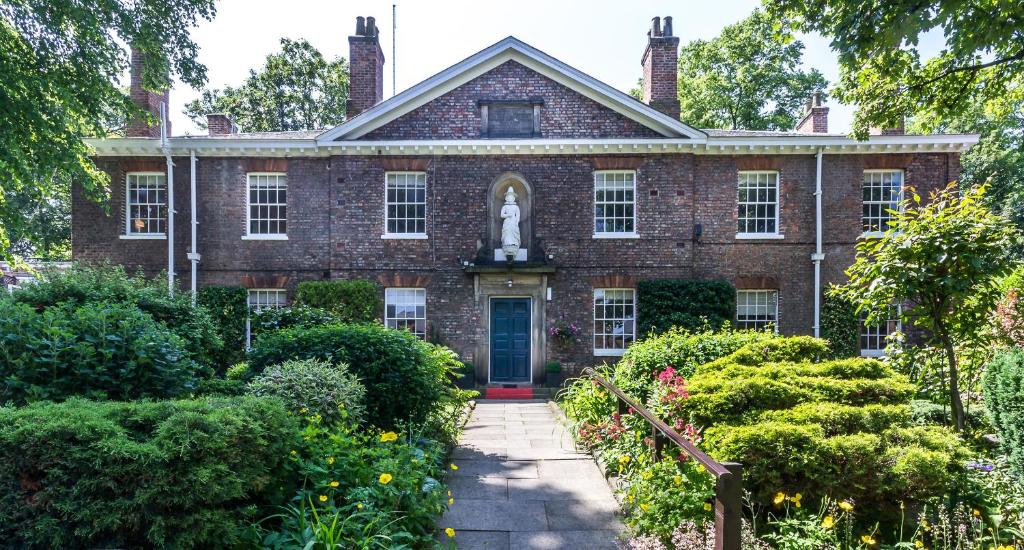 Middletons is a collection of six historical, Grade-II listed buildings nestled around a tranquil courtyard garden in the heart of York city centre. It is conveniently located just 800 metres from York Rail Station and York Minster. The hotel offers complimentary access to a fitness centre with a gym and is only a 7-minute drive from York Racecourse. The individually decorated en suite rooms feature free high-speed WiFi, TV, and tea/coffee-making facilities as basic amenities. Guests can start their day with a delicious breakfast and enjoy the varied menu at the modern Sawmill restaurant throughout the day. Additionally, they can relax on one of two sunny terraces or explore the hotel gardens while sipping on their favorite drink. With its prime location, Middletons provides easy access to the main shopping areas and attractions within a short 5-minute walk. The famous Grand Opera House and York Dungeons are also just moments away for those seeking entertainment or adventure. For guests arriving by car, secure on-site parking is available at an extra cost.
– Convenient location in the heart of York
– Complimentary access to fitness centre with gym
– Individually decorated rooms with free high-speed WiFi
– Delicious breakfast and varied menu at Sawmill restaurant
– Two sunny terraces and beautiful hotel gardens for relaxation
The Parsonage Hotel & Spa (Escrick)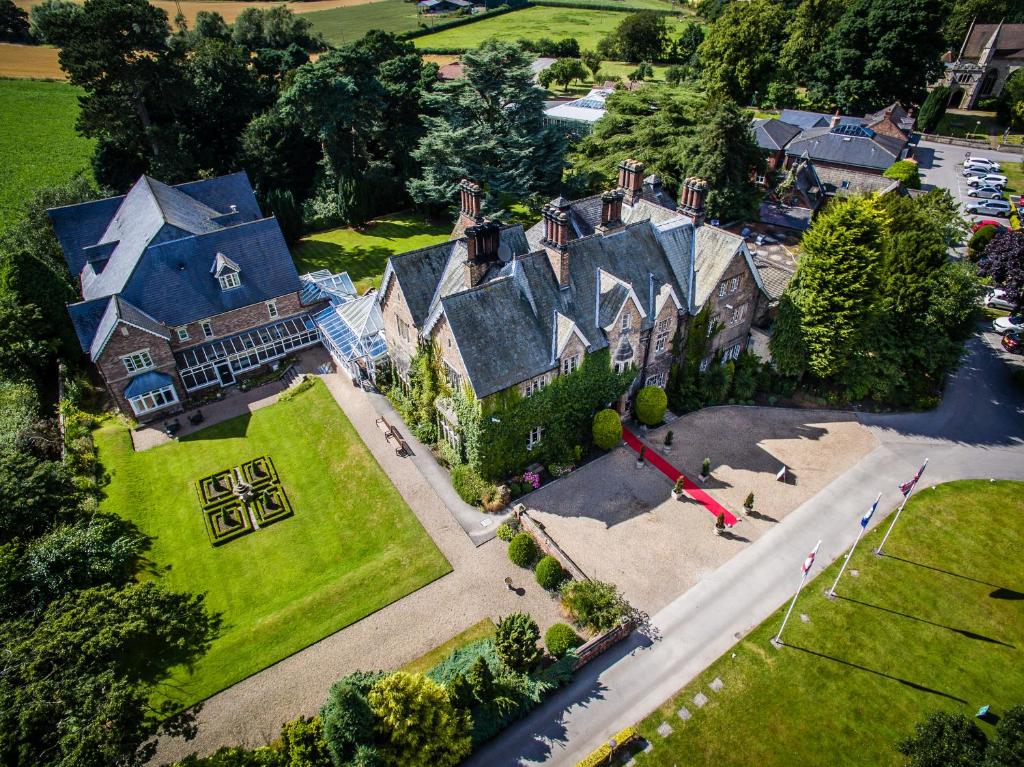 The Parsonage Hotel & Spa, located in Escrick, is a charming Four Star Hotel nestled within 6 acres of beautifully landscaped gardens and woodland. Offering free WiFi and parking, this hotel provides a tranquil retreat just a 15-minute drive away from York's bustling city centre. Guests over the age of 18 can indulge in the adults-only Cloisters Spa and Health Club, where they can enjoy amenities such as a 16-meter swimming pool, spa bath, modern gymnasium, sauna, steam room, aromatherapy and salt rooms. Built in the early 1840s with many original features still intact, The Parsonage Hotel & Spa exudes elegance and charm. The on-site Fat Abbot restaurant serves up delectable pub-style food while guests on dinner inclusive packages receive a GBP 30 allowance for dinner. Furthermore, holistic treatments are available for those seeking ultimate relaxation. For golf enthusiasts, Swallow Hall Golf Club is just a short 9-minute drive away from the hotel.
Pros:
– Beautifully landscaped gardens and woodland setting
– Free WiFi and parking provided
– Adults-only Cloisters Spa with various amenities
– Charming historic building with original features
– On-site restaurant serving delicious pub-style food
Spa Hotels in North Yorkshire with Cool Views
Spa hotels in North Yorkshire offer a truly rejuvenating escape amidst breathtaking views. Nestled in the stunning landscapes of this picturesque region, these spa retreats provide a serene sanctuary for travelers seeking tranquility and relaxation. Whether it's overlooking rolling hills, gazing at peaceful lakes or surrounded by lush forests, the cool views from these enchanting spa hotels create an idyllic backdrop for unwinding and indulging in luxurious treatments. From invigorating massages to soothing facials, guests can immerse themselves in utter bliss while taking in the calming sights that North Yorkshire has to offer.
Malmaison York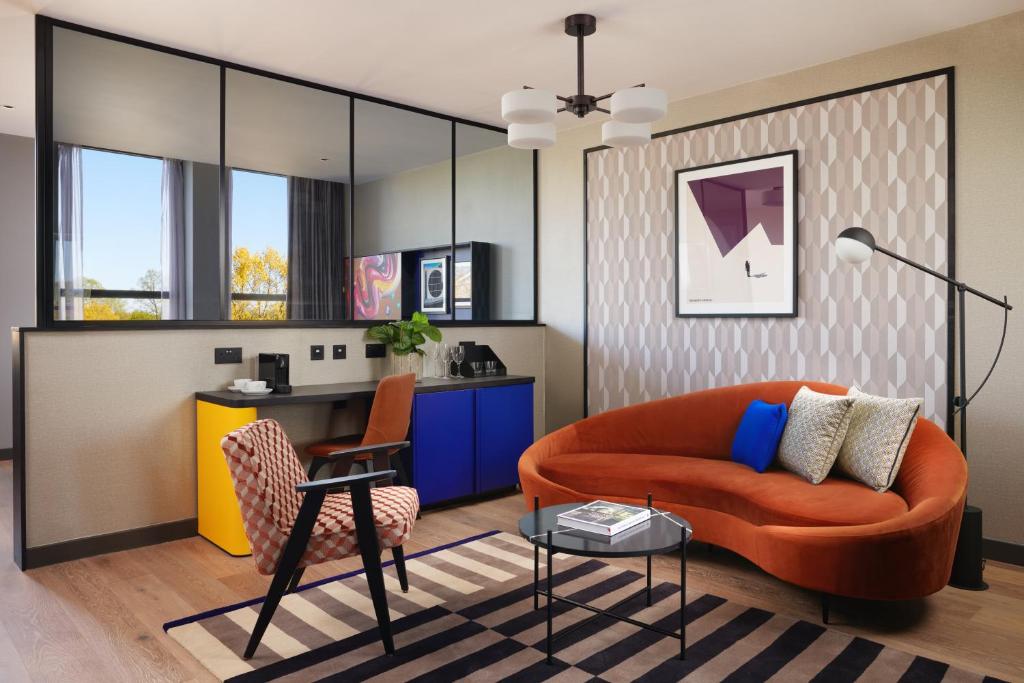 Malmaison York is a newly opened 4-star hotel located conveniently in the heart of York. With air-conditioned rooms, a fitness center, free WiFi, and a shared lounge, guests can enjoy a comfortable and modern stay. The hotel offers amenities such as room service and a 24-hour front desk for added convenience. Guests can indulge in delicious British and Japanese dishes at the on-site restaurant or relax with a cocktail at the bar. Each room is equipped with a flat-screen TV, satellite channels, and a safety deposit box. The private bathrooms feature complimentary toiletries and hairdryers. Start your day off right with a buffet or à la carte breakfast options including Full English/Irish choices. The hotel's prime location is just 400 meters from York Railway Station and 800 meters from York Minster. For those flying in, Leeds Bradford International Airport is only 47 km away.
– Convenient central location
– Modern and comfortable rooms
– On-site restaurant serving British and Japanese cuisine
– Fitness center for guests to stay active
– Free WiFi available throughout the hotel
The Devonshire Arms Hotel & Spa – Skipton (Bolton Abbey)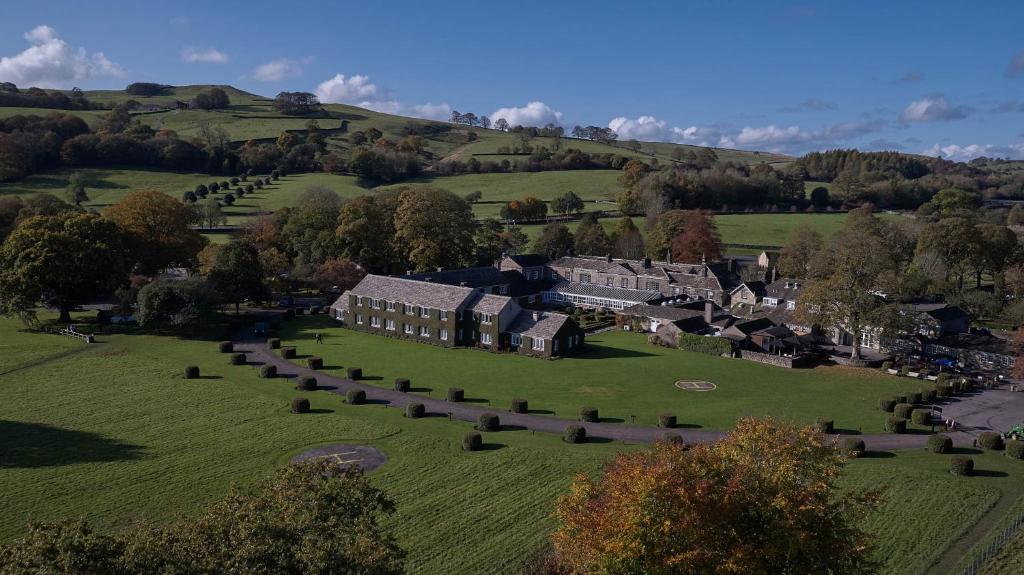 Located on the Bolton Abbey Estate, The Devonshire Arms Hotel & Spa is a remarkable 4-star country house hotel that spans over 30,000 acres of land. With its award-winning restaurant, adults-only spa, gym and indoor pool, this hotel offers an exquisite experience for guests. Just a short distance away from Skipton and Harrogate, the hotel provides stunning views of The Dales, River Wharfe and Italian Garden from each room. The luxurious spa includes a sauna, steam room, swimming pool and whirlpool where guests can indulge in various treatments and massages. For those seeking outdoor activities, the Bolton Abbey Estate offers clay pigeon shooting, fly-fishing and falconry displays. With two exceptional dining options – the elegant 4AA Rosette Burlington Restaurant serving seasonal dishes made with local produce and The Brasserie offering a modern gastro-menu featuring Yorkshire's favorites – guests are spoilt for choice when it comes to culinary delights.
– Expansive estate providing breathtaking views
– Luxurious spa with an array of amenities
– Variety of outdoor activities available
– Two outstanding dining options showcasing local cuisine
Information about Spa Hotels in North Yorkshire
| | |
| --- | --- |
| 🏢 Number of Spa Hotels in North Yorkshire | 8 |
| 🥇 Average Review Score | 8.4/10 |
| 💰 High season average price | 878 |
| 💸 Low season average price | 219.5 |
FAQ
Can you recommend any Spa Hotels in North Yorkshire?
Yes, there are several highly recommended Spa Hotels in North Yorkshire. One popular option is the Rudding Park Hotel and Spa, located in Harrogate. It offers a luxurious spa experience with multiple treatment rooms, a rooftop spa garden, and an indoor swimming pool. Another great choice is the Feversham Arms Hotel and Verbena Spa in Helmsley. This boutique hotel boasts a relaxing spa with an outdoor heated pool, jacuzzi, and a range of holistic treatments.
What facilities can I expect at a Spa Hotel?
Spa Hotels typically offer a wide range of facilities to help guests unwind and rejuvenate. These may include luxurious treatment rooms for massages and beauty treatments, saunas or steam rooms for relaxation, swimming pools for aquatic exercise or leisurely dips, hot tubs to soothe muscles, fitness centers for workouts, yoga or meditation classes for mental relaxation, and often outdoor spaces such as gardens or terraces where guests can relax surrounded by nature.
Do I need to book spa treatments in advance?
It is highly recommended to book your spa treatments in advance to ensure availability during your stay at a Spa Hotel in North Yorkshire. Popular hotels tend to have busy spas with limited availability if not pre-booked. By making reservations ahead of time you can secure your preferred treatment times and avoid disappointment upon arrival.
What other activities are available at Spa Hotels besides the spa itself?
In addition to the spa facilities and treatments offered at Spa Hotels in North Yorkshire, many establishments provide various activities to enhance guests' experiences. This may include access to golf courses where visitors can enjoy a round of golf amidst picturesque landscapes or organized fitness classes such as yoga sessions or personal training sessions catered towards wellness enthusiasts who want to maintain their workout routines while on vacation.
Are children allowed at Spa Hotels?
While policies regarding children may vary among different establishments, many Spa Hotels in North Yorkshire tend to have age restrictions and prioritize creating a tranquil environment for their guests. As such, children might not always be permitted in spa areas or may have restricted access to certain facilities. It is advisable to check with the specific hotel you are interested in regarding their policy on children before making a booking if you plan to bring your little ones along.
Popular Wellness Hotels destinations
Spa Hotels in North Yorkshire