Welcome to the land of 10,000 lakes, where you can indulge in a luxurious getaway at hotels offering private hot tubs in the comfort of your own room. Minnesota, located in the heartland of the United States, is not only known for its breathtaking natural beauty but also for its charming accommodations. Imagine sinking into a bubbling whirlpool after a long day exploring picturesque hiking trails or skiing down powdery slopes – it's like stepping into your very own oasis. These hotels understand that relaxation and rejuvenation are essential elements of any vacation, which is why they go above and beyond to provide guests with an unforgettable experience.
Whether you are seeking a romantic escape or simply want to pamper yourself, Minnesota offers a wide range of options when it comes to hotels with in-room hot tubs. From cozy bed and breakfasts tucked away in scenic countryside settings to modern boutique hotels nestled within vibrant cities, there is something for every taste and preference. Picture yourself unwinding by candlelight as warm jets massage your cares away or staring up at the starry night sky from the privacy of your own outdoor hot tub – these moments create memories that will last a lifetime. So pack your bags and get ready to immerse yourself in pure bliss as we explore some of the best hotels with jacuzzis in room that Minnesota has to offer!
Best Minnesota Hotels With Hot Tub
Best Western Plus Kelly Inn (Saint Cloud)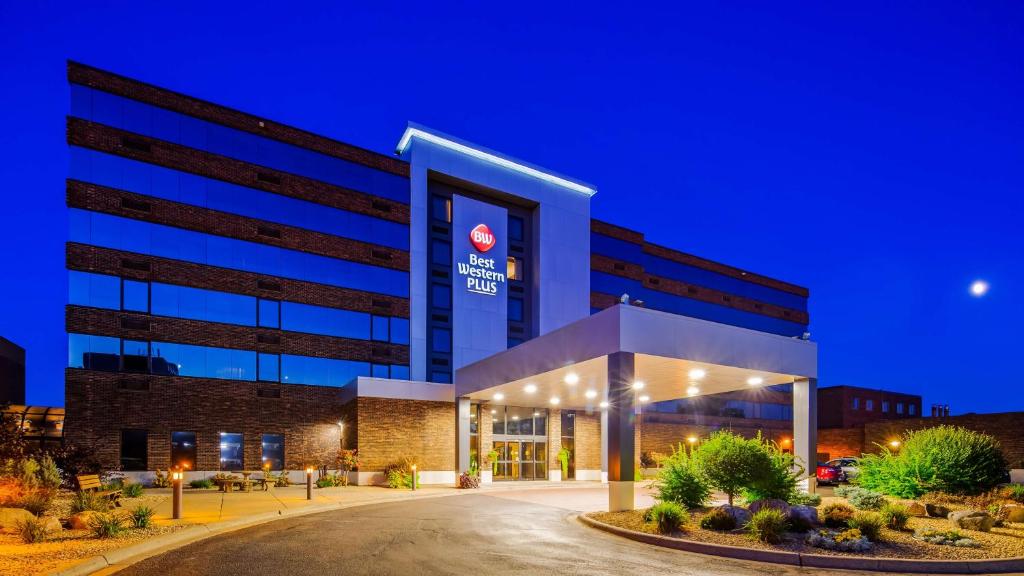 Located conveniently next to the Saint Cloud Civic Center along the Mississippi River, Best Western Plus Kelly Inn in Saint Cloud, Minnesota offers an indoor pool and an onsite restaurant for its guests. The hotel provides free WiFi access throughout the property and each room features a 37-inch flat-screen cable TV, microwave, fridge, and coffeemaker for convenience. Guests can enjoy classic American fare at the Green Mill Restaurant and Bar which is located on-site, as well as take advantage of the fitness center and hot tub provided by the hotel. Additional amenities include a business center and free parking. The hotel is also within walking distance of Saint Cloud State University campus and just a short drive from Saint Cloud Regional Airport.
– Convenient location adjacent to the Saint Cloud Civic Center
– Indoor pool for relaxation
– Onsite restaurant serving delicious American food
– Free WiFi access throughout the property
– Fitness center and hot tub available for guests' use
DoubleTree by Hilton Roseville Minneapolis: Queen Room with Whirlpool (Roseville)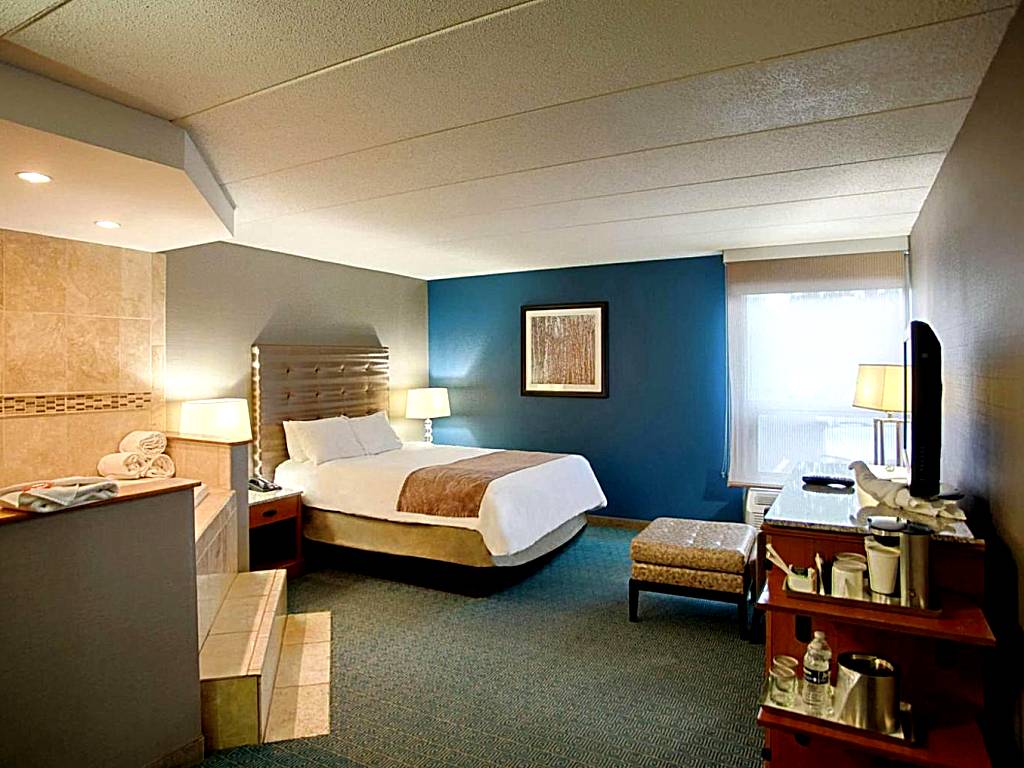 The DoubleTree by Hilton Roseville Minneapolis: Queen Room with Whirlpool offers a luxurious and relaxing experience for guests. This spacious air-conditioned double room features a hot tub and a spa bath, perfect for unwinding after a long day of exploring. The room is equipped with modern amenities including a TV, tea and coffee maker, wardrobe, and carpeted floor. The hotel itself is conveniently located just 7 km from the Minnesota State Fairgrounds and offers free WiFi throughout the property. Guests can enjoy an indoor pool and on-site dining at Axel's Charhouse, which serves delicious traditional American cuisine all day long. The hotel also provides a free shuttle service to locations within 7 km. For those looking to explore the area, Rosedale Center Mall and Cedarholm Golf Course are both within 3 km of the hotel while the famous Minneapolis Sculpture Garden is just a short 13-minute drive away. With its convenient location and comfortable amenities, DoubleTree by Hilton Roseville Minneapolis: Queen Room with Whirlpool is an excellent choice for travelers seeking relaxation and convenience.
– Convenient location near Minnesota State Fairgrounds
– Indoor pool for year-round swimming
– On-site dining at Axel's Charhouse
– Free shuttle service to nearby locations
– Luxurious in-room hot tub/spa bath
South Pier Inn (Duluth)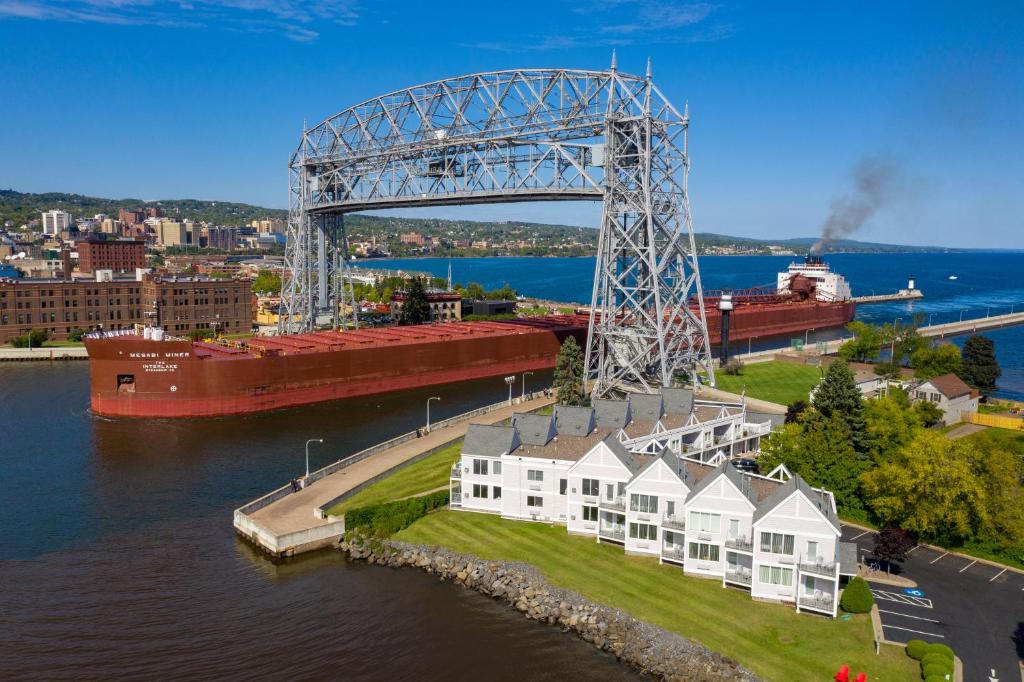 Situated between Lake Superior and Duluth Harbor Basin, South Pier Inn is a waterfront hotel nestled at the foot of the Duluth Aerial Lift Bridge. Each guest room offers free Wi-Fi, a flat-screen TV, and private balconies that provide breathtaking views of international vessels entering the harbor under the iconic bridge. The rooms also feature a refrigerator and tea/coffee-making facilities for added convenience. Guests can take advantage of the private 400-foot shoreline path to enjoy leisurely walks or stunning sunsets. In the morning, a complimentary continental breakfast awaits guests to start their day off right. The hotel's prime location allows easy access to attractions such as Duluth Entertainment Convention Center, Duluth city center, Great Lakes Aquarium, and Bayfront Festival Park.
Pros:
– Spectacular waterfront location with views of international ships passing by
– Private balconies in every room for intimate experiences with nature
– Convenient amenities like free Wi-Fi and flat-screen TVs
– Complimentary continental breakfast for a delightful start to the day
– Close proximity to popular attractions within minutes' drive
Other places to stay in Minnesota
Luxury Hotels in Minnesota with Jacuzzi
When it comes to luxury hotels in Minnesota with jacuzzi, guests can expect an elevated level of comfort and indulgence. These exquisite accommodations offer a haven of relaxation with the added touch of a private in-room jacuzzi. Whether nestled amidst picturesque landscapes or located in vibrant city centers, these hotels provide a tranquil retreat where guests can unwind, rejuvenate, and soak away their cares in the warm bubbles of a luxurious jacuzzi tub. With attention to detail and impeccable service, these properties elevate the hotel experience by combining opulent accommodations with the soothing benefits of a personal jacuzzi, making for an unforgettable stay for those seeking ultimate relaxation and tranquility.
Lift Bridge Lodge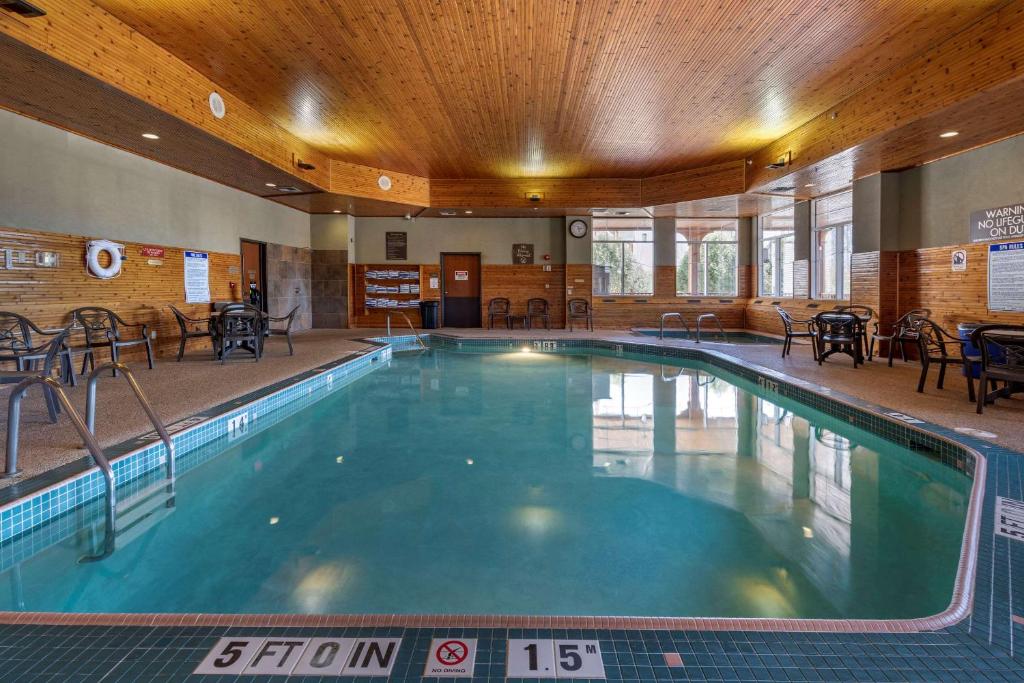 Located near Lake Superior and within walking distance of popular attractions such as Canal Park and the historic Aerial Lift Bridge, Lift Bridge Lodge, Ascend Hotel Collection offers guests a convenient base for exploring Duluth. The hotel features an indoor heated pool and hot tub, perfect for relaxation after a day of sightseeing. Guests can also enjoy a complimentary hot breakfast each morning and stay connected with free high-speed internet access in all rooms. Other amenities include refrigerators, microwaves, sofa sleepers, coffee makers, hair dryers, irons, ironing boards, and cable television with HBO. With its central location and comfortable accommodations, Lift Bridge Lodge is a great choice for travelers visiting Duluth.
Pros:
– Indoor pool
– Complimentary hot breakfast
– Free high-speed internet access
– Convenient location near popular attractions
– Comfortable rooms with essential amenities
AmericInn by Wyndham Mounds View Minneapolis: 1 King Bed, Superior one Bedroom Suite, Non -Smoking (Mounds View)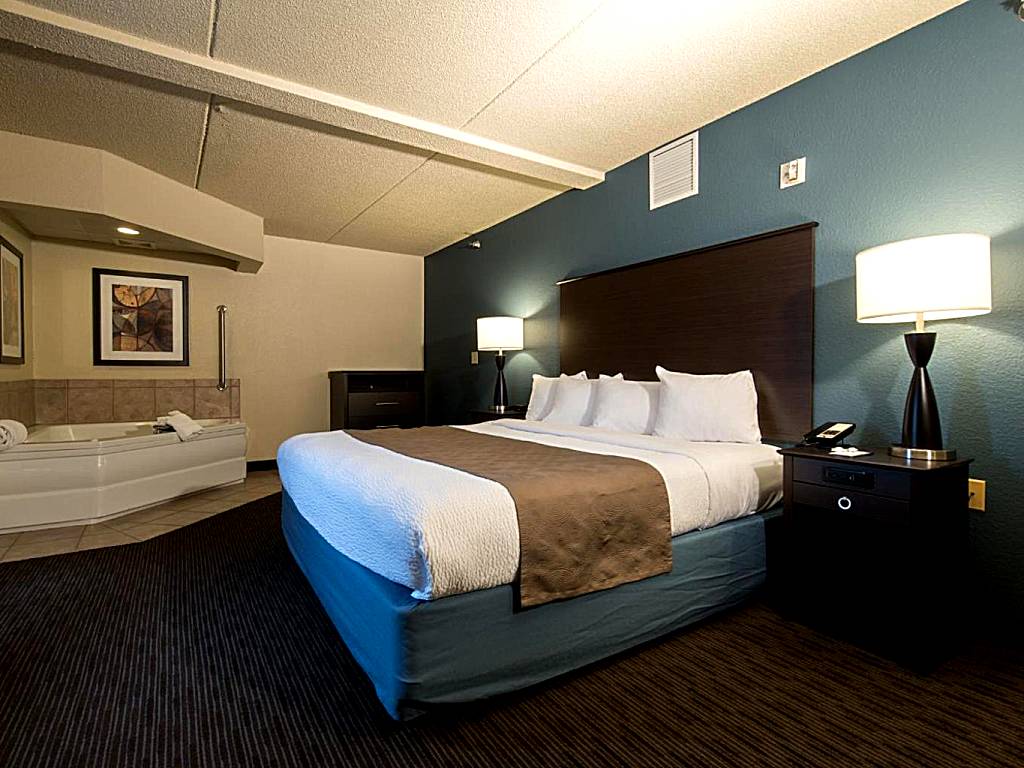 The AmericInn by Wyndham Mounds View Minneapolis offers a luxurious and comfortable stay in their Superior one Bedroom Suite. The standout features of this suite are the hot tub and fireplace, perfect for relaxing after a long day. The suite includes a private bathroom with a bath, shower, and hairdryer, as well as free toiletries. With carpeted floors and a seating area with a flat-screen TV equipped with streaming services, guests can unwind and enjoy their favorite shows. Air conditioning, a tea/coffee maker, and wardrobe add to the convenience of the room. The suite also provides two beds for added comfort.
Here are some key advantages of staying at AmericInn by Wyndham Mounds View Minneapolis:
– Pool and games room available in the adjacent restaurant.
– Convenient location just 25 miles from Minneapolis city center offering shopping, dining, and entertainment options.
– Every room is equipped with a microwave and small refrigerator along with cable TV and seating area.
– Complimentary access to fitness center nearby for guests who prefer to stay active during their stay.
– Dry cleaning services provided by the hotel for added convenience.
AmericInn is also just a 30-minute drive away from Mall of America – one of the largest shopping centers in America. Additionally, it's located only 24 miles away from Minneapolis-Saint Paul International Airport making it easily accessible for travelers.
(Note: I have removed duplicated information about the hotel mentioned twice.)
Information about Hotels With Jacuzzi in Minnesota
| | |
| --- | --- |
| 🏢 Number of Hotels With Jacuzzi in Minnesota | 5 |
| 🥇 Average Review Score | 8.3/10 |
| 💰 High season average price | 1986 |
| 💸 Low season average price | 496.5 |
FAQ
Can you recommend any hotels with Jacuzzi in room in Minnesota?
Yes, there are several hotels in Minnesota that offer Jacuzzi rooms. Some popular options include The Marquette Hotel in Minneapolis, which features luxurious rooms with private Jacuzzis and stunning city views. Another great choice is The Saint Paul Hotel, located in downtown St. Paul, offering spacious suites with in-room Jacuzzis. Additionally, Radisson Blu Mall of America is a fantastic option for those visiting Bloomington, as it boasts modern rooms with whirlpool tubs.
Are there any affordable hotels with Jacuzzi in room options?
Yes, there are plenty of affordable hotels that offer Jacuzzi rooms in Minnesota. One option is Country Inn & Suites by Radisson located near the Mall of America in Bloomington, which offers budget-friendly rates and comfortable rooms with private hot tubs. Another good choice is the Best Western Plus Dakota Ridge situated near the Minneapolis-St. Paul International Airport, where guests can enjoy a relaxing stay without breaking the bank.
What amenities can I expect when booking a hotel room with a Jacuzzi?
When booking a hotel room with a Jacuzzi in Minnesota, you can expect to find various amenities to enhance your stay. Apart from the luxurious hot tub itself, these rooms often come equipped with plush bedding and linens for ultimate comfort. You might also find additional features such as flat-screen TVs, mini-fridges or minibars for convenience during your stay.
Do all hotels charge extra fees for using the Jacuzzi?
Not all hotels charge extra fees for using the Jacuzzi
Are there any hotels with Jacuzzi in room packages that include other perks?
Yes, many hotels in Minnesota offer Jacuzzi room packages that include additional perks to make your stay even more enjoyable. These packages may include amenities such as complimentary champagne or wine, breakfast in bed, spa treatments, or access to fitness facilities. Some hotels even have romance or anniversary packages, which can be perfect for couples looking to celebrate a special occasion. It's always worth checking the hotel's website or contacting them directly to inquire about any current package deals they offer.
Popular Hotel Rooms With Jacuzzi destinations
Hotels With Jacuzzi In Room in Minnesota