Welcome to our latest exploration of luxurious accommodations in Lake George, USA! Today, we are delighted to dive into the world of hotels boasting lavish Jacuzzis right in the comfort of your room. Situated amidst breathtaking natural beauty and surrounded by stunning views of majestic mountains and serene lakes, Lake George is the perfect destination for a relaxing getaway. Immerse yourself in pure bliss as we uncover the top hotels with private hot tubs, making your stay an unforgettable experience.
Picture this: after a day filled with outdoor adventures like hiking scenic trails or exploring charming lakeside towns, you return to your hotel room to find a haven awaiting you. Imagine slipping into a bubbling jacuzzi that instantly melts away any lingering fatigue, while you sip on a glass of sparkling champagne or immerse yourself in soothing aromatherapy scents. These indulgent rooms offer ultimate privacy and tranquility, allowing you to unwind at your own pace without stepping foot outside your door.
Whether you are seeking romance or simply wish to pamper yourself with some well-deserved self-care, Lake George's hotels with jacuzzis in room ensure an unparalleled level of luxury and relaxation. So sit back, relax and let us guide you through the enticing options available in this idyllic destination – where rejuvenation meets nature's splendor at every turn.
Best Lake George Hotels With Hot Tub
The Sundowner on Lake George: Queen Suite
The Sundowner on Lake George offers guests a truly special experience with their Queen Suite, featuring a hot tub and fireplace. This air-conditioned suite includes a private entrance, 1 living room, 1 separate bedroom, and 1 bathroom with a bath and shower. In the kitchenette, guests will find a stovetop, refrigerator, kitchenware, and microwave. The suite also provides a barbecue for outdoor cooking. Additional amenities include a tea and coffee maker, seating area, dining area, flat-screen TV with cable channels, and beautiful lake views. The suite offers 3 beds for optimal comfort.
– Seasonal outdoor pool and hot tub
– Free stand-up paddle boards and rowboat access
– Private beach with free kayaks
– Convenient mini-refrigerator in every room
– Complimentary WiFi access
The Inn at Erlowest (Lake George)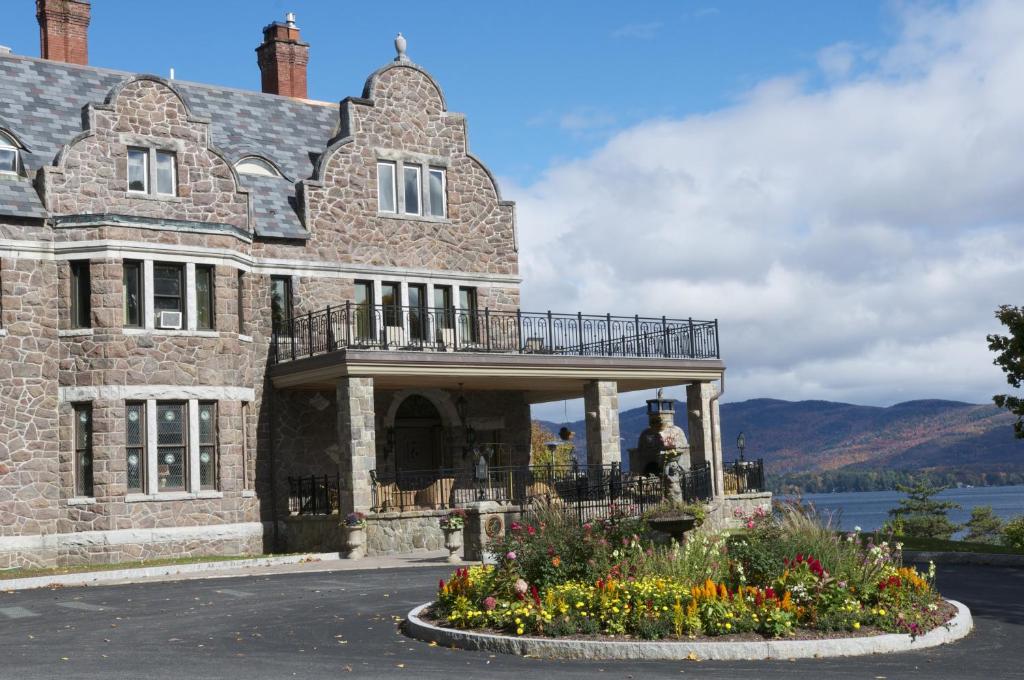 Located in the beautiful Lake George area, The Inn at Erlowest is a charming stone Queen Anne revival castle that offers a unique and luxurious experience. The inn features antique furniture and cozy seating areas in its rooms, as well as en suite bathrooms with showers and complimentary Penhaligon's bath amenities. Some rooms even offer breathtaking lake views. Guests can enjoy a variety of amenities such as an outdoor pool, fitness center, water sports, shared lounge, and games room. A complimentary American breakfast is provided each morning to start your day off right. Conveniently located just a short drive from Lake George beach and the Adirondack Outlet Mall, The Inn at Erlowest is the perfect destination for those looking for relaxation and adventure alike.
Pros:
– Charming castle-like setting
– Antique furniture and cozy seating areas in rooms
– Breathtaking lake views available
– Variety of amenities including outdoor pool, fitness center, water sports, shared lounge, and games room
– Complimentary American breakfast offered each morning
The Georgian Resort: Superior Double or Twin Room with Lake View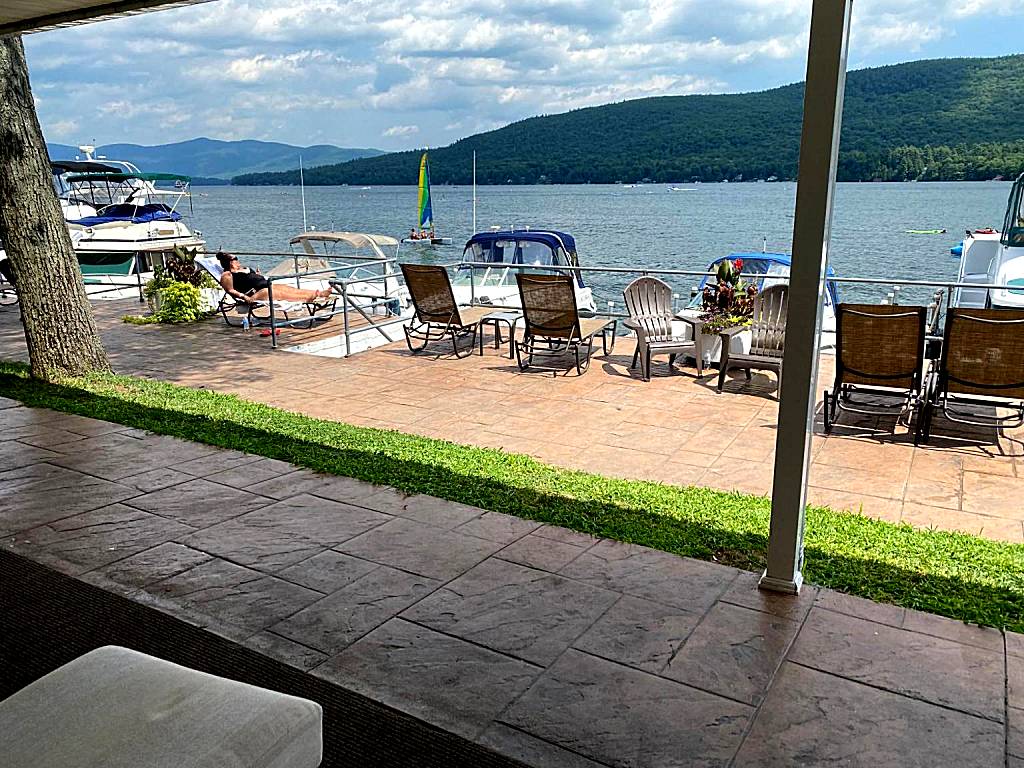 The Georgian Lakeside Resort, located in Lake George Village, offers a variety of comfortable and well-equipped rooms and suites. With 158 rooms to choose from, guests can enjoy the stunning view of the lake in their Superior Double or Twin Room with Lake View. The resort boasts 350 feet of lakefront property, complete with a private beach where guests can relax and soak up the sun. For those looking for some fun in the water, there are watercraft rentals and boat dock spaces available. The resort also features a heated pool surrounded by fire pits, perfect for cozy evenings by the water. Guests can dine at the lakefront Cabana Bar or opt for on-the-go dining options. All rooms come with amenities such as cable TV, refrigerator, coffee maker, microwave, hair dryer, iron, ironing board, and free WiFi. Parking is complimentary for registered guests (one vehicle per room). For additional lodging choices on-site: Courtyard rooms provide an affordable option without a view of the lake but still offer all the amenities; Poolside rooms are conveniently located near the pool and outdoor dining areas with partial lake views to one side; Lakefront rooms offer breathtaking views of the lake along with a private patio furnished with lounge furniture; Lake View Suites are ideal for travelers seeking more space as they feature two king beds, a living area with sleeper sofa and a private balcony overlooking both pool and lake.
Pros:
– Beautiful lakeside location
– Private beach access
– Heated pool surrounded by fire pits
– Variety of room types to suit different needs
– On-site dining options
Luxury Hotels in Lake George with Jacuzzi
Luxury hotels in Lake George offer a truly indulgent experience with their Jacuzzi-equipped rooms. These hotels provide guests with the perfect retreat to unwind and relax after a day of exploring the scenic beauty of the area. The private Jacuzzis in these rooms create an intimate atmosphere and allow visitors to soak away their worries while taking in breathtaking views. With opulent decor and top-notch service, these luxury hotels cater to every need, ensuring an unforgettable stay for those seeking ultimate comfort and rejuvenation.
Fort William Henry Hotel: Grand Lake view King Room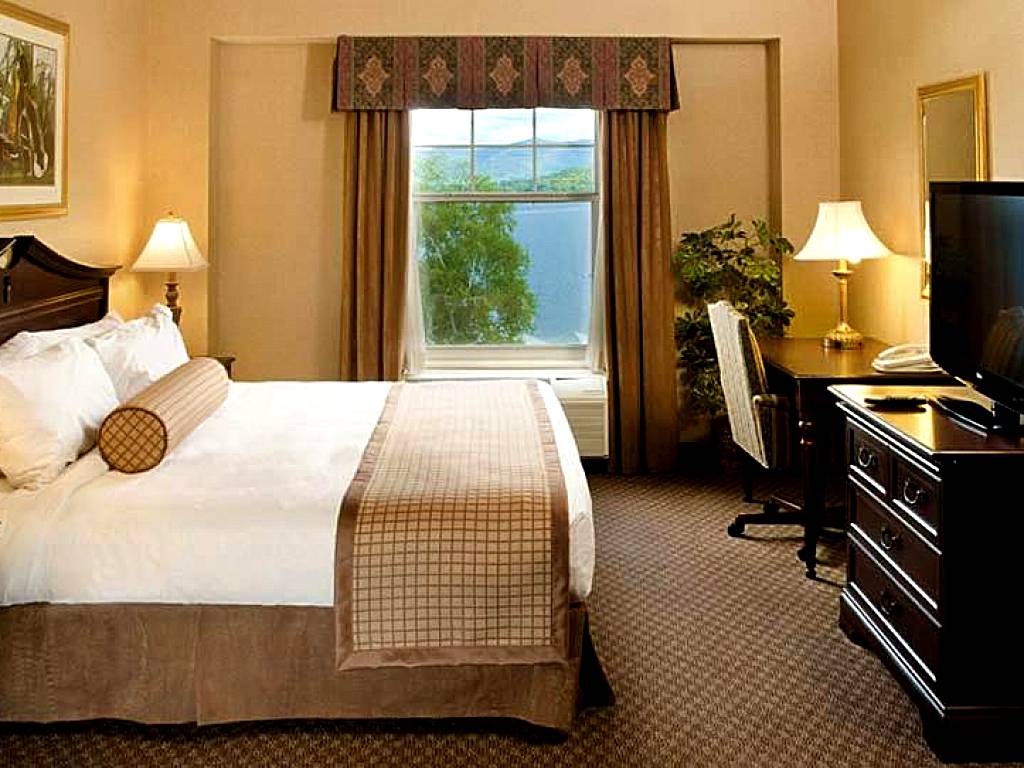 Located on an 18-acre estate, Fort William Henry Hotel offers spacious rooms with breathtaking views of Lake George or the Adirondack Mountains. The Grand Lakeview King Room is a standout option, featuring a pool with a view and a hot tub for ultimate relaxation. The room itself includes amenities such as free toiletries, a private bathroom with a bath and shower, and a hairdryer. Guests can also enjoy the comfort of air conditioning, along with a flat-screen TV, cable channels, tea and coffee making facilities, a seating area, and a dining area. With its unbeatable lake views, this room provides the perfect setting for unwinding after exploring the surrounding area.
Pros:
– Stunning lake views from the room
– Access to pool and hot tub for added relaxation
– Spacious and comfortable accommodations
– Complimentary Wi-Fi in all guest rooms
– Convenient location near popular attractions such as House of Frankenstein Wax Museum and The Great Escape – Six Flags
Tiki Resort – Lake George: King Suite with Spa Bath and Sofa Bed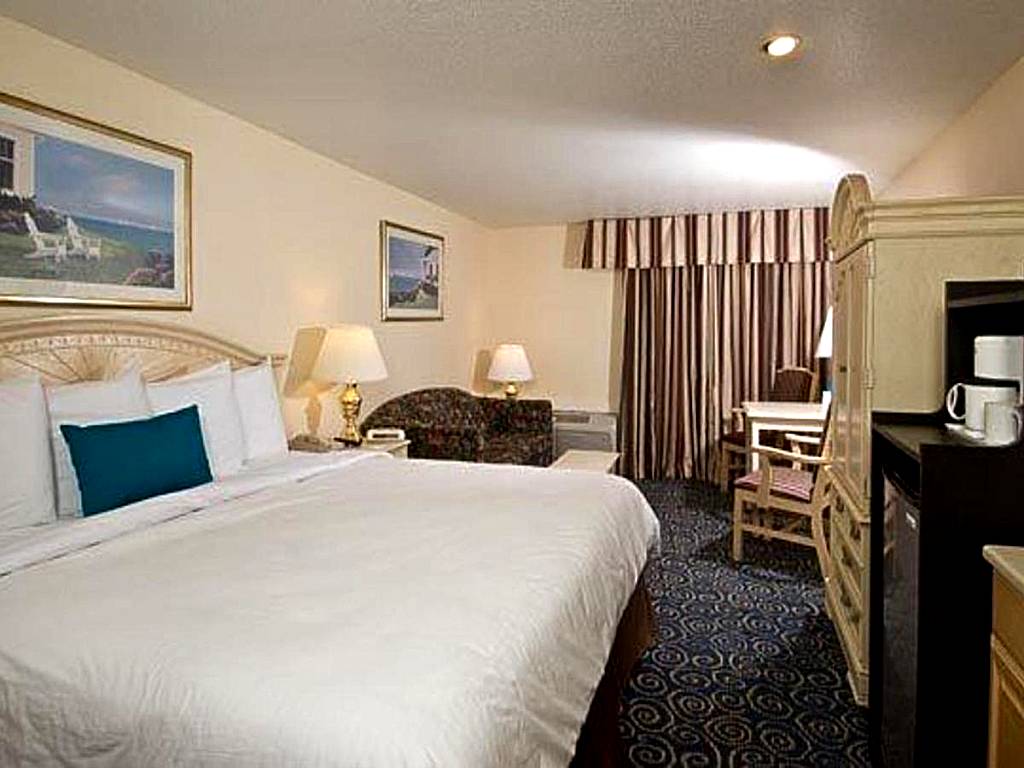 The Tiki Resort in Lake George offers a luxurious King Suite with a spa bath and sofa bed. Located in the Hotel Building, this suite features interior entrances for added privacy and convenience. The suite also includes modern amenities such as a 32-inch flat-screen TV, carpeting, and comfortable furnishings. Guests can enjoy the convenience of a microwave, refrigerator, and coffeemaker in their room.
Situated in a quiet area surrounded by the Adirondack Mountains, the Tiki Resort provides a tranquil setting for guests to relax and unwind. The hotel is just 700 meters away from Lake George Beach State Park, offering easy access to beautiful lake views. For entertainment, guests can indulge in the seasonal Polynesian dinner show at the Waikiki Supper Club or start their day with a delicious breakfast at the Garden Café.
The Tiki Resort also caters to guests' fitness needs with its on-site fitness center. Additionally, banquet/meeting facilities are available for those planning events or conferences. During warmer months, guests can take advantage of the seasonal Paradise Bar & Grill or enjoy outdoor dining at the picnic area with grills.
For relaxation and leisure activities, the resort offers both an indoor heated pool and an outdoor pool. These amenities provide opportunities for swimming and sunbathing throughout the year.
Guest rooms at the Tiki Resort are well-appointed with modern appliances to ensure utmost comfort during your stay. A refrigerator and coffee maker are provided for added convenience while cable TV and free WiFi keep guests connected throughout their visit.
Located within close proximity to popular attractions, such as cruises on Lake George and the House of Frankenstein Wax Museum within a kilometer radius from the hotel. The Fort William Henry Conference Center is just 650 meters away while shoppers will appreciate that Adirondack Factory Outlet Mall is only 58 kilometers away.
Pros:
– Luxurious King Suite with spa bath
– Convenient interior entrances
– Excellent on-site amenities, including fitness center and pools
– Seasonal Polynesian dinner show at the Waikiki Supper Club
– Close proximity to popular attractions and shopping options
Boulders Resort: Standard Queen Room with Two Queen Beds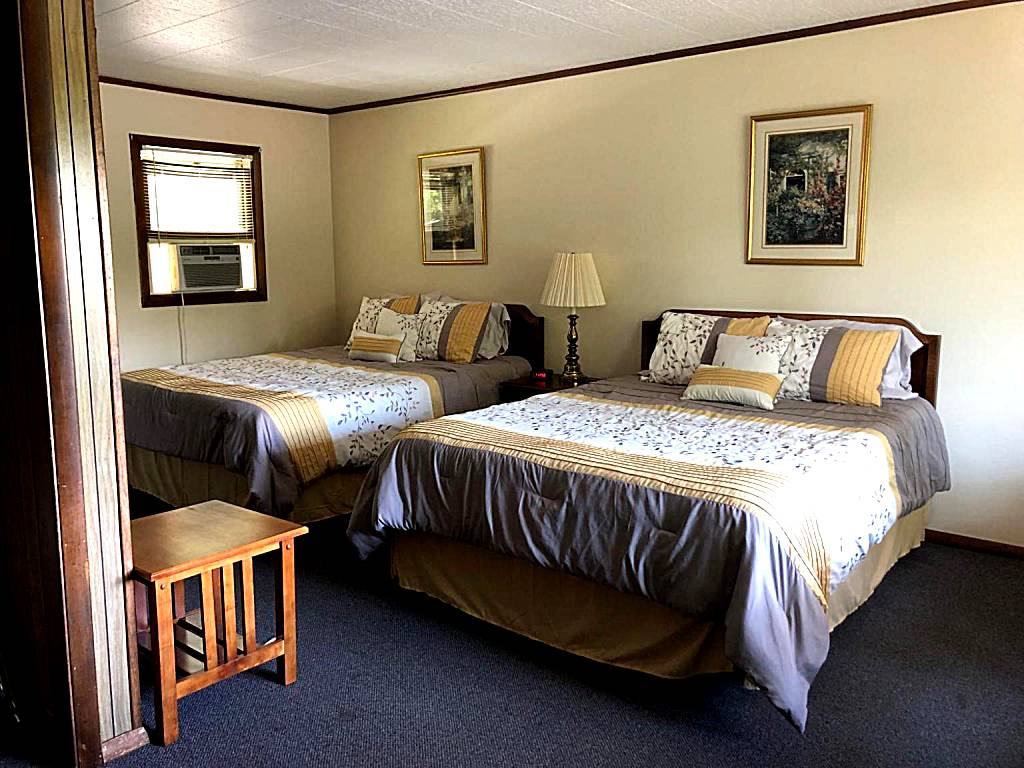 Boulders Resort is a beautiful Lake George resort that offers guests a comfortable stay with its Standard Queen Room featuring two queen beds. Although this room is located across the street from the lake, guests still have access to all of the hotel amenities. The resort boasts a private beach for those who want to relax by the water and an outdoor pool for swimming and sunbathing. For those looking to unwind, there is also a hot tub available. Fitness enthusiasts can take advantage of the on-site fitness center.
At Boulders Resort, guests can explore the lake with options such as canoes, kayaks, and paddle-boats available for use. The proximity to Interstate 87 makes it convenient for travelers arriving by car.
The accommodations at Boulders Resort are well-equipped with modern amenities including cable TV, microwave, and refrigerator in each room. Some cottages and houses even feature fully equipped kitchens or kitchenettes along with living areas.
Guests at Boulders Resort can enjoy cookouts using barbecue grills provided on-site or relax in the picnic area. The game room offers entertainment options for both children and adults. Additionally, volleyball and basketball courts are available for sports enthusiasts.
For those seeking adventure outside of the resort grounds, Six Flags Great Escape and Splashwater Kingdom Amusement Park is just a 10-minute drive away. Lake George Village, known for its shopping and dining options, is conveniently located only 1 mile from the resort.
Pros:
– Private beach access
– Outdoor pool
– Fitness center
– Canoeing, kayaking, paddle-boating available on the lake
– Barbecue grills/picnic area
Hotels in Lake George with Private Jacuzzi
Hotels in Lake George with private Jacuzzi offer the perfect escape for travelers looking to indulge in ultimate relaxation. These luxurious accommodations provide guests with their very own personal oasis, allowing them to unwind and rejuvenate in the privacy of their room. Whether it's a romantic getaway or a much-needed break from everyday life, these hotels offer an intimate setting where guests can soak away their stresses and enjoy a soothing hydrotherapy experience. The combination of a comfortable and well-equipped room with the added luxury of a private Jacuzzi ensures that guests can truly make the most of their stay in beautiful Lake George.
Best Western of Lake George: Family Suite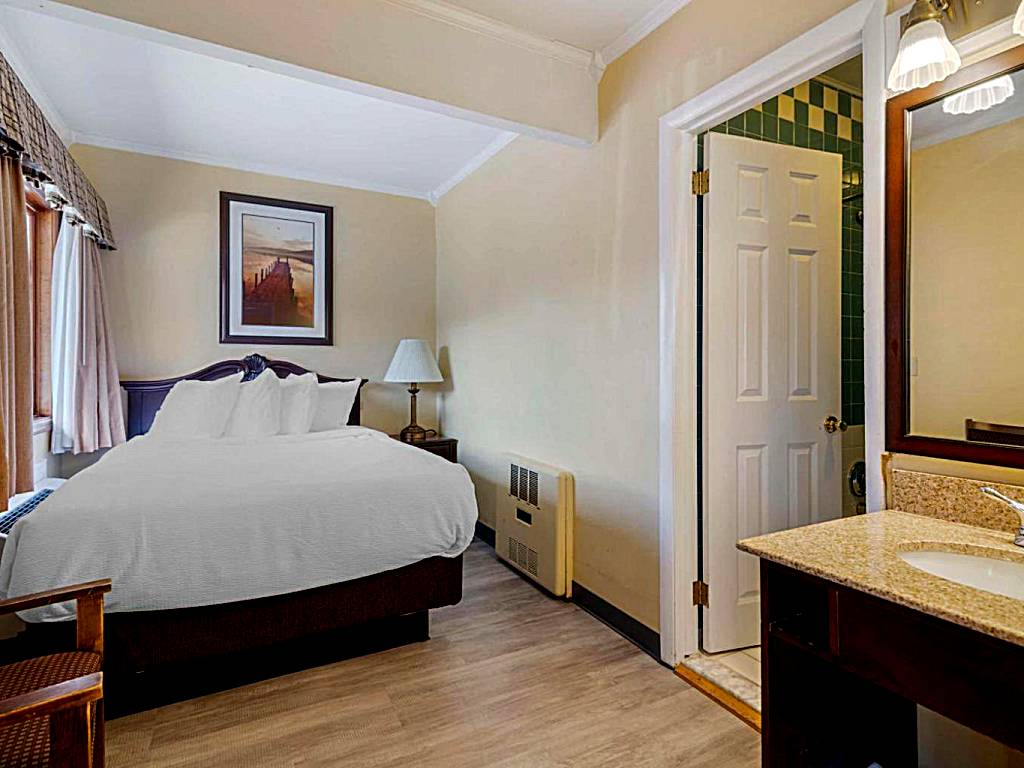 The Best Western of Lake George offers a spacious and luxurious Ultra Suite family guestroom that is perfect for a comfortable stay. The suite features two double beds in the main sleeping area, along with a full-size bed in the connecting second bedroom. It also includes a loft area, a full kitchen, and a full dining area for your convenience. The suite boasts two full bathrooms, one of which has a relaxing whirlpool tub, while the other is equipped with a washer and dryer. In addition, there is a large field stone fireplace in the living area to create a cozy ambiance.
Amenities & Features:
– Data ports and free local calls under 30 minutes
– Two swimming pools and hot tub
– Business center with fax and copy services
– Free high-speed Internet access in every room
– Cable satellite TV
– Continental breakfast with various options including hot items
Nearby attractions:
– Lake George Beach State Park (29 km)
– Adirondack Factory Outlet (53 km)
– West Mountain Ski Center (176 km)
– Fort William Henry Museum and Restoration (2 km)
– Six Flags Great Escape Lodge & Indoor Waterpark (63 km)
Pros:
1. Spacious Ultra Suite family guestroom with multiple bedrooms and bathrooms.
2. Fully equipped kitchen for added convenience during your stay.
3. Cozy field stone fireplace in the living area.
4. Access to two swimming pools and hot tub on-site.
5. Convenient location near popular attractions such as Lake George Village and Fort William Henry Museum.
(Note: Some information may have been repeated or rearranged for clarity.)
Information about Hotels With Jacuzzi in Lake George
| | |
| --- | --- |
| 🏢 Number of Hotels With Jacuzzi in Lake George | 7 |
| 🥇 Average Review Score | 7.8/10 |
| 💰 High season average price | 212 |
| 💸 Low season average price | 53 |
FAQ
Can I find hotels with Jacuzzi in room in Lake George?
Yes, there are several hotels in Lake George that offer rooms with private Jacuzzis. These accommodations provide a perfect setting for relaxation and comfort during your stay. Whether you're visiting the area for a romantic getaway or simply want to unwind after exploring the city, these hotels offer a luxurious and enjoyable experience.
What amenities can I expect in hotels with Jacuzzi in room?
Hotels with Jacuzzi in room typically offer a range of amenities to enhance your stay. Apart from the private Jacuzzi, you can expect amenities such as plush bedding, spacious rooms, flat-screen TVs, mini-fridges, complimentary Wi-Fi access, and stunning views of Lake George. Some establishments may also provide additional services like on-site restaurants and bars, fitness centers, and spa facilities.
Are these hotels suitable for couples looking for a romantic getaway?
Absolutely! Hotels with Jacuzzi in room are perfect for couples seeking a romantic getaway. The privacy offered by the in-room Jacuzzi allows couples to relax together without any disturbances. Additionally, the intimate ambiance created by these accommodations sets an ideal mood for romance and creates unforgettable memories.
Do hotels charge extra for using the Jacuzzi in room?
It's important to check with each individual hotel regarding their policies on using the Jacuzzi in room. While some hotels include it as part of their standard package at no extra cost, others may charge an additional fee or require specific booking options to access this amenity. It is recommended to inquire about any potential charges beforehand so that there are no surprises upon arrival.
How can I book a hotel with Jacuzzi in room?
To book a hotel with Jacuzzi in room in Lake George, you can visit various online travel websites or directly contact the hotel's reservation desk via phone or email. These platforms often provide detailed information about each accommodation along with photos of their Jacuzzi rooms. By comparing prices and reading reviews, you can find the perfect hotel that suits your preferences and book it effortlessly.
Popular Hotels With Jacuzzi In Room destinations
Hotels With Jacuzzi In Room in Lake George