Welcome to the picturesque Lake District in United Kingdom, a haven for nature lovers and those seeking tranquility amidst stunning landscapes. If you're planning a luxurious getaway, there's no better way to unwind than in a hotel room with a private hot tub. Immerse yourself in the beauty of this region while indulging in the ultimate relaxation experience.
The Lake District is renowned for its breathtaking scenery, including glittering lakes, rolling hills, and charming villages. After a day of exploring the natural wonders of this UNESCO World Heritage Site, imagine sinking into your very own Jacuzzi tub as you soak away any fatigue or stress. Whether it's nestled next to a large window overlooking serene waters or tucked away in a secluded corner of your room, these hotels offer an intimate retreat where you can enjoy the soothing benefits of warm water therapy.
Staying at one of these hotels with Jacuzzi in-room options not only provides comfort and privacy but also allows you to make the most out of your visit to the Lake District. Indulge in romantic evenings under starry skies or simply savor moments of solitude as you relax your muscles after an adventurous hike. With their inviting atmosphere and luxurious amenities, these accommodations promise an unforgettable stay where rejuvenation takes center stage amidst the stunning backdrop that is synonymous with the Lake District experience.
Best Lake District Hotels With Hot Tub
Windermere Suites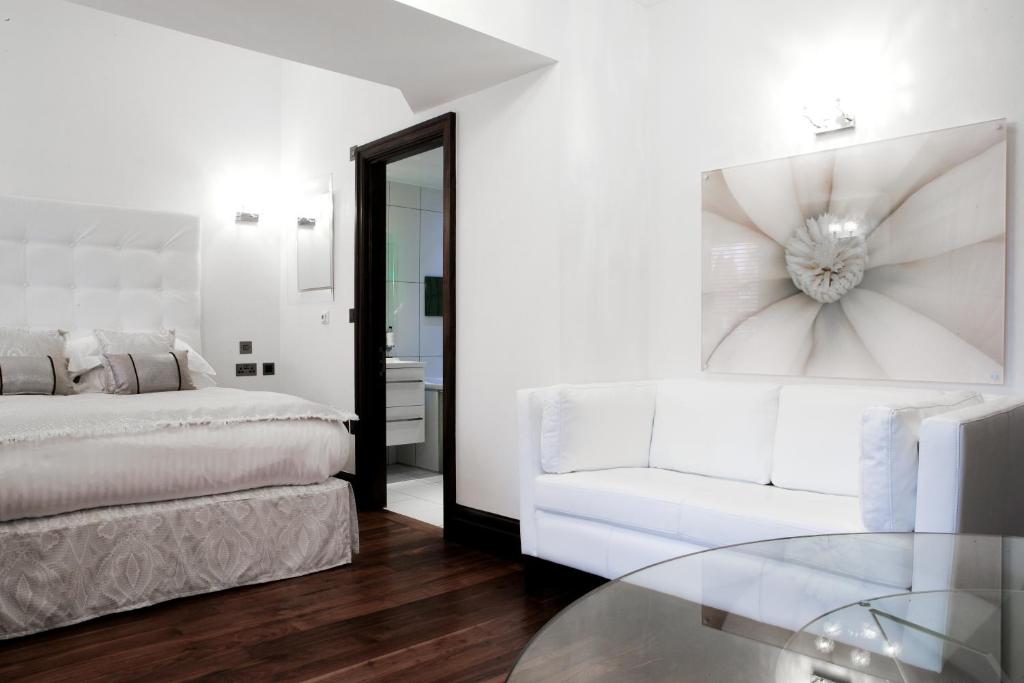 The Windermere Suites is a luxurious hotel with 5-star Guest Accommodation rating, offering a range of suites that come with modern furniture and luxury bathrooms designed by Philippe Starck. Each Super Luxury suite features a handmade, silver-leaf Frank Hudson super-king bed, 42-inch LCD TVs, crystal lights, and free Wi-Fi. Guests can enjoy a hearty Cumbria platter or continental breakfast delivered to their suite every morning. The highlight of the suites is the huge air baths for two with mood lights and a TV above. The hotel also offers electric vehicle chargers in the car park. Conveniently located just a 2-minute walk from the town center and Windermere Train Station, guests can easily explore Lake Windermere and Bowness-on-Windermere, which is home to the 'World Of Beatrix Potter'.
Pros:
– Luxurious suites with modern furniture
– Handmade super-king beds
– Air baths for two with mood lighting
– Electric vehicle chargers available
– Convenient location near town center and train station
Linthwaite House Hotel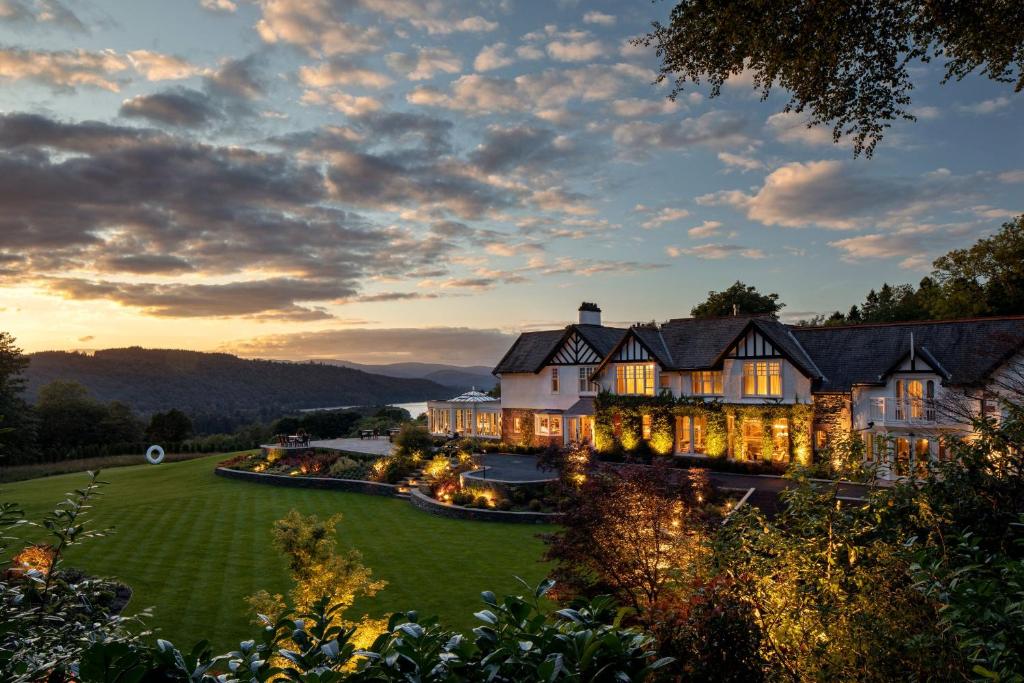 Linthwaite House Hotel is a luxurious hilltop retreat that offers breathtaking views of Windermere, making it the perfect choice for those looking to immerse themselves in the scenic surroundings. With its stylish and individually designed bedrooms and bathrooms, guests can indulge in a truly comfortable stay. The hotel also boasts a range of activities such as boules and chess on the giant outdoor chessboard, ensuring there's never a dull moment. For food enthusiasts, the on-site restaurant Simon Rogan serves delectable dishes made with locally sourced ingredients, allowing guests to savor the flavors of the region while enjoying panoramic views of the lake, manicured gardens, and surrounding hills and mountains. Additionally, Henrock's á la carte menu offers small plates and sharing dishes for an unforgettable dining experience. To further enhance your stay, guests have access to two row boats that are available upon inquiry at reception.
– Breathtaking views overlooking Windermere
– Stylish and individually designed bedrooms
– Range of activities including boules and giant chessboard
– Delicious dishes made with local ingredients at Simon Rogan restaurant
– Access to row boats for exploring the lake
Lyth Valley Country House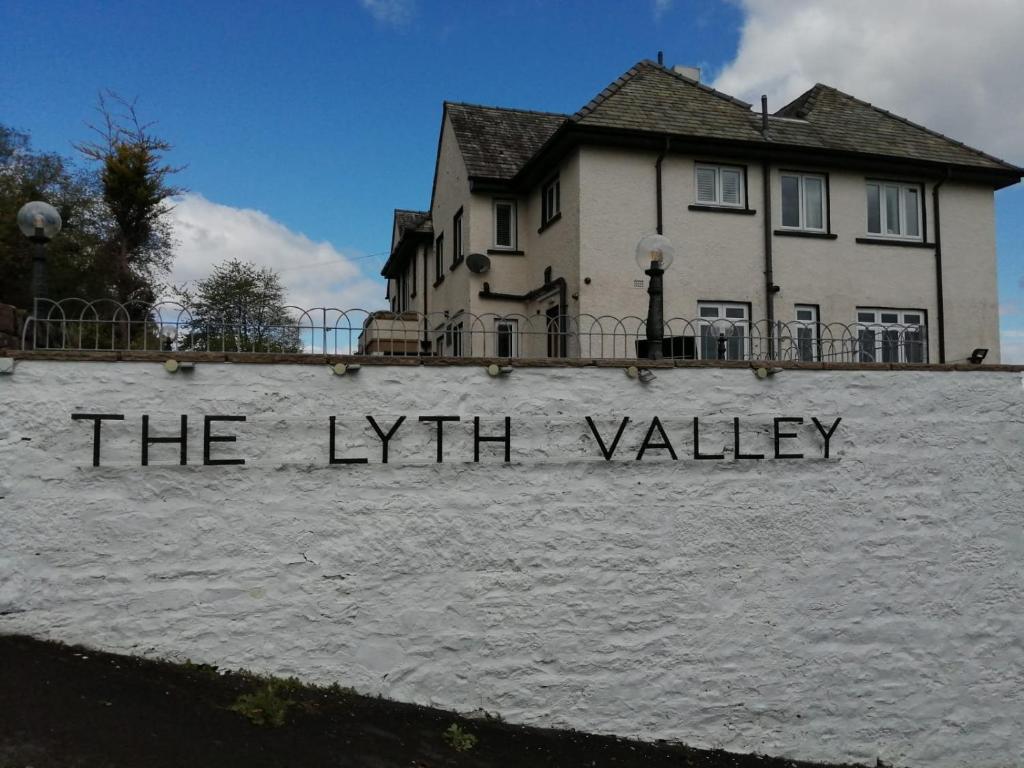 Lyth Valley Country House is a charming boutique hotel located in Kendal, offering guests a delightful stay surrounded by picturesque gardens and stunning mountain views. Guests can enjoy the comforts of free WiFi, a shared lounge, and a terrace during their visit. The hotel is conveniently situated near popular attractions such as World of Beatrix Potter and Kendal Castle. For those seeking tranquility, certain rooms at the property feature balconies with breathtaking mountain views. In addition, selected rooms offer fully equipped kitchens with modern amenities such as a fridge, oven, and dishwasher. Guests can start their day off right with a delicious breakfast options that include Full English/Irish, vegetarian or vegan choices. With its ideal location and cozy accommodations, Lyth Valley Country House is the perfect choice for travelers looking to explore the beauty of Kendal.
– Boutique hotel in a picturesque location
– Charming garden to relax in
– Balconies with stunning mountain views available
– Selected rooms come with fully equipped kitchens
– Delicious breakfast options including vegetarian and vegan choices
Other places to stay in Lake District
Luxury Hotels in Lake District with Jacuzzi
Luxury Hotels in the Lake District offer an indulgent retreat, with the added allure of private Jacuzzis within their rooms. Nestled amidst breathtaking natural landscapes, these accommodations provide a secluded and intimate experience for guests looking to unwind and rejuvenate. Whether it's enjoying panoramic views of the stunning surroundings or simply immersing oneself in the warm bubbles of a Jacuzzi, these hotels offer an unforgettable escape where relaxation and luxury seamlessly blend together.
Embleton Spa Hotel & Apartments (Embleton)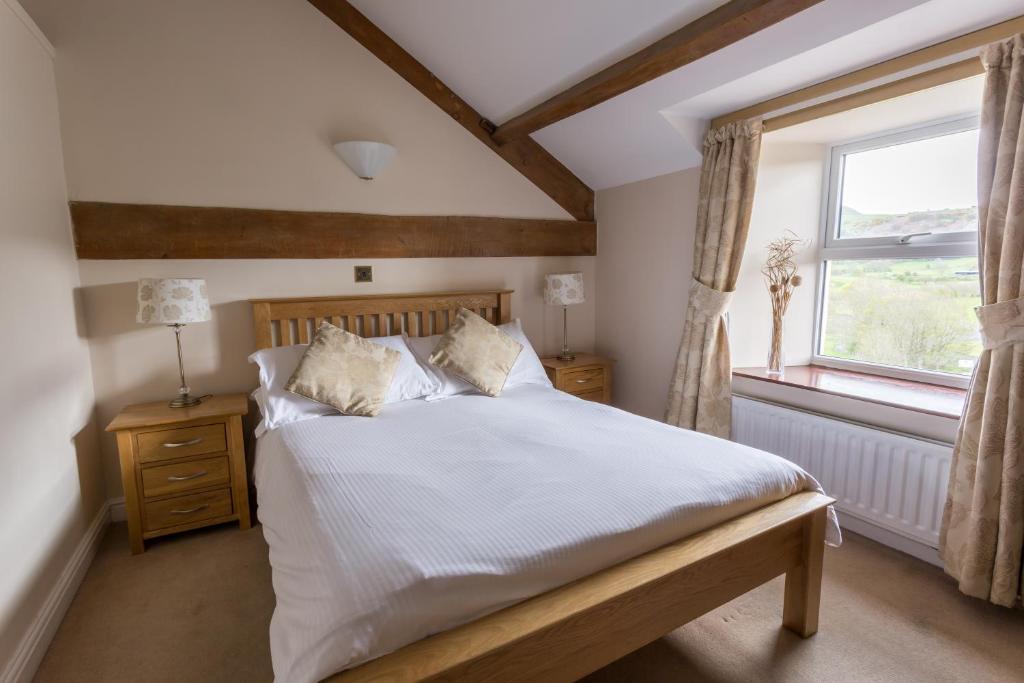 Embleton Spa Hotel & Apartments in Embleton is a charming small hotel housed in an 18th-century Lakeland farmhouse. Run by a family, the hotel offers a variety of accommodations including apartments, suites, and en-suite rooms. Guests can take advantage of the hotel's indoor pool, steam room, and gym for ultimate relaxation during their stay. The contemporary rooms and apartments feature en suite bathrooms and free Wi-Fi, with most offering picturesque countryside views of the Derwent valley. Amenities such as TV, hairdryer, tea/coffee making facilities, ironing facilities, and high-quality linen are provided in every room. The hotel's restaurant serves delicious traditional Cumbrian food made with ingredients sourced from local farms. Guests can enjoy their meals in front of an open fire or on the terrace overlooking the fells. A full Cumbrian breakfast is served each morning to start the day off right. The hotel's location makes it an ideal base for exploring the stunning Lake District, with Bassenthwaite Lake just 3 miles away and Keswick and Cockermouth within a short drive. Free parking is available for guests' convenience.
– Small hotel with an indoor pool
– Beautiful countryside views from most rooms
– Convenient amenities including free Wi-Fi
– Delicious traditional Cumbrian food served in the restaurant
– Excellent location for exploring the Lake District
Rothay Garth: Superior Double Room (Ambleside)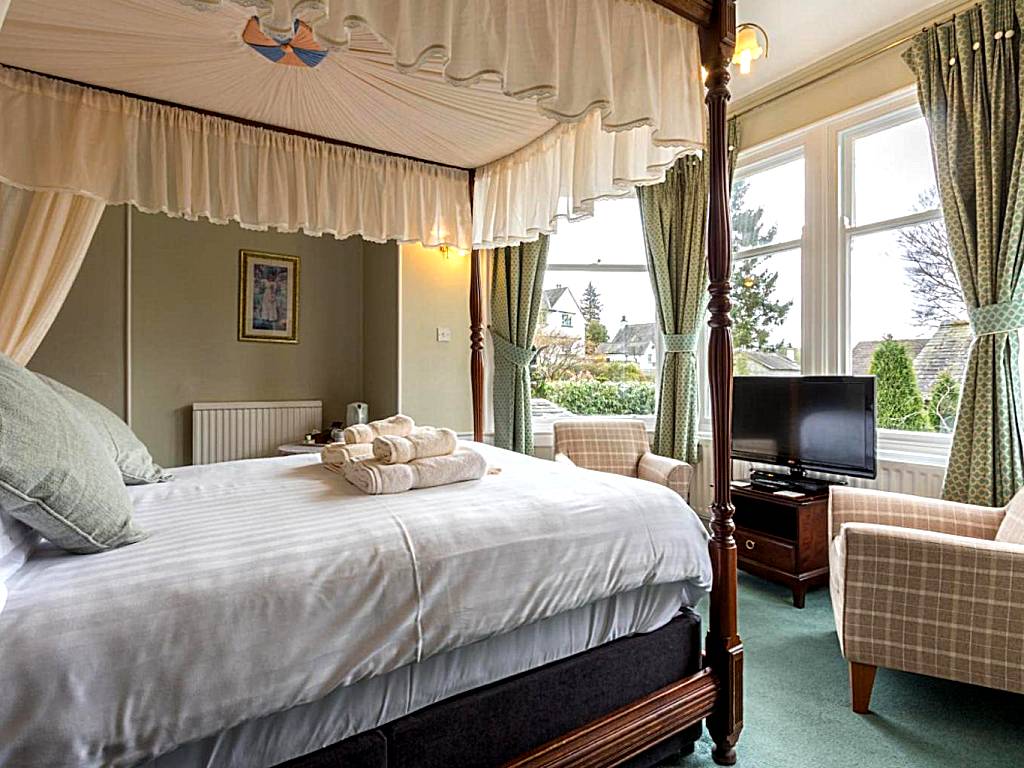 The Rothay Garth is a charming Lakeland guest house nestled in the heart of Ambleside village, offering stunning mountain views. The Superior Double Room (Ambleside) provides guests with a cozy and comfortable stay. The room features convenient amenities such as a tea/coffee maker, private entrance, seating area, and some rooms even come with a sofa or armchairs and a spa bath. Guests are treated to an enjoyable stay with en suite rooms equipped with satellite TVs and tea/coffee making facilities. Starting the day right, hearty breakfasts are served in the conservatory from 8:15 to 9:30 am, while packed lunches can be made upon request. For relaxation, there is also a lounge area available for guests to unwind in. With easy access to Ambleside and Lake Windermere just a short 10-minute walk away, this guest house is perfectly situated for exploring the beauty of the Lake District. Additionally, there are plenty of nearby walks that nature enthusiasts will appreciate.
– Charming Lakeland guest house with beautiful mountain views
– Convenient amenities including tea/coffee maker and private entrance
– Some rooms feature spa baths for added relaxation
– Hearty breakfasts served in the conservatory
– Perfect location for exploring Ambleside and Lake Windermere
The Howbeck & The Retreat incl FREE off-site Health Club and FREE parking: Luxury Room with Spa Bath (Windermere)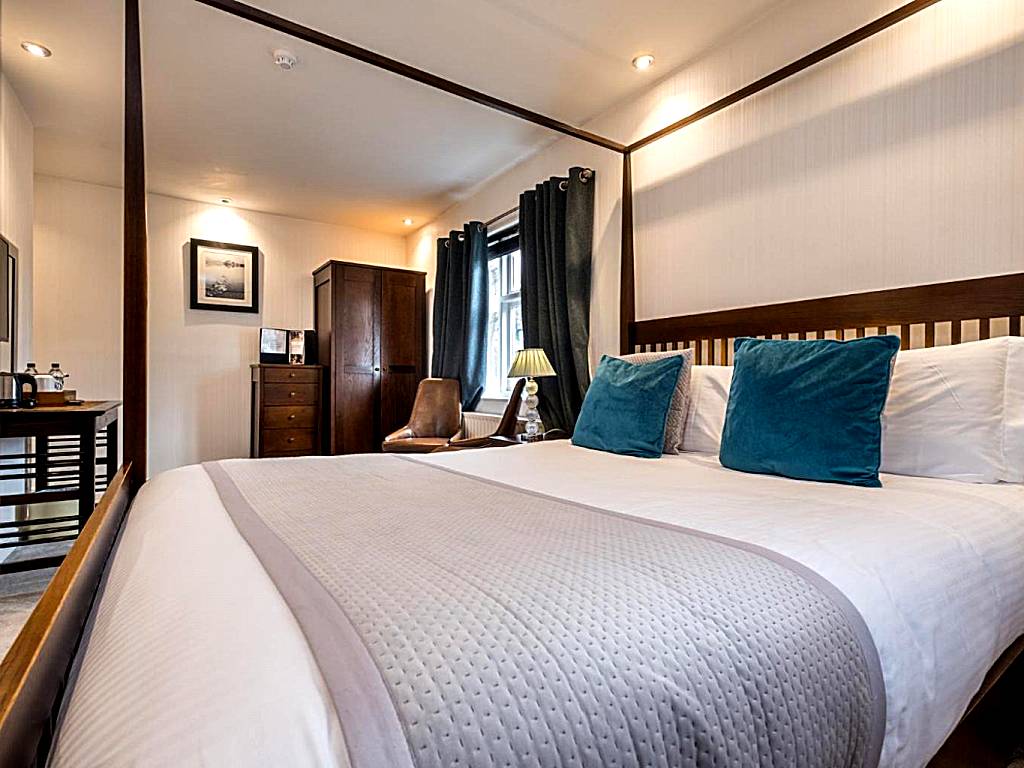 The Howbeck & The Retreat is a luxury bed and breakfast located in the beautiful Lake District, just a short walk from Windermere. The hotel offers beautifully appointed rooms, each equipped with a modern and original bathroom and free Wi-Fi. Guests can enjoy their stay in the Luxury Room with Spa Bath, which features a luxurious spa bath with shower over and complimentary mineral water.
The Howbeck is conveniently situated only a 2-minute walk from the main village, where guests can explore an array of shops, restaurants, and bistros. There are also plenty of attractions to visit in the surrounding area, including Windermere Steamboats and Museum as well as the market towns of Kendal and Keswick.
As an added perk, The Howbeck has special arrangements with some local restaurants for its guests. They can make reservations on behalf of their guests to ensure a seamless dining experience.
Guests at The Howbeck are also offered a free 2-hour pass to use Choices Health Club's facilities. Located just a short drive or 30-minute walk away, the health club provides access to a swimming pool, spa, sauna, steam room, cardio suite, weights centre, group classes, and even an outdoor training and relaxation area.
Pros:
– Luxurious spa bath with shower over
– Complimentary mineral water
– Free Wi-Fi throughout the property
– Convenient location near shops and restaurants
– Access to Choices Health Club's facilities
Other places to stay in Lake District
Hotels in Lake District with Private Jacuzzi
Hotels in the Lake District with private jacuzzi offer a luxurious and relaxing retreat for travelers seeking tranquility amidst the stunning natural beauty of this region. Whether nestled within charming country houses or boasting contemporary designs, these establishments provide guests with their own private jacuzzi to unwind and rejuvenate after a day exploring the area's picturesque lakes, rolling hills, and captivating landscapes. With the soothing warm waters just steps away from their accommodations, visitors can indulge in ultimate comfort while savoring breathtaking views or simply basking in the serenity of their surroundings.
Church Suites by The Cranleigh Boutique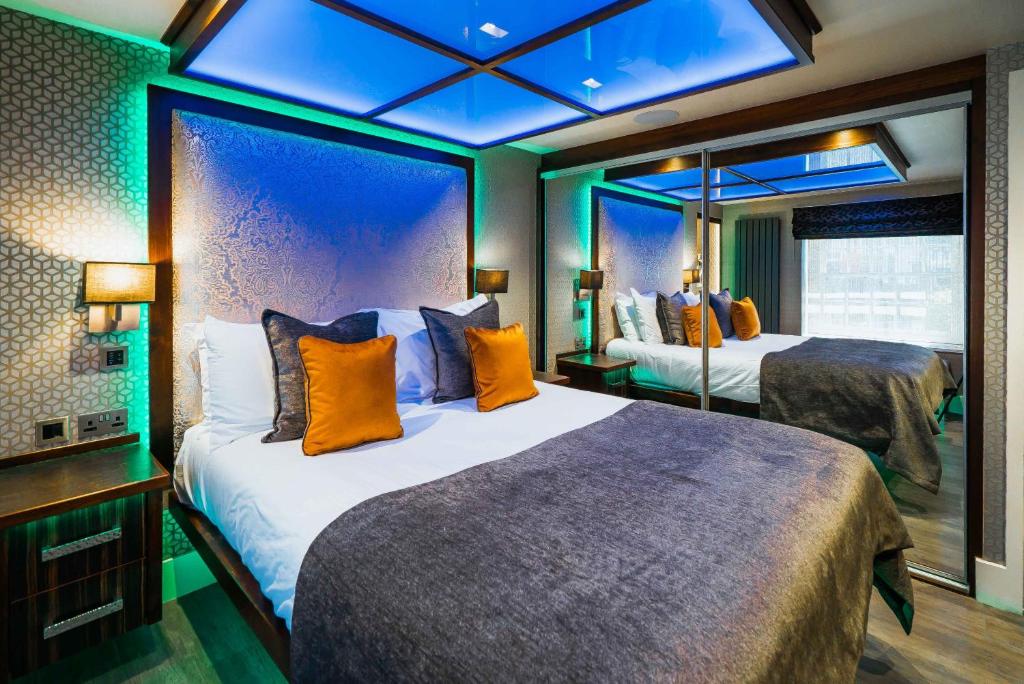 Church Suites by The Cranleigh Boutique is a trendy boutique hotel located in the heart of Bowness-on-Windermere. This exclusive property caters solely to adults and boasts uniquely designed suites that exude style and sophistication. Each suite at The Cranleigh features chic décor with luxurious fabrics, plush carpets, and state-of-the-art technology including intelligent lighting. Guests can enjoy complimentary amenities such as free WiFi, a fridge, coffee maker, and a flat-screen TV. Conveniently, free parking is available nearby. With the property situated just a short stroll away from Windermere's shops and restaurants, as well as being only two minutes' walk from the picturesque lakeside, guests are perfectly positioned to explore all that this charming town has to offer.
Pros:
– Centrally located in Bowness-on-Windermere
– Exclusive and individually designed suites
– Stylish decor with luxury fabrics and intelligent lighting
– Excellent amenities including free WiFi, fridge, coffee maker,and flat-screen TV
– Close proximity to shops, restaurants,and the beautiful lakeside
Merewood Country House Hotel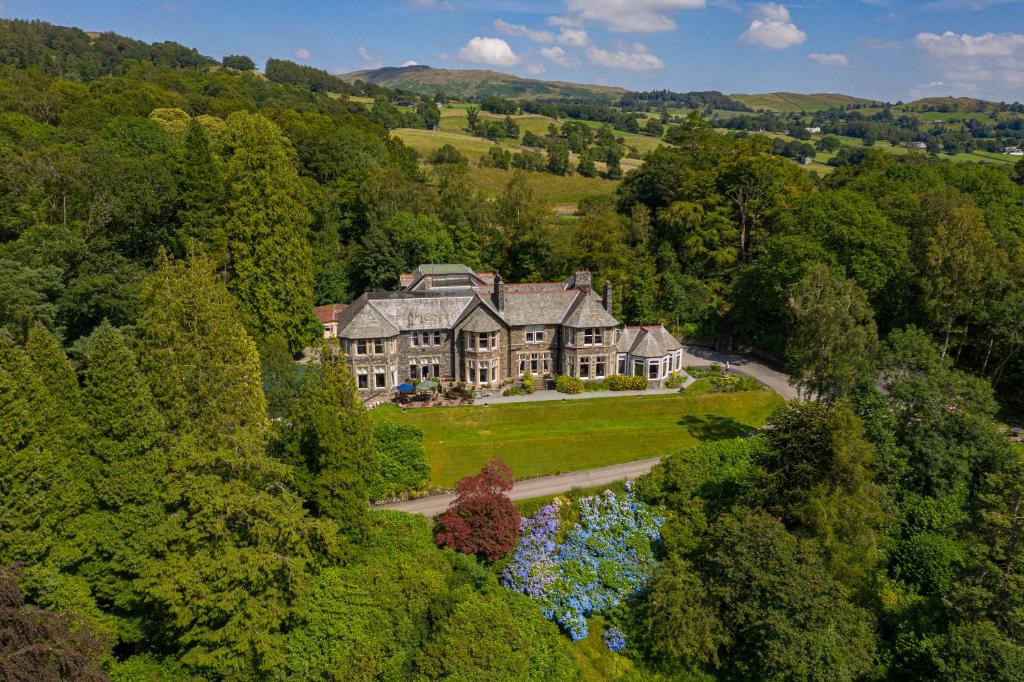 Located on the edge of Lake Windermere in the picturesque Lake District National Park, Merewood Country House Hotel is a charming retreat that dates back to 1812. The hotel boasts stunning landscaped gardens spanning across 20 acres, providing guests with a tranquil setting to unwind and relax. Offering complimentary on-site parking and Wi-Fi, Merewood Country House Hotel ensures convenience and connectivity for its visitors. The hotel's extensive restaurant menu showcases the best of regional produce, featuring mouthwatering dishes such as locally caught trout, Cumbrian cheeses, and Cumberland sausage. Each room at Merewood Country House Hotel includes en suite bathroom facilities with both bath and shower options, along with complimentary toiletries for added comfort. Guests can also enjoy in-room amenities like a flat-screen TV, telephone, and tea/coffee-making facilities. Indulge in a delightful afternoon tea experience during your stay to complete your visit at this elegant retreat. Just a short 6-minute drive from the center of Windermere town, guests will find themselves conveniently close to popular attractions including the Lakes Aquarium at Newby Bridge, Windermere Steamboat Museum, and the enchanting World of Beatrix Potter.
– Charming country house hotel in an idyllic location near Lake Windermere
– Beautifully maintained landscaped gardens spanning over 20 acres
– Extensive restaurant menu featuring regional specialties
– Comfortable rooms with en suite bathrooms and modern amenities
– Easy access to popular attractions in the area
The Ullswater View Guest House: Deluxe King Room with Whirlpool Bath & View (Watermillock)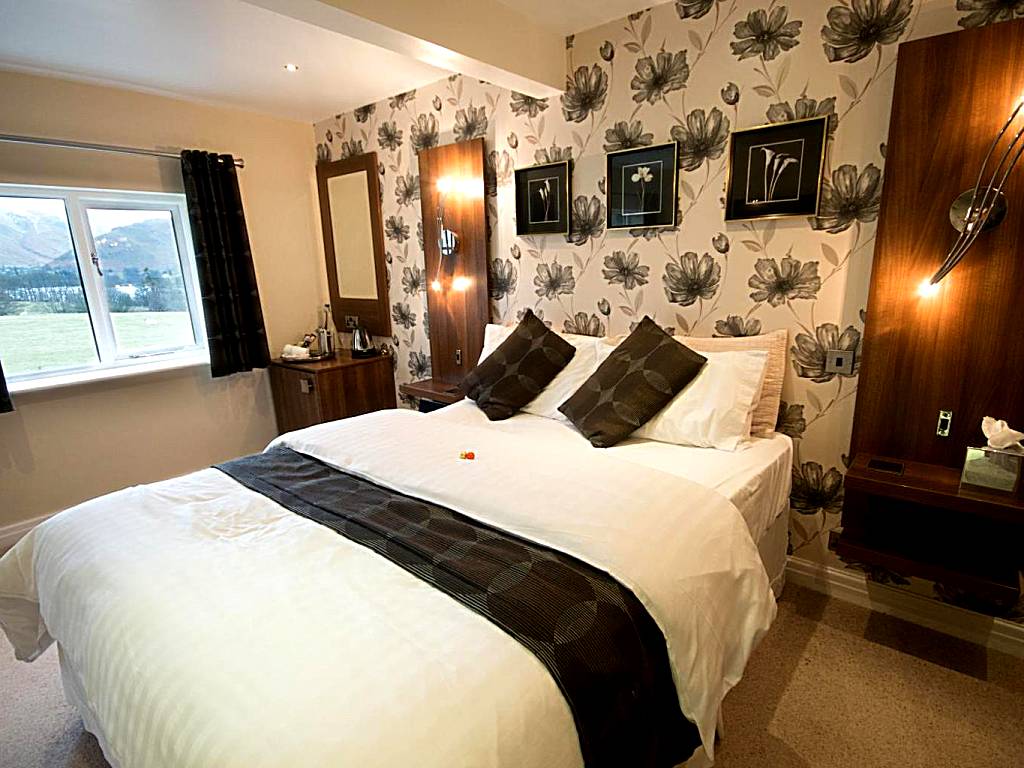 The Ullswater View Guest House in Watermillock offers a Deluxe King Room with Whirlpool Bath & View, providing guests with a luxurious and relaxing experience. From the comfort of the spa bath inside the bedroom, guests can enjoy breathtaking views of Lake Ullswater and the Eastern Fells. The room also features free Wi-Fi and a Smart TV for entertainment purposes. The hotel itself is nestled in the scenic North Easterly corner of the Lake District, offering stunning views of Lake Ullswater and the surrounding fells. Guests can take advantage of free private parking during their stay. The contemporary design of the rooms includes modern en suite bathrooms, free Wi-Fi access, LCD TVs, and iPod docking stations. Most rooms offer picturesque hillside lake views for an even more memorable stay. Located just 8 miles away from both the M6 motorway and Penrith's market town, this guest house provides convenient access to nearby attractions. For adventurous guests looking to scale Helvellyn, England's third largest mountain, the village of Glenridding is within 5 miles and serves as an excellent basecamp.
Pros:
– Breathtaking views of Lake Ullswater and Eastern Fells from spa bath
– Free Wi-Fi access and Smart TV in room
– Contemporary design with modern en suite bathroom
– Most rooms offer hillside lake views
– Convenient location near M6 motorway and Penrith's market town
Hotels in Downtown Lake District with Hot Tub
Hotels in Downtown Lake District with hot tubs offer the perfect blend of relaxation and city excitement. After a long day exploring the vibrant streets and enjoying the cultural attractions, guests can unwind in their private jacuzzi. Whether it's soaking under the starry night sky or enjoying a rejuvenating soak with panoramic views, these hotels provide a luxurious escape from the bustling downtown atmosphere. With their prime location, visitors can easily access nearby restaurants, shops, and entertainment options before retreating to their cozy room for a blissful soak in the hot tub.
Windermere Boutique Hotel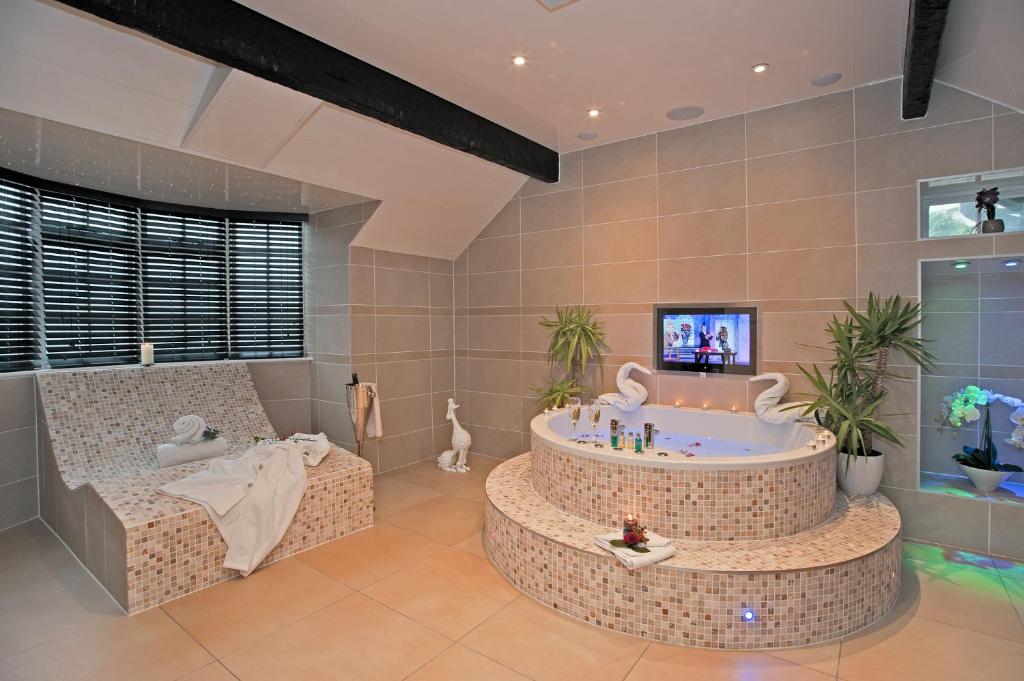 Located just a mile from Lake Windermere in the heart of the picturesque Lake District, Windermere Boutique Hotel is a luxury boutique hotel offering guests a truly indulgent experience. The hotel boasts home-cooked food and complimentary Wi-Fi, ensuring guests feel right at home. Windermere Rail Station is conveniently only 15 minutes' walk away, while free parking is available on site for those traveling by car. Each room at Windermere Boutique Hotel features a large widescreen TV with satellite channels, a DVD player, and a king-size bed for ultimate comfort. The luxurious bathrooms add an extra touch of opulence to the experience. For those seeking an even more lavish stay, some luxury suites come with outdoor hot tubs and seating areas. Originally the second home of a wealthy Edwardian gentleman, this charming hotel still retains many period features such as open fires and beamed ceilings, adding to its unique appeal. Guests will find themselves in close proximity to popular attractions such as the World of Beatrix Potter Attraction and Bowness, which are just a short drive away. The surrounding National Parkland offers ample opportunities for walking and cycling enthusiasts while Ambleside is located just 5 miles away.
– Conveniently located near Lake Windermere
– Home-cooked food available
– Free Wi-Fi access throughout the hotel
– Luxury rooms with king-size beds and spacious bathrooms
– Some suites offer outdoor hot tubs for added indulgence
Applegarth Villa Hotel & Restaurant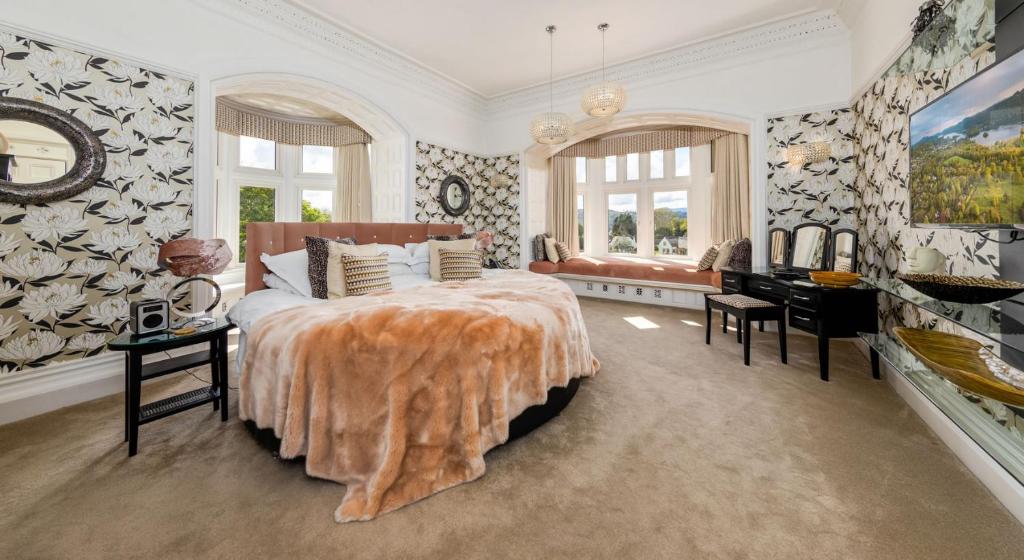 Located near Windermere village, Applegarth Villa Hotel & Restaurant is a stunning Victorian mansion house that offers a range of elegant rooms with modern amenities. The hotel features a conservatory restaurant where guests can enjoy delicious meals made from locally sourced ingredients. Each room at the hotel includes free bottled water and digital radios, as well as luxurious Egyptian cotton linen and sleek bathrooms with power showers. Guests can also take advantage of the free Wi-Fi and relax in the cosy oak-panelled bar that serves a variety of drinks. With its convenient location, just a short walk from Lake Windermere and 20 minutes' drive from the M6 motorway, Applegarth Villa Hotel & Restaurant is an ideal choice for those looking to explore the beautiful Lake District.
– Convenient location near Windermere village
– Elegant rooms with iPod docks and flat-screen TVs
– Imaginative menu featuring local produce at JR's restaurant
– Luxurious Egyptian cotton linen in all en suite rooms
– Cosy oak-panelled bar serving a selection of drinks
Information about Hotels With Jacuzzi in Lake District
| | |
| --- | --- |
| 🏢 Number of Hotels With Jacuzzi in Lake District | 11 |
| 🥇 Average Review Score | 9/10 |
| 💰 High season average price | 558 |
| 💸 Low season average price | 139.5 |
FAQ
Can I find hotels with Jacuzzi in room in the Lake District?
Yes, there are several hotels in the Lake District that offer rooms with Jacuzzi. These luxurious accommodations provide a perfect way to unwind after a day of exploring the stunning landscapes and charming villages of this beautiful region. Whether you want to relax alone or enjoy a romantic getaway with your partner, these hotels ensure a soothing and indulgent experience.
Do all hotels in the Lake District have jacuzzi rooms available?
No, not all hotels in the Lake District have jacuzzi rooms available. While there is a range of accommodation options in this picturesque region, some may not offer this specific amenity. It is always recommended to check with the hotel directly or through their website to verify if they have Jacuzzi rooms before making reservations.
What other amenities can I expect from hotels offering jacuzzi rooms?
Hotels offering Jacuzzi rooms often provide additional amenities for their guests' comfort and enjoyment. These can include plush bathrobes and slippers, spacious bathrooms with luxury toiletries, cozy fireplace settings, private balconies or terraces overlooking scenic views, complimentary drinks minibar, and access to spa facilities like indoor pools and saunas.
Are there any budget-friendly options for hotels with jacuzzis in room?
Yes, there are budget-friendly options available for those looking to enjoy Jacuzzis in their hotel rooms within the Lake District. While luxury accommodations might come at higher prices due to additional services provided by these establishments, some mid-range or boutique hotels also offer affordable rates without compromising on comfort or relaxation.
Which areas within the Lake District have more hotels offering jacuzzis in room?
The popular towns of Ambleside and Windermere within the Lake District tend to have a higher concentration of hotels offering Jacuzzis in-room as compared to other areas. These towns serve as convenient bases for exploring nearby attractions and offer various accommodation options, including those with Jacuzzi facilities.
Popular Hotels With Hot Tub In Room destinations
Hotels With Jacuzzi In Room in Lake District