Welcome to the enchanting world of Spa Hotels in Eastbourne, a mesmerizing coastal town nestled on the southeastern coast of the United Kingdom. Prepare to embark on an invigorating journey that will rejuvenate your mind, body, and soul as you indulge in exquisite treatments and immerse yourself in the tranquil atmosphere.
Eastbourne is renowned for its plethora of luxurious Spa Hotels, each offering a unique ambience and delectable range of pampering experiences. Immerse yourself in ultimate relaxation as you unwind with sublime massages, refreshing facials, and soothing body wraps. The blend of contemporary elegance and timeless charm ensures that every moment spent at these spa retreats is nothing short of extraordinary.
Discover a haven where tranquility meets luxury at these opulent establishments. Picture yourself soaking in lavish thermal pools or enjoying serene walks along breathtaking coastal trails. With their state-of-the-art facilities and expertly trained therapists, these Spa Hotels provide an oasis for those seeking solace from the hustle and bustle of daily life. So come along and let us guide you through this blissful escape into pure indulgence.
Best Eastbourne Spa Hotels
The Grand Hotel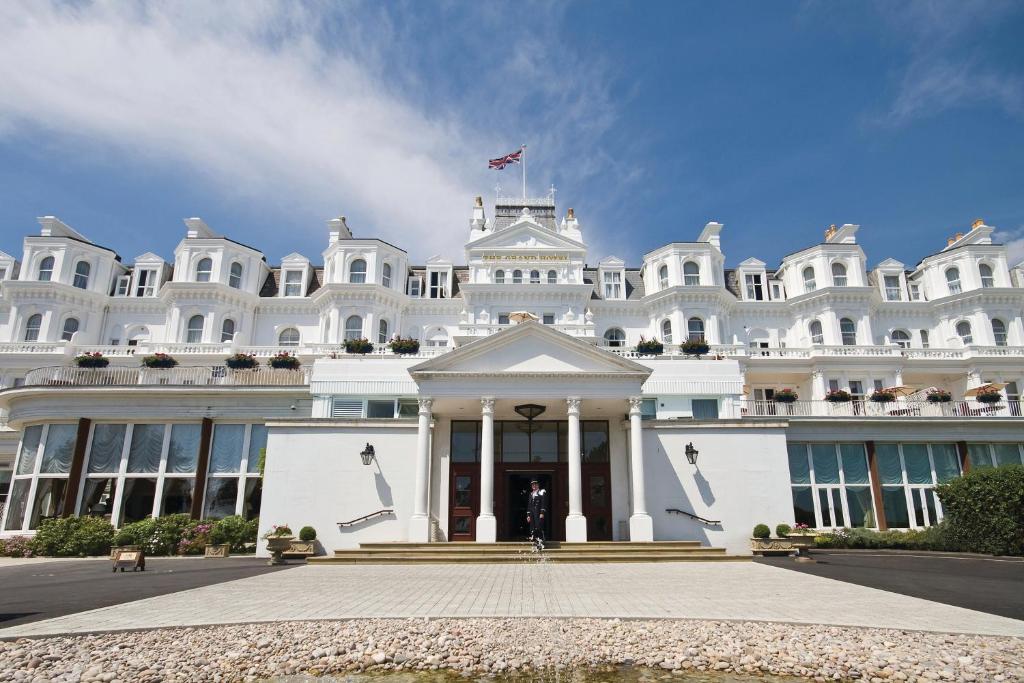 Located on King Edward's Parade, The Grand Hotel is a magnificent 5-star establishment that boasts luxurious accommodations and stunning beachfront views. Guests can indulge in the hotel's two award-winning restaurants, Mirabelle Restaurant and Garden Restaurant, which offer exquisite dining experiences including traditional English cuisine and afternoon tea in the Great Hall. The Health Club and Spa features a heated indoor pool and provides guests with a range of beauty treatments at the salon. With its rich history, The Grand Hotel has been visited by esteemed guests such as Winston Churchill and Charlie Chaplin. Some rooms even offer breathtaking sea views, and 24-hour room service is available for added convenience. Within walking distance from Eastbourne Railway Station, this hotel allows easy access to the town center where visitors can explore shops, theaters, and more.
– Beachfront location with spectacular sea views
– Two award-winning restaurants offering exquisite dining options
– Health Club and Spa featuring an indoor pool for relaxation
– Rich history of hosting famous guests
– Convenient location near railway station and town center amenities
The Spa Hotel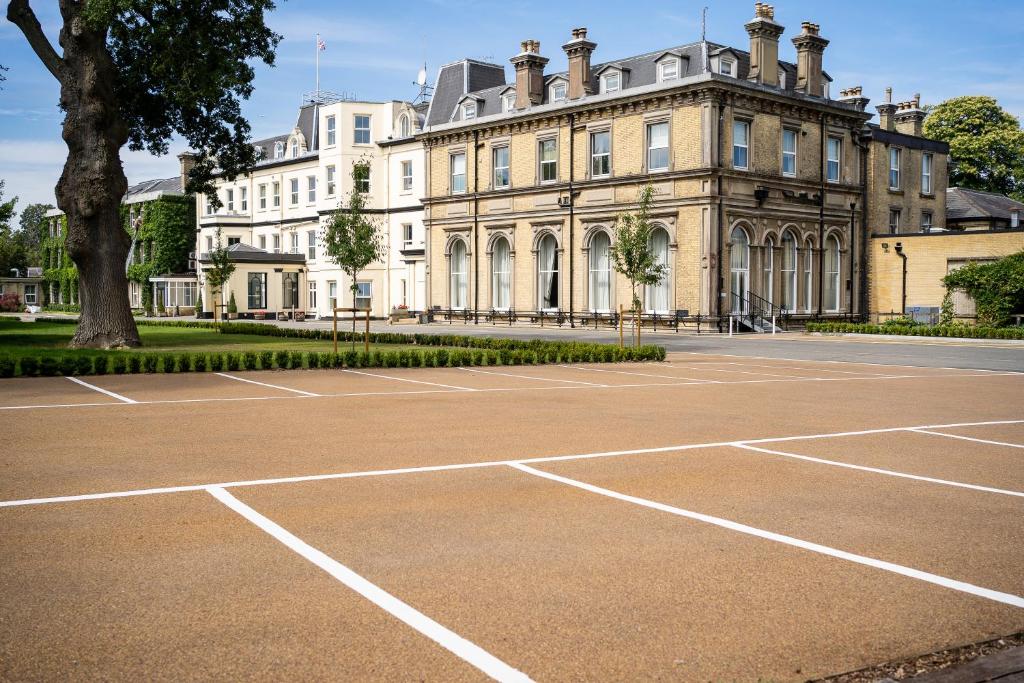 The Spa Hotel is a charming country mansion situated just a short stroll away from Tunbridge Wells Rail Station. Nestled within 14 acres of picturesque gardens and parkland, this elegant hotel offers a tranquil escape for guests seeking relaxation and rejuvenation. The Spa Hotel boasts an array of fantastic amenities including a swimming pool and sauna, both available upon pre-reservation. Fitness enthusiasts will appreciate the two well-equipped gymnasiums, steam room, and flood-lit tennis court. For those with business or event needs, the hotel also offers banqueting and conference facilities catering to up to 300 people. Pamper yourself with a range of beauty treatments and therapies provided by the professional staff at The Spa. Many of the rooms feature breathtaking views overlooking the lush 14-acre grounds, while complimentary Wi-Fi access ensures you stay connected during your stay. Each room is thoughtfully furnished with modern comforts such as a flat-screen TV with satellite channels, tea/coffee making facilities, and a hairdryer. Delight in delectable Modern British cuisine served in The Orangery restaurant where an all-day menu is on offer to suit your cravings.
Pros:
– Elegant country mansion with stunning views
– Excellent leisure facilities including swimming pool, sauna, gymnasiums, steam room
– Beautiful gardens and parkland setting
– Banqueting and conference facilities for large events
– Range of beauty treatments and therapies available
Hythe Imperial Hotel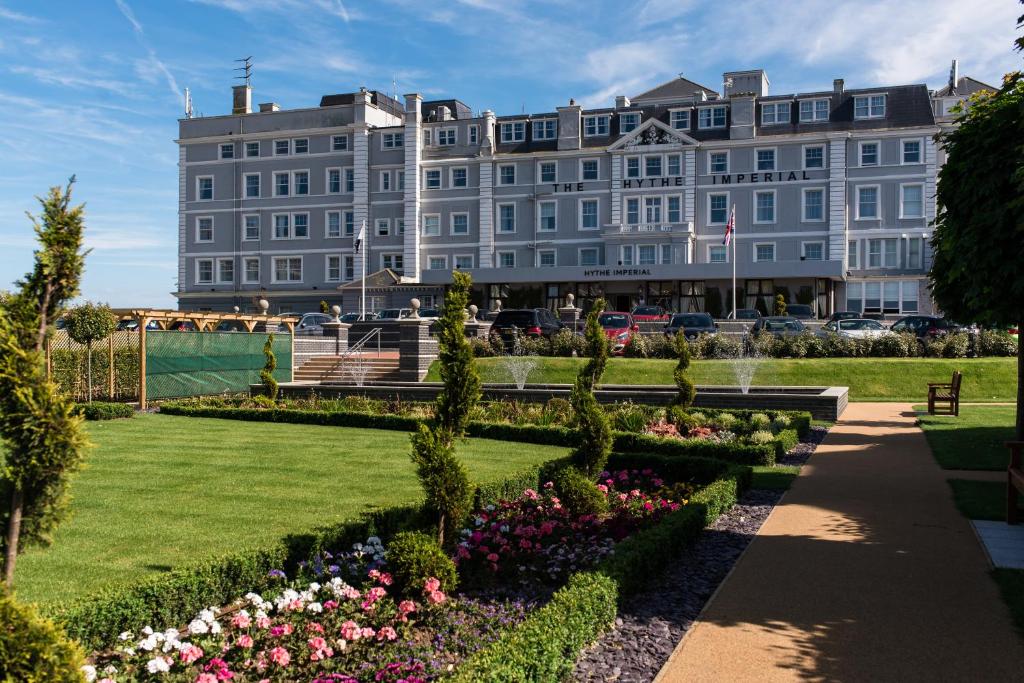 Nestled on 44 acres of picturesque land along the stunning English Channel coast, Hythe Imperial Hotel offers a delightful blend of Victorian charm and modern luxury. This 4-star hotel is home to a serene spa and a scenic 9-hole golf course, making it an ideal destination for both relaxation and recreation. Conveniently located just a short drive from Dover Ferry Port, the hotel's spacious rooms feature comfortable seating areas, en-suite bathrooms, and mesmerizing sea views. Guests can indulge in a range of leisure activities at the Hythe Imperial's spa facilities including an indoor swimming pool, sauna, and steam room. For dining options, the hotel offers the elegant Rosette A la Carte Coast Restaurant as well as a bar serving traditional meals and lighter fare. With its idyllic location, guests can use Hythe Imperial Hotel as a base to explore the enchanting Kent countryside or visit nearby attractions such as Romney Hythe and Dymchurch Railway, Howletts and Port Lympne Wild Animal Park, and Brockhill Country Park.
Pros:
– Beautiful coastal setting with stunning sea views
– Spa facilities for ultimate relaxation
– Convenient location near Dover Ferry Port
– Access to a scenic 9-hole golf course
– Proximity to notable attractions in Kent
Other places to stay in Eastbourne
Romantic Hotels with Spa in Eastbourne
Romantic Hotels with Spa in Eastbourne offer the perfect getaway for couples seeking relaxation, rejuvenation, and intimacy. Located in this picturesque coastal town, these hotels provide a serene and tranquil ambiance that sets the stage for a romantic retreat. With their luxurious spa facilities, couples can indulge in soothing massages, invigorating treatments, and calming therapies to unwind from daily stress. The serene surroundings complemented by exceptional service create an ideal atmosphere for couples seeking quality time together. Whether it's enjoying a couples' massage or unwinding in a private jacuzzi, Romantic Hotels with Spa in Eastbourne offer an unforgettable experience that will leave couples feeling pampered and reconnected with each other.
The Chatsworth Hotel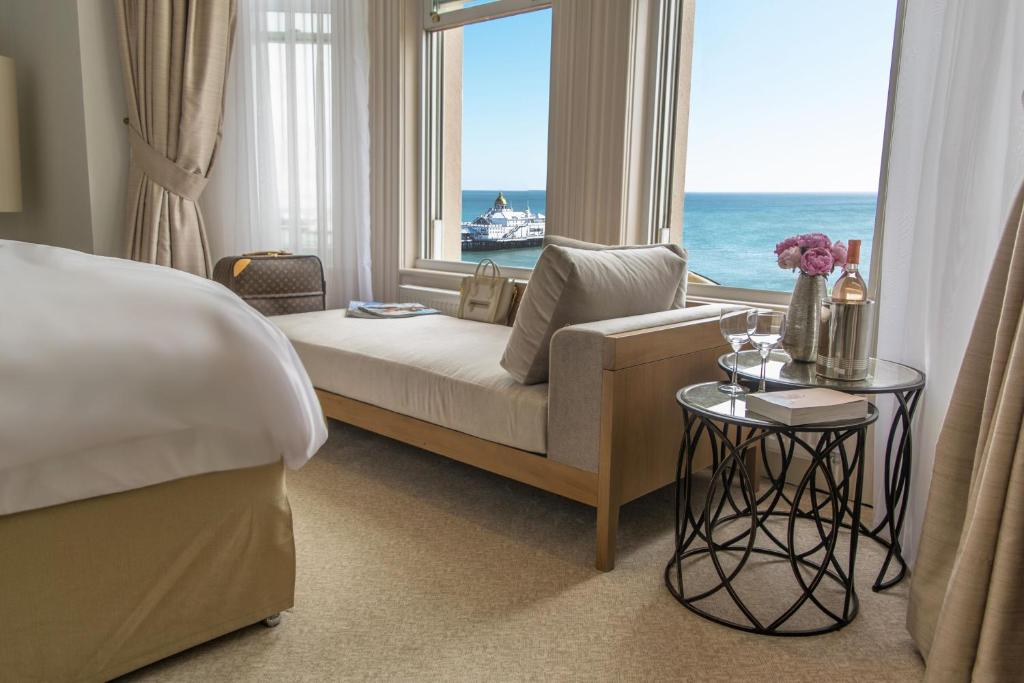 The Chatsworth Hotel is a beautifully restored Victorian boutique hotel located on the seafront in Eastbourne, offering stunning views of the Sussex coast. The spacious bedrooms feature Twin beds, Super King beds, or Emperor beds in the Junior Suites. Guests can enjoy marble bathrooms/shower rooms and smart TVs. With its prime location, guests can easily explore all that Eastbourne has to offer including scenic walks, four theatres, and a great selection of restaurants within walking distance from the hotel. The property offers free access to popular apps on their Smart TVs such as Netflix, Amazon Prime & Disney+. For ultimate relaxation, the Junior Suites boast both walk-in showers and double jacuzzis. Guests can indulge in breakfast served in various locations including the breakfast lounge, guest bedrooms or terrace from 08:00-10:30. Pets are welcomed at The Chatsworth Hotel with a £20 supplement charge per night. Residents also have access to spa treatments and the hotel gym from 08:00-18:00. Parking is available at the nearby NCP multi-storey car park for £6 for 24 hours.
Pros:
– Stunning seafront location overlooking historic pier and bandstand
– Spacious bedrooms with luxurious amenities
– Easy access to beautiful walks and local attractions
– Free access to popular streaming apps on Smart TVs
– Availability of spa treatments and gym facilities
The Relais Cooden Beach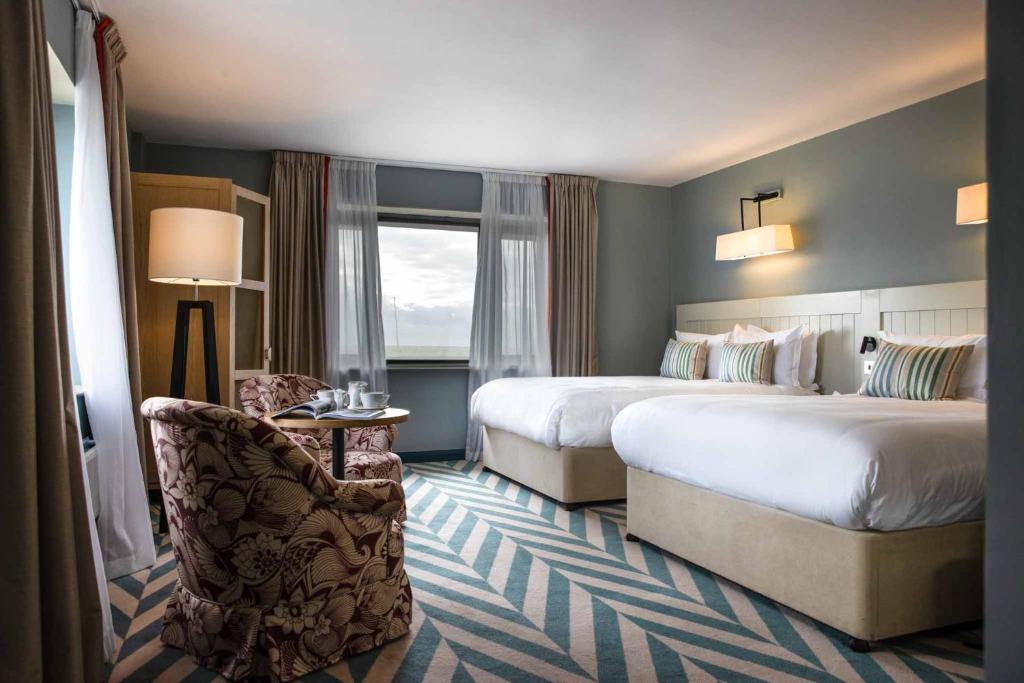 Located in Bexhill, East Sussex, The Relais Cooden Beach is an award-winning hotel situated directly on the beach. With a range of accommodation and dining options, including the stylish Rally Bar and Restaurant, guests can enjoy a wonderful walk along the coastline just steps from the terrace. The hotel's ongoing redesign includes refurbished rooms and new public spaces that reflect its relaxed yet sophisticated style. Whether you're enjoying a delicious meal with stunning views, indulging in treatments at the nearby Sea Cottage treatment room, or teeing off at the neighboring 18-hole Lynx golf course, The Relais Cooden Beach offers a fantastic seaside experience. Additionally, the hotel is also an ideal venue for weddings with its breathtaking sea views creating a special ambiance.
Angmering Manor Hotel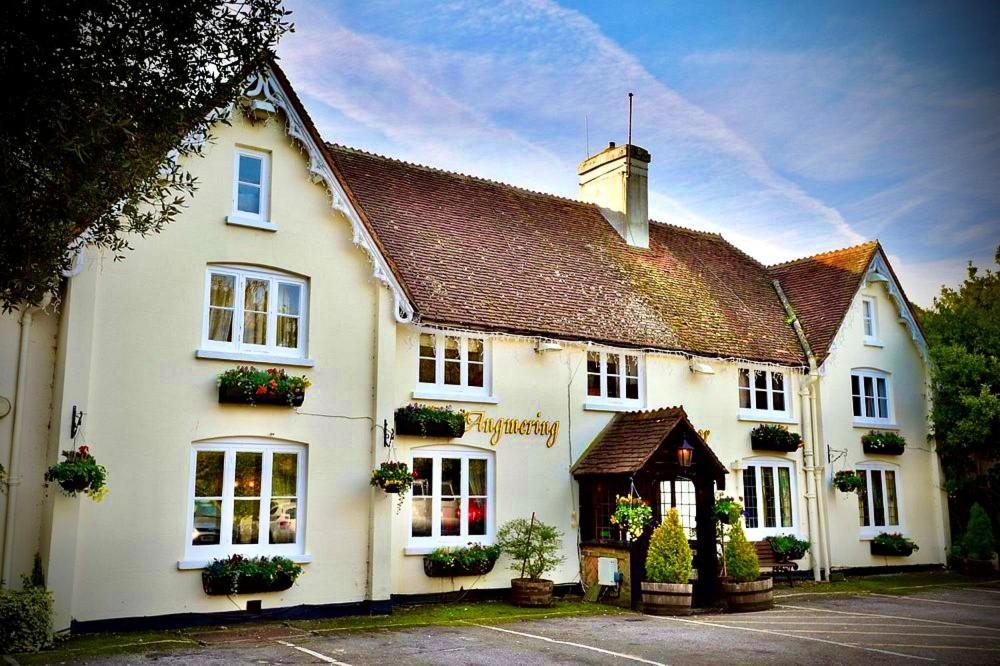 Angmering Manor Hotel is a charming hotel located in the heart of Angmering Village. This historic hotel, believed to have been built by missionaries in the 16th century, offers comfortable accommodation, a restaurant serving delicious cuisine prepared by an award-winning chef, and a cozy bar. Situated near the A280, it is conveniently located just a short drive away from Worthing and Arundel, known for its impressive castle. The individually decorated bedrooms feature luxurious Egyptian cotton sheets and guests can enjoy complimentary Wi-Fi throughout the building as well as free private parking on site. Start your day with a complimentary continental breakfast or upgrade to a full English breakfast for an additional treat. The hotel also boasts fantastic facilities including a heated indoor swimming pool, mini-gym, sauna, and an on-site beauty therapist offering a wide range of treatments for ultimate relaxation.
– Convenient location near Worthing and Arundel
– Individually decorated bedrooms with Egyptian cotton sheets
– Complimentary Wi-Fi and free private parking
– Heated indoor swimming pool, mini-gym, sauna
– On-site beauty therapist offering various treatments
Information about Spa Hotels in Eastbourne
| | |
| --- | --- |
| 🏢 Number of Spa Hotels in Eastbourne | 6 |
| 🥇 Average Review Score | 8.3/10 |
| 💰 High season average price | 744 |
| 💸 Low season average price | 186 |
FAQ
1
What are some popular Spa Hotels in Eastbourne?
There are several popular Spa Hotels in Eastbourne, including The Grand Hotel, which offers a luxurious spa experience with a range of treatments and facilities. Another popular choice is The Hydro Hotel, known for its stunning sea views and wellness center. Additionally, The Cavendish Hotel and The View Hotel have excellent spa facilities that cater to the relaxation needs of guests.
2
What amenities can I expect at a Spa Hotel in Eastbourne?
Spa Hotels in Eastbourne offer a range of amenities to ensure your stay is relaxing and enjoyable. Most hotels have on-site spas offering various treatments such as massages, facials, and body wraps. You can also expect access to swimming pools, hot tubs, saunas, and fitness centers. Additionally, many Spa Hotels provide comfortable accommodations with scenic views and delicious dining options.
3
Are there any budget-friendly Spa Hotels in Eastbourne?
Yes, there are budget-friendly options for those looking to enjoy a spa experience without breaking the bank in Eastbourne. The Langham Hotel offers affordable rates while still providing access to their spa facilities including an indoor pool and sauna. Another option is the Best Western Lansdowne Hotel which has an on-site beauty salon and treatment rooms at reasonable prices.
4
Can I book spa treatments even if I'm not staying at a Spa Hotel?
Absolutely! Many Spa Hotels in Eastbourne welcome non-guests who simply want to indulge themselves with relaxing spa treatments. You can contact the hotel directly or check their website for information on booking appointments as a day guest. This allows you to enjoy the benefits of professional therapies without needing to spend the night.
5
What other attractions are near Spa Hotels in Eastbourne?
Eastbourne has plenty of attractions near its Spa Hotels that you can explore during your stay. The beachfront promenade is perfect for leisurely walks or cycling along the coast. The iconic Eastbourne Pier offers seaside entertainment, while the Beachy Head cliffs provide breathtaking views of the surrounding area. Additionally, you can visit the Towner Art Gallery or explore the nearby South Downs National Park for a touch of nature and culture.
Popular Wellness Hotels destinations