Welcome to an adventure of relaxation and rejuvenation in the charming town of Druskininkai, Lithuania. Nestled amidst lush greenery and pristine natural landscapes, this enchanting destination offers a haven for those seeking tranquility and wellness. Known for its magnificent Spa Hotels, Druskininkai promises an idyllic retreat where you can unwind, pamper yourself, and indulge in blissful treatments.
Prepare to be captivated by the unique blend of traditional Lithuanian hospitality combined with modern spa amenities that await you here. From luxurious accommodations to world-class facilities, each Spa Hotel in Druskininkai exudes elegance and sophistication. Immerse yourself in a therapeutic oasis as expert therapists guide you through a plethora of treatments designed to restore balance to your mind, body, and soul.
Beyond the opulent spa experiences, Druskininkai boasts a rich cultural heritage waiting to be explored. Take leisurely strolls along the tree-lined boulevards or visit historical landmarks that tell tales from centuries past. Indulge your senses with mouthwatering culinary delights at local restaurants or simply bask in the serene beauty of nature as you explore nearby parks and gardens.
Whether you seek inner peace or desire a delightful escape from the demands of everyday life, Druskininkai's Spa Hotels offer an alluring sanctuary where relaxation becomes an art form. So why wait? Embark on this journey towards holistic well-being and let the tranquil charm of Druskininkai immerse you in pure serenity.
Best Druskininkai Spa Hotels
Grand SPA Lietuva Hotel Druskininkai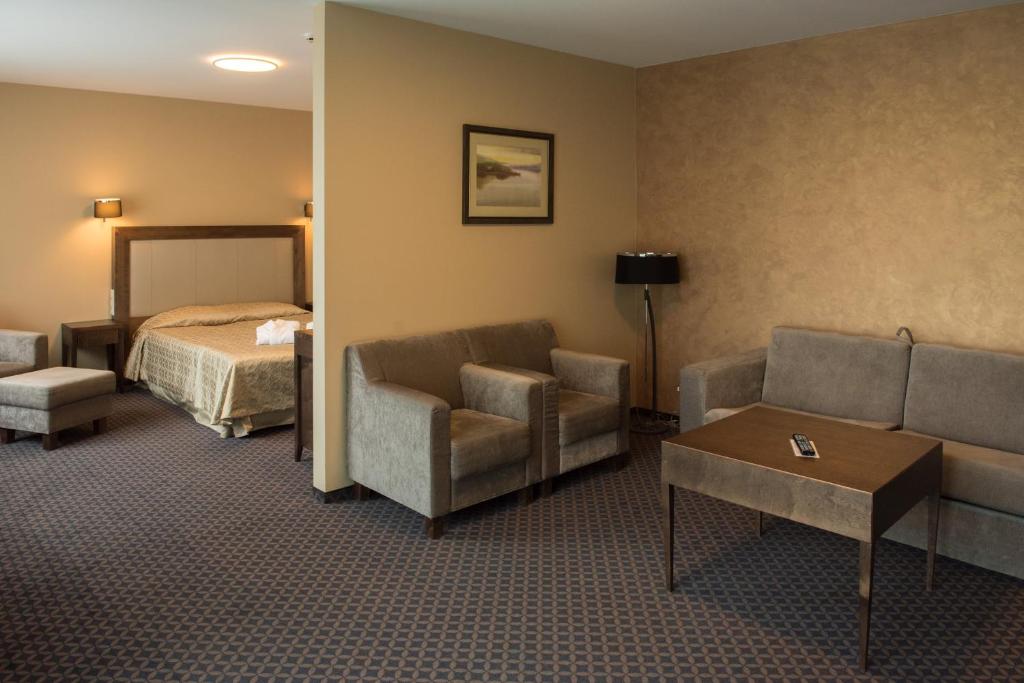 Located in the heart of Druskininkai, a popular Lithuanian spa resort, Grand SPA Lietuva Druskininkai offers air-conditioned rooms and a selection of spa and wellness facilities. The hotel features an indoor pool, steam bath, and a water park with saunas, wave pool, and a pool for children. The spacious rooms and suites are equipped with amenities such as TV with satellite channels, minibar, and work desk. The private bathrooms have heated floors. Guests can indulge in various medical services including kinesiotherapy, ergotherapy, medicinal baths and showers. Additionally, the hotel provides mud procedures, underwater and traditional massages as well as physiotherapy. With 4 restaurants offering a diverse culinary experience along with 2 cafes and 2 bars to unwind at after a day of pampering oneself at the spa complex or exploring the surrounding area.
– Indoor pool.
– Water park featuring saunas.
– Wide range of medical services available.
– Variety of dining options including panoramic views.
– Convenient location in the heart of Druskininkai.
(Note: Some information has been repeated in the original text which has been omitted.)
BEST BALTIC Hotel Druskininkai Central
BEST BALTIC Hotel Druskininkai Central is a modern hotel situated in the charming Old Town of Druskininkai. The hotel offers a range of amenities including a spa area, restaurant, and comfortable rooms with all the necessary facilities such as air conditioning and minibars. The Aquapark is just a short 5-minute walk away from the hotel. For dining options, guests can enjoy Lithuanian and international cuisine at the hotel's own restaurant, the Central. The spa area offers relaxation and rejuvenation with its sauna, hot tub, steam bath, and various massages and therapies available. Each morning, guests can take advantage of complimentary spa services. During summer months, guests can unwind on the sunny terrace or explore nearby tennis courts, bicycle paths, and beaches. Wi-Fi is free in public areas.
– Convenient location in the Old Town of Druskininkai
– Modern rooms with air conditioning and minibar
– Spa area with sauna, hot tub, and steam bath
– Complimentary spa services each morning
– Close proximity to Aquapark and other recreational activities
Hotel Violeta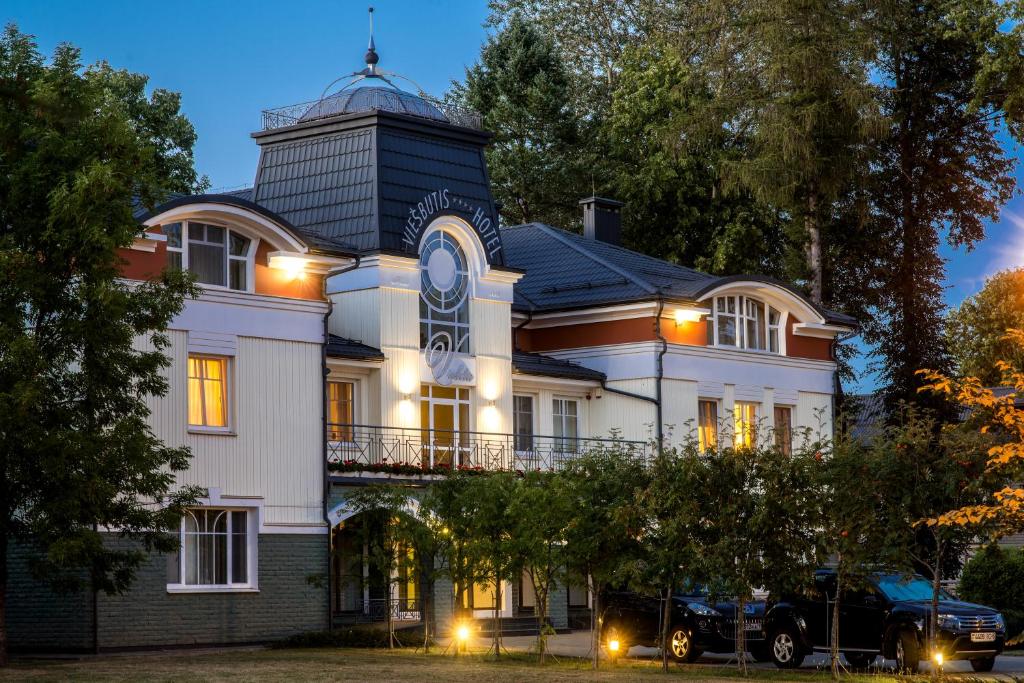 Hotel Violeta is a charming spa hotel located in the heart of the serene spa town, Druskininkai. Nestled along the beautiful River Nemunas and surrounded by lush greenery, this hotel offers comfortable accommodation with private parking and excellent spa facilities. The rooms are elegantly decorated with carpeted floors and feature amenities such as free Wi-Fi, TV, telephone, and a private bathroom equipped with heated floors, a hairdryer, and toiletries. Guests can start their day with a delicious breakfast buffet served in the on-site restaurant which also offers a diverse menu for other dining options. In the summer months, guests have the option to dine on the patio overlooking the picturesque Nemunas River or enjoy drinks at the bar. For ultimate relaxation, Hotel Violeta provides a sauna and spacious hot tub for guests to unwind after exploring all that Druskininkai has to offer. Additionally, those who seek active recreation can take advantage of nearby indoor or outdoor swimming pools located just 100 meters away at Draugystės Health Resort or engage in tennis matches. With its convenient location near popular attractions like Druskininkai Bus Station (1.3 km) and Town Hall (1.2 km), Hotel Violeta ensures that guests have easy access to everything this charming town has to offer.
– Convenient central location
– Private parking available
– Spa & wellness facilities including sauna and hot tub
– Delicious breakfast buffet served on-site
– Nearby access to swimming pools and tennis courts
Romantic Hotels with Spa in Druskininkai
Druskininkai is a charming destination that offers an array of romantic hotels with spa facilities, perfect for couples looking for a relaxing and rejuvenating getaway. These hotels provide a tranquil oasis where guests can indulge in luxurious spa treatments, unwind in the soothing atmosphere of saunas and steam rooms, and enjoy intimate moments together in beautifully designed relaxation areas. With their serene surroundings, attentive service, and an emphasis on wellness and harmony, these romantic spa hotels in Druskininkai create the ideal setting for couples to unwind, reconnect, and create lasting memories.
Grand SPA Lietuva Serviced Apartments Dzūkija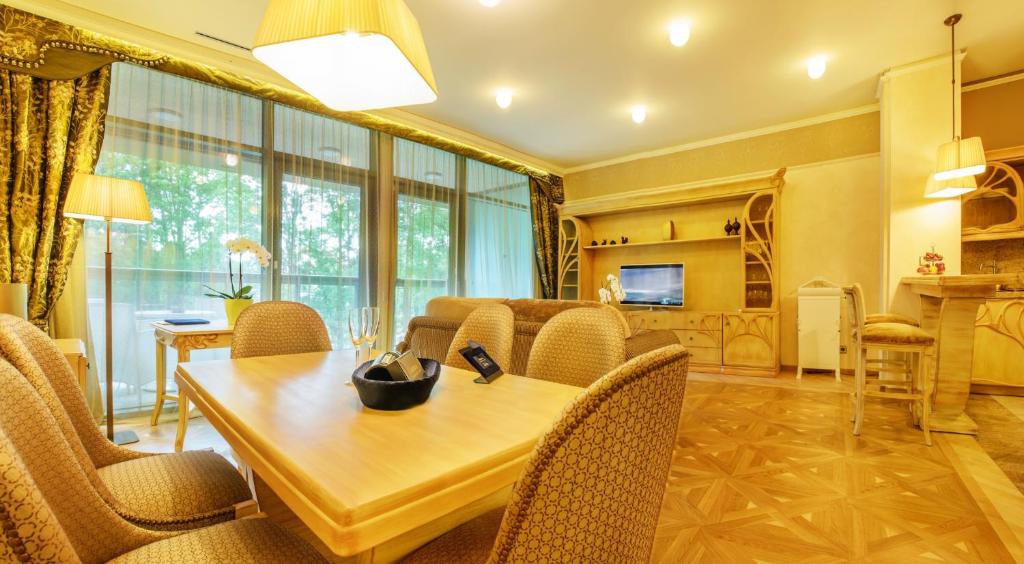 Located in the heart of Druskininkai, the Grand SPA Lietuva Serviced Apartments Dzūkija offers stylish and comfortable apartments with free Wi-Fi. The property features a spa and wellness center with a swimming pool, as well as a 24-hour front desk service and free parking. Each apartment includes a flat-screen TV, kitchenette, and balcony. Guests have unlimited access to the property's aqua park and can enjoy additional amenities such as saunas, steam baths, massages, bowling alleys, and a game room for children. For those who prefer to cook their own meals, each apartment is equipped with a well-equipped kitchenette. A bar is also available for guests to relax and enjoy drinks. Breakfast is available at an additional cost. Lake Druskonis is just 300 meters away from the hotel, while tennis courts are within a 5-minute walk.
MEDEA Apartments by UPA
Located in a serene area of Druskininkai, nestled amidst a pine forest and on the bank of a shimmering lake, MEDEA Apartments by UPA is a splendid 4-star hotel that offers spacious apartments and access to top-notch spa and wellness facilities. Boasting a classic design with light colors, the apartments are a perfect blend of comfort and elegance. Guests can enjoy amenities such as free WiFi, LCD TV, kitchenette with essential appliances, and a private bathroom with either bathtub or shower (with some featuring a luxurious spa bath). The provision of anti-allergic bedding ensures utmost comfort for every guest. Additionally, many apartments also include balconies offering breathtaking views. Situated approximately 2.4 km away from the town center, MEDEA Apartments by UPA provides an ideal base for those seeking tranquility during their stay.
Pros:
– Serene location amidst pine forest and by the lake
– Spacious apartments with elegant design
– Access to excellent spa and wellness facilities
– Free WiFi available throughout the property
– Convenient proximity to the town center (2.4 km)
Goda Hotel & Spa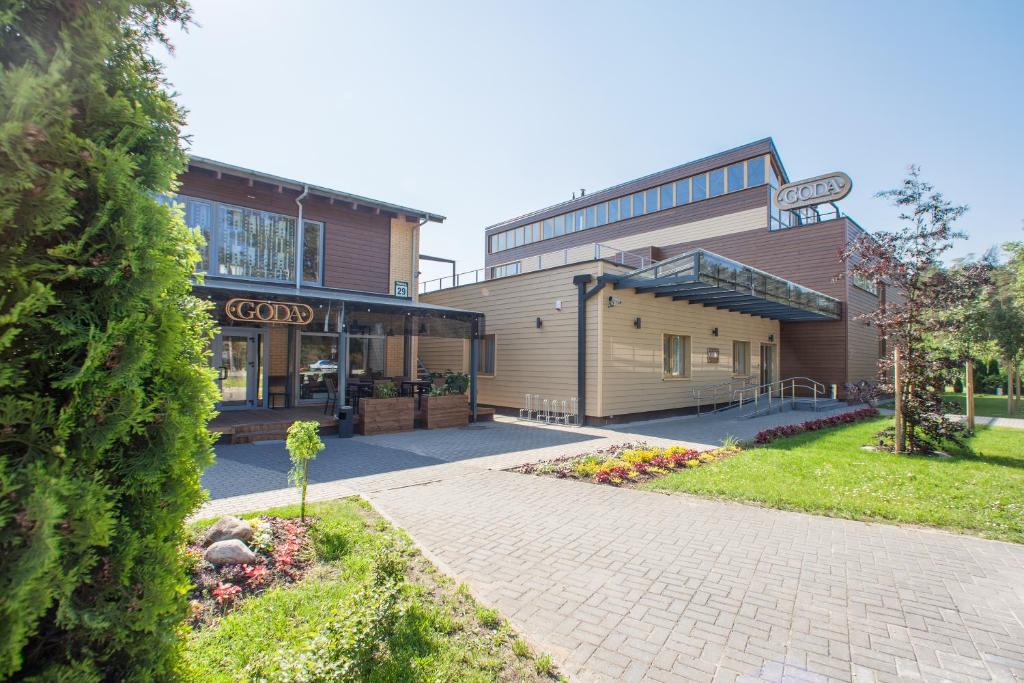 The Goda Hotel & Spa is a 4-star hotel situated in a peaceful and green area of Druskininkai, just 1.2 km away from the town center. The hotel offers comfortable and classically furnished rooms equipped with free Wi-Fi. Guests can indulge in the on-site spa facilities, including a steam bath and sauna, and even receive complimentary body oils. For additional wellness options, the Egle Medical Spa is conveniently located only 500 meters away. Each air-conditioned room features a flat-screen TV with satellite channels, a fridge, an electric kettle, and a safe. The private bathrooms are fitted with showers and include amenities such as hairdryers and complimentary toiletries. Some rooms offer views of the beautiful garden surroundings. The Goda Hotel provides various services for guests' convenience such as a 24-hour front desk, luggage storage, ski storage, and even has its own beauty salon which offers massages and sun beds. A delicious buffet breakfast is served free of charge at the Goda cafeteria which specializes in European and Lithuanian dishes – guests also have the option to dine on the terrace if they wish to enjoy their meals while surrounded by nature's beauty. The hotel's location is perfect for exploring nearby attractions such as Snow Arena (3 km) or Druskininkai Recreation and Health Centre AQUA (1.9 km).
– Peaceful location in a green area
– Free Wi-Fi access throughout the property
– On-site spa facilities including steam bath and sauna
– Complimentary body oils provided
– Buffet breakfast served daily specializing in European and Lithuanian dishes
Spa Hotels in Druskininkai with Cool Views
Nestled amidst the picturesque landscapes of Druskininkai, Spa Hotels with cool views offer a tranquil retreat for those seeking relaxation and rejuvenation. Surrounded by lush greenery, serene lakes, or breathtaking mountains, these hotels provide guests with a stunning backdrop that seamlessly blends nature's beauty with luxurious comfort. From the comfort of your room or while indulging in spa treatments, you can immerse yourself in the captivating vistas that unfold before your eyes. Whether it's a sunrise over mist-covered peaks or a sunset painting the sky in vibrant hues, these Spa Hotels in Druskininkai offer an unforgettable experience where nature becomes an integral part of your wellness journey.
Europa Royale Druskininkai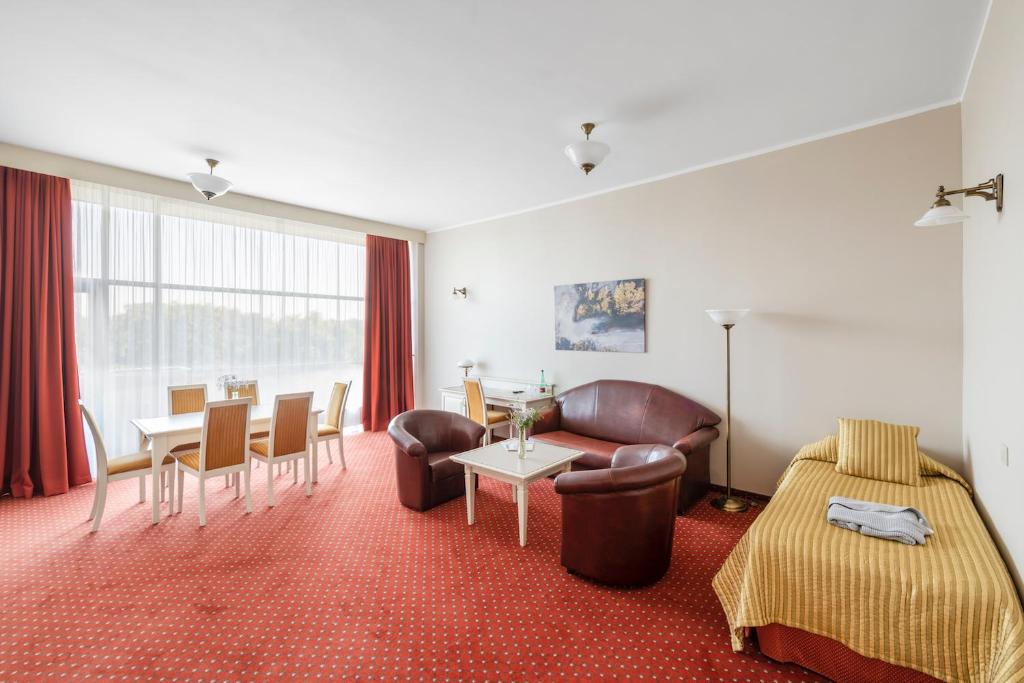 Situated in the former Russian tsar's residence, Europa Royale Druskininkai is a stylish hotel that offers direct access to the Druskininkai SPA resort. The rooms are tastefully furnished and feature amenities such as LCD TVs with satellite channels. The on-site spa and wellness facilities provide a range of facial treatments and massages for guests to indulge in. Each air-conditioned room at Europa Royale is decorated with wooden accents and warm-colored fabrics, complete with a spacious bathroom equipped with bathrobes and a bathtub. Guests can relax in the garden or explore the surrounding area by cycling. Start your day off right with a delicious breakfast served at the elegant Salt Blues restaurant within the hotel, where you can also savor international dishes and local specialties.
Pros:
– Former Russian tsar's residence
– Direct access to Druskininkai SPA resort
– On-site spa and wellness facilities
– Tastefully furnished rooms with modern amenities
– Close proximity to main restaurants, river walks, waterpark, and snow arena
Information about Spa Hotels in Druskininkai
| | |
| --- | --- |
| 🏢 Number of Spa Hotels in Druskininkai | 7 |
| 🥇 Average Review Score | 8.8/10 |
| 💰 High season average price | 264 |
| 💸 Low season average price | 66 |
FAQ
1. What are some popular Spa Hotels in Druskininkai?
Druskininkai offers a range of popular Spa Hotels that cater to various preferences. One of the top choices is Europa Royale Druskininkai Hotel, known for its luxurious spa facilities and relaxing atmosphere. Another option is Grand Spa Lietuva Hotel, which boasts an extensive range of wellness treatments and thermal baths. For those seeking a more intimate experience, SANA SPA Druskininkai provides personalized services in a tranquil setting.
2. Are there any budget-friendly Spa Hotels in Druskininkai?
Yes, if you are looking for budget-friendly options, there are several Spa Hotels in Druskininkai that offer affordable rates without compromising on quality. A notable choice is Pegasas Hotel & SPA, where guests can enjoy comfortable rooms and access to spa amenities at an affordable price. Another option is Vilniaus Takas Hotel & Spa, which offers a cozy atmosphere and various wellness treatments at reasonable rates.
3. What kind of treatments can I expect at Spa Hotels in Druskininkai?
Spa Hotels in Druskininkai provide a wide range of treatments to promote relaxation and rejuvenation. Guests can indulge in traditional massages such as Swedish or aromatherapy massages to relieve muscle tension and reduce stress levels. Additionally, most hotels offer beauty treatments like facials, body wraps, and scrubs using natural ingredients sourced from the local area for a truly authentic experience.
4. Are there any family-friendly options among the Spa Hotels in Druskininkai?
Absolutely! Some of the Spa Hotels in Druskininkai cater specifically to families traveling with children. One such hotel is Egle+ Medical SPA & Resort, featuring spacious family rooms or apartments with convenient amenities like baby cots or high chairs upon request. This hotel also offers various activities for children, such as a dedicated play area and organized entertainment programs to ensure a memorable stay for the whole family.
5. What are the nearby attractions to explore while staying at Spa Hotels in Druskininkai?
While staying at Spa Hotels in Druskininkai, guests have the opportunity to explore several nearby attractions. One must-visit destination is Grutas Park, which showcases a collection of Soviet-era statues and offers insight into Lithuania's history. Another popular spot is Druskininkai Aquapark, a fun-filled water park with thrilling slides and pools suitable for all ages. Nature enthusiasts can also take a stroll through Dzūkija National Park or enjoy a boat ride on Lake Druskonis, surrounded by picturesque landscapes.
Popular Spa Hotels destinations
Spa Hotels in Druskininkai