Welcome to our guide on Hotels With Jacuzzi In Room in Bowness-on-Windermere, England! Bowness-on-Windermere is a charming village nestled in the heart of the Lake District National Park. Known for its stunning natural scenery and picturesque views of Windermere Lake, this destination offers the perfect blend of tranquility and luxury.
When it comes to finding accommodations with a private spa tub, Bowness-on-Windermere has plenty to offer. From boutique hotels to cozy bed and breakfasts, you'll find a wide range of options that cater to all budgets and preferences. Indulge yourself in the ultimate relaxation experience as you soak away your cares in the comfort of your own room.
Imagine stepping into your personal oasis after a long day exploring the beautiful surroundings. The warm bubbles enveloping your body as you unwind with a glass of champagne in hand – what could be more blissful? Whether you're visiting for a romantic getaway or simply seeking some well-deserved pampering, these hotels with whirlpool baths provide an intimate setting for rejuvenation.
So pack your bags and get ready to immerse yourself in sheer luxury at one of these extraordinary hotels with jacuzzis in Bowness-on-Windermere. Your journey towards pure relaxation awaits!
Best Bowness-on-Windermere Hotels With Hot Tub
Gilpin Hotel & Lake House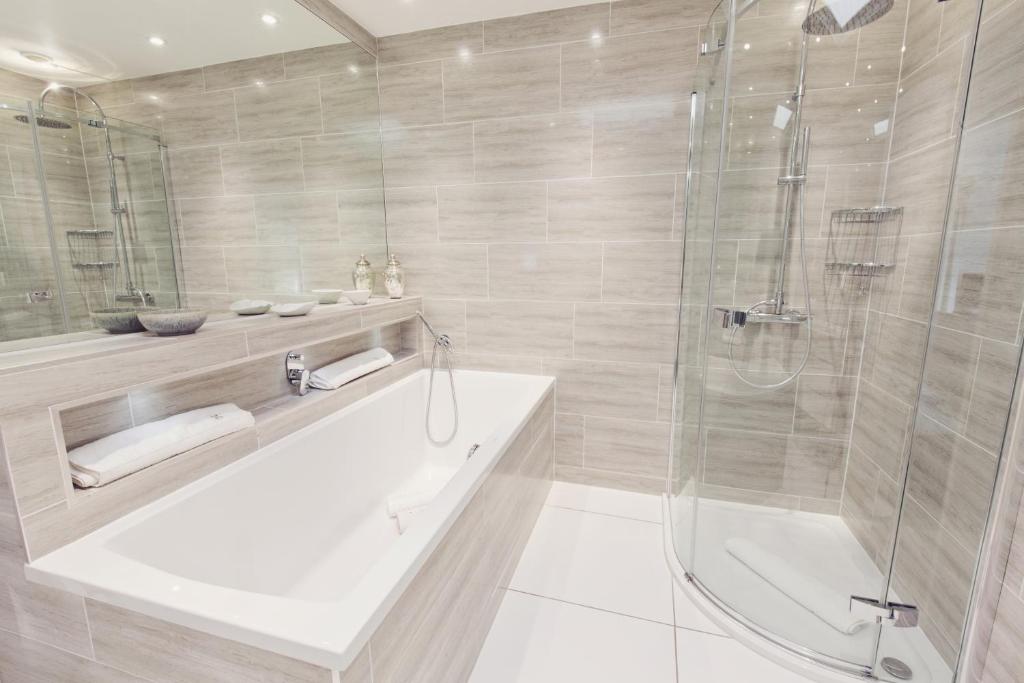 Gilpin Hotel & Lake House is an elegant hotel located in the scenic Lake District. With its fine dining options and luxurious suites, it offers a truly indulgent experience for guests. The hotel is situated just over 2 miles away from the shores of Lake Windermere, providing easy access to stunning natural landscapes. The suites at Gilpin Hotel feature their own hot tubs, while the lodges offer private spa facilities including rainfall showers and steam rooms. Guests can choose to dine at the hotel's main restaurant, Hrishi, which has been awarded 1-Michelin star for its exceptional cuisine. The rooms in the hotel all boast Lakeland views, with many offering direct access to the beautiful gardens. Additionally, Gilpin Lake House provides 6 suites with private access to gardens, a lake and a spa. This unique hotel also features two on-site restaurants that serve dishes made with local Lake District produce but with an Asian twist. For those looking for a culinary adventure, Gilpin Spice offers an open kitchen concept creating meals inspired by the Indian subcontinent.
Pros:
– Elegant and luxurious suites with hot tubs
– Private spa facilities in lodge accommodations
– Fine dining experience at Hrishi restaurant
– Beautiful Lakeland views and direct access to gardens
– Unique dining option at Gilpin Spice showcasing Asian-inspired cuisine
Linthwaite House Hotel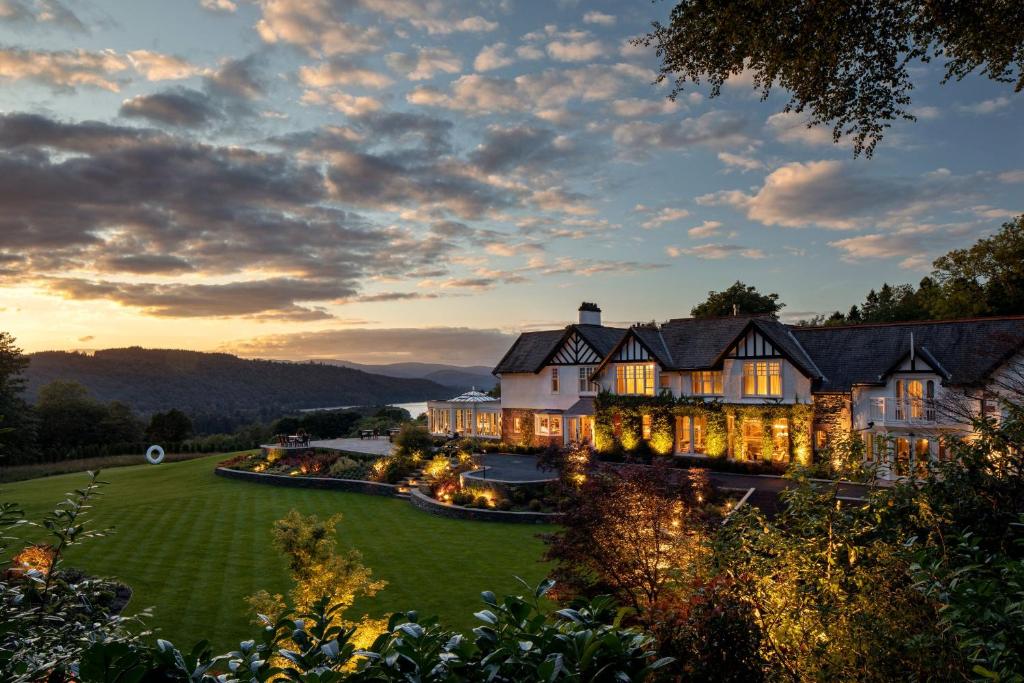 Linthwaite House Hotel is a luxurious hilltop retreat that offers breathtaking views of Windermere, making it an ideal choice for guests looking to immerse themselves in the stunning surroundings. The hotel provides stylish and individually designed bedrooms and bathrooms, ensuring a comfortable and unique stay. Guests can indulge in activities such as boules or challenge others on the giant outdoor chessboard. The on-site restaurant, Simon Rogan, showcases dishes created with locally sourced ingredients and offers panoramic views of the lake, gardens, hills, and mountains. For a delightful dining experience, Henrock's á la carte menu features small plates and sharing dishes. Additionally, two row boats are available for guests to explore the serene waters of Windermere – simply inquire at reception.
Pros:
– Breathtaking views of Windermere
– Stylish and individually designed accommodations
– On-site restaurant with locally sourced cuisine
– Outdoor activities such as boules and giant chessboard
– Access to row boats for exploring Windermere's waters
Church Suites by The Cranleigh Boutique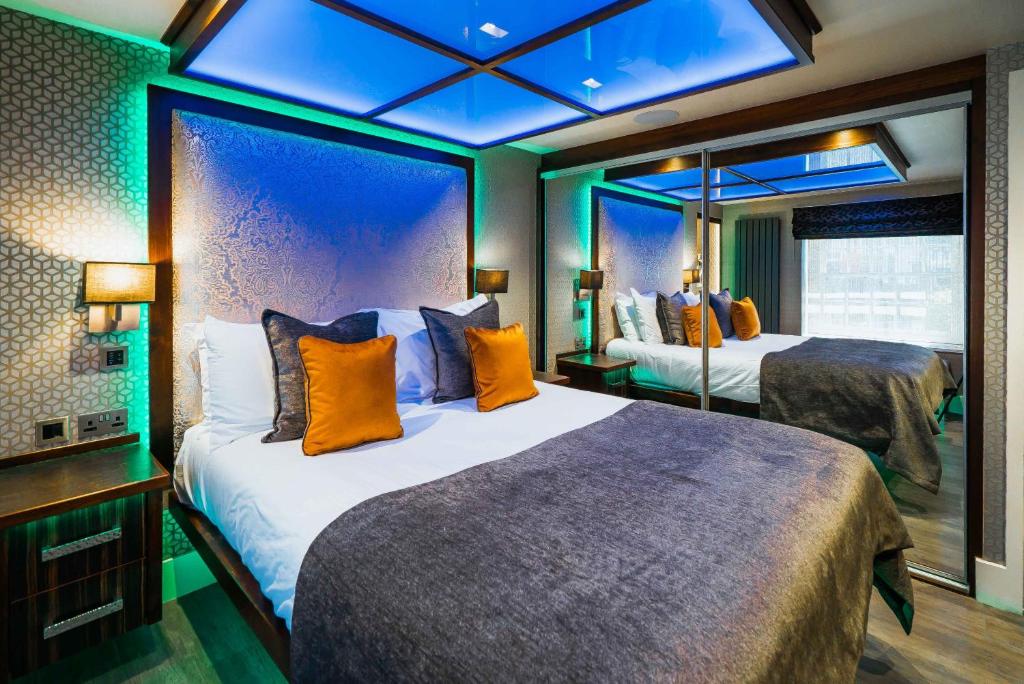 Located in the heart of Bowness-on-Windermere, Church Suites by The Cranleigh Boutique is a charming boutique hotel offering exclusive and individually designed suites. Each suite boasts chic décor with luxurious fabrics, plush carpets, and intelligent lighting, creating a stylish atmosphere. The Cranleigh also provides state-of-the-art technology, free WiFi, a fridge, coffee maker, and flat-screen TV in every suite. Guests will appreciate the convenience of nearby free parking and the hotel's prime location within walking distance to Windermere's shops and restaurants. Moreover, the stunning lakeside is only a 2-minute walk away.
– Exclusive and individually designed suites
– Stylish décor with luxury fabrics and intelligent lighting
– State-of-the-art technology amenities
– Convenient free parking nearby
– Prime location near shops, restaurants, and the lakeside
Other places to stay in Bowness-on-Windermere
Luxury Hotels in Bowness-on-Windermere with Jacuzzi
Bowness-on-Windermere offers an exquisite selection of luxury hotels that provide guests with the ultimate relaxation experience through their Jacuzzi facilities. These opulent accommodations feature private in-room Jacuzzis, allowing visitors to unwind and rejuvenate in the comfort and privacy of their own space. With luxurious furnishings, impeccable service, and stunning lake or garden views, these hotels in Bowness-on-Windermere offer a tranquil escape for those seeking a truly indulgent getaway. Whether it's a romantic weekend retreat or a well-deserved pampering session, these luxury hotels provide the perfect setting to unwind and soak away life's stresses in style.
The Westbourne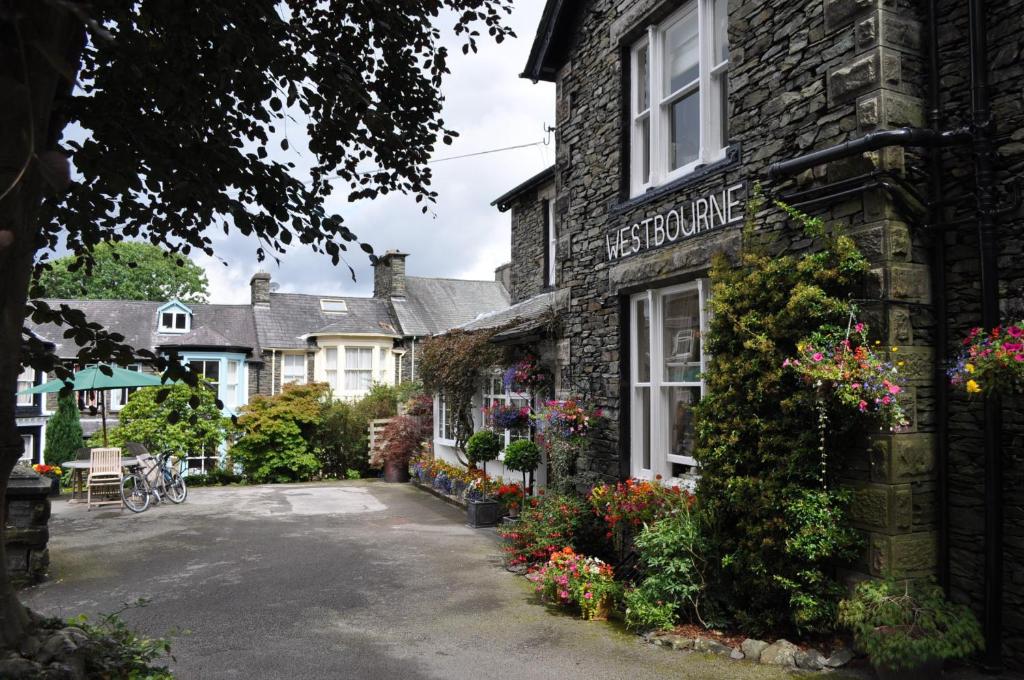 The Westbourne is a beautiful guest house located in the peaceful area below Biskey Howe in the Lake District. The bedrooms at this traditional stone-built house have walk-in shower rooms, luxurious toiletries, and large fluffy towels. With high ceilings, the rooms feel light and spacious. The beds are adorned with Egyptian cotton linen, and there are also TVs and free Wi-Fi available. Guests can enjoy a traditional English breakfast at The Westbourne and relax in either the conservatory or comfortable lounge with a real log fire. Boat trips on Lake Windermere, just 1 mile away, offer breathtaking views of mountains, bays, and woodlands. Bowness-On-Windermere's charming shops and restaurants are within walking distance from The Westbourne, and free parking is available.
Pros:
– Beautiful location in the peaceful area of Lake District
– Luxurious amenities including walk-in shower rooms and Egyptian cotton linen
– Traditional English breakfast served
– Relaxing conservatory with stunning views
– Conveniently located near shops, restaurants, and Lake Windermere
Rothay Manor Hotel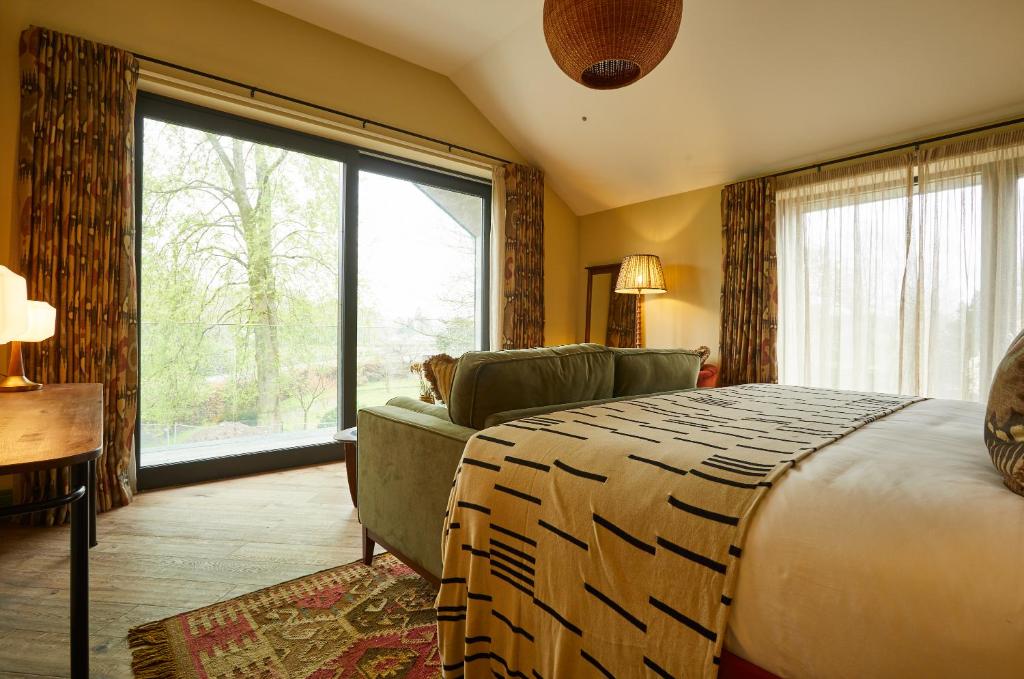 Located in the stunning Lake District, Hotel Rothay Manor is a luxurious country house hotel that offers an array of top-notch amenities. This privately-owned hotel boasts a 3 AA rosette restaurant, where guests can indulge in delectable cuisine. The individually designed rooms are spacious and equipped with modern comforts like satellite TV, radio, and tea/coffee facilities. The Grade II listed house also features beautiful landscaped gardens and period features that add to its charm. Lake Windermere is just a short distance away from the hotel, making it a convenient choice for travelers looking to explore the area. With its excellent service and attention to detail, Hotel Rothay Manor guarantees an unforgettable stay.
– Prime location in the heart of the Lake District
– Award-winning breakfasts
– Free Wi-Fi
– Elegant interiors with antiques and fresh flowers throughout
– Modern fine dining restaurant serving delicious fresh food
Virginia Cottage Guest House: Suite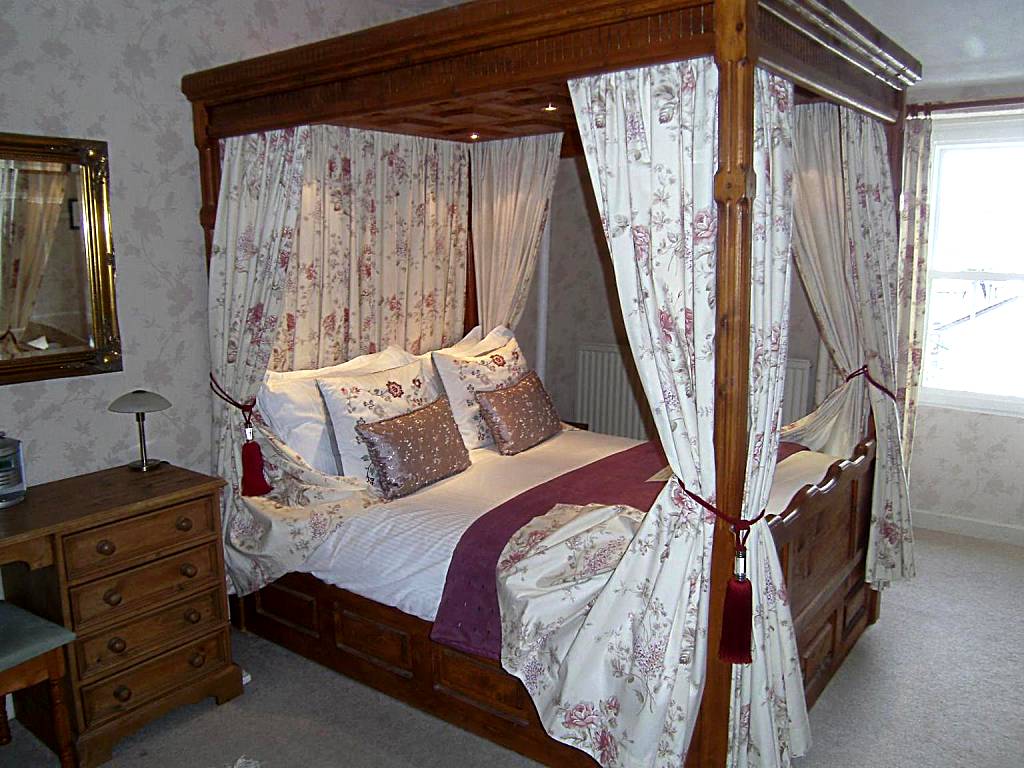 Virginia Cottage Guest House is a charming traditional stone and slate guest house located near the center of Bowness-on-Windermere. Each room in this delightful guest house is individually styled and features a four-poster bed, a separate lounge area with a flat-screen TV, and a spa bath for ultimate relaxation. The rooms also include amenities such as a refrigerator and facilities for making tea and coffee, as well as a private bathroom with a hairdryer. Guests can enjoy free WiFi throughout the property. Virginia Cottage offers a variety of breakfast options made using locally sourced produce, ensuring a delicious start to your day. Conveniently, Lake Windermere is just minutes away on foot, allowing guests to easily explore its beauty. For those who want to hit the greens, Windermere Golf Club is only a 5-minute drive away.
– Individually styled rooms
– Spa bath in each suite
– Free WiFi throughout the property
– Locally sourced breakfast options
– Close proximity to Lake Windermere
Information about Hotels With Jacuzzi in Bowness-on-Windermere
| | |
| --- | --- |
| 🏢 Number of Hotels With Jacuzzi in Bowness-on-Windermere | 6 |
| 🥇 Average Review Score | 9.1/10 |
| 💰 High season average price | 1292 |
| 💸 Low season average price | 323 |
FAQ
Can I find hotels with Jacuzzi in room in Bowness-on-Windermere?
Yes, Bowness-on-Windermere offers a range of hotels that provide the luxurious amenity of a Jacuzzi in the room. These hotels understand the importance of relaxation and provide guests with an indulgent experience through their well-maintained Jacuzzi tubs conveniently located within the privacy and comfort of your own room.
Are there any budget-friendly options for hotels with Jacuzzi in room in Bowness-on-Windermere?
Absolutely! If you're looking for a more affordable option, you can still enjoy the blissful experience of a Jacuzzi in your hotel room. Bowness-on-Windermere has several budget-friendly accommodations that offer rooms equipped with jacuzzis at a reasonable price. These accommodations ensure that even on a tight budget, you can unwind and rejuvenate in style.
Do all hotels with Jacuzzi in room provide additional amenities along with it?
Yes, most hotels offering rooms with jacuzzis provide additional amenities to enhance your stay. Alongside the relaxing soak, you can expect amenities such as plush bathrobes and slippers, complimentary toiletries, and cozy bedding to make your stay truly comfortable. Some establishments might also offer extra perks like complimentary breakfast or access to spa facilities for an added touch of luxury.
How can I find the best hotel deals for rooms with Jacuzzi in Bowness-on-Windermere?
To find the best hotel deals for rooms including jacuzzis in Bowness-on-Windermere, it is recommended to research and compare prices across different booking platforms. Websites specializing in hotel bookings often have filters or search options specifically designed to help travelers find accommodations featuring specific amenities like a jacuzzi. Additionally, signing up for newsletters or following social media pages of hotels may allow you to take advantage of exclusive deals and promotions.
Which hotels in Bowness-on-Windermere offer rooms with Jacuzzi and lake views?
If you're looking for a breathtaking combination of relaxation and stunning views, there are hotels in Bowness-on-Windermere that provide rooms with both jacuzzis and beautiful lake views. These accommodations allow you to unwind in the warm waters while enjoying the scenic beauty of Lake Windermere right from your room. So, sit back, soak in the jacuzzi, and let yourself be captivated by the picturesque surroundings.
Popular Hotel Rooms With Jacuzzi destinations
Hotels With Jacuzzi In Room in Bowness-on-Windermere