Welcome to the magnificent mountain town of Banff, nestled in the heart of Canada's Rocky Mountains. If you're searching for a truly indulgent and luxurious getaway, look no further than Banff's exceptional accommodations that boast in-room hot tubs. Picture yourself soaking in the warmth of your private jacuzzi as you gaze out at the breathtaking snow-capped peaks or immerse yourself in relaxation after a day exploring the stunning national parks.
Banff offers an array of hotels with bubbling whirlpools right in your room, providing you with unrivaled comfort and tranquility. These opulent accommodations cater to all tastes, from cozy boutique hotels to grand resorts. Whether you're seeking a romantic escape or simply craving some well-deserved pampering, these hotels offer an unforgettable experience where you can unwind and rejuvenate amidst Banff's natural splendor.
Indulge yourself in the ultimate luxury by booking one of Banff's finest hotels with private hot tubs. Soak away your worries as you enjoy uninterrupted views of majestic mountains from your very own oasis. Don't miss out on this extraordinary opportunity to elevate your vacation to new heights by immersing yourself in pure bliss within the peaceful sanctuary of your hotel room's jacuzzi.
Best Banff Hotels With Hot Tub
Sunshine Mountain Lodge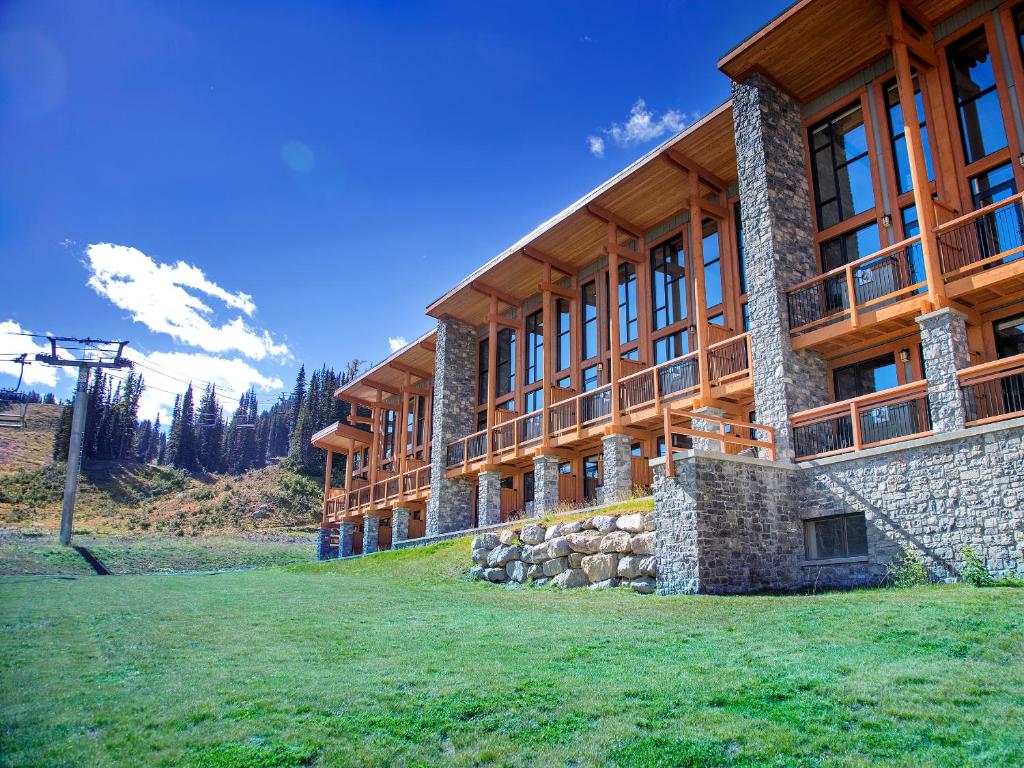 Nestled within Banff National Park, the Sunshine Mountain Lodge is a ski-in, ski-out lodge conveniently located 20 minutes west of Banff city centre. Offering a range of amenities to enhance guests' stay, this lodge boasts multiple restaurants, an outdoor hot pool, ski storage, and spa services. The rooms at Sunshine Mountain Lodge are thoughtfully designed with wooden furniture and equipped with modern comforts such as a 42-inch flat-screen HDTV. The bathrooms feature slate floors, granite countertops, and hairdryers while the windows allow for fresh air circulation. Guests can either maintain their workout routine at the on-site gym or unwind in the dry sauna. Adding to the excitement of staying here are movie nights organized by the lodge as well as snowshoe tours and tobogganing adventures. A mere 25-minute drive away lies Banff Upper Hot Springs for those seeking further relaxation opportunities.
– Ski-in, ski-out convenience
– Multiple dining options
– Outdoor hot pool
– Spa services available
– Exciting activities such as movie nights and snowshoe tours offered
High Country Inn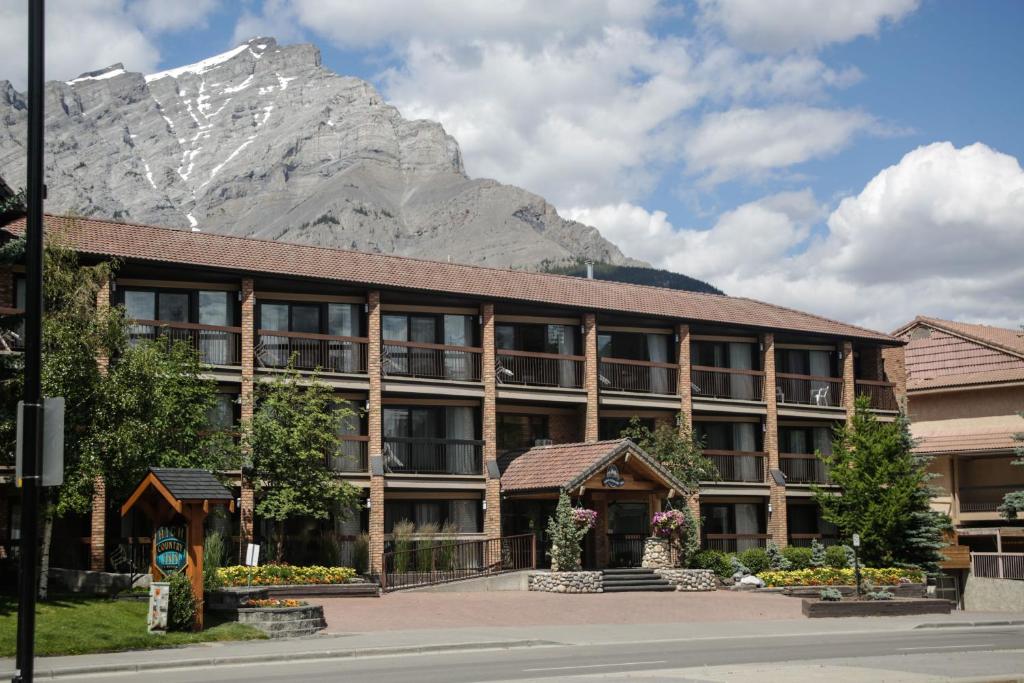 Located in Banff, High Country Inn is a fantastic choice for travelers looking for a relaxing and enjoyable stay. The hotel offers an array of amenities including an indoor pool, a dry cedar sauna, and a hot tub for guests to unwind after a long day of exploring. All rooms come with free Wi-Fi and boast stunning mountain views. Each air-conditioned room is equipped with a flat-screen cable TV, a cozy seating area, and a patio (not available in all rooms). Other features include tea/coffee-making facilities, a fridge, and private bathrooms with hairdryers. The property also offers convenient on-site facilities such as meeting rooms and luggage storage. Guests can enjoy activities like skiing both on-site or in the surrounding areas. Plus, there is complimentary parking available (subject to availability). With its convenient location near Mount Norquay and the Whyte Museum of the Canadian Rockies only 10 minutes' walk away, High Country Inn provides the perfect base for exploring the beautiful surroundings.
– Indoor pool, dry cedar sauna, and hot tub
– Free Wi-Fi
– Mountain views from all rooms
– Convenient location near popular attractions
– Complimentary parking (subject to availability)
The Poplar Inn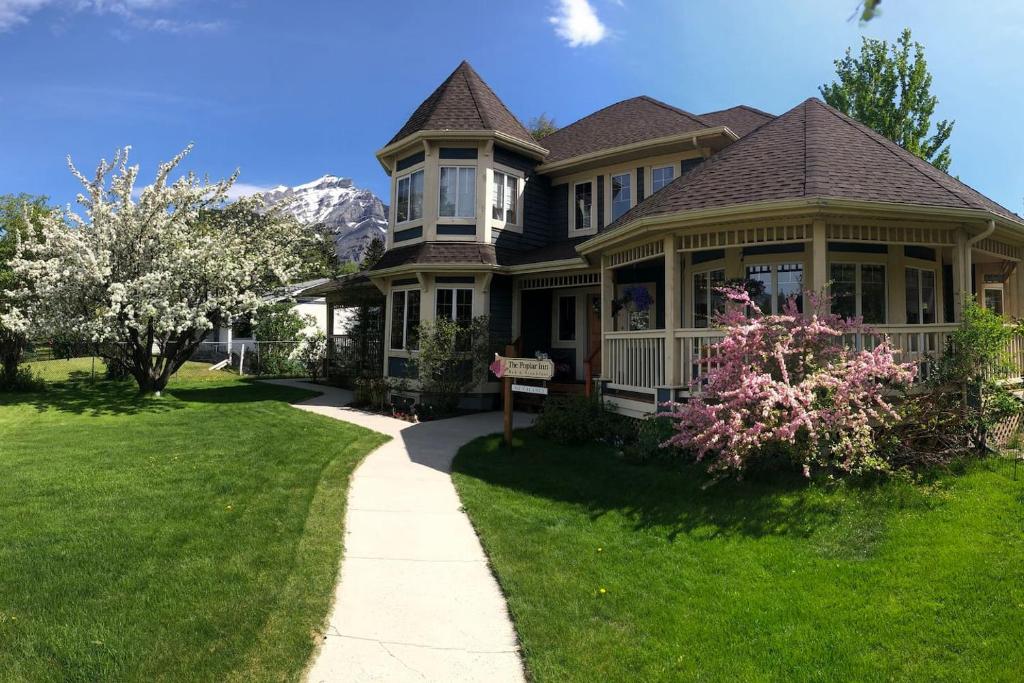 The Poplar Inn is a charming bed and breakfast located in Banff. It offers comfortable accommodation with free WiFi and access to a hot tub. Each unit at The Poplar Inn comes with a fully equipped kitchenette, a flat-screen TV with satellite channels, and a private bathroom with complimentary toiletries. Guests can enjoy a daily breakfast with continental, American, or vegetarian options. The inn also features a garden with a terrace and offers activities such as tennis, skiing, and cycling for guests to enjoy. The Whyte Museum of the Canadian Rockies and Banff Park Museum are within walking distance from the inn, while other popular attractions like Cave and Basin National Historic Site are just a short drive away.
Pros:
– Free WiFi
– Access to hot tub
– Fully equipped kitchenette in each unit
– Daily breakfast options
– Convenient location near popular attractions
Other places to stay in Banff
Luxury Hotels in Banff with Jacuzzi
Luxury hotels in Banff offer a truly indulgent experience with their jacuzzi rooms. These opulent accommodations provide a private oasis where guests can unwind and rejuvenate in the warm embrace of bubbling jets. Whether nestled amidst breathtaking mountain vistas or overlooking pristine lakes, the exquisite jacuzzi rooms in Banff's luxury hotels offer an unparalleled level of comfort and relaxation. With elegant decor, plush furnishings, and top-notch service, these hotels ensure that guests have an unforgettable stay while enjoying the therapeutic benefits of a private jacuzzi.
Beaujolais Boutique B&B at Thea's House: Superior King Room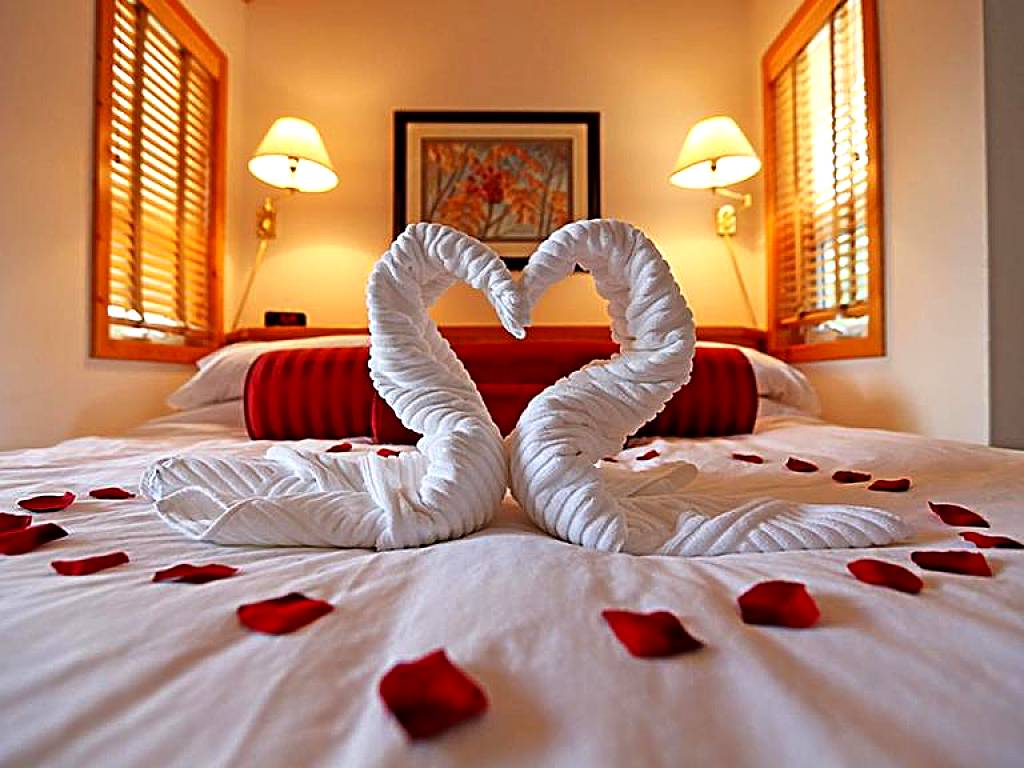 Located in Banff, Beaujolais Boutique B&B at Thea's House offers a charming and cozy stay for adults only. The Superior King Room features pine vaulted ceilings, fir flooring, and antique furniture, creating a rustic yet elegant ambiance. The room includes amenities such as a gas fireplace, flat-screen TV, complimentary WiFi, and an en-suite bathroom with a spa bath. Guests can also enjoy a small balcony with beautiful mountain views. The property offers a shared lounge area and provides ski storage space and bike hire services. With its proximity to attractions like Banff Park Museum and The Whyte Museum of the Canadian Rockies, guests can easily explore the area's natural beauty and rich heritage.
– Adult-only property
– Gas fireplace in the room
– Complimentary WiFi
– En-suite bathroom with spa bath
– Small balcony with mountain views
Brewster Mountain Lodge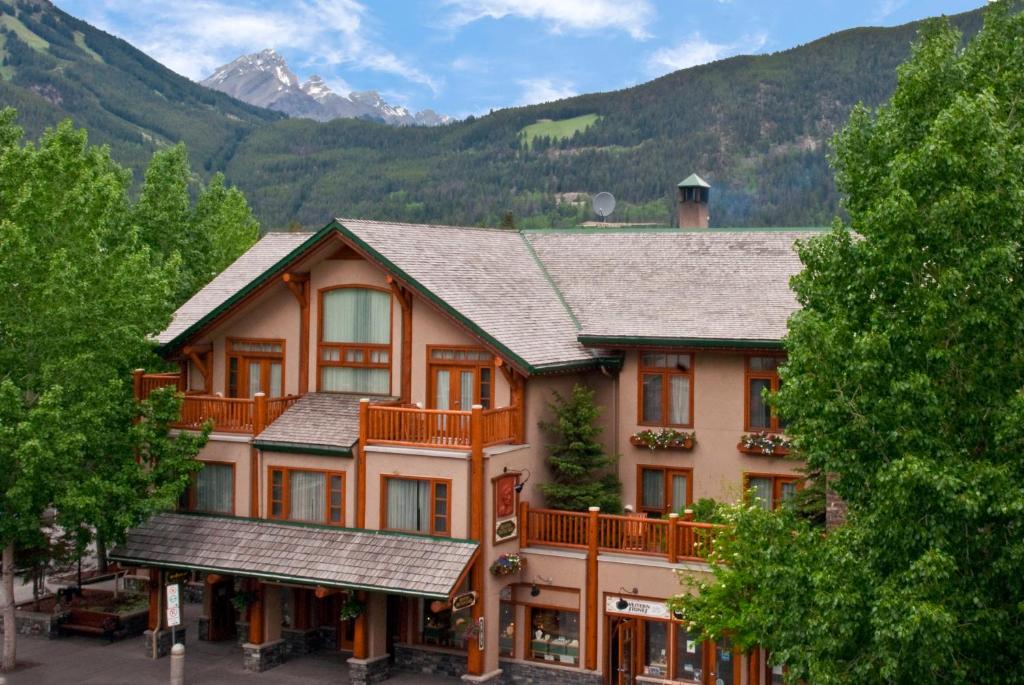 Brewster Mountain Lodge is a charming hotel located in the heart of downtown Banff. The interior of the lodge showcases log furnishings, western décor, and historic photos from the Brewster Family, creating a cozy and inviting atmosphere. Guests can enjoy free WiFi throughout their stay and start their day with a delicious continental breakfast. Each room at Brewster Mountain Lodge features modern amenities such as a flat-screen cable TV, fan, ironing facilities, hair dryer, kettle, and coffee machine. The private bathrooms are equipped with a shower, bath, and complimentary toiletries. The hotel provides a 24-hour front desk for convenience. Other facilities include a tour desk to assist guests in planning their excursions, ski storage for winter sports enthusiasts, and on-site shops for any last-minute needs. Several popular attractions are within walking distance from the property including The Whyte Museum of the Canadian Rockies (200 meters), Banff Park Museum (300 meters), and The Banff Centre (1.2 km).
Information about Hotels With Jacuzzi in Banff
| | |
| --- | --- |
| 🏢 Number of Hotels With Jacuzzi in Banff | 5 |
| 🥇 Average Review Score | 8.8/10 |
| 💰 High season average price | 1884 |
| 💸 Low season average price | 471 |
FAQ
Can I find hotels with Jacuzzi in room in Banff?
Yes, there are several hotels in Banff that offer rooms with Jacuzzis. These hotels understand the need for relaxation and luxury during a vacation, and thus provide guests with the option to unwind in their own private Jacuzzi tubs right in their rooms.
What are some popular hotels in Banff with Jacuzzi in room?
Some popular hotels in Banff that offer rooms with Jacuzzis include the Fairmont Banff Springs, Moose Hotel & Suites, and The Rimrock Resort Hotel. These high-end accommodations not only provide luxurious rooms but also have beautiful mountain views and excellent amenities.
Are there any budget-friendly options for hotels with Jacuzzi in room?
Yes, if you're looking for more budget-friendly options, you can consider staying at the Mount Royal Hotel or Rundlestone Lodge. While these properties may not be as extravagant as some of the more upscale choices, they still offer comfortable rooms with private Jacuzzis at a more affordable price point.
Do all hotels charge extra for using the Jacuzzi in-room facilities?
Most hotels do not charge extra for using the Jacuzzi facilities provided inside the guestrooms. However, it is always recommended to check directly with your chosen hotel about any potential additional fees or restrictions regarding the use of their Jacuzzi amenities to avoid any surprises upon arrival.
How can I book a hotel room with a Jacuzzi in Banff?
To book a hotel room with a private Jacuzzi in Banff, you can visit various online booking platforms such as Expedia or Booking.com. Alternatively, you can also contact your preferred hotel directly through their official website or by phone to inquire about availability and make reservations accordingly.
Popular Hotels With Jacuzzi In Room destinations
Hotels With Jacuzzi In Room in Banff